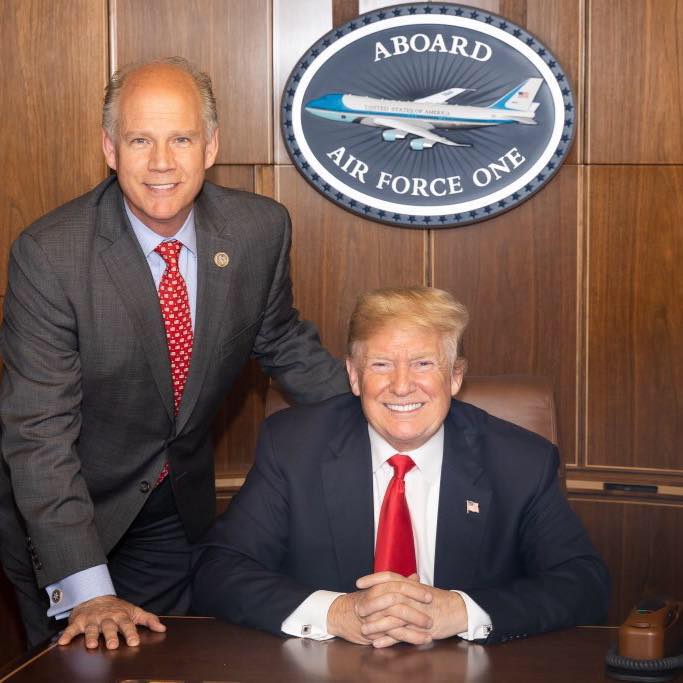 Rep. Dan Donovan with President Trump (photo: @DanDonovanSI)
---
New Yorkers will head to the polls on Tuesday, June 26 to vote in Democratic and Republican congressional primary elections, determining which candidates will appear on the parties' ballots in November's general election. Not every one of New York's 27 congressional districts is home to one or two primaries, but some districts are in the midst of competitive primary campaigns.
In New York City, where just one seat in the House of Representatives delegation is held by a Republican, there are several hotly-contested primaries, though only one race is expected to be competitive in the general election. The lone GOP-held seat is also the one where a tough general election is expected -- there is currently an intense primary on each side of the aisle in the 11th Congressional District, which includes Staten Island and a sliver of Southern Brooklyn and is represented by incumbent Rep. Dan Donovan.
A small handful of Democratic incumbents representing parts of the city are facing spirited primary challenges, largely from the left, though incumbents, as is almost always the case, are favored. Without public polling, it is often difficult to tell if challengers are breaking through at all, or how voters feel about their incumbent representative.
Candidates are campaigning feverishly leading up to the primary, which is expected to see fairly low turnout, though it may see a boost relative to past years due to the competitive nature of some races and the larger atmosphere surrounding "the resistance" to President Donald Trump.
While NY-11 will factor into the discussion for the general election, other congressional seats outside New York City will form the vast majority of those seen as the state's swing districts, where either a Democrat or a Republican could win and influence which party controls the House in January.
While every one of the country's 435 House seats are on the ballot this year, as they are every other year, there are some U.S. Senate seats up for election this year as well -- Senators serve six-year terms and states stagger the elections of their two Senate seats. This year, Democratic Senator Kirsten Gillibrand is seeking another term and is being challenged by Republican Chele Farley in the general election.
In order to vote in the upcoming federal primaries, New Yorkers have to already be registered to vote and with the party holding a primary in their district. A closer look at the congressional primaries to watch leading up to June 26:
District 9
In Central Brooklyn's District 9, 12-year Democratic incumbent Rep. Yvette Clarke faces her first primary challenge in six years. Adem Bunkeddeko, 29, was, until recently, an associate director at Brooklyn Community Services and, for five years, a member of Brooklyn Community Board 8, which includes Prospect Heights, Crown Heights and Weeksville.
He says he is running because "the political culture is so static" in the nation's largest and most diverse city. Bunkeddeko's platform includes the expansion of charter schools, legalization of marijuana, and an aggressive housing plan that, he says, would open paths to homeownership for families making between $30,000 and $80,000 a year.
Bunkeddeko has raised more than $200,000 in his bid for the Democratic nomination as of March 31. Clarke, meanwhile, has raised at least $600,000 in her bid for re-election. Almost 60% of Clarke's campaign contributions have come from political action committees; Bunkeddeko has reported zero donations from PACs.
Clarke's campaign highlights her introduction of legislation granting new legal rights to homeowners facing foreclosure, work on the Affordable Care Act, and support for universal firearm background checks. She also is a signatory to the Expanded and Improved Medicare for All Act. Clarke has not stated her positions on other marquee Democratic issues like legalization of marijuana and the abolition of ICE, though she has introduced legislation that would equip ICE agents with body cameras.
"Our community is under siege and has been for quite some time," Bunkeddeko wrote on his website, with reference to the Trump administration. "More and more of our neighbors are finding inequality and injustice in Central Brooklyn (NY-9), and good folks are being pushed out in droves."
District 11
In New York City's only Republican-represented congressional district, Rep. Dan Donovan is facing a primary challenge from his predecessor, former Rep. Michael Grimm, who resigned the office three-and-a-half years ago just after winning reelection while under federal indictment. Grimm pleaded guilty to tax evasion and served time in federal prison. He now wants his old job back and is challenging Donovan in a Republican-heavy district where, unlike in most of the rest of the city, allegiance to President Donald Trump is seen as essential -- at least in the primary.
Grimm represented the mostly-Staten Island district from 2010 to 2015. In 2014, he was charged with 20 counts of fraud, federal tax evasion and perjury. He resigned in January of 2015, and served eight months in federal prison.
Grimm recently gathered over 3,000 signatures from those in the district, easily surpassing the 1,250 required to appear on the primary ballot, and, while Donovan has raised over three times as much money as Grimm, a recent NY1/Siena poll shows Grimm with a ten-point lead over the incumbent.
Differences between the candidates have been largely non-ideological — Grimm's campaign website does not even offer a list of his positions, and Donovan's stakes out his stances on widely-agreeable issues like Staten Islanders' commutes (shorten them), taxes (cut them), and homeland security (protect it).
As representatives, Donovan introduced legislation this year to target federal funding for sanctuary cities, and Grimm, in 2013, urged the Department of Homeland Security to stop releasing low-risk undocumented immigrants from detention camps.
In 2012, the two worked together — Donovan as Staten Island District Attorney, Grimm as Congressional representative — on legislation to fight prescription drug abuse.
Both candidates have made a show of their support for Trump in the only New York City district he carried. While Grimm has attacked Donovan as a moderate who voted against the Trump tax reform package, Donovan has pointed to Grimm's moderate record when he represented the district. Donovan introduced a bill that would mandate every post office display photos of the president and vice president.
Trump recently endorsed Donovan, tweeting that "There is no one better to represent the people of N.Y. and Staten Island (a place I know very well) than @RepDanDonovan, who is strong on Borders & Crime, loves our Military & our Vets, voted for Tax Cuts and is helping me to Make America Great Again."
"Dan has my full endorsement!" he concluded. Donovan was quick to boast about the endorsement, while Grimm downplayed it.
The winner of the Republican primary will face the winner of a competitive Democratic primary in NY-11, which includes six Democrats. That pack is led by fundraising leader and Democratic Congressional Campaign Committee endorsee Max Rose, a veteran who has raised more money as of the March 31 filing date than all of his Democratic competitors combined. Michael DeVito is also running an especially active campaign, while other Democrats include Omar Vaid, Zach Emig, Paul Sperling, and Radhakrishna Mohan.
NY-11 is on the Democratic Party's "Red to Blue" shortlist of currently-Republican congressional districts that realistically may elect a Democrat in November.
District 12
Meanwhile, in District 12, covering much of Manhattan's East Side and parts of Brooklyn and Queens, 34-year-old Suraj Patel, an entrepreneur and business ethics professor at New York University, is attempting to unseat 25-year incumbent Rep. Carolyn Maloney.
Patel has raised slightly over $1 million for his bid, nearly matching Maloney's $1.4 million war chest -- a rare development for a primary challenger to an incumbent. Maloney retained the money advantage, at least as of the March 31 filing, and has significant establishment support for her reelection.
Patel was born in Mississippi to Indian immigrant parents, and has worked in various capacities in Barack Obama's orbit, including as a volunteer on his 2008 presidential campaign.
"Our republic is broken," Patel wrote on his website. "Big money has corrupted the system, there are too many obstacles to voting, and undemocratic policies like partisan gerrymandering have made our House of Representatives unrepresentative of the American people."
The upstart and insurgent candidate challenging a well-established party representative is something Maloney has seen before. She last faced a serious primary challenge in 2010, when lawyer Reshma Saujani raised upwards of $1.3 million in a bid to unseat the incumbent. Nevertheless, Maloney prevailed with 81% of the vote.
Saujani endorsed Maloney in early March, according to the New York Post, as have several advocacy groups and unions, including 32BJ SEIU, the largest union of property service workers in America.
She is running on her consumer protection bona fides, experience "on the front lines in the fight for women's rights," and legislative work for paid parental leave, among other positions.
District 14
In District 14, covering northwest Queens and the eastern Bronx, 28-year-old organizer Alexandria Ocasio-Cortez is offering 56-year-old Rep. Joe Crowley his first contested primary in his 14 years in office.
Crowley has significant establishment ties: as the chair of the House Democratic Caucus, he's the fourth highest ranking official in the House Democratic leadership and is frequently mentioned as a possible successor to Minority Leader Nancy Pelosi. Crowley runs the Queens County Democratic Party, with great influence over local elections, the courts, and government in Queens and beyond.
Crowley touts his support for equal pay legislation, co-sponsorship of legislation mandating universal firearm background checks, and authorship of an act providing tax relief for poor renters.
Ocasio-Cortez is challenging Crowley from his left as part of the slate of the Justice Democrats, a political action committee that supports progressive candidates who pledge to not accept corporate donations. She's staked out her support for a federal jobs guarantee, the abolition of Immigration and Customs Enforcement (ICE), and tuition-free public college.
Both candidates tout their immigrant roots — Crowley's family is Irish, Ocasio-Cortez's is Puerto Rican — and their support for Medicare-for-All.
The fundraising gap between the two candidates is significant — with $2.78 million on hand compared to Ocasio-Cortez's $116,000, Crowley's outraised his opponent almost twenty-four times over.
"It's a major David-vs-Goliath tale for the soul of the Democratic Party," Ocasio-Cortez wrote in a blog post on Reddit. "We are going to have to choose whether we will continue down the path of corporate patronage or return to the Democratic spirit of our governance."
Races Outside New York City: Districts 1, 19, 22, and 24
The Cook Political Report carefully designates "competitive" House races and lists a few New York races outside the five boroughs.
In Long Island's 1st District, five Democrats are running for their party's nomination. Perry Gershon, a former businessman who says he was inspired by Trump's election to "set out to personally fight for change," has raised more money than all his competitors combined. The winner of the contested primary will face off against two-term Republican incumbent Rep. Lee Zeldin, who co-sponsored a ban on abortions after 20 weeks and voted to defund Planned Parenthood.
Voters in the 19th District, which comprises of much of the Hudson Valley and the Catskills, will choose from seven Democrats competing for a chance to challenge incumbent Republican Rep. John Faso in the general election.
The district backed Barack Obama in 2012 but favored Donald Trump in 2016, and its past three representatives have been Republican. Most recently, Faso defeated Democrat Zephyr Teachout in 2016.
The Democratic candidates debated each other this past Thursday on WAMC, a public radio network headquartered in Albany, for nearly two hours, regarding topics ranging from the environment to health care.
In District 22, another vital district that the national Democratic Party is prioritizing, Assemblymember Anthony Brindisi is challenging Republican Rep. Claudia Tenney in what looks to be a tight race.
In District 24, which includes a chunk of central New York, Democrats Dana Balter and Juanita Perez Williams are competing for the chance to challenge Republican Rep. John Katko in the general.
Districts 22 and 24 are also on the Democratic Party's "Red to Blue" list.
National
The Democratic Party is hoping to gain control of the House of Representatives through November's general elections. Currently, the House is composed of 235 Republicans and 193 Democrats with seven vacancies. Democrats see several recent elections results, in New York and elsewhere, as encouraging in their efforts to flip the House this year, including through a few New York wins.
New York Governor Andrew Cuomo spoke at a rally last year with House Minority Leader Pelosi, of California, and other Democratic leaders to announce a movement to flip six New York House seats from red to blue. Cuomo vowed to unseat New York Representatives Lee Zeldin (CD1), John Faso (CD19), Elise Stefanik (CD21), Claudia Tenney (CD22), and Tom Reed (CD23), and Chris Collins (CD27). The districts represented by Reps. Stefanik, Reed, and Collins are generally regarded as safely Republican.
You can find your local polling station here.
***
by Jordan Kimmel and Daniel Yadin