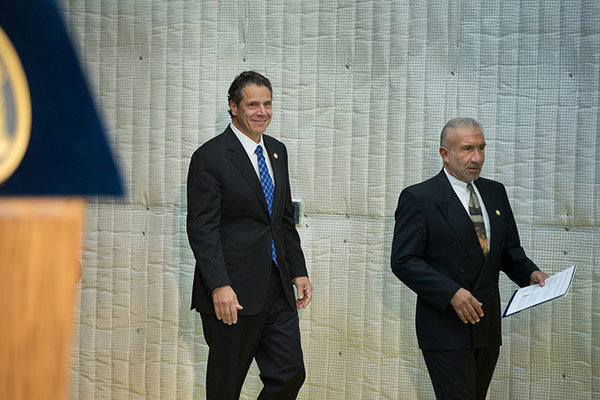 Gov. Cuomo & Alain Kaloyeros (photo: The Governor's Office)
---
Lawyers presented starkly different portraits of Alain Kaloyeros, the former head of SUNY Polytechnic Institute, in opening statements of his corruption trial at federal court in Manhattan on Monday. Critics say the case -- and the related trial of Joseph Percoco, a longtime aide to Governor Andrew Cuomo found guilty in March of taking bribes -- show the governor's multimillion-dollar economic development projects were fundamentally corrupt.
Kaloyeros rigged bids for development projects to avoid losing his job, expand his influence, and gain a promotion, Assistant U.S Attorney David Zhou argued.
"Kaloyeros decided that the rules didn't apply to him, so he cheated and he lied to get the results he wanted," the prosecutor said as Kaloyeros, sporting a blue suit and stubbly beard, sat at the front of the courtroom.
On the contrary, defense lawyer Reid Weingarten sought to depict Kaloyeros as a visionary who had personal flaws but committed no crimes.
"In truth, he's not a saint. He's a very, very complicated guy," Weingarten said, adding that Kaloyeros, a physicist, had "wrought miracles" launching major tech projects in Albany. "What this case is about is the desire of Governor Cuomo to bring [Kaloyeros'] miracle to upstate New York."
Federal prosecutors say Kaloyeros schemed to make sure a nonprofit charged with overseeing a huge swath of Cuomo's development projects favored companies run by major Cuomo donors -- Louis Ciminelli of Buffalo-based LPCiminelli, along with Steven Aiello and Joseph Gerardi of Syracuse-based COR Development. The executives, who are on trial alongside Kaloyeros, have also pleaded not guilty to fraud charges; Gerardi is also accused of lying to FBI agents. Cuomo is not accused of criminal wrongdoing, but critics say that the Democratic governor knowingly presided over programs with insufficient checks and transparency, pushing through state funding, stripping the Comptroller of audit powers, and empowering Kaloyeros and others to run wild while his campaign coffers filled.
The prosecution's case appears to hinge in large part on emails between Kaloyeros and the developers that allegedly show they conspired to rig the bids starting in 2013. LPCiminelli won a contract for a solar panel factory in Buffalo, as part of the governor's Buffalo Billion program, the cost of which eventually rose to $750 million; while COR Development won contracts for a $90 million manufacturing plant and $15 million film studio, the latter of which the state recently sold for $1 after years of floundering.
Prosecutors say Kaloyeros ensured inclusion of measures like requiring the winner of the Buffalo request-for-proposals (RFP) to have 50 years of experience in an effort to ensure LPCiminelli would be the only company to even qualify to bid. In one email, he allegedly promised to "fine tune the development requirements" to guarantee only LPCiminelli could win, Zhou said on Monday.
However, Weingarten argued that emails between Kaloyeros and his client were perfectly legal.
He said for a nonprofit like the one doling out the upstate development grants, called Fort Schuyler Management Corporation, "the procurements can be any way you want them to be." Weinstein added that the RFPs in the Kaloyeros case followed all procurement rules set by the federal government, Albany, and SUNY, which helped oversee the projects.
While Zhou highlighted Kaloyeros' use of his personal email address instead of his SUNY account -- instructing one of his alleged collaborators, "please gmail, not email" -- Weinstein seemed to shrug off the matter.
It's "almost a sport in New York State government to put things on your private email so reporters can't get them," the defense lawyer said.
Monday's opening statements suggested the role of Todd Howe will be another turning point in the case.
Kaloyeros hired Howe, an Albany lobbyist and longtime member of Cuomo's inner circle, to help work on the development projects -- and, prosecutors say, maintain friendly ties with Cuomo. Howe made a plea deal with the government, but is not expected to testify in the Kaloyeros case after he was arrested on new charges in the middle of the Percoco trial, where he was the government's star witness.
Prosecutors say Howe helped Kaloyeros transform a SUNY college for nanotechnology into the sprawling SUNY Polytechnic Institute in Albany, where Kaloyeros launched an array of ambitious public-private tech partnerships in addition to the LPCiminelli and COR Development projects.
"Kaloyeros developed a strong relationship with the governor's office after he hired a lobbyist named Todd Howe for SUNY," Zhou said. "Howe was the key to the governor's office."
Weingarten and the other defendants' lawyers assailed Howe's credibility. "He was a master criminal," Weingarten said of Howe. "He deceived virtually every relevant person in this courtroom."
Lawyers for Aiello, Ciminelli and Gerardi echoed Weingarten's lines of reasoning. Discussing Aiello and Ciminelli, Aiello's attorney Steve Coffey said they "hardly knew each other in 2013."
"What they have in common is they're developers. And they're Italian," though he said no more about their heritage.
Cuomo previously said Percoco, who was found guilty of taking bribes in exchange for preferential treatment for developers, was like a brother. And the Kaloyeros trial centers on the governor's most vaunted development programs -- Cuomo regularly heaped praise on Kaloyeros and ensured that he had a great deal of power. But prosecutors have not implicated Cuomo in any of the alleged crimes.
However, his political opponents were quick to link him with the Kaloyeros trial on Monday.
Cuomo's Democratic primary opponent, Cynthia Nixon, referenced the trial repeatedly as she unveiled a campaign finance reform agenda from the steps of the Tweed Courthouse, where Cuomo had promised eight years ago to clean up state government.
"Despite others' attempts to politicize, the US Attorney and Judge have repeatedly said that campaign contributions were not unlawful and were not part of the alleged criminality," Cuomo campaign spokesperson Abbey Fashouer said in an emailed statement.
"Cuomo has enabled individuals who think that they must peddle influence and peddle resources and sell out New Yorkers to the highest bidder," Marc Molinaro, the Republican nominee for governor, said outside the federal courthouse during a morning press conference.
Zephyr Teachout, who previously ran against Cuomo for governor and is now running for attorney general, spoke to reporters just ahead of Molinaro.
"This trial illustrates that we have an underlying corruption and ethics emergency in New York State," she said. "This trial shows the ways in which corruption impacts people's lives."
Asked for comment on the trial, the campaign of New York City Public Advocate Letitia James, who is also running for state attorney general but is aligned with Cuomo, issued a statement touting James' past anti-corruption work.
"Any act of corruption in government betrays the people of the state of New York and cannot be tolerated," James spokesperson Delaney Kempner said in the statement. "As Attorney General, Tish will deploy the full arsenal of weapons at her disposal to fight corruption and will never shy away from tackling illegal behavior in government." The statement did not directly address the Kaloyeros case.