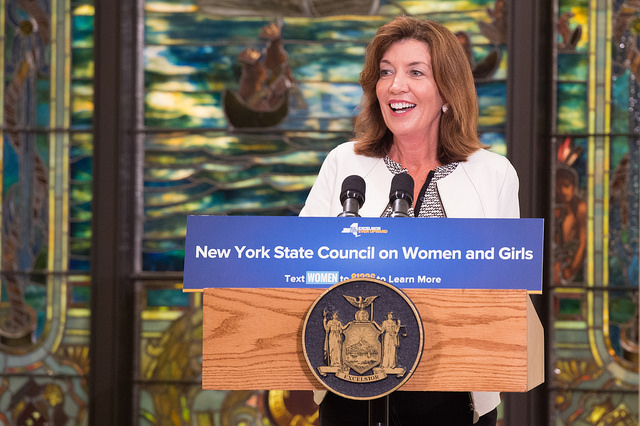 Lt. Gov. Kathy Hochul (photo: Governor's Office)
---
One of the country's most powerful political organizations, EMILY's List, has endorsed Kathy Hochul for reelection as lieutenant governor of New York.
Hochul, a Democrat seeking a second term in the statewide position, is facing a primary challenge from New York City Council Member Jumaane Williams, with the vote just over two months away, on September 13.
EMILY's List is a national organization founded in 1985 to "elect pro-choice Democratic women to office" that helps recruit, train, and support female candidates across the country. It is a powerhouse fundraising entity and claims over five million members. The group -- an acronym for Early Money Is Like Yeast, signifying the importance of early fundraising to the growth of electoral campaigns -- calls itself "the nation's largest resource for women in politics" and boasts that it has "helped elect 116 women to the House, 23 to the Senate, 12 governors, and over 800 to state and local office." It is a list that already includes Hochul, who became Governor Andrew Cuomo's running mate in 2014 as he sought a second term and after his first-term lieutenant governor, Robert Duffy, declined to seek reelection.
"Lieutenant Governor Kathy Hochul has been a progressive champion New York families can count on," said Stephanie Schriock, president of EMILY's List, in a statement. "Kathy helped lead the way in New York's fight for a desperately needed minimum wage increase and one of the most generous paid family leave policies in the country. Lieutenant Governor Hochul has tirelessly defended access to affordable health care, supported LGBTQ rights, and criticized Republican efforts to pass massive tax breaks for the wealthiest few. EMILY's List is proud to endorse Lieutenant Governor Kathy Hochul's campaign for re-election."
Hochul speaks proudly of her history fighting for women's reproductive freedoms and for LGBTQ rights, and highlights her work leading economic development projects for the Cuomo administration.
The challenge from Williams -- a Brooklyn representative who has the backing of several activist groups that make up The Working Families Party, as well as a handful of his City Council colleagues, among other individuals and groups -- is formidable. While Hochul has the advantages of incumbency and her ties to Cuomo and the larger Democratic establishment, help from EMILY's List with fundraising, volunteers, and voter turnout could be pivotal. The group says it has raised over $500 million since its inception, including over $90 million during the 2016 election cycle, when it backed Hillary Clinton for president, among many other candidates.
Williams has repeatedly faced questions about his stance on abortion, which has evolved in recent years. He has said in the past that he held personal views in opposition to abortion but never acted in his official capacity to challenge reproductive rights. More recently, he has given full-throated support to a woman's right to choose and made efforts to assuage concerns that he is against reproductive choice.
Hochul and her supporters have already repeatedly made reference to Williams' views on women's reproductive rights as well as his similarly evolved stance on marriage equality for LGBTQ people. Those lines of attack are likely to intensify as the campaign season heats up, especially if the two candidates engage in debates.
For his part, Williams has criticized Hochul for being unequivocally supportive of Cuomo (which she has said is her job as lieutenant governor), for being too centrist overall, and for her past opposition to driver's licenses for undocumented immigrants (Hochul has expressed regret about how she handled the issue as Erie County Clerk a decade ago).
Hochul told Gotham Gazette that she has tried to understand why Williams and Cynthia Nixon, who is trying to unseat Cuomo in the Democratic primary, are mounting their campaigns, but that, ultimately, she believes the intraparty battles only advantage Republicans, in part by fracturing Democrats but also by forcing the diversion of resources from flipping Republican-held seats in the House of Representatives and New York State Senate, both bodies currently led by the GOP.
The EMILY's List endorsement of Hochul comes as the group is working to help flip the House this November, among other races at various levels of government it is hoping to support women in winning. In New York, for example, EMILY's List is behind Liuba Grechen Shirley, who is seeking to unseat Republican Representative Peter King of Long Island. The organization has also significantly expanded its state and local efforts, Schriock recently explained to CNBC, saying that Republican-controlled state legislatures are "devastating women and families." Other EMILY's List endorsements in New York races could come ahead of important general election votes for New York House and State Senate seats.
"Our vision is a government that reflects the people it serves, and decision makers who genuinely and enthusiastically fight for greater opportunity and better lives for the Americans they represent," the EMILY's List website explains of the organization's mission. "We will work for larger leadership roles for pro-choice Democratic women in our legislative bodies and executive seats so that our families can benefit from the open-minded, productive contributions that women have consistently made in office."
EMILY's List has entered somewhat new territory this year given the exponential groundswell of women interested in running for office and those who have made the leap, in many cases with support from EMILY's List, which can come in forms that don't include a formal endorsement. The organization has faced several difficult choices about where and when to get involved in Democratic primaries with two or more women running, and in some cases where female candidates are taking on establishment-backed male candidates (as The New York Times recently explored). The organization is closely aligned with the Democratic establishment and is careful in assessing viability of campaigns.
It almost never endorses primary challengers to sitting Democrats, making it unlikely to back Nixon in her quest to unseat Cuomo. EMILY's List has supported another Cuomo opponent, Stephanie Miner, in her past, successful effort to get reelected as mayor of Syracuse. Miner is attempting to make the general election ballot for governor on a newly-created independent line. On the other hand, there is a wide open Democratic primary for Attorney General of New York that includes three women: New York City Public Advocate, the state party's designee and a former endorsee of EMILY's List, as well as Fordham Law professor Zephyr Teachout, and former Cuomo and Clinton aide Leecia Eve. Representative Sean Patrick Maloney is also running.
If Hochul is successful in defeating Williams in the primary, she will join a ticket with the Democratic nominee for governor to face the joint tickets of other parties on the ballot.