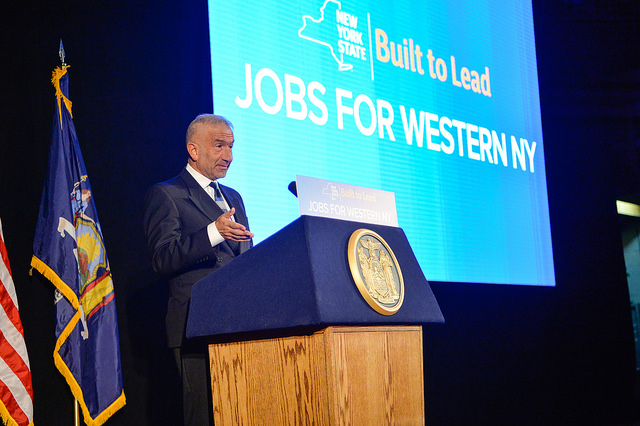 Alain Kaloyeros (photo via The Governor's Office)
---
Alain Kaloyeros, the former president of SUNY Polytechnic Institute who spearheaded key pieces of Governor Andrew Cuomo's vaunted Buffalo Billion economic revitalization program, was found guilty in federal court on Thursday of bid-rigging state contracts in favor of upstate firms whose executives were major donors to the governor's campaign.
Following a trial that lasted just under a month, a jury found Kaloyeros guilty on charges of wire fraud and conspiracy to commit wire fraud in connection with two separate schemes in which he colluded with a prominent lobbyist to manipulate state contract bids. Prosecutors charged Kaloyeros with rigging requests for proposals (RFPs) to favor prominent executives from two specific firms -- Louis Ciminelli from Buffalo-based LPCiminelli, and Joseph Gerardi and Steven Aiello from Syracuse-based COR Development. Ciminelli, Gerardi and Aiello also stood trial with Kaloyeros and were found guilty on Thursday as well. The defendants are all expected to be sentenced in October.
Kaloyeros, who the governor praised in lofty terms when appointing him to lead the Buffalo Billion and over the course of subsequent years, conspired on the two schemes with the developers and Todd Howe, a now infamous lobbyist with close ties to Cuomo. Howe was the government's star witness in another federal corruption case earlier this year involving former top Cuomo aide Joe Percoco, who was also convicted. COR executives Gerardi and Aiello were co-defendants in that trial as well.
Prosecutors in the Kaloyeros trial relied on email records that showed the eccentric tech guru plotted to ensure that LPCiminelli received a contract to construct a solar panel factory, which eventually ballooned in cost to $750 million, and that COR development was awarded more than $100 million to build a manufacturing plant and film studio. The bid-rigging was done in apparent effort to please Cuomo, though the governor himself was not accused of committing any crimes.
In a statement, Geoffrey Berman, the U.S. Attorney for the Southern District of New York, whose office prosecuted the case, expressed pride that the Kaloyeros verdict was just the latest successful conviction won by the office's Public Corruption Unit, following the conviction of Percoco and former state Assembly Speaker Sheldon Silver. "The guiding principle of the Southern District holds that true justice can only be achieved through independence from politics or influence, and that has never been more important than today," he said.
All of the cases were originally brought by former U.S. Attorney Preet Bharara, who was fired by President Donald Trump and celebrated the verdicts on Twitter, writing, "All four Buffalo Billion defendants guilty on all counts. Congratulations to the team at SDNY for continuing to strike big blows against corruption in New York State."
The two corruption cases involving Percoco, Howe, and Kaloyeros, among others, have been a black eye for Cuomo, though he was never accused of criminal wrongdoing in either one, and his political opponents have repeatedly used them to criticize both the governor and the pay-to-play culture in state government. In a harshly worded statement following the verdict, actor and activist Cynthia Nixon, the governor's Democratic primary challenger, scoffed at the governor's proclaimed ignorance of Kaloyeros and Percoco's misdeeds. "Andrew Cuomo is either corrupt or he is spectacularly incompetent," Nixon said. "Either way, the facts from the trials of Joe Percoco and Alain Kaloyeros lead to only one conclusion: We can't clean up Albany until we clean out the governor's mansion. Nothing is going to change until we change who's in charge."
Cuomo, who has said that he has not followed the case closely, said in his own statement, "The jury has spoken and justice has been done. There can be no tolerance for those who seek to defraud the system to advance their own personal interests. Anyone who has committed such an egregious act should be punished to the full extent of the law." Cuomo did not mention anyone by name or promise any reforms. He has not followed through on several governmental and campaign promises he made when the scandal broke.
In response to the verdict, government watchdogs warned that the lax state regulations that allowed Kaloyeros' criminal actions remain unchanged. A coalition of groups including Reinvent Albany, Citizens Budget Commission, NYPIRG, and Fiscal Policy Institute issued a statement repeating calls for "clean contracting" reforms, saying that "evidence introduced at the federal trial of Alain Kaloyeros, the governor's former nano-czar, and executives from LP Ciminelli and COR Development highlight the vulnerability of the state's economic development programs to corruption and abuse."
"The convictions in the 'Buffalo Billion' trial underscore the huge corruption risks that continue to plague Albany," read a statement from the New York Public Interest Research Group. "The Governor 's failure to produce meaningful reforms, coupled with the Legislature's inability to come to an agreement on its own, highlight the failures of the state's elected leadership to grapple with unending scandals."