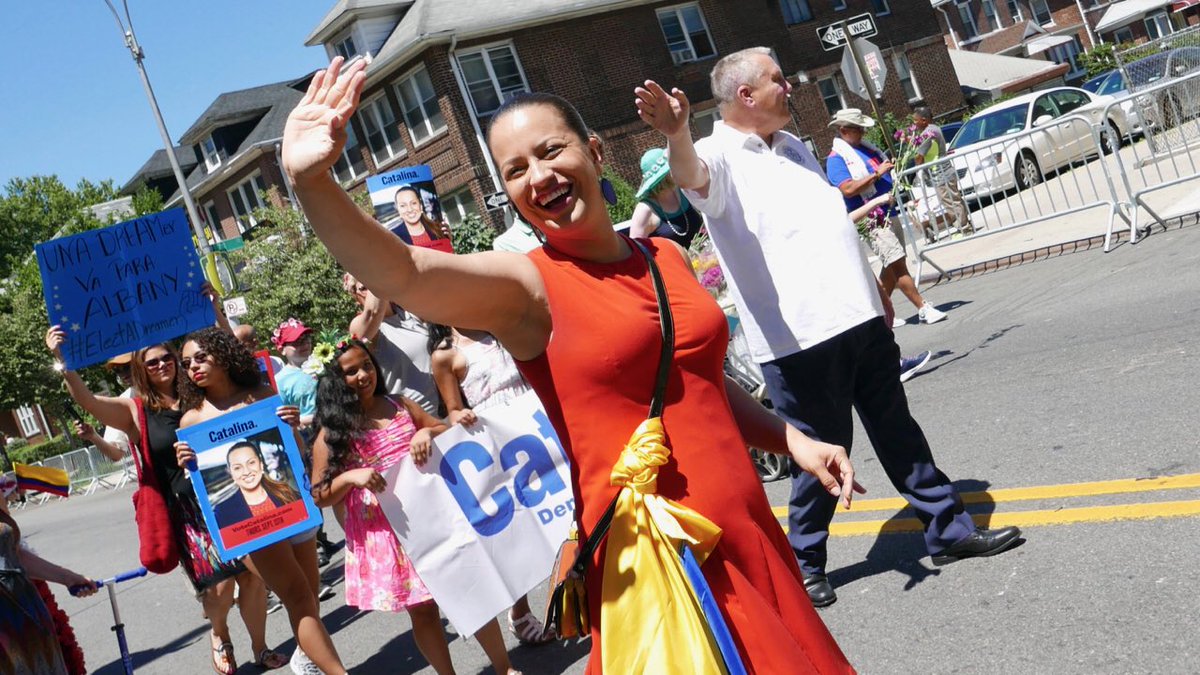 Catalina Cruz (photo: @CatalinaCruzNY)
---
Alexandria Ocasio-Cortez's Democratic primary victory over Rep. Joe Crowley last month in New York's 14th congressional district sent shockwaves throughout the country and signalled a monumental shift in Queens politics, where the Crowley-led county party has held significant sway in local elections for many years. The effects of Ocasio-Cortez's win and Crowley's loss, both nationally and locally, are still developing, but reverberations are certainly being felt in the already-competitive Democratic primary for New York Assembly District 39, where a county-backed incumbent is facing an independent challenger.
The district -- part of the 150-seat lower house of the state Legislature, all of which are on the ballot this fall, first in September 13 primaries -- covers the immigrant-heavy neighborhoods of Corona, Elmhurst, and Jackson Heights, and large parts of those fall within Crowley's congressional district. It is currently represented by Assembly Member Ari Espinal, who was elected in a low-turnout special election barely three months ago, with fewer than 800 votes. Espinal was previously an aide to Francisco Moya, who held the Assembly seat before being elected to the New York City Council last year.
Espinal's challenger in the primary is Catalina Cruz, an attorney with government experience who most recently served as chief of staff to former City Council Member Julissa Ferreras-Copeland.
Espinal, whose cousin is Brooklyn City Council Member Rafael Epsinal, ran unopposed for the Assembly seat, having been endorsed by the Queens Democratic Party, which is chaired by Crowley and has played an influential role in not just Queens, but city and state elections for decades, as well as the selection of the powerful City Council speaker and a variety of other appointed positions. For a special election to the state Legislature, there are no party primaries, instead the party county committee selects its candidate for what is a singular public vote. In a heavily Democratic district like most in New York City, the party's nominee is virtually assured victory in a special election, and therefore gains at least some of the benefits of incumbency ahead of any subsequent intra-party challenges.
But the power of the Queens County Democrats' endorsement is under question following Crowley's landslide defeat to Ocasio-Cortez as he finishes his tenth term in the House. Queens Democratic insiders say Cruz is in important ways a stronger candidate than Espinal and that the Queens county machine -- a descriptor some take issue with -- is playing a minimal role in the race and has a far less threatening presence in the immediate aftermath of last month's election. Some also point to the fact that the Queens county party has been defeated in a number of elections over the years by strong insurgent candidates, such as the victories of current City Council Members Daniel Dromm and Jimmy Van Bramer, as well as Ferreras-Copeland's first win. Moya, meanwhile, helped orchestrate Espinal's ascension and is actively campaigning on her behalf in an area where he has won several recent elections.
For her part, Espinal is confident about the race. "I welcome any challenge," she said in a phone interview. "I'm from Corona, Queens. I was raised in this neighborhood. I welcome any challenge and it's exciting. I feel like it's the Democratic process, too. Why wouldn't you want a challenge? You would want your voters to get engaged. This is how they get engaged more when they have to pick, to choose and say, 'Who's going to represent me the way I want to be represented?'"
Having been in office just under three months, Espinal has been prime sponsor on one bill that was passed by both legislative chambers, to extend a labor law relating to unemployment insurance proceedings, and another, called Carlos' Law, which enacts punishments for developers that put workers at risk of injury or death, which passed only the Assembly. Espinal has also allocated hundreds of thousands of dollars to her community, she said. She signed on to the Dream Act, which aims to provide state financial aid to undocumented immigrants seeking higher education. She's received support for her reelection bid from Moya, City Council Speaker Corey Johnson, Queens Borough President Melinda Katz, Bronx Rep. Jose Serrano, and the Working Families Party.
Espinal is relying on her experience as a longtime community organizer and former Democratic district leader, promising voters that she will bring resources back to her community. She has pledged to fight for immigrant protections, affordable housing, school funding, small businesses, and workers rights, and other locally-important issues. And she pushed back against the notion that she is the establishment candidate in the race. "Quite so often you have politicians who are not from the area and just want to run for office because they just want the power. I'm not looking for the power," she said. "What I'm looking for is to actually engage my community and tell them, 'I'm here. I'm here for you because I've lived here and I know the issues...because I'm your neighbor.'"
Cruz, Espinal's opponent, strikes a similar chord with her campaign pitch. "My entire life is a spectrum of the people of Jackson Heights, Corona and Elmhurst," she said in a phone interview. But one thing that sets her far apart from Espinal is that Cruz herself is a "Dreamer," a child of undocumented immigrants who came to New York at the age of nine and who only recently gained permanent resident status in 2009. "I went from being an undocumented child who picked cans in the street with her mom to survive, to being a Dreamer who was going to undergrad and paying for school for herself to a working poor lawyer...to being a middle-class New Yorker, which is basically the spectrum of the people who are here in our community," she said.
After graduating law school and working as a housing attorney, Cruz joined the Attorney General's office, then headed by Andrew Cuomo, before he was elected governor. Cruz served afterwards in the Department of Labor as counsel in the division of immigrant affairs. She worked with former City Council Speaker Melissa Mark-Viverito -- who has endorsed her -- to write the legislation that kicked ICE agents off Rikers Island. She also returned to working for Cuomo, heading up his Exploited Workers Task Force, after which she joined Council Member Ferreras-Copeland's staff. Her former boss has endorsed her, as have Council Members Dromm and Van Bramer, Helen Rosenthal, and Margaret Chin.
"We're a people-driven campaign," Cruz said of her approach to the race. "We start with people and we end with people. We start with the idea that all of our policies should be informed by people." Though her policy platform largely resembles Espinal's, Cruz says she sets herself apart by virtue of her independence, experience, her focus on the residents of the district who cannot vote, and her pledge to refuse corporate and luxury developer money (the latter a promise like one made by Ocasio-Cortez, who attacked Crowley for the large corporate donations he received).
"We are running a campaign that's very much driven by people that live in the district and we're independent from any ties to a political organization," Cruz said.
Those ties or the lack thereof may not be determinative in the Assembly race that does again put the power of the Queens County Democrats in the spotlight, observers who spoke with Gotham Gazette said. One former Assembly candidate from Queens said the path to victory lies in a robust ground game and organization. "You knock on enough doors, you meet enough people, and you raise enough money, and the barriers to entry are very low," the former candidate said. "How many people are gonna vote in an Assembly race? A few thousand? How much money do you need to raise for an assembly race? $100,000? How many doors are you gonna knock on?...You put your walking shoes on and you can do it. So I think party power is very limited and Ari and Catalina will win or lose on the strengths of their own organic, local operation."
Democratic insiders pointed out that the Queens Democratic Party's endorsement comes with political validation but not necessarily the resources to bolster a campaign, such as funding or boots on the ground. It's why they disputed the characterization of the county party as a machine that can determine the course of campaigns. The party does, however, pressure potential contenders against considering a challenge to an incumbent and often brings with its endorsement a slew of loyal elected officials who coalesce around the county's candidate and use their own resources and networks to boost them. The party also has connections at the Board of Elections and often attempts to knock challengers off the ballot and at times activates a network of district leaders and county committee members to help with ballot petition signature-gathering, door-knocking, and flyering.
"It seems like [Cruz] has real momentum and...everyone's going to attest the strength of her campaign to Alexandria Ocasio-Cortez but I think the reality of it is the dynamics of that race were shaped well before the congressional race," said a Queens Democratic operative who asked to remain anonymous to discuss things freely.
"I think people have an impression of the Queens county organization as a faulty machine," the operative said, insisting that a loss by a county-backed candidate did not mean the so-called machine is faltering. "I think the reality is that's not what the organization is...In my experience, they support somebody and their support will provide the significant assistance of validation from other elected officials. That's very helpful...but it was never designed to overcome bad campaigns or great opposing candidates."
If the incumbent candidate backed by the Queens Democrats loses to an independent challenger, the optics are far from ideal coming so close on the heels of Crowley's loss. But the county has invested little in the race, said another Democratic insider from Queens who knows both Espinal and Cruz and who decried the term "machine" as a "loaded expression" for a county party that simply tries to elect its own members to office.
But the Queens county organization is undoubtedly powerful. The "machine" moniker stems from the fact that the party holds sway over more than just candidate endorsements -- its backing often also means a candidate will not receive a primary challenger. The county organization selects judicial nominees, and allies of Crowley have made hefty profits from being appointed as guardians in Surrogate's Court. The party's executive secretary is Michael Reich, whose partner Gerard Sweeney in the law firm Sweeney, Reich and Bolz, has been one of the biggest beneficiaries of Surrogate's Court business. The county also selects one of the ten commissioners on the New York City Board of Elections, who decide which candidates qualify to appear on the ballot.
The City Council speaker's race has more often than not also been decided by the influence of the Queens and Bronx county parties; Council central staffers are frequently picked from the county's ranks; and Council committee chairs are influenced by county allegiances. And though Crowley may no longer represent the House next year, City & State reported that he's expected to be reelected county chair by district leaders for another two-year term in September. The county organization did not return a request for comment for this article about its support for Espinal.
"I don't think it would be a fair characterization to say this is a test of the county organization because I'm not sure they have all hands on deck for this one," the insider said. The insider insisted that neither candidate needs the county party's help to win the race, which would be won on the merits of their candidacies, and that Crowley's fall is more likely to have an effect on the state Senate District 13 race, where Jessica Ramos is challenging Senator Jose Peralta, formerly of the rogue Independent Democratic Conference, which empowered Republicans. "I don't think the Catalina-Ari race is affected by the Crowley result as much," the insider said. "I just don't get the sense that that changed everything...They weren't dependent on Crowley for the win. Peralta was kinda depending on the county guys propping him up, keeping him strong and I feel like that has turned and now Ramos, if I had to bet, will win that race."
Cruz herself drew a parallel with Ocasio-Cortez's win, noting that voters turned out in higher numbers for the progressive challenger than Crowley in his own backyard, which encompasses large parts of the Assembly district, to vote out the incumbent. "[Ocasio-Cortez] believed in the everyday person and the everyday person believed in her so much that they went out and overwhelmingly voted for her," she said. "And that's where we find ourselves, in the exact same situation."
But even she denied that she was poking the bear through her candidacy. "I wouldn't call it testing their power because I never said I'm running against the machine," Cruz said. "I've always said I'm running for the people. We have an organization that was just shown what people powered campaigns can do and we're about to show them a second time."
If anything, the race may show that the Queens party's once-coveted support has turned sour, seen by some as a signal of establishment politics that has been too out of touch with regular voters. "I think it definitely suffered," said the Democratic insider of the county party's endorsement. "It's very raw and very recent, the whole Joe thing...I don't know if this is a permanent problem or just a temporary one. But the timing right now is bad for those people."