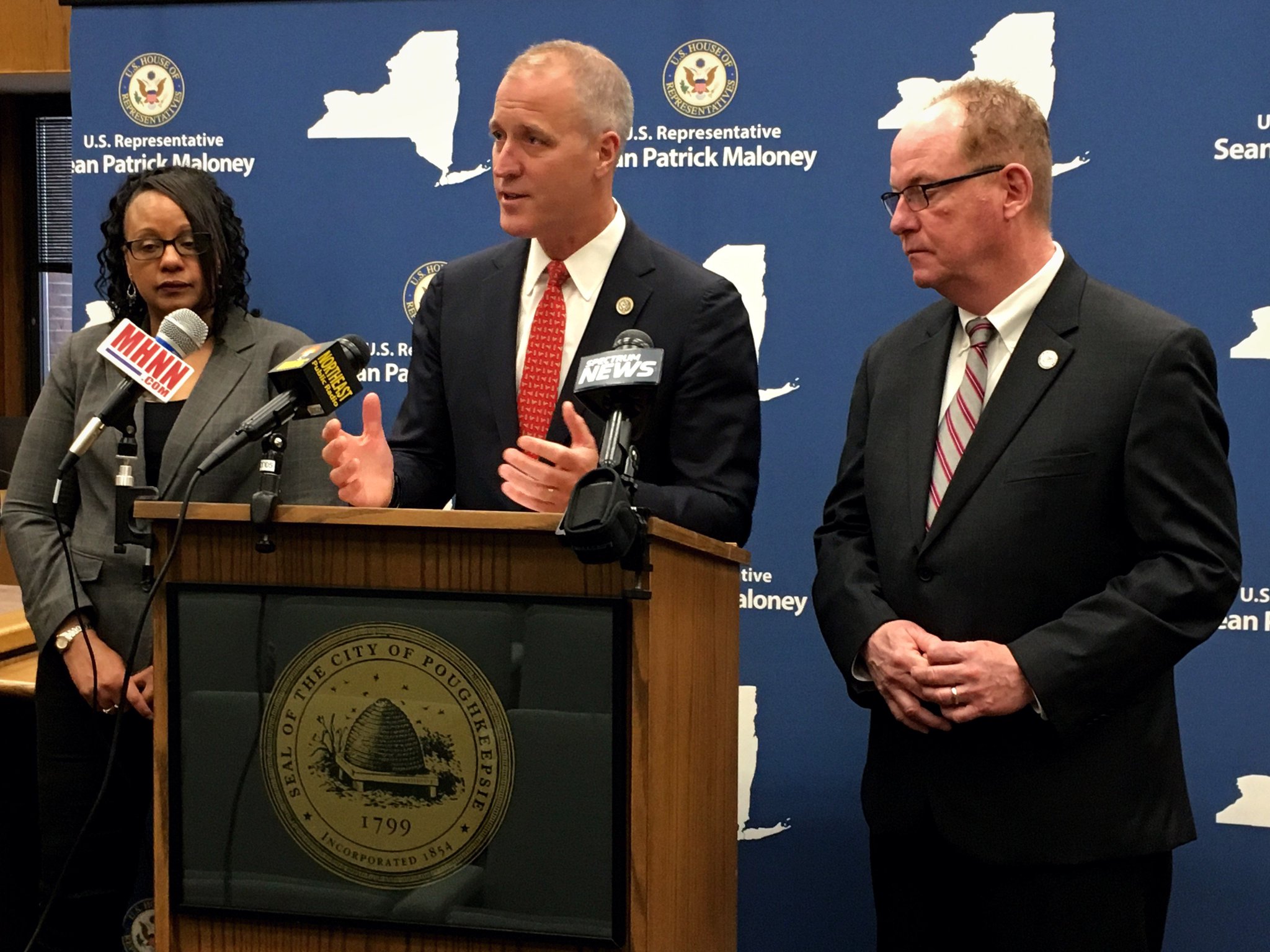 Rep. Sean Patrick Maloney (photo: @RepSeanMaloney)
---
The race for state Attorney General appears to be the most wide open in the 2018 New York election cycle, at least among statewide races. In the wake of former Attorney General Eric Schneiderman's shocking resignation, four Democrats have jumped into a competitive primary that will be decided on September 13, with the winner automatically seen as the frontrunner to win the general election against Republican nominee Keith Wofford and Green Party nominee Michael Sussman.
Recently released campaign finance filings with the state Board of Elections shows candidates' financial pictures heading into the crucial final weeks of the primary race. Funding numbers not only show what financial resources candidates have to spend to get their messages out, but give indication of the kind of support they are receiving from individuals, corporations, special interests, and so on.
Public Advocate Letitia James, endorsed by Governor Andrew Cuomo and the State Democratic Party, leads the pack with $1.16 million raised for the attorney general race, and $991,000 cash on hand as of mid-July. On the other hand, Fordham law professor Zephyr Teachout, who challenged Cuomo in the 2014 gubernatorial primary and won 34 percent of the vote, touted over 10,000 different donations as a show of grassroots support. She is also repeatedly reminding the public who and what she is not taking money from: corporations and limited liability companies (LLCs), and calling on her competitors to do the same.
U.S. Representative Sean Patrick Maloney is another candidate in the race, and while he has mostly been continuing with his work in Washington, D.C. as opposed to being on the campaign trail, he brought in a little more than $1 million for his attorney general campaign, and has about $3 million in his congressional campaign account, which he says he can use, but that interpretation is open to question.
Leecia Eve, a former aide to both Governor Cuomo and then-Senator Hillary Clinton, and the fourth candidate in the primary, has raised the least money of the group.
Wofford, the GOP nominee, raised over $1 million, giving Republicans a sense that he can be a contender against whomever emerges from the Democratic primary.
Democratic candidates in the race have largely been promoting the percentage of the number of contributions they've received, not of their total hauls, that have come from small donors, typically meaning those giving under $250. In a similar vein, Cuomo came under fire this week for claiming that 57 percent of his contributions were from small, individual donors rather than the PACs and corporations he is known to solicit. Though the 57 percent number is accurate, the percentage of Cuomo's total fundraising that the small donations constituted is just 1 percent. Cuomo has over $31 million in the bank, after raising and spending about $6 million over the past several months.
A closer look at the Democratic attorney general candidates' campaign finance filings shows more about where their support is coming from.
Tish James
James, the New York City Public Advocate, has raised $1,165,897.55, and has $991,480.51 cash on hand as of the July filing. She has raised the most money and has the most cash on hand of any Democratic AG candidate, slightly edging out Maloney on each metric.
James' largest contributors have been labor unions, with whom James has had a close relationship throughout her political career. Contributions include $65,100 from the New York State Conference of the International Union of Operating Engineers, $26,500 from the Transport Workers Union (both national and local), $25,000 from Communications Workers of America District 1, $22,500 from the Retail, Wholesale, and Department Store Union, $21,100 from the Hotel Trades Council and Unite Here Local 6, $21,000 each from the Teamsters' DRIVE Committee, Mason Tenders, 1199 SEIU, and the New York State Laborers' PAC, and $20,000 from 32BJ SEIU.
Other contributions include $15,000 from Cablevision, $15,000 from Opportunity Ed PAC, an education reform organization, and $21,000 from the MedMen Opportunity Fund, a cannabis venture capital firm. James also has received ample donations from real estate and law firm contributors, including $10,000 from Two Trees and $10,000 from Slate Property Group, and $5,000 from Renew New York, a PAC controlled by former Republican U.S. Senator and lobbyist Al D'Amato.
Last week, the James campaign told the New York Times that it had raised about $416,000 from individual donors, and about $555,000 from PACs, unions, and corporations. In a press release, James touted that 60 percent of her campaign's donors gave $200 or less, with 50 percent giving $100 or less.
"I am deeply humbled and proud of the grassroots support I have received from New Yorkers from all walks of life - a true testament to the work we have accomplished and the power of our mission forward. As Attorney General, I will always put New Yorkers' first and will never be afraid to challenge Donald Trump or anyone who tries to deny our fundamental rights," James said in the statement.
Zephyr Teachout
Teachout, who also ran for Congress in 2016, losing narrowly to now-Rep. John Faso, has raised $551,347.94, and has $314,058.55 cash on hand.
Teachout, unlike the other candidates in the Democratic primary, has pledged not to take corporate donations, and her July disclosure lists only individual contributors, with no corporations, unions, or PACs listed as having contributed. Her largest donors are Philadelphia attorney Daniel Berger, tech investor Brad Burnham, and Boston venture capitalist Vincent Ryan, all of whom donated $21,000 to the Teachout campaign, which is just under the individual donor maximum for the primary.
Teachout has $148,675.59 in unitemized contributions, or about 27 percent of her fundraising total, far in excess of any other candidate. Contributions of under $99, or an aggregate of contributions from an individual totaling under $99, are not required by the Board of Elections to be itemized with the contributor's name, address, and amount contributed.
In a press release, Teachout said that 97 percent of her contributors gave less than $200, and that her campaign has received more than 10,000 individual donations.
"This campaign is about people having a legal voice against powerful interests. I'm proud to be 100% corporate free, with the highest percentage of low dollar donors of any candidate for Attorney General. We do not have to accept the cynicism of the status quo, people can have the politics we deserve and demand," Teachout said in the statement.
Sean Patrick Maloney
Maloney, who represents New York's 18th Congressional District -- encompassing Orange and Putnam Counties, and parts of Dutchess and Westchester -- has raised $1,127,155.62, and has $981,385.86 cash on hand in his attorney general campaign account.
Maloney's largest donor is the Lewis family, the founders of Progressive Insurance. The children of Progressive founder Pete Lewis -- Adam, Jonathan, and Ivy -- have donated a total of $135,200 to Maloney's campaign, with Adam and Jonathan each donating $65,100 and Ivy donating $5,000. Adam's wife Melony also donated $44,000.
Other donors include Indiana commercial real estate developer David Simon and his wife Jacqueline, who each donated $21,100 to the campaign. The Real Estate Board PAC donated $5,000. Several real estate LLCs donated to the campaign, with the largest being $20,000 from MHTC Development.
While Maloney's haul is eclipsed slightly by James', his campaign believes that it can transfer money from his federal congressional account into his state campaign account, which would boost his campaign coffers by up to $3.1 million. The legality of this maneuver is questionable. Maloney, who is simultaneously running for AG and reelection to Congress, won the Democratic primary for his seat last month with the intention of returning to Congress should he not win the AG race. Since the primaries on are different days, it is a move he could attempt.
Maloney ran for attorney general in 2006, losing the primary to Andrew Cuomo, who went on to win the general election as well.
In a press release, Maloney said that 90 percent of his donations were $200 or less, with more than 50 percent being $10 or less.
"I'm the only candidate with the experience and independence to be the AG our state needs - someone who will fight corruption in Albany, in Washington, and in corporate suites - and I'm proud that so many New Yorkers have joined my campaign," Maloney said in the press release.
Leecia Eve
Eve, who serves on the Port Authority board and works as a governmental relations executive for Verizon, formerly helped lead Empire State Development under Cuomo, and has worked for Hillary Clinton and Joe Biden, has raised $299,416.14, and has $250,719 cash on hand for her attorney general bid.
Eve's largest donors have been herself and her family. Eve has donated $35,656.59 to her campaign, in 95 separate donations, the largest of which was $10,000 and the smallest $5.43. Her father, former Assemblymember Arthur Eve, and her mother, Lee, each donated $10,000, while her brother Eric has donated $16,000 and her brother Malcolm has given $525.
Additionally, a consulting firm called Ichor Strategies, of which Eric Eve is CEO, has donated $20,000 (Eric Eve is serving as Leecia's campaign manager).
Other donations include $21,000 from attorney Patrick Dunican and $5,000 from the Real Estate Board PAC. In a statement, the Eve campaign said that the filing portended good news for the campaign.
"Today's filing shows we are well positioned to communicate our message throughout all corners of New York State. We are inspired by the level of grassroots support that we have received, and we look forward to continuing to share Leecia's vision for how she will be a fearless and effective champion for all New Yorkers," said Maggie McKeon, a spokesperson for the Eve campaign.
Keith Wofford
Keith Wofford, the Republican nominee for AG, has raised $1,048,801.38 and has $1,023,847.76 cash on hand.
His largest donor is the New York Republican State Committee, which has given Wofford $150,000. Other large contributions include $20,000 from consulting firm Simier and Partners LLC, $44,000 from New York State GOP Chairman Ed Cox, and $44,000 each from Jonathan Gill, Stephen Moeller-Sally, and Mark Somerstein, all of whom are partners at the law firm Ropes & Gray, which Wofford is managing partner of.
Wofford has spent $25,000 on the campaign trail thus far. He has no primary challenger, and is facing an uphill battle in an overwhelmingly Democratic state, pending the winner of the Democratic primary, as well as Green Party nominee Michael Sussman, who has raised about $14,000.