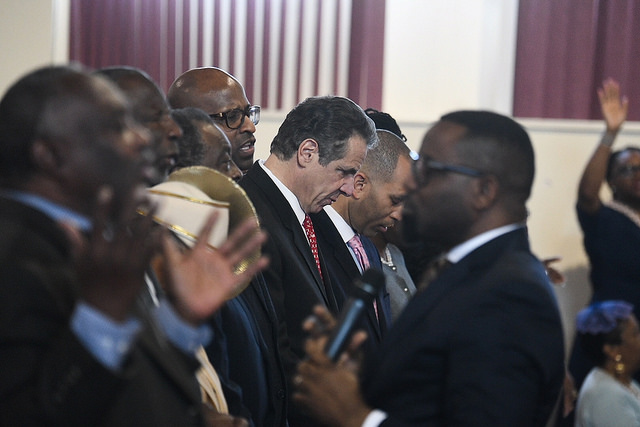 Gov. Cuomo at God's Battalion Church in Brooklyn (both photos via Governor's Office)
---
On a recent morning at Sylvia's, the historic soul food restaurant in Harlem, caterer Lindsey Williams was weighing his upcoming vote in New York's gubernatorial primary election.
"I listened to Cynthia Nixon, and I liked what she was saying," said Williams, the 52 year-old grandson of Sylvia's founder Sylvia Woods.
Ultimately, however, Governor Andrew Cuomo had his vote, Williams said, citing his admiration for the governor's father, late Governor Mario Cuomo, and the younger Cuomo's years of experience.
"I commend [Nixon] for running," he said, "but I trust Cuomo."
That wariness towards the first-time candidate for elected office reflects a hurdle for the actor-turned-insurgent: winning over black voters, a bloc that has helped buoy New York Democrats from Mayor Bill de Blasio to Hillary Clinton and now, according to polls, strongly supports Cuomo, who is seeking a third term as governor.
In a July survey from Siena College, 75% of black likely Democratic primary voters polled said they would vote Cuomo over Nixon. Nineteen percent went with Nixon, and 6% were undecided. Of the total polled, 60% went with Cuomo to Nixon's 29%.
In a July Quinnipiac University poll, 61% of non-white voters approved of Cuomo, compared to 42% approval among white people.
Cuomo's favorability rating with black likely voters hit 79% in both June and July Siena polls. That number is more than double Nixon's -- and it bests Siena favorability ratings with the same demographic this year for de Blasio and U.S. Senators from New York Kirsten Gillibrand and Charles Schumer.
Cuomo's favorability rating with black voters in the polls is also higher than the 65% favorability rating with the same demographic for Public Advocate Letitia James, a Brooklyn native who would become the state's first black attorney general if she wins her race this year but is not nearly as well-known as Cuomo among voters across the state.
James and Cuomo have allied throughout their races and cross-endorsed, a partnership that may bolster the standing of both among black voters.
"We work with people who have worked with us," said Keith Wright, a Cuomo backer and former state legislator representing Harlem, the neighborhood that has long been a center of black power in New York. "Black people don't throw their votes away."
As for Nixon, Wright said: "I don't know the woman."
Longevity, Trust
In interviews, black Democratic party leaders, religious officials, and voters cited the Cuomo family's longevity in politics and the governor's reliability visiting their communities and pushing issues from gun-control to an outside monitor overseeing the New York City Housing Authority.
"People are familiar with him," said Brooklyn Assemblymember Rodneyse Bichotte, the first Haitian-American woman elected to the state Legislature. "It takes a lot of time to penetrate these communities and get name-recognition."
Ms. Bichotte endorsed Nixon's de facto running-mate -- Lieutenant Governor candidate Jumaane Williams -- but declined to endorse in the governor's race even as she is frequently critical of Cuomo.
"He's a charismatic man with a lot of experience," she said of the governor. "New Yorkers want to feel secure."
Wright expressed similar sentiments.
"He has been working on issues important to the black community for years, and his father before him," he said. "There's a track record, and a level of trust."
Nixon Camp Questions Polls
Nixon has sought to address issues of race head-on with a campaign video where she decries "an unjust system that criminalizes communities of color."
At the top of her campaign agenda is ending cash bail and legalizing marijuana, which she says would create a fairer criminal justice system. Her campaign has been centered on the notion that on criminal justice reform and many other issues, Cuomo has pushed through half-measures, if anything at all, to address racial, social, and economic inequality.
A spokeswoman said the Nixon campaign has knocked on doors in predominantly black and Latino communities, "and 70% of the people we talk to support Cynthia and Jumaane."
L. Joy Williams, a senior advisor to the Nixon campaign and president of the NAACP's Brooklyn chapter, said the polls are not capturing people Nixon is eying, who may be newly engaged in state politics and not regular voters.
"The community I am a part of in central Brooklyn is very dissatisfied in terms of affordability, access to services, the criminal-justice system," she said in an interview. "I know a number of people of color feel the same way. The question is whether they have been provided an alternate candidate to address these issues before."
But there isn't "some special thing you do for black voters," she added. "Sometimes campaigns make the mistake of thinking it's criminal justice and that's it. Going into communities, asking them questions, and then engaging people on the issues that matter to them is the key to success no matter the ethnicity."
Cuomo's Inroads
Some two decades ago Cuomo's support among black voters was shakier. He ran a heated gubernatorial primary against then-Comptroller Carl McCall, who would have become the state's first black governor.
That race ended in Cuomo's defeat, while McCall went on to lose to incumbent Republican Governor George Pataki.
People familiar with the governor's thinking said Cuomo has been self-conscious about his standing among black voters ever since.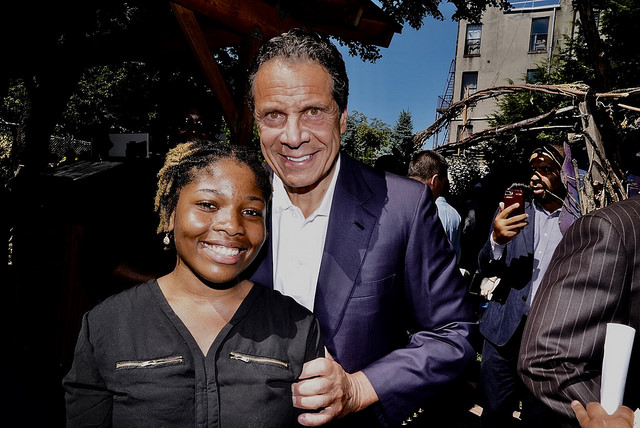 "Since [the McCall race] there has been a realignment," said Reverend Alfred Cockfield II, the executive pastor at God's Battalion of Prayer in Brooklyn, a predominantly Caribbean African-American Church where Cuomo spoke in March. "Those hard feelings are washed away."
Mr. Cockfield and other black supporters of the governor's cited a range of policy issues, from large initiatives like removing most minors from adult criminal proceedings for nonviolent crimes and appointing the attorney general to investigate police-related deaths, to smaller-scale ones like efforts to get more state contracts for minority-owned businesses.
Geoffrey Davis, a Democratic district leader in Brooklyn whose brother, a City Council member, was shot to death in 2003, cited Cuomo's gun control work.
"If someone is campaigning of course they'll say what they're going to do," he said. "We want you to say what you have done."
"This is serious business," he added. "Now we're going from 'Sex & the City' to reform. It sounds good, but we know what Governor Cuomo is doing, and we're satisfied."
'A Subtle Disrespect'
When it comes to issues where Nixon has hit Cuomo hardest -- managing the city's ailing subways, and rooting out corruption in a state government where criminal convictions are common -- Cuomo supporters expressed skepticism she could offer improvements.
"It's a subtle disrespect," said Rev. Cockfield II. "Like they don't think we're wise enough to know she has not come to these communities before."
A minor debacle over Nixon's campaign kickoff location also made some black clergy leaders uneasy, they said.
She began her campaign at Bethesda Healing Center, a church in Brownsville, Brooklyn, but a religious leader there said church leaders thought the meeting would be private and were caught off-guard by the widely-publicized campaign event.
Organizers of the campaign kickoff apologized to church leaders for the misunderstanding, people familiar with the matter said.
A few weeks later, Cuomo invited a number of church leaders from Brooklyn, including an official at Bethesda Healing Center, to his office to highlight efforts like his "Vital Brooklyn" initiative, a multi-faceted state spending program in Brooklyn.
One attendee came away feeling that the governor is "an astute politician," this person said.
Support for Nixon
For some black leaders, the support for Cuomo is frustrating.
"With a $168 billion state budget there should be zero poverty in our community, " said Assemblymember Charles Barron, a Brooklyn Democrat and former member of the Black Panther Party. "It sickens me and saddens me that black leaders will give these two politicians a pass," he said, referring to Cuomo and de Blasio.
He chalked up their support to ambitious politicians who can be "easily bought off by a chairmanship," and voters too easily wooed by policies he said don't help enough.
Education activist Zakiyah Ansari disputed criticisms that Nixon has only come lately to issues affecting people of color, pointing to her years of pushing for more state support for public education.
"Through the advocacy work she was doing with her children, she thought about what it looks like for black and brown communities, who were getting even less," Ansari said.
Ansari, who introduced Nixon at her campaign kickoff and vouched then for her work in communities of color, described legislators darting away when they saw activists at the state Capitol until Nixon walked with them and "elevated our voices."
When Ansari walked 150 miles from New York City to Albany to push for more school spending, on the other hand, Cuomo's office called it a publicity stunt.
"That was the response we got."
Undecided in Harlem
At a recent 56th anniversary breakfast for Sylvia's, a voter registration drive was on hand and patrons encouraged each other to go to the polls this year.
Voters there said they were leaning towards Cuomo in the September 13 primary, but several attendees weren't sure.
Mike Nelson, a 60 year-old respiratory therapist registering voters outside the restaurant, said Nixon "hasn't knocked on my door," but he hasn't yet settled on Cuomo. "My vote is not easy to come by," he said.
Another Sylvia's diner, 67 year-old James Wynn, said he is undecided. His union, 32BJ, endorsed Cuomo, he said, "but I'd give Cynthia a chance."
[Read: In Wide Open Lieutenant Governor Primary, Hochul Targets Votes in Williams' Backyard]
***
Mike Vilensky is a freelance journalist and student at Brooklyn Law School.
@GothamGazette