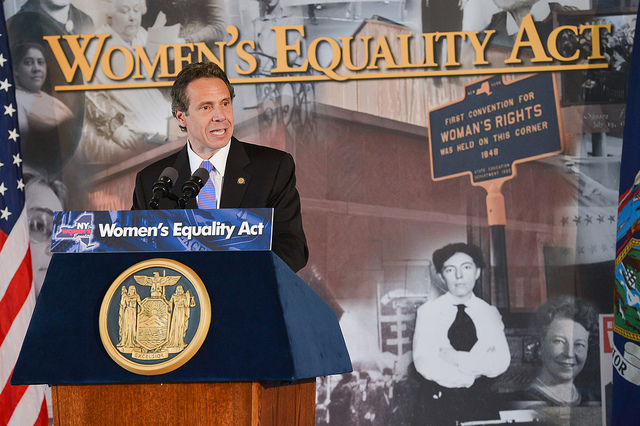 Gov. Cuomo in 2013 (photo: The Governor's Office)
---
As part of the #MeToo movement, a group of women who experienced sexual harassment or abuse while working in New York state government have for months been advocating for public hearings on the culture that enables that misconduct in government, especially the state capital, and in the private sector. Their calls have intensified -- and been echoed by prominent women running for state elected offices this year -- after Governor Andrew Cuomo and state legislative leaders passed new anti-harassment laws without any public hearings and without going far enough, according to the women.
Those calls have fallen on deaf ears from the men who control state government, however, with Cuomo touting the new laws as the "strongest in the nation" as he seeks a third term and leaders of the Assembly and Senate, including one accused of forcibly kissing an aide, largely remaining silent.
The Sexual Harassment Working Group, seven women who launched the #HarassmentFreeAlbany movement, have criticized the Democratic governor and bi-partisan Legislature for passing an inadequate package of anti-sexual harassment legislation in this year's budget, agreed upon in late March. The policies were negotiated by Cuomo, Democratic Assembly Speaker Carl Heastie, Republican Senate Majority Leader John Flanagan, and Senator Jeff Klein, then-leader of the Independent Democratic Conference that has since rejoined the mainline Democrats.
The criticism that the "four men in a room" had for years epitomized the opacity of state budget negotiations was made all the more stark by the fact that they decided how to tackle sexual harassment without hearings, without significant consultation with female legislators -- including the lone woman to lead a legislative conference, Democratic Senate Minority Leader Andrea Stewart-Cousins, who had been promised a seat at the table -- and without those who had been subject to harassment or abuse, as well as the glaring inclusion of Klein, who was accused earlier this year of forcibly kissing a staffer in 2015 outside an Albany bar. Klein's accuser, Erica Vladimer is among the members of The Sexual Harassment Working Group.
In consultation with experts, the group has issued a set of recommendations for enacting stronger anti-harassment protections and have been joined in their cause by the likes of Fordham Law professor Zephyr Teachout, who is running for the Democratic nomination for attorney general, and actor and activist Cynthia Nixon, who is challenging Cuomo in the Democratic gubernatorial primary, along with rank-and-file state legislators and other advocates.
At a news conference in Manhattan on Wednesday, August 1, Vladimer, other members of the group, and Zenaida Mendez, former President of NOW New York, appeared with Nixon, urging Cuomo to take action.
"It's time to stop putting politics over human rights," Vladimer said, "and the first way we can do that is with public hearings...where workers from every industry -- government, retail, food service, hospitality -- can be heard by those we elect to legislatie on our behalf and those who are appointed to enforce those protections."
Nixon, running to be the first woman elected governor of New York, issued scathing remarks against Cuomo. "New Yorkers deserve better than a governor who ignores victims and chooses instead to protect and sometimes even promote those accused of harassment and worse," she said. The first-time candidate recently released a video ad that cut back-and-forth between footage of Cuomo and President Donald Trump using similar rhetoric that smacks of 'toxic masculinity.'
In an editorial for the Albany Times Union on Friday, two members of the group, Leah Hebert and Rita Pasarell, who were subjected to harassment by former Assemblymember Vito Lopez when they worked in his office, criticized Cuomo for his "strongest in the nation" claim about New York's new anti-sexual harassment laws.
"[E]ven after accounting for rhetorical hyperbole in an election year, the new measures fall far short of what's needed," Hebert and Pasarell wrote. "They lack teeth for enforcement. They fail to address many obstacles that prevent victims from seeking redress in court. They do nothing to fix the pervasive abuse in Albany, highlighted by more than 100 current and former state employees in an open letter. These new measures were passed in the same way gender-based harassment and discrimination often happen: behind closed doors."
They noted how the New York City Council recently passed its own set of bills on sexual harassment after holding hearings to solicit testimony from those affected by it and from experts. The Stop Sexual Harassment in NYC Act included almost a dozen bills that were crafted after multiple hours-long hearings of the Council's Committee on Women and the Committee on Civil and Human Rights. The bills, signed into law by the mayor, mandated, among other things, anti-sexual harassment trainings at city agencies and in private businesses, increased transparency from agencies on harassment complaints, stronger protections under the city's human rights law, and added reporting requirements for city contractors.
Besides the open and very public process compared with how the new state policies were created, the city laws appear to be somewhat more expansive. The state policies require state contractors to provide anti-harassment training to all employees, prohibit mandatory arbitration for sexual harassment complaints, ban non-disclosure agreements unless a victim demands one, and extend harassment protections to non-traditional employees such as freelanders, contractors, and vendors. A broader model policy is still due from the state Division of Human Rights, which is meant to apply across the public and private sectors.
Cuomo, Heastie, and Flanagan, on the other hand, have shown no indication that they are listening. Spokespeople for all three officials did not respond to, or even acknowledge, requests for comment from Gotham Gazette about why there have been no public hearings, whether they are open to the idea, or if they had reviewed the recommendations put out by the Sexual Harassment Working Group. A Cuomo spokesperson told Gotham Gazette in late June that the administrations did "look forward to reviewing these recommendations," but there's no indication that has happened.
Dutchess County Executive Marc Molinaro, the Republican nominee for governor, also backed the call for public hearings on Thursday. "I pledge to insist on such hearings in Albany next year, should I be honored to be elected governor in November," he said. "Albany's culture will change. The coverups we have seen under Andrew Cuomo's tenure are inexcusable and wrong."
Molinaro, Nixon, and other Cuomo opponents and critics have also been seizing on recent revelations reported by the Albany Times Union around how victims of sexual harassment have been treated within the broader executive branch.
In the attorney general race, Teachout has been vocal about using the office's power, if she is elected, to investigate sexual harassment, even in the private sector if it happens under her jurisdiction. Teachout also joined the Sexual Harassment Working Group when they were in Albany last month pressing their demands.
"The idea that New York State — in the middle of a national #TimesUp movement, after the Harvey Weinstein scandal, after all these scandals — that New York has not fixed its own problem is a total shame and disaster and suggests that our old boys club isn't only covering up corruption but also covering up sexual misconduct," Teachout said at the news conference, Politico New York reported. She urged her three Democratic primary opponents to join the calls for hearings and improved laws.
Rep. Sean Patrick Maloney, also running for attorney general, has called for a "full-scale investigation" into harassment in state government. Leecia Eve, a former Cuomo and Hillary Clinton aide now running for attorney general, also supports holding hearings, according to a campaign spokesperson.
Delaney Kempner, a campaign spokesperson for Public Advocate Letitia James, who is the State Democratic Party's preferred candidate for attorney general and has cross-endorsed with Cuomo, sent a statement to Gotham Gazette that touted work James has done co-sponsoring legislation on mandatory sexual harassment training and reporting, and advocating against forced arbitration clauses in employment contracts.
But the statement did not indicate whether James supports the call for hearings on sexual harassment in state government and beyond or believes that the new state laws passed are sufficient. "It is clear that our laws have not protected women in the workforce from harassment and abuse, both in Albany and across the state…," Kempner said. "We must improve our laws and change our culture. As Attorney General, Tish will continue to stand up for the women of New York and investigate anyone who seeks to abuse or harass us. That is how we make lasting change."
[Read: Pointing to Deficiencies, Victims Call for Changes to State's New Sexual Harassment Policies]