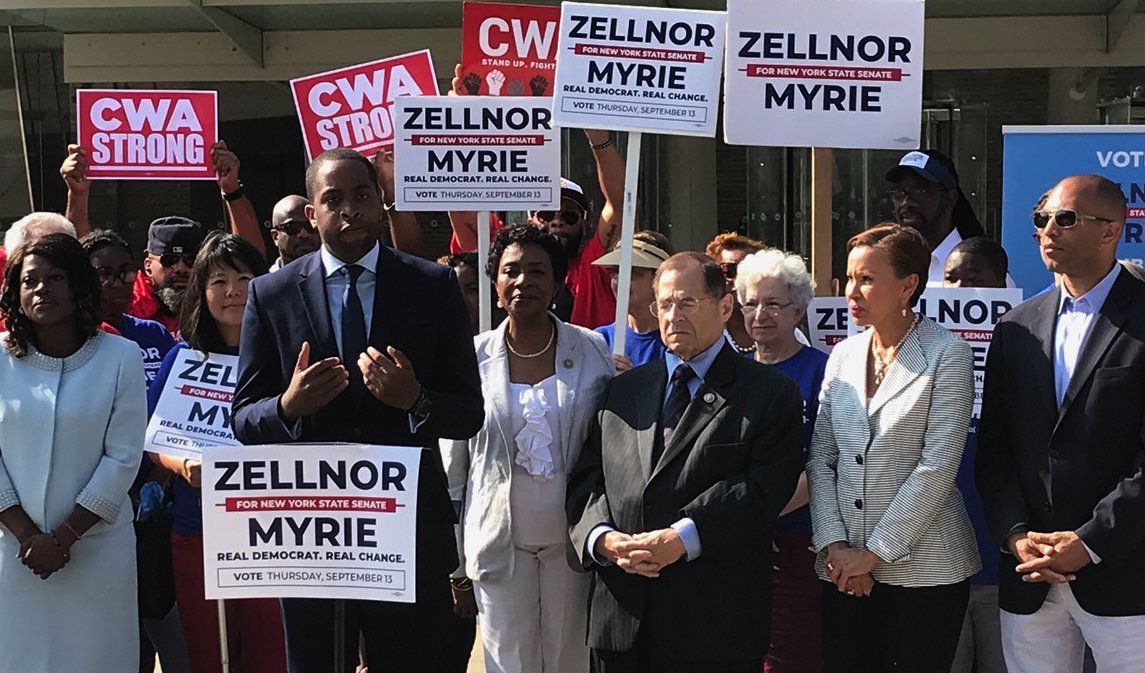 Zellnor Myrie receives the endorsement of Rep. Clarke, among others (photo: @BKIndivisible)
---
A wide swath of central Brooklyn is hosting its second contentious Democratic primary race this year. After a surprisingly close congressional primary in June, voters in a largely overlapping state Senate district will vote in September in another race where an incumbent is facing an upstart challenger.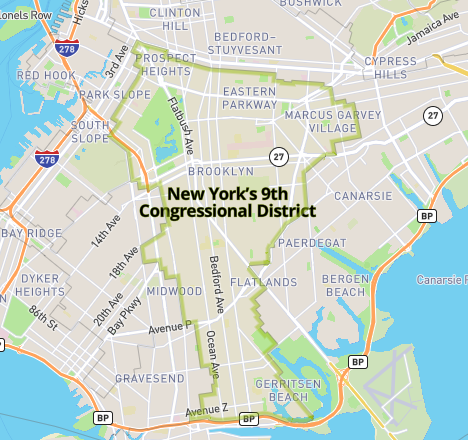 An array of neighborhoods in the borough, including Brownsville, Crown Heights, Park Slope, Flatbush, and Prospect Heights, make up New York's Ninth Congressional District (map left), where Democratic voters narrowly voted to nominate Yvette Clarke for re-election over her challenger, Adem Bunkeddeko, in a race that drew national attention for its closeness, especially alongside the defeat of Rep. Joe Crowley by Alexandria Ocasio-Cortez.
The Brooklyn neighborhoods of Clarke's district, with the exception of a few, like Sheepshead Bay and Marine Park, also make up State Senate District 20 (map below), which adds Gowanus, South Slope, and Sunset Park, and is represented by incumbent Senator Jesse Hamilton, who is facing a primary challenge from Zellnor Myrie.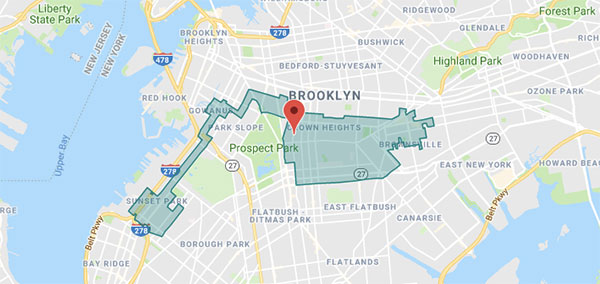 The two primaries bear some similar contours: a youthful progressive candidate goes for the left flank of a Democratic incumbent amid an anti-establishment milieu, hoping to motivate voters upset by Donald Trump and looking for something different from their elected officials. Bunkedekko's success as a previously little-known activist and lawyer in the district—he lost by just 1,075 votes—may help provide a roadmap for Myrie, especially in terms of where in the district to go for those anti-establishment votes.
But there are key differences between the Clarke-Bunkedekko and Hamilton-Myrie races, including Hamilton's prior membership in the breakaway Independent Democratic Conference and the flood of endorsements behind Myrie, but a key question for the challenger, incumbent, and all those watching, is: How much can we apply from the results of the race in Congressional District Nine to the race in State Senate District 20?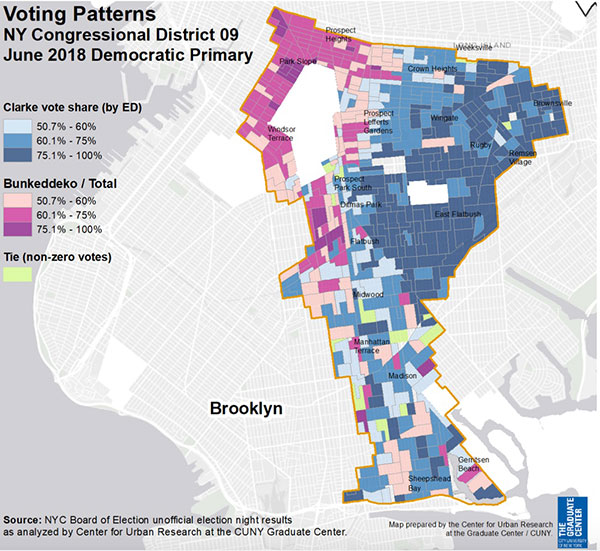 Though ultimately unsuccessful in his bid to unseat Representative Clarke, daughter of legendary former City Council Member Una Clarke, Bunkeddeko certainly came close, losing by four points to a politician who won her previous primary challenge, in 2012, by 77%. Results of the June 26 vote show Bunkeddeko's strongholds were in wealthier, whiter, gentrified areas of the district like Park Slope and Prospect Heights, while Clarke excelled in poorer, predominantly black neighborhoods in the eastern part of NY-9 like East Flatbush and Brownsville (map left, via CUNY Mapping Service).
It remains to be seen whether this dynamic will be replicated in the race between Hamilton and Myrie. Hamilton is a former member of the Independent Democratic Conference, a coalition of eight Democrats in the New York State Senate that formed a years-long coalition agreement with Republicans to bolster GOP control of the chamber. The IDC formally disbanded this April amid criticism and the declaration of primary challenges by Myrie and a cohort of other candidates.
Myrie spokesman André M. Richardson told Gotham Gazette that the campaign was surprised by Central Brooklynites' widespread knowledge of the IDC.
"More people knew about it than we thought would," he said. "A lot of the conversation is in the Park Slope and Prospect Heights area, but folks in Flatbush recognize it, as well."
Hamilton's participation in the IDC is a useful cudgel for the Myrie campaign, providing a unifying talking point about propping up Republican control of the state Senate and blocking progressive legislation in a racially and economically diverse district.
In predominantly-black neighborhoods like Brownsville, Richardson said, the IDC ties Hamilton to the prevention of Andrea Stewart-Cousins from becoming the State Senate's first black female majority leader; in heavily-Hispanic Sunset Park, the Myrie campaign tells voters that the IDC is why the Dream Act was blocked. Through this, and with an intense focus on the ever-relevant housing crisis, the challenger hopes to avoid the polarization of the district seen in the results from June and appeal to voters in every neighborhood. That effort is likely to be helped by the fact that Myrie has been endorsed by a wide swathe of elected officials and clubs, including Rep. Clarke and other elected officials from the area, such as Assemblymember Diana Richardson.
The IDC is one of several factors that complicate attempts to use the results of the Clarke-Bunkeddeko race to predict the Hamilton-Myrie contest, despite the two races taking place in, more or less, the same territory. Also, noted Steven Romalewski, director of the CUNY Mapping Service, to Gotham Gazette, "different groups of voters turn out for different races." Only about 8.2% of eligible Democratic voters voted in the primary between Clarke and Bunkeddeko, making it difficult to generalize characteristics of the voter pool.
Voter turnout is expected to increase in September, when the Democratic nominees for the statewide positions of governor, lieutenant governor, and attorney general will also be decided. Two of those races feature black candidates from Central Brooklyn: Jumaane Williams, running for lieutenant governor, and Letitia James, for attorney general. Governor Andrew Cuomo and his primary opponent, Cynthia Nixon, have also focused campaign efforts in the area, aware that black voters are essential to winning Democratic primaries.
In last year's September primaries for city elections, Senate District 20 was home to 21,000 voters, while only around 10,000 residents of the Senate district cast votes in June's contest when the congressional primary was the only race on the ballot.
Though it's nearly impossible to accurately predict whether increased turnout will help or harm Hamilton, who was first elected to the Senate in 2014, political consultant Jerry Skurnik told Gotham Gazette that "the gentrifiers" constitute a larger proportion of Senate District 20 than they do Congressional District Nine.
By Skurnik's admittedly "not 100% accurate" demographic calculations, 82% of the Senate district lies within the Congressional district, and the overlapping area is about 72% black. But the overall Senate district is just slightly over 60% black, since it includes smaller portions of near-exclusively African-American neighborhoods like Brownsville and East Flatbush and extends farther out of Central Brooklyn, into neighborhoods like Gowanus and Sunset Park that have relatively few black residents. This could spell an advantage for Myrie, if Bunkeddeko's strength in Park Slope is any indication, and if he is able to move the same voters to the polls while motivating others. But, there are many complicating factors, and neither Romalewski nor Skurnik felt comfortable prognosticating with any certainty.
In line with Romalewski's cautioning that different races motivate different voters, Skurnik emphasized to Gotham Gazette that a race for the New York State Senate necessarily involves issues different from those in a contest for the U.S. House of Representatives. For instance, rent regulations are a marquee issue for state legislators, who will renegotiate current rent laws next year, while the issue is less central to Congressional races like Clarke and Bunkeddeko's, though candidates for all offices must discuss housing affordability in New York City. Myrie may have an easier time mobilizing residents around his housing-focused campaign than Bunkeddeko, who devoted extensive time to attacking Clarke's Congressional record (or lack thereof, as he framed it). But, Myrie is also focused on Hamilton's record in the Senate, especially around progressive bills that have not passed because Republicans, supported by the IDC, did not favor them.
The polarized, racially and economically divided results of the NY-9 primary will not necessarily reproduce as such in Senate District 20, Skurnik said, because both Hamilton and Myrie have seen them. "Senator Hamilton knows what happened," Skurnik said. "He knows where the Congresswoman did badly...He's not going to be surprised." The same holds true for Myrie, he added. If the results of the June primary can teach the candidates of District 20 anything, it seems, it's what to avoid.