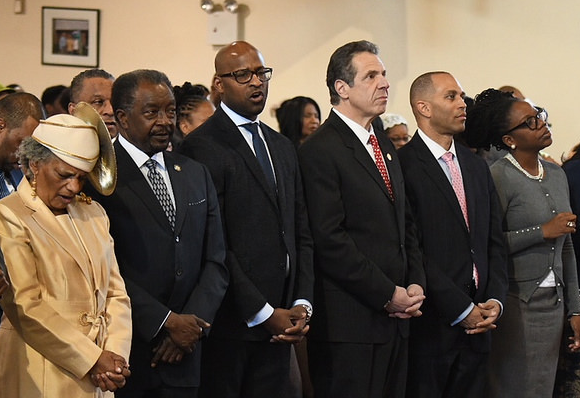 Gov. Cuomo with Rep. Jeffries (photo via the Governor's office)
---
U.S. Representative Hakeem Jeffries, a rising Congressional star and Brooklyn political power-broker, is backing Governor Andrew Cuomo for reelection.
Jeffries, who represents the 8th Congressional District of New York, which includes parts of Brooklyn and Queens, sees Cuomo's case as airtight, despite a fierce gubernatorial primary challenge being waged by actor and activist Cynthia Nixon.
"As the governor of the state of New York, he's done a phenomenal job over the last eight years," Jeffries told Gotham Gazette in a brief interview, just after endorsing fellow Brooklynite and New York City Public Advocate Letitia James in her run for state attorney general. "I'm looking forward to his leadership over the next four when he's successful in November."
Since even before Jeffries' start in Congress, the former member of the state Assembly has enjoyed a close relationship with Cuomo. Jeffries joins a growing list of elected officials, including several members of the city's congressional delegation, backing the incumbent governor for a third term. His support signifies additional reinforcement of the firewall Cuomo is relying on to beat Nixon in New York City, especially in communities of color, where Democratic primaries are often won, particularly in New York.
"Congressman Jeffries been a strong partner and advocate for New York, and the governor is proud to have his support," said Abbey Collins, a spokesperson for the Cuomo campaign. "Together, we will continue to fight back against Donald Trump's divisive, ultra-conservative agenda and move New York forward."
Nixon has made Brooklyn – a large part of which is included in Jeffries' district, which covers Coney Island, Canarsie, East New York, Bedford-Stuyvesant, and Clinton Hill, and a chunk of southern Queens – the nexus of her own campaign trail. It was in Brownsville that Nixon first launched her gubernatorial campaign, the event taking place in a neighborhood partially encompassed by the Eighth Congressional District, although Nixon's event occurred just outside its border. Then, in March, Nixon also accepted Brooklyn Borough President Eric Adams' invitation to visit NYCHA housing in Crown Heights and, in May, Nixon did a subway tour, where she made her way from Cobble Hill to Williamsburg.
While Adams has not endorsed in the gubernatorial primary, Nixon has won the backing of a number of the borough's political clubs and advocacy groups, as well as a handful of election officials, including City Council Members Antonio Reynoso and Brad Lander. Cuomo, on the other hand, has the support of ten other Brooklyn City Council members.
Last month, Nixon formally announced a cross-endorsement with Brooklyn City Council Member Jumaane Williams, who is challenging Cuomo's lieutenant governor, Kathy Hochul, in the primary, which will be held September 13. The Nixon-Williams press conference was held at an entrance of Prospect Park; Williams' 45th City Council District slightly overlaps with Jeffries' congressional district. Jeffries, however, is endorsing Hochul, a former member of Congress from Erie County, for reelection to her statewide post in what is an increasingly contentious primary.
"I think Democratic primaries are healthy at the end of the day as long as we respect the will of the people once they make a decision and we all come together afterward," Jeffries said of Williams' bid for lieutenant governor. "If Kathy Hochul is successful, I'm hopeful that Jumaane Williams will be supportive of the ticket moving forward. And if Jumaane Williams is successful, we have to find a way to stand behind our governor and our lieutenant governor nominee."
Hochul and Cuomo have both made Brooklyn a major focus in recent months, with the governor announcing "Brooklyn women for Cuomo," the endorsements of elected officials at various levels of government, and holding several government events that often have the feel of campaign rallies. Hochul spoke at four African-American churches in Brooklyn this past weekend while on the campaign trail, while Cuomo spoke at one, in Crown Heights, in what was listed as a government event.
Prior to Jeffries' endorsement, Cuomo's campaign has announced support from other members of Congress, including U.S. Senator Kirsten Gillibrand and Reps. Nydia Velázquez, Jose E. Serrano, and Adriano Espaillat, with others expected. Cuomo's campaign highlights that the governor's new federal political action committee has given maximum $2,700 donations to each of 10 congressional candidates in competitive districts across the state, including Max Rose, who is trying to unseat the only Republican member of the New York City House delegation, Rep. Dan Donovan.
Though his campaign does not highlight the endorsement, the governor has also been backed by Rep. Sean Patrick Maloney, who is running for attorney general in the four-way primary that includes James, who has cross-endorsed with Cuomo and has her base of support in central Brooklyn, where she was a City Council member.
Polling continues to show Cuomo with a major advantage over Nixon in New York City, especially among black voters. Brooklyn has the most Democratic voters of any county in the state, with more than 1 million registered as of April, many of whom reside in Jeffries' congressional district.
"Andrew Cuomo has consistently led in the polls by 30 or more points and I expect that the margin of victory at the end of the day will be extremely comfortable, both because of his track record and because of the inexperience of his opponent," Jeffries told Gotham Gazette.
Of Nixon, Jeffries said, "The electorate in New York City, including very progressive individuals, seem disinclined to put another actor in a position of importance in the context of the governor's mansion, having seen the disaster that Donald Trump has been as president."
In response, Lauren Hitt, a spokesperson for the Nixon campaign, said, "Cynthia Nixon was raised by a single mom, and she started acting when she was 12 in order to pay for college. She has nothing in common with Donald Trump. Governor Cuomo, on the other hand, has accepted $64,000 from the Donald, which he refuses to return."
[Read: Key to Victory, Black Voters Appear Solidly Behind Cuomo Over Nixon]
Ben Max contributed to this article.