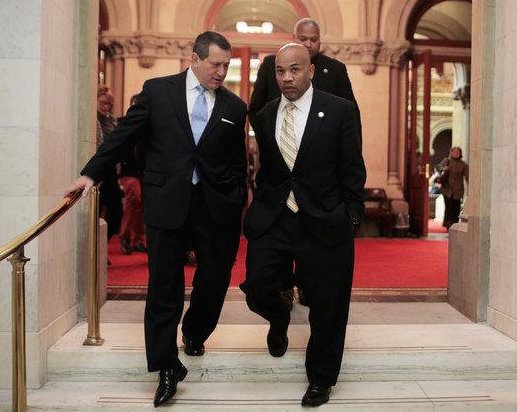 Carl Heastie, right, with Joe Morelle (photo: @JoeMorelle)
---
New York State Assembly Speaker Carl Heastie, who rose to lead the chamber following the fall from grace of his predecessor, Sheldon Silver, on charges of corruption, has been in at least one way followed in Silver's footsteps by establishing a political action committee, which he is using to support allies in this year's state elections.
Heastie, a Bronx Democrat, is in no danger of being unseated himself as he seeks another two-year term in the Assembly, but Democrats are hoping to flip enough seats to take control of the upper house of the state Legislature, the state Senate. Heastie's political committee, titled "Speaker Heastie PAC," was registered in January and has raised and spent hundreds of thousands of dollars. Thus far, those funds have gone to fellow Assembly members seeking reelection, two state Senators, and local Democratic clubs and county committees. A few of the contributions also suggest that Heastie hopes to influence the political sphere beyond the legislative branch and the State of New York.
Since January, the PAC has raised a total of $318,600 and spent about $254,000, leaving a balance of about $65,000, according to mid-August campaign finance filings with the state Board of Elections. The largest donors to Heastie's PAC have significant dealings with the Assembly, broader Legislature, and state government in general.
The PAC received large donations from several prominent labor unions and PACs representing legal professionals, real estate, law enforcement, and other industries.
Three PACs -- 32BJ United ADF, affiliated with the property services workers union; Charter Communications PAC, which represents the communications company of the same name; and Law PAC of New York, affiliated with the New York State Trial Lawyers Association -- each gave $25,000 to Heastie's PAC. The state teachers union, New York State United Teachers, donated $22,500. "Speaker Heastie is a true champion for public education," said NYSUT spokesperson Carl Korn. "New York's public schools and colleges -- and the students who attend them -- are better off thanks to his steadfast leadership. We are proud to offer him our support."
Among other donors were political committees associated with the Corrections Officers Benevolent Association, the Real Estate Board of New York, the Hotel Trades Council, the New York Gaming Association, the Transit Workers Union, the New York City Patrolmen's Benevolent Association, Communications Workers of America, to name a few. Even billionaire supermarket magnate John Catsimatidis, a prominent Republican donor who has also given to many Democrats in the past, gave a $5,000 contribution to the PAC.
Heastie has been generous in distributing the money he has raised so far.
His PAC has contributed $21,000 to the Attorney General campaign of New York City Public Advocate Letitia James, whom Heastie endorsed soon after she announced her campaign in May. James has also been endorsed by Governor Andrew Cuomo and the State Democratic Party, leading to criticism from opponents that she is too connected to the party establishment to be a necessarily independent and effective attorney general, especially as it relates to investigated and rooting out public corruption.
"The Speaker supports candidates he believes in and who share his values," a Heastie spokesperson told Gotham Gazette in a brief email.
A 32BJ union spokesperson said in an email that the union donated to Heastie to push for more Democratic seats in the state Senate. "We have always supported efforts to make New York a progressive state," the spokesperson said. "This includes having a Democrat-led Senate. Heastie's PAC is focused on flipping the Senate to the Democrats, so this effort is another step to ensure a truly blue New York."
But so far Heastie's PAC hasn't spent much along those lines. Heastie did direct $11,000 to the state Senate campaign of Shelley Mayer, who successfully ran in an April special election to replace George Latimer, who stepped down after being elected Westchester county executive. But other than that and a $7,000 contribution to state Senator Jamaal Bailey, a close Heastie friend, the PAC has steered clear of state Senate races, particularly those in districts represented by members of the former Independent Democratic Conference, a breakaway group of eight Democrats who caucused with Republicans for more than seven years and recently returned to the mainline Democratic conference, or swing districts around the state.
Responding to this fact in a subsequent email, the 32BJ spokesperson said, "It's early in the election cycle and we expect that the focus on many of the Senate races will happen after the primaries. Our contribution is intended to help in Senate races."
Primary elections, including the challenges to the eight former IDC members, will take place September 13. Heastie signed on to the unity agreement brokered by Governor Andrew Cuomo, who is facing his own spirited primary from Cynthia Nixon but is not wanting for funds, whereby he pledged not to support primaries against sitting Democrats. The former leader of the IDC, Senator Jeff Klein, represents part of Heastie's native Bronx.
As a representative from the Bronx, it isn't necessarily surprising that Heastie also chose to contribute $10,000 from his PAC to Bronx District Attorney Darcel Clark, even though she is not up for reelection until next year. Clark sailed through the election in 2015 after being nominated for the position in a controversial move by the Bronx Democratic County Committee -- which Heastie used to chair and is still influential with -- when her predecessor Robert Johnson dropped out after winning the Democratic primary to accept a nomination for a state judgeship offered by the county party leadership.
Heastie's PAC also gave $40,000 to the Bronx Democratic County Committee (one of the four $10,000 donations seems to have been mislabelled as given to Bronx County PAC, which doesn't exist but was listed with the same address.) Heastie's PAC also directed $35,000 to the Democratic Assembly Campaign Committee, of which Heastie is the honorary chair as speaker.
All 150 seats in the overwhelmingly Democratic state Assembly are on the ballot this year and several members of the Democratic conference benefited from the speaker's largesse. Chief among them was Ari Espinal, the first-term incumbent from Queens facing a competitive challenge from Catalina Cruz, a "dreamer" running on a progressive platform. Heastie's PAC gave Espinal $5,400 for her reelection.
Additionally, Assemblymember James Skoufis got $4,750 from the PAC; Assemblymembers Carmen Arroyo, Carmen De La Rosa, Al Taylor, and Jeffrion Aubry each received $4,400; Assemblymember Latoya Joyner received $2,000; and Assemblymembers Nathalia Fernandez, Kimberly Jean-Pierre, and Harvey Epstein each got a $1,000 contribution.
An Bronx Assembly candidate, Karines Reyes, got a $2,000 contribution. Reyes is running for an open seat left vacant after Luis Sepulveda was elected to the state Senate in the April special election.
The PAC donated $1,000 to the congressional campaign of Anthony Brindisi, a Democrat attempting to unseat Republican Rep. Claudia Tenney in New York's 22nd district upstate. Another $1,000 went to Assemblymember Joe Morelle, who is running for Congress in the 25th district against Republican Jim Maxwell. The seat has been vacant since the death of Rep. Louise Slaughter, a Democrat, in March. Morelle is a close friend of Heastie's and is the Assembly majority leader.
Heastie also made another early donation to a candidate in New York City, doling out $4,784 to Bronx Borough President Ruben Diaz Jr., the first candidate to officially declare he is running for mayor in 2021, when Mayor Bill de Blasio is term-limited out of office. Diaz Jr. has just over $600,000 in cash on hand already for the campaign.
But Heastie's contributions also leave the borders of the state. His PAC donated $1,000 to Stacey Abrams, the Democratic nominee for Georgia governor. If elected, Abrams stands to be the first African-American woman elected governor of any state in the country.
Ben Brachfeld contributed to this story.