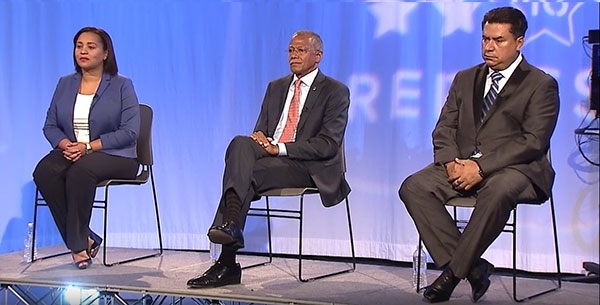 Sen. Alcántara, Jackson, & Leon (l-r) during the MNN debate
---
Roughly three weeks before the September 13 primary elections, three candidates running for the Democratic nomination in state Senate District 31 – an area that spans the west coast of Midtown and the Upper West Side before encompassing most of Northern Manhattan – debated the incumbent's involvement with the now defunct Independent Democratic Conference (IDC) and discussed some of the district's most pressing issues, including those regarding transit, public and affordable housing, and the recently-passed rezoning of a portion of Inwood by city officials.
The debate hosted by Manhattan Neighborhood Network -- which taped Wednesday, aired Thursday, and was moderated by Gotham Gazette editor Ben Max -- saw first-term Senator Marisol Alcántara continue to defend her IDC membership, reiterating that her break from the mainline Democratic conference did not affect her voting record while in Albany and resulted in benefits for her constituents. Meanwhile, Robert Jackson, a Democrat making his third straight bid for the seat, continued to criticize the senator, questioning her Democratic credibility given the IDC's alignment with the Republican conference and that majority's blockage of a multitude of progressive legislation, much of which both Alcántara and Jackson say they support.
Another Democratic challenger, Thomas Leon, struggled to answer questions during the debate and a fourth candidate, Tirso Pina, was absent from the event altogether. What Leon did make clear was his negative view of all the sniping back and forth between Alcántara and Jackson, but he largely did not provide concrete policy positions.
While Alcántara and Jackson seemed to agree on major policy problems and solutions, such as the crises facing the MTA and NYCHA, neither offered detailed proposals or radical new approaches to resolve the existential threats facing the two public authorities, even as the candidates were pressed for more information.
Alcántara was first elected in 2016 after a four-way race between her, Jackson, Micah Lasher, and Luis Tejada. She, Jackson, and Lasher each garnered about a third of the votes cast, with Alcántara, of course, coming in first, followed by Lasher, then Jackson. Lasher is not running again, he has endorsed Jackson's candidacy, but there are questions about who will actually come out to vote this year, including the number of new voters, some possibly spurred by the extensive anti-IDC movement that has sprung up.
"So, the expectation [is] that all of the votes that he received are coming to me, give or take a few," Jackson said of Lasher's 2016 supporters during the debate, when the two candidates were asked about how they are reaching out to voters that did not vote for them last cycle. Jackson additionally has the support of many activist organizations, almost all of the district's Democratic clubs, and many elected officials. Alcántara has much a great deal of support from organized labor, including several of the city's most politically active unions.
When asked how she has been targeting new voters in her campaign, Alcántara said, "We send out mailers like every campaign to everybody...We have tried to reach out to everyone in our district and work with everybody in our district regardless of where they're from, because we feel that's the best way to represent." Alcántara also repeatedly stressed that she has the advantage with labor, including the United Federation of Teachers, the New York State Nurses Association, and 1199SEIU, the health care workers.
MTA and NYCHA
The state of the MTA and NYCHA have been flashpoints in this year's election cycle. Both authorities are badly in need of repairs, with rampant delays plaguing the subways and NYCHA developments falling apart and riddled with mold, lead paint, and heating issues. Both authorities need better management and tens of billions of dollars in funding for repairs and upgrades.
During the debate, both Alcántara and Jackson expressed support for congestion pricing, both to reduce traffic and raise revenue for the MTA.
"We need to get more cars off the streets," Alcántara said. "We have a high asthma rate in the district. We can do two things by congestion pricing: we can fix our asthma and our environmental issues and we can bring in funding for our subway system." Alcántara additionally suggested that legalizing recreational marijuana may aid the subway crisis if its tax revenue can be funneled into funding public transit.
While the senator avoided blaming anyone for the MTA crisis, Jackson placed the weight of the problem on Governor Andrew Cuomo's shoulders. The governor has frequently come under fire for the deterioration of the city's subway system, especially from his gubernatorial primary challenger, Cynthia Nixon, who has cross-endorsed with Jackson. The governor appoints a plurality of members to the MTA board and the leader of the authority, while also playing the largest role in determining how the MTA is funded and its top priorities. "The governor needs to be able to deal with that because he's the primary one responsible for the MTA," Jackson said. While he agrees with the importance of congestion pricing, Jackson also believes that "there needs to be a better working relationship between the governor and the mayor to work together to address the issues" and that "the primary responsibility is for the state of New York to provide the resources."
As for Leon, his answer to repeated MTA questions including that there must be "a team" in place, but he did not discuss any details when given the opportunity.
Somewhat like with the MTA, it is estimated that around $30 billion is needed over the next five years in order to address the NYCHA crisis.
Asked about solutions for NYCHA, especially around new revenue, Alcántara discussed her work for NYCHA residents, which she said includes funding for tenant organizations, calling for an independent monitor for NYCHA, surveying over a thousand NYCHA residents, touring all NYCHA buildings in her district, and fighting to include $200 million for NYCHA in the state budget.
"I have a seniors building that is NYCHA that has six apartments that are vacant. Why are they vacant?," the senator said. "Because the roof is not working and it leaks into the apartment." When confronted with such building damages, Alcántara said the first thing she does is snap a picture send it to NYCHA. "I say, 'Look, you have six apartments empty. We have a homeless crisis in the city. We could house six different families in these apartments,'" she said.
In terms of funding NYCHA's repairs, Alcántara suggested the possibility of renting out NYCHA-owned parking spaces and appeared somewhat open to new development on NYCHA land that includes some market-rate housing.
Jackson expressed more clear and full opposition to market-rate housing on NYCHA land, though he provided few ideas about how to bring in new revenue for NYCHA, mostly referencing the idea of winning more federal funding, though he acknowledged that is unlikely given current federal leadership.
While they did not articulate clear ideas for addressing NYCHA funding requirements, both candidates emphasized the need to include NYCHA residents in the conversations that may precipitate new programs.
"We need to get together with the residents of NYCHA and come up with a plan that works for everybody," Alcántara said.
"I wanna hold hearings in order to get the input from the government officials and from advocates in the field and from the public," Jackson said. "And, I'm open to considering everything. But, the end result should be where the residents are involved."
Leon, who didn't speak of specific policy details to resolve the NYCHA funding crisis, suggested that the funds were not being allocated properly. "We don't have the funds and the state has the money," he said.
None of the candidates mentioned raising taxes on high earners to fund the MTA, as Mayor Bill de Blasio has called for, or to add dedicated revenue for NYCHA.
Affordable Housing and Rezoning Inwood
All three candidates agreed that affordable housing is a major issue afflicting the 31st Senate District. The three additionally oppose the Inwood Neighborhood Rezoning, a plan of new neighborhood land use rules developed by Mayor Bill de Blasio's administration and local City Council Member Ydanis Rodriguez, which was officially approved by the City Council earlier this month.
"To have the opportunity to get an apartment for rezoning, we need to have a very high salary," Leon said of the plan. "More than 40,000 [dollars]. And our workers, they hardly make 20,000 a year."
"I remember when my neighborhood [West Harlem] was rezoned in 2014," Alcántara said, recalling "the number of people that have moved out of our neighborhood because of rezoning and what that means for real estate. So, seeing the Inwood rezoning is like playing the same movie again."
The rezoning is aimed at allowing more housing to be built in the area, with certain affordability guidelines on some units, and will provide a variety of new city investments into the community.
The senator, who has been endorsed again by Rodriguez, criticized the city for not properly addressing infrastructure and labor issues. "What does that mean when you're gonna have an additional 20,000 people taking the A and 1 train in Upper Manhattan without building any additional space?" she said. "There's no labor agreement, so we are seeing the number of construction workers that have died in the city over 30, most of them immigrants from Latin America, and I am afraid that if we're gonna start construction on Inwood, how come we didn't address any of the labor issues?"
Jobs should go to people within the community, the community must have access to all of the new services, and small businesses need the opportunity to move into any new real estate space, Alcántara said.
Jackson's opposition to the plan stems from the notion that rezoning Inwood will expel those already living within the neighborhood due to higher costs of living. "It's gonna have a negative impact on the people that lived there and it's gonna accelerate gentrification," said Jackson. "It should've been voted down, but, in fact, it's moving forward. And people are looking at what the options [are]."
The IDC Debate
The debate over Alcántara's membership in the IDC – the conference of eight breakaway Democrats that caucused with Republicans in the state Senate, and was dissolved in April whereby its members joined the mainline Democratic conference – is a well-worn one, especially as all the former IDC members continue to defend their defection as they face-off against challengers of their own this primary season. In her own defense, Alcántara argued that a unified Democratic minority conference in the Senate still brought no progress on key Democratic legislation, that joining the IDC did not sway her voting record away from progressivism, and that she has accomplished a lot for her district.
"I believe my record speaks for itself," the senator said. "I brought in a record of investment in our community. That's why I have been endorsed by the teachers union, because of the work that I have done in education." She cited three teacher centers built within the district and funding she allocated for a CUNY campus.
When asked if she justified her IDC membership by the potential to obtain greater resources for her district, Alcántara offered a different rationale. "When I ran for office [in 2016], I reached out to all the Democratic establishment in the city of New York...No one from the entire establishment supported or were interested in bringing some label of diversity to the state Senate. I had a prior relationship with Diane Savino [a co-founder of the IDC], who came out of the labor movement like I did, and thus how I came in contact and thus how I joined the IDC."
The IDC was well-established and growing when Alcántara joined after taking office in early 2017, after he narrow 2016 primary was funded by more than $500,000 through IDC accounts.
Jackson, whose campaign is centered on Alcántara's IDC membership and what he calls betrayal of her constituents, countered that the 2016 election "was an open seat. The establishment really does not support an open seat."
Alcántara said that despite major donations from real estate and charter school and education reform interests, her votes in Albany still aligned with her own moral compass as a long-time progressive.
"For example, I voted for charter schools to be cut. I have voted for transparency in the way charter schools operate," Alcántara said, responding to a question of how she reconciles her involvement with IDC and those sources of money that she says she is opposed to. "Just because they gave money, it has not stopped my vote or how I feel and what I think is the best for students of my district."
Still, Jackson distinguishes himself from Alcántara based on her alliance with Republicans on the Senate floor. "I will always be a Democrat, a true blue Democrat, and never swim across the river in order to sleep with the Republicans," he said.