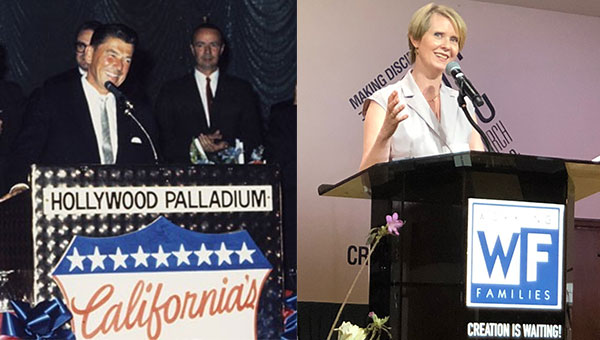 Ronald Reagan and Cynthia Nixon
---
In the summer of 1966, on the other side of the country from where Cynthia Nixon is now battling it out to become the Governor of New York, and on the opposite end of the political spectrum to Nixon's position as a far-left Democrat, another actor-come-political-activist, Ronald Reagan, arguably wrote the script for a relative newcomer to unseat a long-standing incumbent in a governor's race.
Reagan, who died in 2004 at age 93, went on to become the 40th President of the United States from 1981 to 1989, after serving as Governor of California from 1967 until 1975. His introduction to public office came after an at-the-time revolutionary campaign against two-term Democratic incumbent Governor Pat Brown. Similar to how Nixon's campaign aims to harness the power of a grassroots, volunteer-driven effort, Reagan's, too, called upon an army of volunteers and depended upon the public perception of the candidate as an "outsider" and "citizen politician" to eventually secure the win.
"There was a longer tradition of entertainment inclusion in Californian politics than there is New York," political analyst Bruce Gyory, a professor of political science at the University of Albany, told Gotham Gazette in discussing whether Reagan's gubernatorial victory says anything about Nixon's chances this year. New York doesn't have that tradition, Gyory continued, but he said there's a history of electing relative newcomers, such as in the 1982 gubernatorial election wherein Ed Koch, who'd been mayor of New York City for five years, lost the Democratic primary to Mario Cuomo (the father of the state's current governor, Andrew Cuomo, who Nixon's trying to unseat in the primary).
Gyory also noted that the trend of personality politics that saw Donald Trump, a businessman with no prior political experience, elected in the 2016 presidential race could work to Nixon's advantage, while others have called Trump's election, and low standing among Democrats, a disadvantage to Nixon as she seeks to downplay any comparisons.
And though Trump's winning, celebrity-driven campaign is repeatedly a reference point for those analyzing Nixon's candidacy, despite her many years of policy advocacy in New York, the case of Reagan may be a better historical precedent to consider. (It's worth noting, of course, that Reagan defeated the father of the current California governor, Jerry Brown, as Nixon attempts to unseat New York's second generation Governor Cuomo in part by further inflaming an anti-establishment fever.)
Reagan, like Nixon, had enjoyed some success as an actor in Hollywood before entering politics. He appeared in films such as the 1937 movie Love Is on the Air and 1942's Kings Row. More than this, he was known for his work as the president of the Screen Actors Guild between 1947 and 1952, and then again in the first half of 1960 when he was successful in organizing an industry-wide strike to convince production houses to grant compensation to actors when their scenes were re-aired or reproduced by new media (something still in place today, called residuals). He was also known for his work between 1954 and 1962 as the host of national television show General Electric Theater.
His run for governor came two years after his first major foray into the political scene. Having identified as a Democrat throughout his youth and during his first tenure as president of the Screen Actors Guild, Reagan switched parties in 1962 and publicly repositioned himself as the voice of Republican conservatism in 1964 with a televised speech for presidential candidate Barry Goldwater. During the 30-minute address, Reagan spoke about minimizing the role of government and affording freedom to Americans. He spoke about the need for welfare reform and to reduce taxes, as well as the threat of communism to the world.
"A government can't control the economy without controlling people. And...when a government sets out to do that, it must use force and coercion to achieve its purpose," Reagan said during that address, just a few years before he would become governor. "So we have come to a time for choosing...You and I are told we must choose between a left or right, but I suggest there is no such thing as a left or right. There is only an up or down. Up to man's age-old dream — the maximum of individual freedom consistent with order — or down to the ant heap of totalitarianism."
Reagan's speech raised $1 million for Goldwater's campaign and, though the Republican candidate lost the general election to Democrat Lyndon Johnson by the largest margin at that point in history (38.5 percent to 61.1 percent), Reagan's performance stuck with the American people. It laid the foundation for 'Reagan the politician' in the eyes of the public, and made it that much easier, two years on, for Reagan to enter the California gubernatorial race as an apparent underdog.
"When Reagan started campaigning, there were few people who actually took him seriously aside form Californian voters," Jaime Regalado, professor of political Science at California State University, told Gotham Gazette in May. "Reagan was dismissed by the party establishment among Democrats and even many Republican strategists felt that he wasn't the ideal candidate. That changed quickly."
Unlike what Nixon is attempting in taking on a sitting governor of her own party, Reagan was a Republican who succeeded in unseating a two-term Democratic incumbent. However, Nixon, in saying that Cuomo has "governed like a Republican," has almost painted herself and Cuomo as from two different parties.
Reagan was up against former San Francisco Mayor George Christopher in the 1966 Republican primary election, which he won with almost 65 percent of the vote, and went on to defeat Brown in the November general election with 58 percent. "Brown underestimated Reagan and it was easy to do considering he was a celebrity candidate who had no experience in elected office," Regalado said.
Andrew Cuomo initially attempted to dismiss Nixon's candidacy when she first announced her plans to run for governor in March of this year, but he has shown in the subsequent months that he is concerned enough about her challenge to raise and spend well more than $8 million this year as of a month before the September 13 primary, not to mention several policy and other moves apparently aimed at neutralizing Nixon's appeal.
"We're in a democracy, anybody can run, anybody can say whatever they want to say," Cuomo said during a March 21 news conference in Manhattan, when asked about the Sex and the City star's candidacy. "This is the political silly season at an especially bizarre time in politics. But we have some real work to do."
In one quip, Cuomo criticized both Nixon's success as an actor and questioned her ability to do the job of governor: "Normally name recognition is relevant when it has some connection to the endeavor," he said during a conference call with reporters. "If it's just about name recognition, then I'm hoping Brad Pitt, Angelina Jolie, and Billy Joel don't get into the race."
Over the course of the campaign that has unfolded, Cuomo has in some ways shown he is taking the Nixon challenge seriously, while his surrogates have repeatedly used her acting career as a point of attack, with campaign spokespeople regularly saying that she is only able to read a script.
According to Reagan biographer and presidential historian Craig Shirley, who is based in New York, the tendency for incumbent politicians to underestimate candidates such as Reagan and Nixon can very easily backfire. "That could be Nixon's greatest asset; there's nothing better in politics than to be underestimated," Shirley said. Since Cuomo's early remarks and Shirley's assessment, one seismic event occurred, even if polls have shown Cuomo with very comfortable margins: Alexandria Ocasio-Cortez roundly defeated ten-term incumbent Rep. Joe Crowley in June's congressional primary, sending shockwaves through New York and national politics. Cuomo said that outcome means nothing for his race, but reason dictates every incumbent is at least a little more uneasy since June 26.
Other Democrats, including some loyal to Cuomo such as former New York City Council Speaker Christine Quinn, were also quick to denounce Nixon's gubernatorial bid. "She isn't qualified to be the governor," Quinn told the New York Post following Nixon's announcement, and referred to Nixon as an "unqualified lesbian" in recalling that Nixon had not supported Quinn, a "qualified lesbian," for mayor in 2013, when Nixon strongly backed eventual winner Bill de Blasio.
Yet Nixon quickly turned "unqualified lesbian" into a rallying cry for her campaign, a move indicative of her strategy to use her lack of government experience -- framed as "outsider" status -- in the only way she can: to position herself as someone attractive to voters who want change; as a candidate unencumbered by the traditional trappings of politics and free to take on the establishment; and someone who also understands the problems of everyday New Yorkers.
"Cuomo has been in office eight years, hardly anything has changed," she told the Associated Press in March. "If we want change, people like me, who have never run for office before, have to get involved."
More than 50 years ago, in 1966, almost those exact words were spoken Reagan, as he first campaigned to become governor of California.
"It's true I've never held public office," Reagan told TIME for a October 1966 cover story. "But if we're going to base the election off that, consider that Brown's been in office eight years and he hasn't done much about our problems!"
Positioning himself as a "citizen politician," Reagan blamed Brown for many of the state's issues, including the uprising of protesting students at Berkeley University -- a part of the Free Speech Movement and largely in opposition to the Vietnam War -- as well as the racially-charged Watts Riots in the summer of 1965 in Los Angeles that started amid rumors police had roughed up two African-American men and a pregnant woman during a traffic stop.
He leveraged the fear of Californians to position himself as a 'law and order' politician, telling the students of Berkeley, "Obey the rules or get out." According to reports at the time, many voters in the lower middle class, who were members of unions and typically Democratic voters, switched their allegiance in response to the seemingly extremist socialism flourishing across the state. Reagan won after painting Brown, and the entire state's political system, as inadequate in delivering fairness and order to 'everyday people.'
"His celebrity put him in touch with Californians unlike perhaps any other candidate and he also listened to what people had to say," Regalado said. "It was part of his strategy to be in touch with common Californians. He was a citizen-politician unencumbered by the restraints of having been in office too long. It was the perfect message. "
When asked if he believes this message is applicable to Nixon's case, and if it could be employed to achieve success in the New York gubernatorial primaries, Regalado said: "I do, I do."
Nixon is indeed making similar thematic points in New York, as Reagan once did in California. And though she is positioning herself as a liberal criminal justice reformer, not a law and order candidate, she is likely hoping for a backlash (albeit in the other direction) comparable to what Reagan inspired in 1966. She has aligned herself with communities and advocacy groups that feel left behind by Cuomo, whom they attack for being a centrist and empowering Republicans. Nixon and her supporters argue the governor has sidelined many progressive goals in order to triangulate, retain the moderate fiscal policies he favors, support charter schools, and cater to real estate interests.
During a campaign conference call with supporters several months ago, Nixon criticized Cuomo for "paying lip service" to condemning Trump and creating a sanctuary state, without actually doing anything to deliver change. Referencing criminal justice reform and protecting undocumented immigrants with access to driver's licenses, Nixon asked simply: Why hasn't he done it?
Nixon has been endorsed by the Working Families Party (WFP) - a progressive political party that backed Cuomo in his previous two gubernatorial victories but parted ways with him over what party members deemed a failure to deliver on a truly progressive agenda.
"If I was giving advice to Cynthia Nixon it would be that when you have the spotlight on you - and she will - you have to do something with it," Shirley said earlier this year, in what is now a prelude to the lone Nixon-Cuomo debate, scheduled for Wednesday night on CBS-2 television. "Reagan gave a highly successful speech in 1964 on behalf of the Republican presidential candidate Barry Goldwater and emerged as the national conservative leader after Goldwater lost the election. After that, he was no longer Ronald Reagan the actor, he was Ronald Reagan the conservative."
While the debate will not offer Nixon that kind of spotlight, it will provide her with a significant opportunity she has not had to date.
Earlier in the campaign season, Regalado agreed that, like Reagan had to in the late '60s, Nixon needs to show she has the "substance" it takes to be governor, and that it's important she talks policy, programs, and what she will do for voters. "She needs to get out her agenda and highlight her experience working with different communities," he said. "She needs to outline five points, or three points, that will appeal to a broad voter base. This is important for the visualization of electorate voters."
Since the launch of her campaign, Nixon has announced a mix of policy positions including "fully funded schools"; campaign finance reform; criminal justice reform; and single-payer healthcare. She's tapping into the anger and fear of many New Yorkers in campaigning on a platform that includes strengthening rent regulations and fixing the subway. She has also pushed for marijuana legalization, one of several moves she has made that have appeared to elicit action from Cuomo, who has recently moved the state toward legalization.
Nixon has also promised to invest more money to improve living conditions at public housing and to pass the New York Dream Act, which would allow undocumented college students access to state financial aid. Another pillar of her campaign is the issue she spent nearly two decades doing unpaid advocacy work on: education funding, with a focus on more resources for the neediest school districts across the state.
"The question is, will she avoid, not only verbal gaffes, but policy gaffes," Regalado added, referencing Nixon's misstep when she said communities of color should be home to legalized marijuana distribution opportunities as a form of "reparations," a comment she sought to clarify and apologize for in subsequent days. "There is a lot to learn for a new candidate who is running for office," Regalado said.
Nixon's 'newness' holds a benefit, however, that proved in Reagan's case to overshadow any mistakes he might have made in discussing policy: He could present himself as a 'clean' alternative - gaffes or not -- to the career politician and regularly highlighted his position as untouched by corruption.
"Being an outsider, and not being part of the established elite, can be a real asset," Shirley said. "Reagan made it clear to them; 'I'm not part of the corruption of Sacramento, that's Pat Brown's doing, I'm just offering myself to go in there and clean it up.'"
According to reports at the time, property taxes had doubled under Brown's leadership and the Californian people believed their money was being used to grease the hands of the political elite. Reagan was critical of the state's budget problems and, as Brown told The Harvard Crimson in April of 1967: "I erroneously thought that people were proud of the things we had done. All they were really concerned with was taxes." Brown continued that Reagan rarely offered any constructive solutions to the state's budget problems but, because the newcomer fuelled the public's fear of corruption, it meant any blunders he might have made didn't matter so much when it came to voters making decisions at the polls.
Some of that spirit of 1966 may apply today, though the fact that Nixon is challenging Cuomo in a party primary where turnout will be low may drastically diminish her chances. From the earliest days of her campaign, Nixon has called Cuomo corrupt, saying he caters to his donors, and blaming him for rampant corruption in state government, which he had vowed to clean up when he was first elected in 2010. She promised to on day one to appoint a commission to investigate corruption in state government if she's elected governor, and has repeatedly noted that a 2013 commission launched by Cuomo was shut down when "it got too close to him" and his donors.
One of the cornerstones of Nixon's campaign is her refusal to take contributions from corporations and limited liability companies, or LLCs. Both have been the source of major donations to Cuomo, who has failed to close the notorious "LLC loophole," which effectively negates the state's already high contribution limits.
"Under Andrew Cuomo, public corruption in our state capital has become a national embarrassment, and robbed New Yorkers of the honest, trustworthy government they deserve," Nixon said in a statement. Nixon and her supporters regularly reference the recent federal corruption conviction on multiple counts of Joseph Percoco, a former top government aide, campaign manager, and friend to Cuomo. Still, it is unclear how much that and other corruption is resonating with voters, especially Democratic primary voters. Cuomo has had commanding leads in the polls, though Nixon has questioned whether they are capturing the progressive, anti-establishment, and new-voter energy that she believes is rampant.
Nixon's campaign strategy, like Reagan's in 1966, is largely a grassroots effort. With the WFP, Nixon is working with a growing network of volunteers across the state. She has raised a very small fraction of the nearly $40 million Cuomo has brought in. Reagan -- in a strategy unheard of at the time in the way it utilized media, volunteers, advertisers and behavioral scientists -- leveraged his skill as a public speaker to generate volunteer support and activate voters.
But Regalado believes Nixon will have to lock down a larger, weightier support base, and can't solely rely on grassroots efforts to win. "Cynthia is going to have to find her base within the party -- not just from the LGBTIQ groups and the Working Families Party." He said labor unions would be key, but Nixon has not won support from unions.
At this point, it is unlikely any major labor unions will get behind Nixon in the Democratic primary, but she has shown a focus on trying to break into Cuomo's hold on New York City Democrats, especially people of color. Polls have shown that these efforts have not been successful, but Nixon has appeared undeterred, acknowledging a "narrow path" to victory, but a path nonetheless.
Gyory agrees there are "superficial similarities" between Nixon's and Reagan's campaigns, but points out by the time he ran for governor, Reagan "had become the leading national spokesperson and the voice of a rising conservative movement." Though she has received significant national media attention, Nixon has not risen to the level of becoming a symbol of a movement. While Nixon's campaign is getting national attention, she is still aiming to unseat one of her own party's sitting governors, and though many in the progressive movement are embracing her candidacy, it has been part of Democratic infighting, not a unifying force to unseat a member of Trump's party.
For some voters, Nixon will have to overcome skepticism about whether she is ready to govern the state. "Democrats almost universally counter-positioned themselves to Trump's lack of knowledge," Gyory said. "[Nixon] will have to confront this and handle the articulation of issues well."
Regalado says Nixon can learn from Reagan in the way he used perfect timing and a recognizable voice to endear himself to voters and gain the admiration of his party. It's a method that's been followed by other actors, too. Arnold Schwarzenegger, for example, was Governor of California between 2003 and 2011, and encouraged followers to call him "Governator," in reference to The Terminator movies he starred in, and used one-liners from his movies, such as "hasta la vista" and "I'll be back," to punctuate his press conferences and meetings.
"Reagan used humor," Regalado said. "He was not only a great script reader, he was a practiced actor, and that on the campaign trail can be very, very powerful. He was self-deprecating, and I think Cynthia's kind of doing that herself. She uses humor from what I can see. She's a good speaker. She's engaging and she has a comfortable message. All of that is very Reagan-esque."
Asked whether Nixon or her campaign has studied Reagan's, a campaign spokesperson put Nixon's acting career into context. "She started acting when she was 12 because she couldn't afford college otherwise," wrote Lauren Hitt. "Cynthia was raised by a single mom in a four floor walk up. The Governor likes to mock Cynthia's career and to say it proves she's out of touch. But in reality, while Governor Cuomo was given a huge leg up into politics by his father, Cynthia had to earn every single professional success she's had. Succeeding in such a brutal, tough industry is no small feat, and it shows just how tough, and smart Cynthia is. Cynthia has also used her acting platform for the last twenty years to give back. She's fought tirelessly to close the funding gap between low-income and high income school districts, she organized against anti-marriage equality senators, and fought in support of women's reproductive rights."
Shirley uses Reagan's own words to illustrate Nixon's threat, and as a reminder not to underestimate an actor-turned-candidate.
"Reagan once said, 'I don't know how you can do this job and not be an actor'," Shirley said. "And I think there's great wisdom in that. When you're on stage, do something with it. The better leaders understand they are also performers."