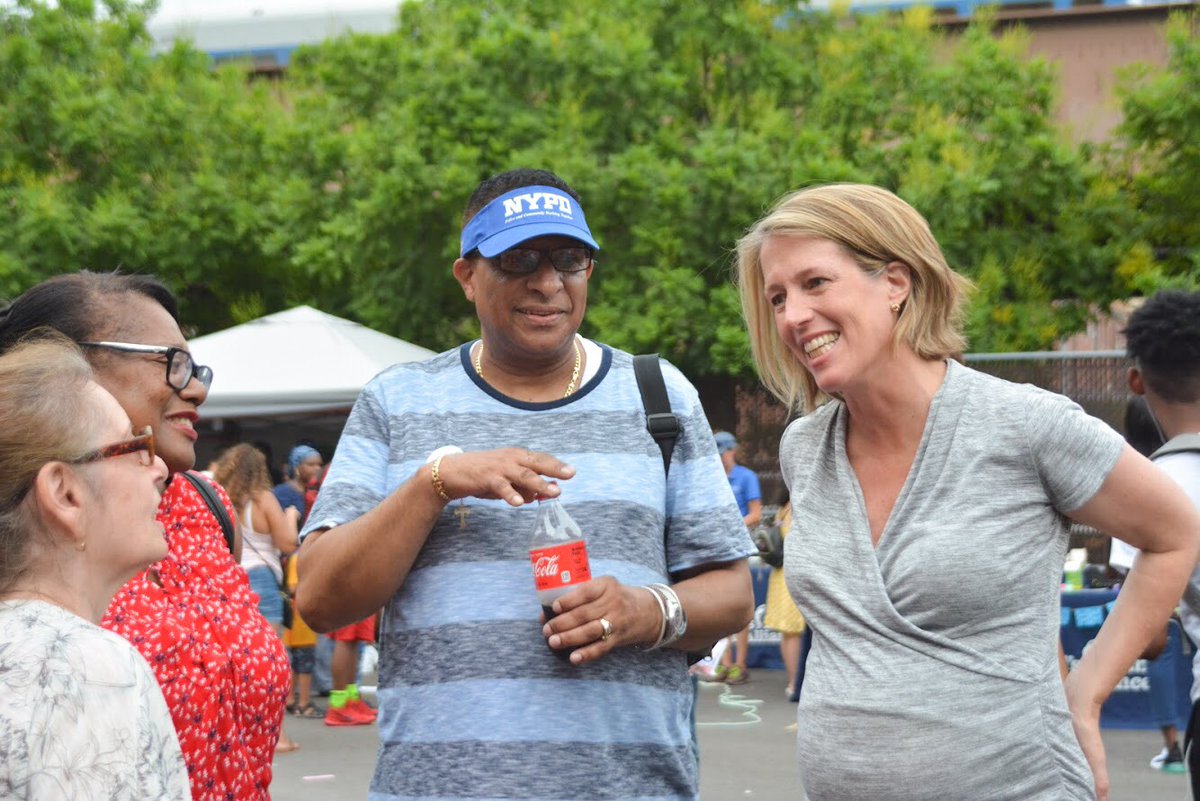 Zephyr Teachout, right, greets New Yorkers (photo: @ZephyrTeachout)
---
Zephyr Teachout has throughout her attorney general campaign made the case that she is the most progressive candidate in the race, but her shifted position on major New York gun control legislation counters the impression she is attempting to offer Democratic voters ahead of the September primary, and became a flashpoint last week during the first televised debate of the race.
Teachout, whose candidacy has in recent weeks gained momentum, picking up endorsements from the Daily News and New York Times editorial boards, was questioned at the debate by fellow candidates Public Advocate Letitia James and Rep. Sean Patrick Maloney for waffling on the NY SAFE Act. The former congressional candidate has over the years shifted her stated concerns about the SAFE Act — signature gun control legislation quickly pushed through the Legislature and signed into law by Governor Andrew Cuomo in the aftermath of the 2012 Sandy Hook Elementary School shooting.
Specifically, Teachout, a Fordham Law professor and nationally recognized expert on political corruption, during the debate insisted that she had been a "consistent supporter" of the the SAFE Act, but was and remains troubled by the process with which it was passed.
"I support background checks. I support closing the gun show loophole. I support assault weapons ban, and I've been consistent about my criticisms of legislation that is passed without a chance for public hearing," Teachout said after James, the race's presumed front-runner at its outset, asked why Teachout had flipped on the issue, during the cross-examination portion of the debate.
Asked by Ben Max, Gotham Gazette editor and moderator of the debate, if process was her sole concern about the bill, Teachout said, "That was my criticism of the SAFE Act, and that has been my consistent criticism of the SAFE Act."
"[M]y objections had to do with the process," she said when pressed on the issue by Maloney, shortly after, as he turned her question to him around on her to challenge her progressive bona fides. "That is totally clear."
But it has in fact not been evident from Teachout's comments on the SAFE Act since its passage that her reservations about the legislation have been purely regarding the legislation's path to fruition, as she claimed. While in recent years Teachout has several times expressed process complaints about the way the legislation was passed, she also said during her 2016 congressional bid for a Hudson Valley seat that she did not support the legislation due to shortcomings she argued came as a result of the hasty process.
"I've been a critic of the SAFE Act," Teachout offered proactively in January 2016 during an appearance on The Capitol Pressroom radio show with host Susan Arbetter, citing her position on the landmark gun control legislation on a list of stances that set her apart from "radical" left-wingers, as eventual winner Republican Rep. John Faso had labeled the Democrats in the race, which also included her belief in federal government "overreach" on Common Core education standards.
Asked by Arbetter to further explain her position on gun control, she said the way the SAFE Act was developed was "more focused on making a public message than really dealing with issues of gun safety." Further, Teachout said the this "led to some features that just didn't make that much sense." (Teachout was not alone in finding holes in the law. After the legislation's passage, it needed to be amended in part because it failed to exempt law enforcement from some provisions.)
"I support background checks, but I am not a supporter of the SAFE Act," she added.
Teachout also said the process by which it was passed was "rushed," "shut people out," and was "deeply disrespectful," though she did not during that interview specify who was kept from the discussion nor who was disrespected.
This was not the first time she criticized the legislative procedure for the SAFE Act. In 2014, Teachout also lamented the manner in which the legislation got to Cuomo's desk, and was more specific about who she felt had been left out.
"It was done in a deeply disrespectful way. We should have held hearings, listened to gun owners," she told the Watertown Daily Times, as she campaigned against Cuomo in that year's gubernatorial primary.
More broadly, Teachout in the past posited herself as a middle-of-the-road, voice of reason on gun control, who favored incorporating gun owners' voices into the debate, calling upon her own upbringing in Vermont, where she was part of a family of recreational hunters. "I've always been around guns," she said during the 2016 radio appearance.
Along with her public comments, Teachout shifted her posture on guns on her campaign website. Teachout's 2016 congressional campaign site during the primary noted on its "Public Safety" page that the United States "has a gun violence problem" and "far too many guns wind up in the hands of those who should not have them." It also included headers such as "Holding Gun Manufacturers Liable" and "Strengthening Universal Background Checks/Closing the Gun Show Loophole."
Yet as the general election neared, Teachout de-emphasized her gun control stance on the website, shortening the description of her position on guns by several hundred words, and replaced bolder gun control advocacy with softer language.
"Zephyr grew up in in a gun-owning household, and understands that the vast majority of gun owners are law-abiding citizens who use and store their firearms responsibly" was added to the same page of her campaign website, while the "Gun Industry Money Flowing to the NRA" section was deleted.
She added that if elected, she would would serve as a "voice for cooperation and common sense on gun safety," in part by "[c]reating an open dialogue about gun safety with constituents in the Hudson Valley and the Catskills." A Teachout campaign representative told Gotham Gazette that after the primary there was a site-wide edit for clarity that included many pages.
Tacking toward the center in anticipation for a general election — or altering a platform while seeking to represent a different constituency — are hardly rarities in politics, but Teachout disputes the notion any such evolution took place on the SAFE Act.
Teachout, in a statement, repeated what she said during the debate about the SAFE Act, denying she took issue with the legislation itself, but did not address questions on the campaign site changes.
"I've consistently supported the SAFE act and consistently critiqued the process by which it was passed without a single public hearing," she said Monday. "That should be the baseline expectation in a democracy, for any legislation whether it's gun safety laws or sexual harassment laws."
"If we don't have a process that people trust they're less likely to accept the outcome," she continued, touching on a theme that has been a consistent refrain from her about a broken state government, and a critique of it that is shared by many other good government advocates.
Teachout's prior skepticism of some gun regulation appears not to have deterred at least one gun control advocacy group from supporting her. Both she and James are Moms Demand Action "Gun Sense Candidates."
The four candidates, a group that also includes Leecia Eve, running in the Democratic primary for attorney general will on Tuesday again face off for another televised debate, this time on NY1, just over two weeks before the September 13 vote.
[WATCH the first televised debate of the Democratic Primary for Attorney General, aired by MNN]