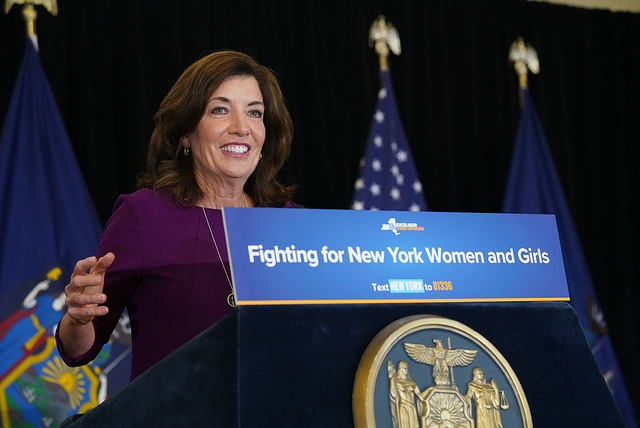 Lt. Gov. Kathy Hochul (photo: The Governor's Office)
---
Lieutenant Governor Kathy Hochul on Wednesday said she was "very much involved" in the recently signed laws aimed at combating sexual harassment in the workplace — a claim that comes in stark contrast to all prior indications that the legislation had been determined exclusively by four elected men and no elected women.
"I was used as a resource, as someone who has lived this experience personally, which is why I'm so passionate about standing up for women," Hochul said while debating her Democratic primary challenger, City Council Member Jumaane Williams.
"I was there helping chart the course that the state ended up adopting," she added, responding to a question from Gotham Gazette editor Ben Max, who moderated the debate hosted by Manhattan Neighborhood Network.
Following the debate, Hochul told a group of reporters that her "views were taken into consideration" in the legislation, adding context to the apparent debate revelation, which came after months of criticism aimed at Governor Andrew Cuomo, Hochul's running-mate, and legislative leaders, over a lack of public hearings and female input on the legislation.
Throughout the race and the debate, Hochul has fended off criticism from Williams — an insurgent running to the lieutenant governor's left on most issues while promising to reinvent the position if elected — who argues her role has in practice been merely a ceremonial ribbon-cutting one. She said Wednesday that not only has she had a hand in a variety of policy work, but that ribbon-cuttings should not be denigrated, given that they show something positive happening that benefits constituents.
Although the state's new anti-sexual harassment laws have been heavily touted by Cuomo, Hochul and their allies, there has been ongoing criticism that they were passed without the direct input of elected women or harassment victims. Instead, the behind-closed-doors negotiations involved four elected men: Cuomo, Assembly Speaker Carl Heastie, Senate Majority Leader John Flanagan, and Senator Jeff Klein, then-leader of the now-defunct Senate Independent Democratic Conference, who has been accused by a former staffer of forcibly kissing her.
In the lead-up to those final negotiations before the larger state budget deal of which the anti-harassment bills were a part, Cuomo's office had said that Senate Minority Leader Andrea Stewart-Cousins, a Democrat and the only woman leader of a legislative conference, would be included in the talks on harassment prevention. But she was not. Amid criticism, neither the governor nor anyone from his team publicly indicated that Hochul had been involved.
Chief among the critics of the process and product was the Sexual Harassment Working Group — a new coalition of seven women who have alleged facing sexual harassment or abuse while working in state government. One of the women, Rita Pasarell, told Gotham Gazette on Thursday that she had "not heard of Lieutenant Governor Hochul's involvement until her recent statements." Pasarell said she "would like to hear more about what specific parts of the law she advocated for and how she believes these will help workers."
"I would also like to know if she has spoken to any victims who have reported sexual harassment at work, including government workers," she added. "While the 2018 laws make some progress, there is much room for improvement."
She said, extent of Hochul's role in the process aside, it would be no substitute for a "transparent public vetting for legislation."
"We need to create victim-informed laws by listening to workers across industries, in public hearings," Pasarell said.
For her part, Senator Stewart-Cousins, who was briefed on discussions but not included in them, said in June on the Max & Murphy podcast that it was "strange" to her that she did not have a seat at the table when the legislation was being drafted.
"As the only elected woman leader, and the only elected woman leader that has led a conference in the history of New York State, during this #MeToo moment, you would have thought you would have been able to get in a room and at least let her say something," she continued. "Never happened."
This line of criticism prompted pushback from some in the governor's office, who noted that there were female aides who had a hand in crafting the sexual harassment legislation.
"Actually, I am in the room-along w other top female aides to the Senate & Assembly," Melissa DeRosa, Cuomo's top aide, tweeted in late March, attempting to throw cold water on the assertion that no women were involved in the legislative process. "It's sad, though not entirely surprising, that even when a woman like me is in the room helping to lead the charge, some only see a room full of men."
There was no mention of Hochul.
Asked for more explanation the day after the Hochul-Williams debate, Haley Viccaro, a spokesperson for Hochul, described the lieutenant governor's role in informing the anti-sexual harassment legislation.
"The Lieutenant Governor often meets with women across New York and discusses issues important to them. Of course in the #MeToo era, sexual harassment is a topic that's unavoidable," she said Thursday in a statement. "As she said, she was used as a resource as someone who has lived with this experience personally, which is why she is so passionate about standing up for women all across this country who have been silenced by men who have abused their power."
Viccaro went on to say that Hochul was "most focused" on ensuring that the sexual harassment policy applied to both public and private employers.
"The Lieutenant Governor feels strongly that all New Yorkers deserve to have a safe and harassment-free workplace, and she has been very vocal that there must be a standard that reflects our seismic societal shift to a culture that treats men and women equally," she said.
In a statement, Dani Lever, a spokesperson for Governor Cuomo, echoed the sentiment expressed by the lieutenant governor during Wednesday's debate.
"The Lieutenant Governor's leadership and partnership in advocating for causes important to women across the state has been indispensable," she said, "including her strong advocacy for extending the state's sexual harassment model policies to private employers which will make workplaces safer for all New Yorkers."