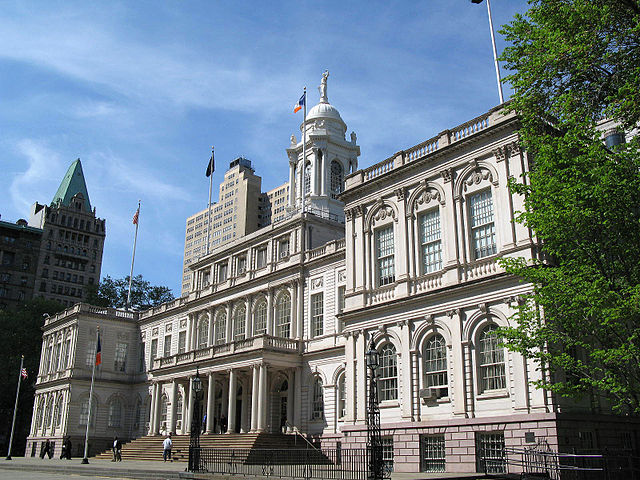 New York City Hall
---
What to watch for this week in New York politics:
Thursday will mark one week until primary election day, which is Thursday September 13. After "debate week" last week -- featuring the second televised debate in the Democratic attorney general primary, and the lone televised debates in the Democratic primaries for governor and lieutenant governor -- those three statewide races and a variety of other local legislative races are in their home stretches.
The four Democrats vying for the party's attorney general nomination will participate in a series of public forums this week -- see below for details, while challengers Cynthia Nixon and Jumaane Williams continue to push for Governor Andrew Cuomo and Lieutenant Governor Kathy Hochul to agree to at least one more televised debate. No one should expect the incumbents to agree, despite the fact that Hochul had previously said she would debate Williams on NY1, but hasn't [Watch the Hochul-Williams debate here].
Debates in contentious legislative primaries -- especially those for state Senate seats, particularly in races involving former members of the Senate's Independent Democratic Conference -- will continue this week. (NY1 has hosted several debates so far and will host others this week. The Max & Murphy podcast/WBAI radio show has hosted a series of appearances by competing candidates in some of the Senate races, as well as all four Democrats running for attorney general.)
In the final frenzy before primary day, we're watching for additional endorsements, such as whether Mayor Bill de Blasio will endorse Cynthia Nixon in the gubernatorial primary or stay out of it, and what he might do in the other statewide primaries and local races. Thus far, he's endorsed in two state Senate races, backing Jessica Ramos over Senator Jose Peralta and Zellnor Myrie over Senator Jesse Hamilton. U.S. Senator Kirsten Gillibrand jumped into several races over the weekend, backing challengers to former members of the IDC. She endorsed Ramos and Myrie, as well as Robert Jackson over Senator Marisol Alcantara and Alessandra Biaggi over Senator Jeff Klein.
Along with debates and endorsements, we're watching the final pre-primary campaign finance filings, which are due by midnight Tuesday, and the pre-primary ads, statements, and other campaign activity that will be coming fast and furious through primary day: Thursday, September 13.
Beyond the elections, there are some other things happening, including City Council hearings, panel events, and the start of the New York City school year -- see our day-by-day rundown below.
***Do you have events or topics for us to include in an upcoming Week Ahead in New York Politics?
e-mail Gotham Gazette editor Ben Max: This email address is being protected from spambots. You need JavaScript enabled to view it.***
The run of the week in detail:
Monday
Monday is Labor Day.
Tuesday
On Tuesday at 10:30 a.m. at City Hall, "Mayor de Blasio will hold a public hearing on and sign Intro. 1089 that authorizes and expands a speed camera program in school zones. This event is open press. There will be no Q-and-A." City Council Speaker Corey Johnson will deliver remarks at the bill-signing. At 3 p.m., "the Mayor and Police Commissioner O'Neill will hold a media availability on crime statistics. This event is open press. There will be Q-and-A."
On Tuesday at 7:30 a.m., Comptroller Scott Stringer will appear live on Fox 5 "Good Day New York." At 3:30 p.m., Stinger will tour "Delayed Middle Village Sewer Upgrade Project with State Senator Addabbo, Assemblymember Barnwell, Council Member Holden and Local Residents" in Queens.
On Tuesday at 9 a.m. at City Hall, the New York City Advisory Commission on Property Tax Reform empaneled by Mayor de Blasio and City Council Speaker Corey Johnson will convene in order to discuss reforming the city's property tax system while also ensuring that there are no reductions in revenues that fund city services.
On Tuesday at noon, "Councilman Chaim Deutsch, Councilman Rafael Espinal, Councilman Justin Brannan, Assemblyman David Weprin, and advocates will be holding a press conference on the steps of City Hall to announce a $1 million pilot program to launch kosher and halal lunches in New York City public and nonpublic schools." City Council Speaker Corey Johnson and Comptroller Scott Stringer will deliver remarks.
On Tuesday at noon, "Council Member Jumaane D. Williams, State Senator Kevin S. Parker, and community advocates will hold a press conference to call on the MTA and Department of Transportation to address community opposition to the B82 SBS line in development and to highlight the need for the agencies to collaborate with communities on transportation solutions." The press conference will take place at "4154 Kings Highway, at the intersection with Avenue K."
At 12:30 p.m. Tuesday, 1Lieutenant Governor Kathy Hochul will make an announcement at Farmingdale State College.
The New York City Planning Commission will hold a review session and special meeting at 1 p.m.
On Tuesday, "following Labor Day, Council Member Francisco Moya, Assemblywoman Ari Espinal, organized labor groups and worker's rights organizations will call on the New York State Department of Labor to eliminate the tipped credit and raise all tipped workers up to the full state minimum wage." Members of the Retail Workers union will also participate.
At 1:30 p.m. Tuesday, Governor Cuomo will tour the Governor Mario M. Cuomo Bridge and make an announcement.
On Tuesday afternoon in Albany, "Reinvent Albany and Citizens Budget Commission to Testify in Support of Authorities Budget Office's (ABO) Rule Increasing Transparency of IDA Projects and Describing How Subsidies Clawed Back or Revoked."
At 6 p.m., the New York City Charter Revision Commission empaneled by Mayor de Blasio will hold a public meeting at the New York Historical Society. The commission plans to discuss ballot questions that may potentially appear during the November general election, if the commission chooses to adopt the proposals.
At 6:30 p.m. Tuesday, the New York City Bar Association will host a forum with Democratic attorney general candidates Letitia James, Zephyr Teachout, Sean Patrick Maloney, and Leecia Eve.
There will be a rally at 6:30 p.m. Tuesday in City Hall park to celebrate the new city speed camera law. City Council Speaker Corey Johnson is among those who will speak.
On Tuesday evening's Inside City Hall on NY1, there will be a debate between state Senator Jose Peralta and challenger Jessica Ramos, who are competing for the Democratic nomination in Senate District 13 in Queens.
Wednesday
Wednesday is the first day of school for most New York City public schools.
On Wednesday, various City Council subcommittees will be holding meetings inside the Committee Room at City Hall. The Subcommittee on Zoning and Franchises will meet at 9:30 a.m., the Subcommittee on Landmarks, Public Siting and Maritime Uses will meet at noon and the Subcommittee on Planning Dispositions and Concessions will meet at 2 p.m.
At 10 a.m., the City Planning Commission will also hold a public meeting in the New York City Planning Commission Hearing Room.
From 5 p.m. to 6 p.m., catch the latest episode of Max & Murphy, hosted by Gotham Gazette's Ben Max and City Limits' Jarrett Murphy, on WBAI radio at 99.5FM or wbai.org.
On Wednesday at 5:30 p.m., the four Democratic candidates for attorney general will appear at a criminal-justice-reform-focused forum at National Action Network, Reverend Al Sharpton's organization, which is being co-sponsored by several reform organizations, including JustLeadershipUSA, Communities United for Police Reform, and the NAACP.
In Albany, the Cuomo administration will hold its first listening session for input about marijuana legalization and regulation from community members and stakeholders. This event, which will take place from 6 p.m. to 8 p.m. at the Albany Capital Center, is devised as part of a series of statewide listening sessions. The input amassed at these sessions are to aid the Regulated Marijuana Workshop in the development of comprehensive adult-use marijuana legislation, which would then be reviewed by the Legislature in the next session.
During Wednesday evening's Inside City Hall on NY1, there will be a debate between state Senator Tony Avella and former city Comptroller John Liu, who are competing for Democratic nomination in Senate District 11 in Queens.
At 7 p.m. Wednesday, there will be a debate between the two candidates running for the Democratic nomination in Assembly District 46 in Brooklyn, Mathylde Frontus and Ethan Lustig-Elgrably. The debate is being hosted by Bklyner and moderated by Kadia Goba, and held at Trump Village Community Room, 2928 West 5th Street, Brooklyn.
Thursday
Thursday is one week until primary day, and the last day to postmark an application for an absentee ballot for the primary election. More information on absentee voting is available on the New York City Board of Elections website. You can also check your eligibility to vote and your polling place.
At the City Council on Thursday:
--The Committee on Women, Committee on Criminal Justice and Committee on Justice System will hold a joint meeting at 10 a.m.
--The Committee on Land Use will hold a meeting at 11 a.m.
--The Committee on Immigration will hold a meeting at 1 p.m.
At 10 a.m. Thursday, the Senate Standing Committee on Commerce, Economic Development and Small Business and the Senate Standing Committee on Labor will jointly meet to discuss New York's Minority and Women-owned Business Enterprises program at the Village of Mineola Community Room. They will also deliberate over potential legislative solutions to enhance the program.
From 6 p.m. to 8 p.m. Thursday, the next round of regulated marijuana listening sessions, led by the Cuomo administration, will take place in Glens Falls at SUNY Adirondack. In an effort to develop comprehensive adult-use marijuana legislation, community members and stakeholders will discuss the implementation of a regulated marijuana program in New York.
At 6:30 p.m. Thursday, the Brooklyn Historical Society will host a discussion featuring President and CEO of Planned Parenthood NYC Laura McQuade, State Senator Liz Krueger, journalist Irin Carmon, and CUNY School of Public Health assistant professor Lynn Roberts on what the midterm elections might mean for the state of reproductive rights in New York and across the country.
On Thursday at 7:30 p.m. in Queens, "The Douglaston Civic Association will hold a Candidates Forum...with the four candidates for the District 11 Senate seat from Northeast Queens: Democrats Tony Avella and John Liu and Republicans Vickie Paladino and Simon Minching. Each candidate will make 5-minute opening statements followed by 40 minutes of audience questions and then 2-minute closing statements."
From 7 p.m. to 8:30 p.m. Thursday, the four Democratic candidates for attorney general will debate at Cooper Union's Great Hall. This public debate, which will be broadcast live on WNYC radio, 93.9 FM and AM820, and livestreamed by Cafe.com, will be co-hosted by WNYC and the Cooper Union. Former U.S. Attorney Preet Bharara and WNYC's Brian Lehrer will moderate.
During Thursday night's Inside City Hall on NY1, Democratic state Senate candidates Ross Barkan and Andrew Gounardes will debate. The two are competing to see who will face Republican Senator Marty Golden in the general election of Senate District 22, in Brooklyn.
Friday and the weekend
Friday morning, City Council Speaker Corey Johnson will participate in a CityLaw Breakfast to discuss the city's transit system and congestion pricing. The event will take place at New York Law School from 8:15 a.m. to 9:30 a.m.
Mayor de Blasio may make his weekly appearance on WNYC's The Brian Lehrer Show Friday at 10 a.m.
***
Have events or topics for us to include in an upcoming Week Ahead in New York Politics? E-mail Gotham Gazette executive editor Ben Max any time: This email address is being protected from spambots. You need JavaScript enabled to view it. (please use "For Week Ahead" as email subject).
***
by Ben Brachfeld and Ben Max
@GothamGazette