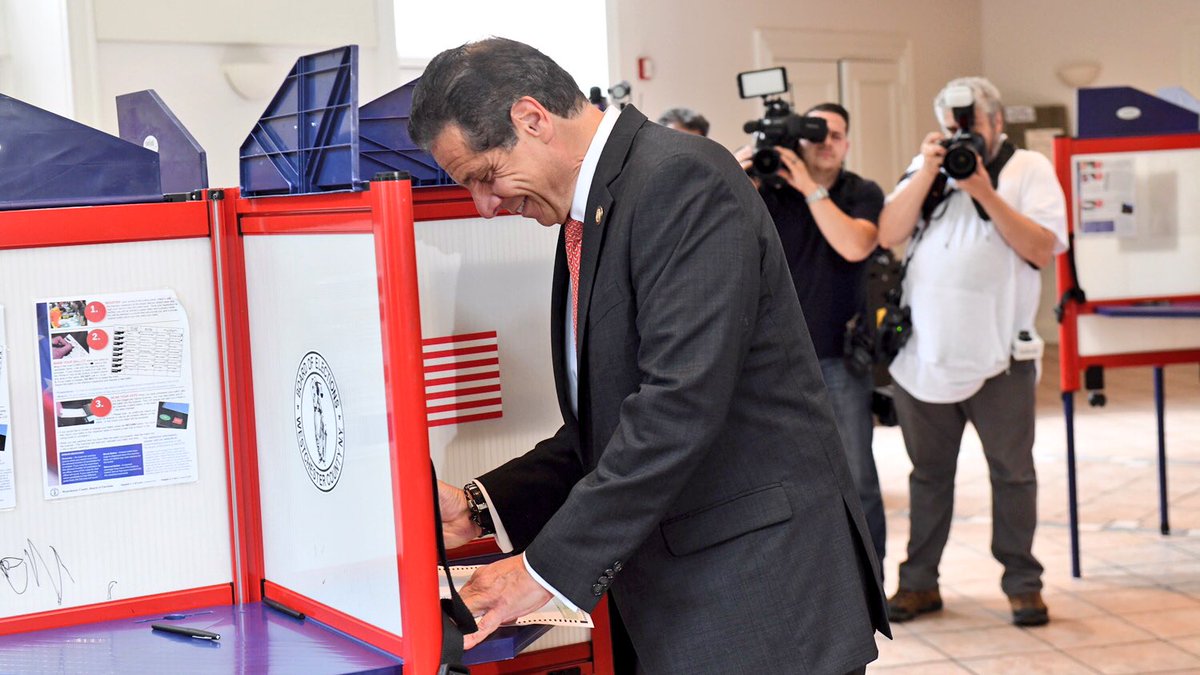 Gov. Cuomo voting in Thursday's primary (photo: @NYGovCuomo)
---
The Democratic gubernatorial primary between Governor Andrew Cuomo and Cynthia Nixon saw a significant surge in voter participation, but turnout still stood at only 27 percent of active registered Democrats.
Compared to the 2014 primary election, when Zephyr Teachout challenged Cuomo, who was then seeking a second term, turnout more than doubled, according to preliminary numbers. And, turnout spiked slightly more in New York City than elsewhere. Specifically, 28 percent of registered Democrats in New York City voted in the 2018 primary while 24.5 percent voted outside of the city — 2.8 and 2.3 times as many voted in 2014, respectively, when around 10 percent of those eligible cast a ballot.
"As far as the race for governor goes, turnout was greatly improved in the city and throughout the state. That was very impressive," said Steven Romalewski, director of the Mapping Service at CUNY's Center for Urban Research, in an interview Friday. "It wasn't just a modest increase compared with the somewhat anemic turnout statewide in 2014."
"The number of voters went from 575,000 to 1.5 million," he added. There were 5,621,811 million active registered Democrats across the state as of April 1, according to the State Board of Elections. Turnout was likely aided by a number of factors, including the high number of competitive races, including three statewide positions and the challenges to former members of the Senate Independent Democratic Conference and Democrats' post-Trump awakening.
Cuomo won this year's primary with 978,138 votes to Nixon's 512,585, as of the preliminary count, for 65.6 percent to 34.4 percent. In 2014, Cuomo received 361,380 votes (63 percent), and Teachout earned 192,210 votes (33.5 percent); comedian and activist Randy Credico picked up the remaining votes and about 3 percent.
In Cuomo's win, he captured broad support across the state, earning about 67 percent of the vote in New York City and 64 percent outside the city, with the exception of a few geographic regions. He performed particularly well in majority-black areas of the city, especially in the Bronx — he won 83 percent in the borough overall — Harlem, and Central Brooklyn. Nixon, for her part, received a good share of votes in whiter, gentrified parts of Brooklyn, competed better with Cuomo in Manhattan, where she earned 41 percent of the vote, her best borough, and the Queens waterfront, posting her best numbers, like Teachout four years ago, in areas of the city home to many white progressives. Nixon also performed fairly well in some upstate areas, such as Albany County, and also beat Cuomo in counties surrounding it, along with Tomkins and Lewis counties to its west and north, respectively.
Turnout was so much higher that Nixon earned 320,375 more total votes than Cuomo did in 2014, but still won about the same percentage as Teachout did that year.
Cuomo's win was so solid, and the city's share of the vote so significant, that the governor's total votes from Brooklyn, Manhattan, the Bronx, and Queens eclipsed Nixon's statewide total.
The other two statewide Democratic primaries, for Lieutenant Governor and Attorney General, followed a similar pattern, with incumbent Lieutenant Governor Kathy Hochul again winning the party's nomination and New York City Public Advocate Letitia James prevailing in a four-way Attorney General race with no incumbent.
Specifically, James' base was predictably in the city; Zephyr Teachout performed well in the Hudson Valley as well as parts of Brooklyn home to many white progressives, the Upper West Side, and Greenwich Village (places Nixon received a large share of votes); and Rep. Sean Patrick Maloney performed best further upstate and in Western New York.
In total, James won 40.6 percent of the vote, Teachout 31, Maloney 25, and Eve 3.4.
Teachout's and Maloney's combined votes totalled 800,398 — 221,016 more votes than what James received, perhaps suggesting had only one of the candidates been in the race he or she would have had a strong chance. Given their similar voter base and James stranglehold on New York City, neither was likely to be able to pull off a victory given the other's presence, as Gotham Gazette last week reported looked likely.
In the Lieutenant Governor race Hochul unofficially received 733,591 votes, or 53.3 percent, to Williams' 641,631 votes, or 46.7 percent.
Williams received the lion's share of his votes in New York City, particularly Brooklyn, where he is from and represents a City Council district. Twenty-six percent of his total votes were cast in his favor in Brooklyn, but he was defeated by Hochul nearly everywhere else save Manhattan, and Tompkins and Columbia Counties. In New York City, Hochul received more votes than Williams in the three other boroughs, Queens, the Bronx, and Staten Island, and she did slightly better than Williams throughout most of the state.

Vote totals were slightly lower in both the Attorney General and Lieutenant Governor primaries than the race for Governor, as evidently some voters chose Cuomo or Nixon but left their ballots blank in one or more of the two other statewide races.
In unofficial totals, 1,375,222 votes were counted in the Lieutenant Governor race and 1,428,418 votes in the Attorney General race, compared to 1,490,723 in the gubernatorial race, leaving roughly 115,500 who voted in the Governor's race but did not pick either of the major candidates in the Lieutenant Governor race (some may have done write-ins), and about 62,300 who did the same in the Attorney General race.
But while Nixon lost by a large margin, and fellow insurgents Teachout and Williams lost as well, the progressive energy appeared to have a massive effect down-ballot, as six candidates challenging former members of the Senate Independent Democratic Conference, a group of eight breakaway Democrats who caucused with Republicans in the state Senate, ousted the incumbents, and another insurgent, leftist candidate unseated another sitting senator representing part of the city.
Challengers Alessandra Biaggi, Jessica Ramos, John Liu, Zellnor Myrie, Robert Jackson, and Rachel May defeated IDC Senators Jeff Klein, Jose Peralta, Tony Avella, Jesse Hamilton, Marisol Alcantara, and David Valesky, respectively. One-time IDC Senators Diane Savino and David Carlucci fended off their challengers. Five of the districts where the incumbent IDC senators were beaten are fully or mostly in New York City. Julia Salazar also beat Senator Martin Dilan, who is not an IDC member, in Brooklyn. The progressive energy did not push Blake Morris to victory over Senator Simcha Felder, a Democrat who is a member of the Republican conference.
Turnout in those Senate primaries varied somewhat. Senate District 34, represented by IDC founder and former leader Jeff Klein, had 23.2 percent turnout for Biaggi's win, while in District 22, where Salazar ran a scandal-plagued but winning race against Dilan, turnout was 24 percent. Biaggi won with an unofficial 53 percent to Klein's 44.5 percent. She did very well in the western portion of the district, including Riverdale, while Klein did well in the eastern section, including parts that overlap with soon-to-be U.S. Rep. Alexandria Ocasio-Cortez's district.
Salazar, meanwhile, won with an unofficial 54 percent to Dilan's 39 percent. She performed best in areas of the district that have seen widespread gentrification, like Bushwick, Williamsburg, and Greenpoint, while Dilan performed best in the comparatively lower-income eastern part of the district.
Myrie beat Hamilton by roughly 20 points in District 20 in central Brooklyn and parts of Park Slope, relying heavily on votes from areas home to more white progressive. In Queens, Liu received 53 percent of the vote to Avella's 47 percent, reversing the outcome of their 2014 primary race, and Ramos earned 55 percent of the vote to Peralta's 45 percent.
Jackson beat Alcantara on the west side of Manhattan with 53 percent of the vote to her 36 percent, while two other candidates combined for 5 percent. In that race, which includes parts of the always-active Upper West Side, turnout was an above-average 30 percent.
Ben Brachfeld and Ben Max contributed to this article.