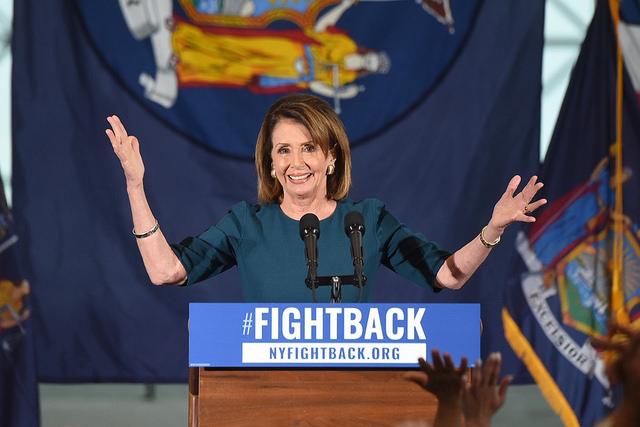 House Minority Leader Nancy Pelosi at a NY rally (photo: New York Democratic Party)
---
Four-and-a-half months after Donald Trump became president, Governor Andrew Cuomo held a rally in New York City with House Minority Leader Nancy Pelosi, pledging to help take back the lower chamber of Congress by flipping several New York seats through the midterm elections, which were then well over a year out.
Those elections are now five weeks away, and, after his decisive victory in the gubernatorial primary on September 13, Cuomo held another rally recommitting himself and the state party he controls to the effort Democrats are waging across the country in the hopes of securing at least one foothold of power on the federal level.
Along with his own reelection and that of his statewide state-level slate of party-mates, Cuomo has verbally committed to working to flip the New York State Senate and several U.S. House seats in the state. There are a number of potential targets for Democrats in New York in a year that is expected to see a so-called blue wave of energy and voter turnout in many parts of the country. That notion was bolstered in New York by an explosion in turnout for the primaries, which saw Cuomo dispatch Cynthia Nixon, but several progressive challengers unseat Democratic incumbents in the state Senate.
With a reconstituted group of state Senate nominees, Democrats must flip only a net of one seat to take the majority in the upper chamber of the state Legislature, while they already enjoy a sweeping majority in the Assembly.
As for House, the Democratic Congressional Campaign Committees' national "Red to Blue" districts — a list of tens of races it is focusing its resources to unseat Republicans — includes five New York congressional races. A state that Hillary Clinton won over Trump by a 22.5 points in 2016, though of course redder in the districts home to competitive races, Democrats hope New York will be fertile ground for them in November.
"I think we have to win at least two seats in New York to contribute to the overall effort to take back the house," Rep. Hakeem Jeffries of Brooklyn and Queens told reporters after a recent event. Jeffries listed Antonio Delgado (NY-19), Anthony Brindisi (NY-22), Max Rose (NY-11), and Dana Balter (NY-24) as Democratic candidates most likely to flip seats in November.
"The progressive delegation is clear we have to play our part in delivering the House majority to Democrats, and the road to doing so runs in part through New York State," Jeffries said.
Asked about a recent commercial from Rose's campaign that presents the Democratic candidate as an independent-minded candidate who doesn't align himself with the leaders in either major party in Washington and New York — and attacks Democratic Mayor Bill de Blasio by name — Jeffries said that as long as they speak "affirmatively talk about pocketbook issues," it's fine by him if candidates running in purple or red districts keep the more liberal party leadership at arm's length. .
"I don't think Nancy Pelosi holds it against anyone," he continued, "and she's basically indicated to everyone 'Do what's necessary to run the race that you have to run in your district.'"
Many races are at least in part seen as referendums on Trump, his leadership, character, and policies. In some of the swing congressional districts in New York, the new federal tax reforms signed by Trump late last year are central campaign issues. The vote split New York's Republican delegation, but even those like Donovan who voted against it may be forced to answer for it.
Rep. Grace Meng of Queens was optimistic about the potential for New York races contributing to the Democrats effort to take control of the House in January, saying she expects Democrats to this year flip more seats than what is currently forecasted.
"The definition of viable doesn't necessarily hold in this political climate," she said. "I'm hopeful for a lot of these races."
Meng went on to say there are many college campuses in the five swing district, so she is counting on young voters and campaigners to help push the candidates over the edge. "In these five districts, there are 23 college campuses," she said, referring to the DCCC-identified "Red to Blue" candidates. "I'm hoping that our college-aged voters will make a difference."
Rep. Carolyn Maloney of Manhattan also said she expects young voters to make a difference, based on the elections this summer and earlier in the fall.
"We saw that in the elections in New York, in the [Rep. Joe] Crowley race and some of the races that we just had in the State Senate," she said in reference to to Crowley's upset loss to insurgent democratic socialist Alexandria Ocasio-Cortez in the June primary and the September primary wins by state Senate primary challengers to the former members of the rogue Independent Democratic Conference that worked closely with Republicans.
But while members of Congress who spoke to Gotham Gazette were eager to help out fellow Democratic House candidates, many eyes have turned to the state's Democratic governor, and how he is spending his immense power, including his fundraising capabilities. As Politico reported recently, several Democrats in New York are waiting for Cuomo to fulfill his promise to allocate resources to competitive 2018 House races in the state. Recently released campaign finance filings from the Cuomo and the Cuomo-controlled New York State Democratic Committee showed that the governor spent over $26 million during the primary, the vast majority on his own campaign, and the state party spent about $1 million for Lieutenant Governor Kathy Hochul in her primary win, and $860,000 for Public Advocate Letitia James in her successful attorney general primary bid. But the committee had spent no money on Congressional Democratic candidates as of September 25.
A Cuomo campaign spokesperson stressed to Gotham Gazette that with the state primaries now over, the governor is turning his attention to the House and state Senate races. The spokesperson, Abbey Collins, also pointed out that from his campaign coffers, Cuomo has given max donations to the Democratic nominees in 10 House races and seven state Senate races, and said that the governor has several fundraisers with candidates already scheduled and is in the process of scheduling others, that he plans to campaign with Democratic candidates over the coming weeks, and that the state party has a robust organizing effort underway.
"The Governor launched an aggressive coordinated campaign over a year ago and has laid a robust infrastructure to take back the House and State Senate to fight back against Donald Trump and Washington Republicans. As we head towards November, we will continue to build on the State Party's dynamic field, data and mail program and ramp up fundraising and advertising efforts," Collins said in a statement. "There is no more urgent task ahead than defeating Trump and Democrats have never been more energized and united to win the day."
As Election Day approaches, Cuomo's efforts for both the state Senate and House will be of interest, but his role will only be a piece of the puzzle in a variety of contests that will help determine which party controls the two chambers.
In June, just after the congressional primaries, Gotham Gazette examined the congressional races to watch in New York for the general election. Since then, Democrats' chances to gain seats in New York have only improved, by all projections. Below is an updated look at where things stand on the Congressional side, starting with the lone competitive New York City-based race, followed by numerical order by district beyond the five boroughs.
New York Congressional District 11
Rep. Dan Donovan, New York City's sole Republican member of Congress, is facing a challenge this year from military veteran Max Rose, who is running as a middle-of-the-road Democrat in a district of diverse political leanings. District 11, comprised of Staten Island and parts of Southern Brooklyn, includes some of the city's most conservative territory, some liberal areas, and a large portion of moderate neighborhoods full of Democrats who supported politicians like Rudy Giuliani, Michael Bloomberg, and Dan Donovan.
The seat has largely been held by Republicans, and Trump is more popular in the district than any other in the city. Donovan, who defeated his predecessor, Michael Grimm in a hard-fought primary earlier this year, has touted his support for Trump, though he did vote against Trump's signature tax reforms. The president endorsed Donovan in the primary.
In a recent ad, Rose lamented the "traffic" and "drugs," among other problems that the "establishment" — including Democratic Mayor Bill de Blasio, who is unpopular in the district — has allowed to feser in New York-11.
Donovan is favored to win by the Cook Political Report, which places the seat he has represented since 2015 in the "likely Republican" category; Real Clear Politics is a bit more bullish on Rose's chances, placing the seat in the "leans GOP" category.
District 1
New York's first Congressional District, which includes most of eastern Long Island's Suffolk County, is represented by Rep. Lee Zeldin, in his second term in the House. A President Donald Trump-supporting Republican in a district where he isn't unpopular, Zeldin is perhaps the most likely of the "Red to Blue" districts to stay in Republican control.
Perry Gershon, a commercial real estate lender, is the Democratic nominee, and faces an uphill climb in a district where Zeldin prevailed over his last Democratic opponent by over 15 percent. According Cook Report's ranking of the district's partisan leanings, the district compared to the rest of the country is R+5, which means the district went for Trump by five points more than the nation as a whole.
Cook puts the seat in the "likely Republican" category as does Real Clear Politics. The race, however, was recently targeted by the DCC. And it was represented by a Democrat not long ago, noted Rep. Jeffries.
"That is a race that I think can be won. Tim Bishop held that seat for six terms as a Democrat and just lost in 2014," Jeffries said. "Trump did win the district in 2016 but his numbers are falling. But it's a district that can be won, particularly in a Democratic wave."
District 2
On Wednesday, the Cook Political Report moved Congressional District 2, held for decades by Rep. Peter King from being deemed an uncompetitive race to "likely Republican." Vying to represent the South Shore of Long Island district is Democrat Liuba Grechen Shirley, who previously worked for nonprofits in global economic development and human rights as well as New York University and the United Nations Foundation.
King has been in Congress for 25 years and has a relatively moderate voting record, though he is also a prominent Trump supporter on most topics. Cook Report has the district as R+3, and it voted for Trump by nine points. Still, given enrollment numbers, a wave election could put the seat in play if turnout for Democrats surges to the degree some are expecting.
District 18
Coming off his second unsuccessful run for New York Attorney General, Democratic Rep. Sean Patrick Maloney will attempt to hold onto his seat against Republican opponent James O'Donnell, an Orange County legislator. District 18, a swing district, is currently "likely Democrat," according to the Cook Political Report. Maloney in 2012 flipped the seat from red to blue, and has kept it in two elections since.
During his bid to become the state's chief legal executive, Maloney donated a lot of money from his House campaign tranche to that of his Attorney General campaign, sparking criticism, as well as a suit from fellow Democratic candidate Zephyr Teachout. Maloney, holding a seat in a district that voted for Hillary Clinton by just a two-point margin, appears to remain popular, but it remains to be seen if Hudson Valley remain enamored with him in the wake of his third place finish in the Attorney General race. Democrats hope to hang on to his seat to amass a net gain of Congressional seats in New York races.
District 19
Held by Republican Rep. John Faso, New York's 19th District, which includes parts of the Hudson Valley and Catskill region, voted for Trump by nearly a seven-point margin, but for Barack Obama in 2012 and 2008. Attempting to unseat Faso is Antonio Delgado, a Harvard graduate, corporate attorney, and former Rhodes Scholar.
The race has garnered a lot of media attention, in part because of what many regard as race-baiting ads run by Republicans, pointing to the facts that Delgado, who is black, in 2007 released a rap album and expressed certain left-wing views. A recently released ad, for example, labeled Delgado a "bit-city rapper."
Cook Political Report rates the district R+2 and a "Toss Up," as does Real Clear Politics.
District 22
Another Cook Political Report and Real Clear Politics "Toss Up" seat is Central New York's 22nd Congressional District, including Rome, Utica and Cortland, and held by Republican Rep. Claudia Tenney. Running against her in the Cook R+6 district is Anthony Brindisi, a member of the state Assembly, in a race that is among the DCCC's prime targets in November.
Brindisi is running on a centrist record while Tenney has largely leaned in to a more hard right orthodoxy, and is an unapologetic Trump supporter. They both have "A" ratings from the NRA, which Brindisi earned in part by voting against Cuomo's SAFE Act, though that didn't stop gun safety group Giffords from endorsing him.
District 24
Dana Balter, a lifelong educator and currently an assistant professor at Syracuse University, is running to unseat Republican Rep. John Katko, who represents the Syracuse-area 24th District. Katko, who has been in Congress since 2015, may be the most vulnerable Republican incumbent from the New York delegation.
Though she is on the DNC"s Red to Blue list, Real Clear Politics and Cook Report both rate the race likely Republican. The district, however, is a Cook D+3, and Trump in 2016 lost the district by 3.6 points.
District 27
Republican Rep. Chris Collins, who has represented Western New York's 23th District since unseating now-Lieutenant Governor Kathy Hochul in 2012, was Donald Trump's first congressional endorser for president. Collins is now running for reelection despite having been indicted for insider trading.
Nate McMurray, a Democrat and Grand Island town supervisor, is looking to unseat Collins, who had in the wake of his indictment told Republican leaders in the Buffalo area that he would work with them to get off the ballot, then reversed course, saying he will actively campaign. Real Clear Politics puts the race in its "Toss Up" category and Cook Political Report rates its "lean Republican." Despite the district's heavy red tilt — Trump won the district by over 24 points and it's a Cook Political Report R+11 — Democrats have been potentially handed a gift in Collins' legal troubles, which he is fighting.
Prosecutors in August charged Collins with using information obtained via his seat in Congress about a drug company's board to provide a stock tip to his son. There will be a court hearing on the case on October 11.
Election Day is Tuesday, November 6.