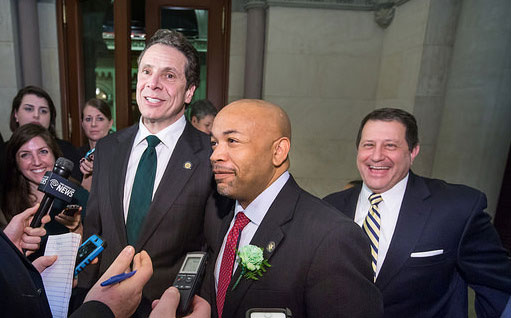 Speaker Heastie, with Gov. Cuomo and Assemblymember Morelle (Governor's Office)
---
New York State Assembly Speaker Carl Heastie's eponymous political action committee has continued to donate to Democrats in competitive races this year, recently making new contributions to Public Advocate Letitia James' attorney general campaign and Assembly Member James Skoufis' bid for State Senate.
The latest campaign finance filings with the State Board of Elections showed that Speaker Heastie PAC spent about $26,000 between September 21 and October 2, including $10,000 each to James and to the Democratic Assembly Campaign Committee -- as speaker, Heastie is honorary chair of the DACC and he has donated $55,000 in total through his PAC, which has raised its money mostly from a variety of special interests. The PAC gave Skoufis' campaign a $5,000 contribution -- it has sent Skoufis $12,250 overall as he seeks to move from Heastie's conference to the upper chamber as part of the Democrats' attempt to win control of the Senate and thus both houses of the Legislature.
Since its creation in January, Heastie's PAC has raised $326,100 from a combination of other PACs, limited liability companies, and individuals, and has doled out just over $303,000 to several Assembly members running for reelection, candidates for State Senate, Democratic clubs in the Bronx, home to Heastie's Assembly district and where he is intricately involved in the county Democratic Party, and to James, who is seeking to ascend from a citywide to a statewide official and become the state's top legal officer.
James' campaign is also being supported by much of the rest of the Democratic establishment in the state, including Governor Andrew Cuomo, while she is facing questions about her independence from figures like Heastie and Cuomo, and whether she would effectively work to root out government corruption as attorney general.
Heastie has donated a total of $31,000 to James' campaign, which has raised more than $2.5 million and spent over $2 million so far, including during a hard-fought four-way Democrtic primary. She had about $384,000 in cash on hand as of her most recent filing, while raising more money for the home stretch before Election Day. James' Republican opponent, Keith Wofford, is a lawyer at an international corporate firm and a first-time candidate for elected office. He has raised more than $1.6 million for his run and spent almost $1.4 million. He had about $400,000 remaining with three weeks left in the race, while also working to bring in more in order to spend it.
With Heastie assured to be reelected to another two-year term -- he is not facing a challenger -- and with Democrats overwhelmingly represented in the Assembly, his PAC has focused part of its efforts on the State Senate, where Republicans hold a one-seat majority, in an effort to regain control of the legislative chamber. Cuomo and the State Democratic Committee are spearheading that effort with a $2 million infusion of cash.
As of the last filing, Heastie's PAC did not show any new fundraising and had about $23,000 left to dish out.