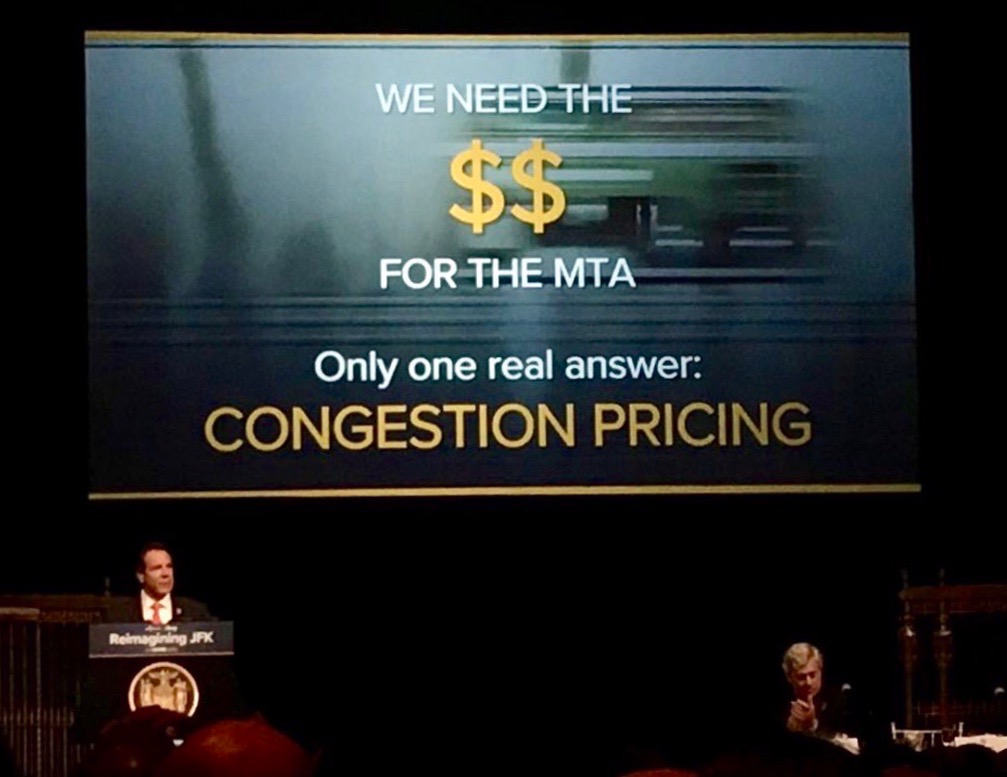 Cuomo in the midst of his ABNY presentation
---
One major issue that hung over the 2018 state budget season was congestion pricing, a plan to charge a fee to all motor vehicles entering parts of Manhattan and diverting the revenue toward funding the beleaguered subway system. Governor Andrew Cuomo directed a panel to study the issue, which determined that a congestion pricing scheme should be implemented and offered options for what it could look like, including a three-year, three-phase proposal. Activist groups applied significant public pressure on the governor and the Legislature. Newspaper opinion pages endorsed the idea.
But in the end, only a small part of the plan came to fruition in the budget: a surcharge on for-hire vehicles, including traditional taxis and app-based rides, entering the Manhattan business district. New charges on other cars and trucks did not come to pass. Activists excoriated Cuomo, while the governor blamed the Legislature. Cuomo said that an important first step had been passed and that he would work on additional steps in the future. That process would be led by a budget-created advisory "workgroup" made up of appointees from various stakeholders, including the governor, legislative leaders, and Mayor Bill de Blasio.
Since the March budget deal, the chorus calling for congestion pricing -- both to reduce street traffic in Manhattan and to secure a steady revenue stream to help support repair of the faltering subways -- has only grown, in number and volume.
Now, supporters of congestion pricing, from activists to City Council Speaker Corey Johnson and many others, want to ensure that it makes it into the next budget. They see a potentially more favorable environment, though a lot will be determined by the results of November's elections, and by the pressure they put on those running.
"It's my impression that pretty much everyone running for office right now at least in the city supports congestion pricing, so I think that puts us in a position to win this year," said Rebecca Bailin, the political director of the transit advocacy group Riders Alliance, referring to candidates for state Assembly and Senate.
Riders Alliance is a part of a new coalition, announced earlier this month, consisting of a diverse group of advocacy organizations, including those focused on the environment, immigrants, social justice, low-income communities and communities of color, and others, organized to push congestion pricing over the finish line. Between now and budget season, the groups will engage in both public demonstrations and private meetings with legislators in an attempt to steer the Legislature and governor toward implementing a full congestion pricing plan.
"We are all so reliant on our subways and buses," Bailin said. "It is a social justice issue because it can either be a barrier or an entryway to economic opportunity, to cultural access in this city, to all the things that the city has to offer."
The results of the recent primary elections have renewed hope that 2019 could finally be the year.
Discussion of congestion pricing and funding and fixing the MTA was a centerpiece of the Cuomo-Cynthia Nixon primary, with the governor regularly pointing to congestion pricing and the new Fast Forward plan put forth by MTA leadership to upgrade the transit system. Six of the eight members of the recently-defunct Independent Democratic Conference of the state Senate were defeated by insurgent Democrats who largely staked out more strongly supportive positions on congestion pricing than the incumbents.
Some of those defeated, like Senators Jesse Hamilton and Jose Peralta, were supporters of the scheme and were replaced by other supporters; on the other hand, cautious supporter John Liu defeated a vocal opponent, Senator Tony Avella, who is continuing his run in the general election on the Independence and Women's Equality lines. Even Republican Senator Martin Golden of Southern Brooklyn, a perennial foe of transit and street safety activists, calls himself a supporter of congestion pricing.
"The Senate, whether controlled by the Democrats or the Republicans, is always a complicated picture," said Alex Matthiessen, the founder of the Move NY campaign, whose comprehensive congestion pricing plan has served as a model for legislative proposals since 2015, in an email. "But the replacement of the IDC and many of its members with a crop of progressive, hungry and decidedly pro-congestion pricing senators-in-waiting portends well for this effort. But regardless of partisan control of the legislature there's one constant: city transportation is a disaster and it's on lawmakers to act."
Senator Andrea Stewart-Cousins, the likely majority leader if the Democrats take the Senate, represents a suburban district and does not have a clear position on congestion pricing. A report by the Tri-State Transportation Campaign found that only 3.9 percent of Stewart-Cousins' constituents, those driving alone into Manhattan's proposed congestion pricing zone, would be affected by the charge. Stewart-Cousins' office did not respond to a request for comment for this article.
In the Assembly, Speaker Carl Heastie of the Bronx is a supporter of congestion pricing, though some advocates criticized him last year for not pushing hard enough for the proposal. Heastie's office also did not respond to a request for comment.
Senator Michael Gianaris of Queens, who served as deputy minority leader prior to the reunification of the IDC and may return to a deputy leader role in January, was once a skeptic of congestion pricing, but is now a supporter. He also supports Mayor de Blasio's millionaires' tax proposal, which he says can help fill the gap left between what's funded by congestion pricing and what a comprehensive transit fix will actually cost.
"A Democratic Senate would certainly prioritize the stability and funding of the MTA, which the Republican Senate has not done," Gianaris said in an interview. "So I think it's a prerequisite to get to a realistic end to have a Democratic Senate. As for whether the Senate would embrace congestion pricing, beyond those of us that already do, I can't speak for others. We're gonna have to have those conversations. I don't even know which senators I'm going to be looking at, because we're hoping to pick up a lot more senators in a couple weeks."
Cuomo, too, has only attached himself more to congestion pricing. At an event hosted by the Association for a Better New York on October 4, Cuomo said that since neither God, the city, nor the state would cough up $33 billion needed for the Fast Forward plan, "the only realistic option is congestion pricing, we have to get it done, we have to get it done next year, I need your help."
For now, Cuomo has activists somewhat convinced.
"I am optimistic based on what he said about the need to fund the MTA," Bailin said of Cuomo's ABNY remarks.
Cuomo's FixNYC panel recommended, in a January report, a broad but "phased" congestion pricing program. The for-hire vehicle surcharge, phase 2, passed, but other parts and phases of the plan did not, leaving many boosters disappointed, and some accusing Cuomo of a "bait-and-switch."
"The Governor single-handedly revived the idea of congestion pricing and succeeded in passing the first phase of the FixNYC plan including a fee on for-hire vehicles that will go into effect next year as well as empaneling a new MTA advisory group that will provide recommendations before end of year as we develop the executive budget proposal," Cuomo spokesperson Peter Ajemian said in a statement. "The Governor has been clear congestion pricing is the most realistic way to help fund the NYCT modernization plan and will continue leading the charge to convince legislators to pass it next year."
The new advisory group is the MTA Sustainability Advisory Workgroup, which formally met for the first time last month and is tasked with coming up with a comprehensive plan for funding a major transit overhaul plan like Fast Forward by December 31. Though created in the enacted budget that passed in March, the panel's members were not named until August, after Riders Alliance publicly called for the appointments. The group's fairly tight timeline is compounded by the sheer immensity of the task before it.
But, the workgroup represents a much broader array of perspectives than FixNYC, which was an entirely Cuomo-appointed panel. The panel consists of two Cuomo appointees: CEO of the Partnership for New York City Kathryn Wylde and Metro North Commuter Council member Rhonda Herman; two appointees of congestion pricing skeptic Mayor Bill de Blasio: former City Council Speaker Melissa Mark-Viverito and Senator Gianaris; one appointee of MTA Chair Joe Lhota: Vice Chair Fernando Ferrer; two from the Senate: former City Council Member Andrew Eristoff and former DOT engineer Michael Shamma; and two from the Assembly: Assemblymembers Amy Paulin and Michael Benedetto.
"It is a group of well-meaning individuals who are trying to make recommendations to solve the MTA's funding crisis," Gianaris said. "And the MTA crisis in general, regardless of funding. I think efficiency is one of the other things we're going to be looking at as well."
Even de Blasio appears to be warming to the idea of congestion pricing, evidenced by his appointment of two supporters to the panel.
The panel has met three times so far, and Wylde, the chair, says that the meetings will occur weekly or biweekly until the end of the year, when a set of recommendations must be produced. The initial focus has been determining what the funding needs of the MTA are and how congestion pricing could form part of a solution, but the panel is empowered to go well beyond that in its recommended solutions.
"FixNYC was really focused on congestion pricing and how to implement it," Gianaris said. "That is just one element of what this group is doing."
Wylde elaborated on that point.
"It may be funding mechanisms, it may be reforms," Wylde said in an interview with Gotham Gazette. "Structural and other reforms in how the MTA raises its own revenues. And then all the issues associated with congestion pricing: 1) to build support, and 2) to achieve the dual goals of new revenue generation and traffic reduction. So those have been the focus of the conversation so far."
New York City Transit President Andy Byford's much-talked about Fast Forward plan to modernize the subway system has been projected to cost roughly $40 billion over ten years, though Cuomo has used the $33 billion figure. Wylde said that unanimity on a true cost does not exist on the panel, and that part of the panel's focus is in determining what it would be.
Congestion pricing remains the crux of the negotiations, and its status as a major part of the long-term transit solution appears to be agreed upon. But most analysts agree that congestion pricing would not alone cover the massive cost of fixing the transit system, and that other mechanisms are necessary as well. Estimates for annual congestion pricing revenue vary, and depend on what the program actually looks like, but have been in the $1 billion range.
The new advisory panel's recommended solutions could, theoretically, include any of a variety of measures beyond congestion pricing -- including labor reforms, changes to the MTA's budgeting process, an added surcharge to high-income earners' taxes, fare hikes, or value capture -- to address long-term funding and spending issues.
"We will be careful about mission creep," Wylde said. "The primary goal here is to identify the gap and make specific recommendations on how to deal with it, and most specifically, it's to try and resolve an approach to congestion pricing. And so, I think that's the focus, and to the extent that the gap exceeds the revenues that one can project from congestion pricing, looking at other sources of funding or cost reduction."
The panel's work will be informed by that of outside experts and advocates, and by previous plans such as FixNYC and Move NY, as well as by the expertise that the panel members themselves have from work on these issues. Political questions will come into consideration as well, especially considering the presence of three current and two former elected officials. The nature of the panel's makeup -- that numerous stakeholders, rather than just one, appointed its members -- may allow for a broader consensus to be formed in such a way that is palatable to all parties.
"To date, I don't think party politics are playing a role," Wylde said. "Obviously, the political sensibilities of all members of the group play into what they think is realistic and what can be accomplished. So, it's a politically sophisticated group, but not one that's just gonna be at the mercy of party politics."
The November elections will, of course, hold significant influence over what happens in the next budget season, though Republican gubernatorial nominee Marc Molinaro, the Dutchess county executive, does support congestion pricing. However, if Republicans maintain the majority in the State Senate, they may put the brakes on the momentum toward implementation.
Advocates are, at present, optimistic about the panel and prospects despite the initial hiccups.
"It's important there's a panel in place that represents the interests of various government entities whose constituents are affected by our transportation crisis," Matthiessen said. "As long as the Workgroup delivers the report by the December 31 deadline, the group's work will be worthwhile."
And though the December 31 deadline may seem tight for such a complex assignment, the stakeholders are confident that it will get done.
"It may be a broad topic," Wylde said, "but it's not a new topic."