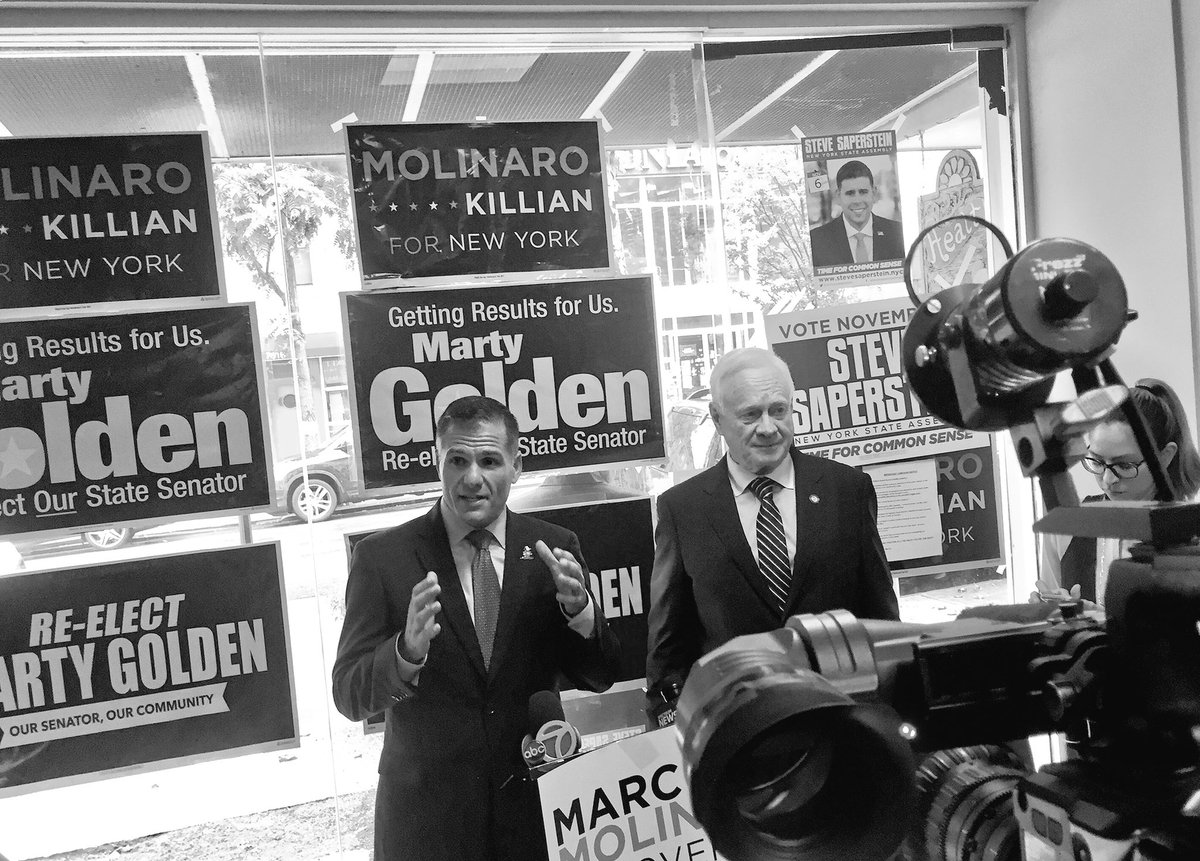 Marc Molinaro & Senator Marty Golden campaign (photo: @marcmolinaro)
---
Republicans fighting to keep control of the state Senate this year have been adamant that their continued majority in the chamber is the only thing standing between New York and socialism. And with the party playing defense in a number of races, there's a certain logic to motivating voters to come out based on the idea that their district could be the one that determines who controls the entire Senate, especially resonant given the one-seat margin the Republican conference holds.
But the rhetoric around preserving the GOP majority in its lone source of statewide power seems to leave out a major issue: the party also has a gubernatorial candidate in Marc Molinaro, whose election would guarantee a divided government in Albany thanks to the Democratic supermajority in the Assembly. Molinaro may be facing long odds, but to read much GOP messaging, one could easily think the party isn't running a candidate against Governor Andrew Cuomo at all.
In the most glaring example of this trend, Senate Majority Leader John Flanagan, of Long Island, wrote an op-ed arguing for continued GOP control of the Senate, casting the majority as "the most important firewall in history between every taxpayers' wallet and government coffers," and hitting common themes of higher taxes and government-run health care if Democrats are victorious. While the editorial confidently predicted "when" and not "if" Republicans control the chamber again, it makes no mention of Molinaro's campaign for governor on the same ticket.
In a pair of stories about the governor's involvement in close state Senate races, Scott Reif, the Republican Senate conference spokesperson, kept up the messaging that the Senate GOP was the only chance to hold back Democratic ambitions, telling the Daily News that the governor was trying to "create one-man, one-party rule" and that "there will be no accountability, no checks and balances" if Cuomo successfully helps elect a Democratic Senate majority.
"What Andrew Cuomo really wants is absolute power in Albany, and we're the only ones who can stop it," Reif told the News, again leaving out any mention of Molinaro defeating the two-term incumbent. Reif did not respond to a request for comment for this story.
Molinaro is of course facing an uphill battle in taking on Cuomo, especially in an environment seen as hostile to Republicans, and recent statewide polling saw him down 58-35 to Cuomo. Republican donors seem to believe his campaign is less of a wise investment than the state Senate, as Republican strategist Chapin Fay told the New York Times that "The funding class are investors, and they want to invest in something where they would see a return," in a story about how the Senate GOP has greatly outraised Molinaro this year. The Business Council of New York's PAC endorsed Cuomo over Molinaro at the same time as they endorsed only a single Democrat (of sorts) in Senator Simcha Felder, who has long-conferenced with Republicans, in an otherwise GOP set of state Senate endorsements.
Molinaro, for his part, said that he felt his campaign and the Senate Republicans were on the same page as far as messaging and working together. "Almost all of the members are helping to spread our message, we're magnifying our resources, and working with Senator Flanagan," Molinaro told Gotham Gazette following a Monday event in New York City. "The entire Republican conference has been good for us," he said, favorably comparing the relationship his campaign has with the Senate GOP to the fraught one that the Rob Astorino campaign had in 2014. (Cuomo himself has been more actively campaigning for his party-mates to control the Senate, and Democrats are exceedingly optimistic they can flip the chamber.)
Currently the Dutchess county executive, Molinaro is a former member of the Assembly who was quickly endorsed by some of his former colleagues in the lower chamber of the state Legislature when he entered the race. Molinaro's entrance fairly quickly led then-frontrunner Senator John DeFrancisco to drop out as Republican leaders from around the state coalesced behind Molinaro. DeFrancisco had been endorsed by Flanagan and several other senators before leaving the race, frustrated and headed toward retirement. Molinaro and Flanagan have not campaigned together.
But Molinaro, or his lieutenant gubernatorial running mate Julie Killian, have made campaign stops with a number of Republican state Senate candidates, like the Hudson Valley's Annie Rabbitt, Long Island's Jeff Pravato and Brooklyn's Marty Golden, all of whom are in tight races for seats that could control the balance of the body.
Molinaro also brought his anti-corruption message to Syracuse in September for an appearance with Republican Bon Antonacci, who's running to succeed DeFrancisco. Rabbit is a candidate who said she was "absolutely" motivated to run by the prospect of a Democratic Senate, and Antonacci has said a Democratic state Senate means tax hikes and increased state spending, a scenario that's only possible if there's a Democratic governor around to agree to them.
Molinaro, while admitting that "any one of us could lose," also said he wasn't bothered by the theoretical erasure of his candidacy by state Senate candidates, because there are other balances in the state Legislature to think about beyond the party balance. "I look forward to working with whomever, but I think the balance between the Senate and Assembly is important. The Senate Republican conference tends to focus its attention on upstate and Long Island, so this regional balance that's created there, I think there's an important benefit to that," he said.
Samar Khurshid and Ben Max contributed to this article.