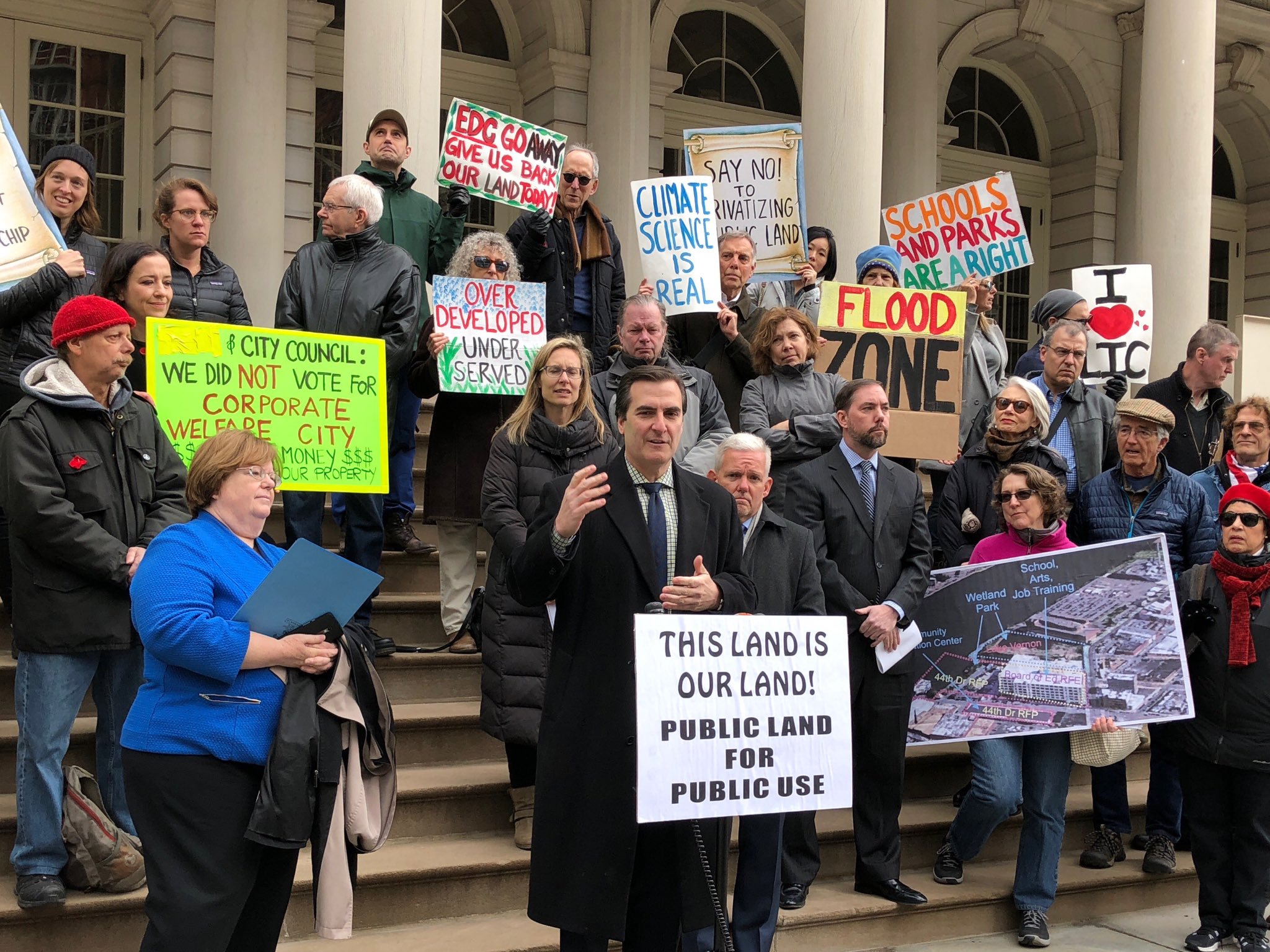 Senator Michael Gianaris (photo: @SenGianaris)
---
New York Democrats are confident that the upcoming elections will result in a completely blue state government, believing they will easily upend the current one-seat majority held by Republicans in the State Senate, according to the head of the Democratic Senate Campaign Committee, State Senator Michael Gianaris of Queens.
If they hold the governorship, and Democratic incumbent Governor Andrew Cuomo is expected to win a third term, and their supermajority in the Assembly, Democrats could have unfettered control of the law-making process in Albany if they are able to win a Senate majority on Election Day, November 6.
Appearing on the Max & Murphy program on WBAI radio, Gianaris recently outlined a rosy picture for Democrats, citing "about a dozen" Senate races as competitive, almost all of them for seats currently held by Republicans.
"We're only defending one and they're defending about 10," Gianaris said. "We're feeling very good about our chances in a year where Democratic turnout is reaching historic levels for an off-year."
In the primary elections, Democratic turnout more than doubled compared to 2014, with roughly 1.5 million people casting a vote. While New York is a deeply Democratic state overall, Republicans have held to a tight Senate majority, in part by winning close races in swing districts, aided by prior drawing of legislative districts that favored their chances. But Democrats believe that registration and demographic trends, a stable of strong candidates, and broader trends including President Donald Trump's unpopularity in New York, give them a significant edge this year.
Gianaris puts the dozen or so competitive elections into two categories — elections for seats where current Republican officeholders are retiring and elections where Republican incumbents are vulnerable. He feels the likelihood of the retirees' seats going blue is "very, very good." The battleground seats are largely on Long Island and in the Hudson Valley, though there are others further north and west in the state, and even one in Brooklyn.
"What's really happening is these races have all become nationalized, and you saw the turnout spike in the primaries," Gianaris said. "What's happening, as we understand it, is Democrats, female Democrats in particular, are very activated by the Trump administration, by the Trump presidency, and have decided to take their country back."
The effect of this change may first be felt in the five districts where GOP senators have retired leading up to the midterm elections.
In Syracuse, Republican John DeFrancisco is retiring, with Democrat John Mannion and Republican Robert Antonacci fighting for the seat in a district that Hillary Clinton carried in 2016. Republicans William Larkin, Tom Croci, John Bonacic, and Kathy Marchione have also announced their retirements in districts Democrats believe they have a chance of winning and have invested significantly to do so — in the fights for Larkin's and DeFrancisco's seats, the DSCC invested $193,000 and $270,000, respectively. This is only a small percentage of the millions of dollars Gianaris says the DSCC has put behind candidates this year, which he says is more than "any time since I've been in the Senate."
Gianaris also indicated that support from Cuomo is better than it has been in cycles past, when the governor has been accused of sitting things out, tacitly approving a Republican Senate so that he can negotiate more moderate policies.
Citing six different races featuring Democratic challengers to Republicans who are not retiring, Gianaris continued his list of winnable seats, noting where the DSCC has invested resources. In Brooklyn's District 22, Democrat Andrew Gounardes hopes to unseat Republican Senator Marty Golden, a seat Golden has held for nearly two decades but where Democrats have an enrollment advantage. Cuomo has gone to the district to campaign with Gounardes, and also cut a video ad for him.
The challenge districts Democrats think they can win extend to Putnam County's District 40 in a race featuring Democrat Pete Harckham and Republican incumbent Terrence Murphy, and other districts, especially on Long Island, where Democrats see pick-up opportunities in the seats held by Senators Carl Marcellino and Elaine Phillips, as well as the one seat, currently held by Senator John Brooks, that Gianaris and others have acknowledged is the one they see as vulnerable. Brooks is being challenged by Republican nominee Jeff Pravato.
Gianaris sees this year as a chance for redemption for Democrats who feel robbed after seeing the Independent Democratic Conference break away from mainline Democrats and form a coalition government with Senate Republicans and Democratic Senator Simcha Felder joining the Republican conference to create an "artificial Republican majority." The has stopped the Senate from "voting on the types of things that we should be voting on," Gianaris said, going to list a variety of issues from women's reproductive rights to voting reform.
Gianaris and other Democrats see New York potentially becoming a progressive leader if things go as they expect on Election Day. But Senate Republicans are doing everything in their power to sound the alarm on one-party rule in New York, arguing that the state Senate is all that stands between New Yorkers and higher taxes, government-run health care, and a state government far too oriented toward New York City at the expense of upstate and Long Island.
Gianaris dismisses those warnings. "We have an opportunity to lead the nation in standing up for progressive values and pushing back against what's coming out of Washington," he said.