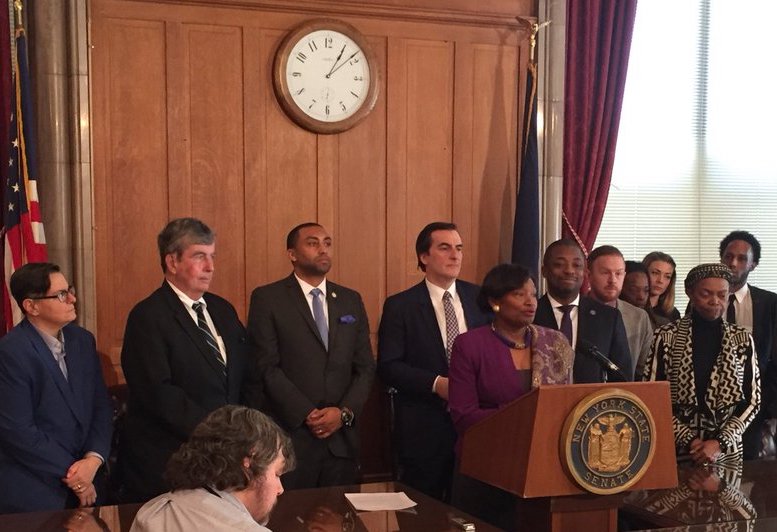 Senate Democrats (photo via @nysenatedems)
---
State Senate Democrats are already contemplating which policies they will pass under a one-party state government, confident they will win big in the upcoming November 6 elections, keeping control of the governor's office and Assembly, while flipping the upper house of the Legislature. According to one leader of both the government and campaign agendas, Democrats have a general sense of a two-tiered policy agenda they plan to take up if victorious, prioritizing a long list of stalled progressive demands.
Meanwhile, Republicans hoping to cling to their lone stronghold in statewide government, where they currently hold a one-seat majority, campaign on the argument that their control of the Senate is all that is keeping taxpayers from a massive increase in costs, an even more bloated and intrusive state government, and a state virtually run by New York City interests.
State Senator Michael Gianaris, a Queens Democrat who chairs the party's Senate campaign committee, outlined the preliminary agenda on the Max & Murphy program on WBAI radio, citing a series of policies where there seems to be clear consensus and Democrats could move quickly on long-sought bills, and then other, more contentious and complicated legislation that will likely need extensive consideration and negotiation.
Gianaris said a unified Democratic state government would make "quick progress" in 2019 on the Reproductive Health Act, which expands abortion rights; a "red flag" gun control bill; and voting and campaign finance reforms.
These are among the policies, Gianaris explained, that have been sidelined by the Republican control of the Senate.
"We have lost that opportunity because an artificial Republican majority in the Senate has stopped us from voting on the types of things we should be voting on," Gianaris said, in apparent reference to the fact that Republicans only had a majority because of their coalition with the breakaway Independent Democratic Conference (which is no more) and the decision by Senator Simcha Felder of Brooklyn to join the Republican conference, despite the fact that he is a Democrat.
The Reproductive Health Act, which Gianaris mentioned, would essentially pass Roe v. Wade abortion rights into law, something Democrats are especially concerned about given the fear that a new Supreme Court with Justice Brett Kavanaugh will overturn the landmark 1973 abortion decision. The red flag bill would allow teachers and school administrators to petition a judge to remove guns from the homes of students seen as troubled, an additional measure to prevent gun violence in schools.
While he didn't go into detail on consensus around campaign finance reform, Gianaris did emphasize the need for certain voting reforms.
"We want to make it easier for people to vote," Gianaris said. "We're one of the few states that doesn't have early voting, or automatic registration, or same-day registration or any of the ways that we can improve our democracy."
Generally, Democrats have been interested in closing the LLC loophole in state campaign finance, reducing individual contribution limits, and creating a system of public campaign financing, perhaps modeled in some way on New York City's system.
These policies would form at least much of the first wave, according to Gianaris, who said they will be doable prior to or in a deal on the state budget, which generally passes at the end of March. Full Democratic control of the executive and legislative branches would test how well the party can come to agreement on the details of a variety of measures where this is broad support in general terms.
Gianaris, who may be named deputy majority leader to Democratic Leader Andrea Stewart-Cousins if their campaign efforts are successful, did not indicate he was giving a comprehensive list, and there are several politices that Democrats have appeared eager to pass that he did not mention, such as the Gender Non-Descrimination Act and the Child Victims Act.
Gianaris said the more contentious policies that may require discussion among the Democratic conference and whose chances of passing could depend on how large the conference is, would likely be discussed in earnest post-budget.
Health care and rent regulations were two policy areas mentioned by Gianaris as falling under this category.
"The rent laws expire right around June, if I'm not mistaken, so certainly that is going to create pressure to make those changes before the current laws expire," Gianaris said, previewing what is expected to be one of the most important issues to New York City residents of the 2019 state session, which will be slated to end in June. In the past, the Democratic State Assembly has passed legislation increasing regulations on landowners in the hopes of helping tenants, while the Senate has generally gone along with extensions of the current laws, with some tweaks.
Part of the MTA Sustainability Task Force, Gianaris and his colleagues are responsible for coming up with recommendations to Governor Cuomo for how to improve the MTA by the end of the year.
Gianaris said the MTA is "obviously something that has bedeviled the state for some time," and that if Democrats were to win big, it is "hopefully one that we can make some progress on this year."
A variety of solutions are possible when it comes to dealing with the MTA, with one that comes up in conversation often being congestion pricing, which essentially taxes traffic in hopes of reducing it.
When asked about congestion pricing, Gianaris said it may be a step forward but is not a solution to the entire problem.
"I don't think that alone is the silver bullet that solves the MTA crisis," Gianaris said. "So we'll have some more work to do." Cuomo has pledged to fight aggressively for congestion pricing to be included in the next state budget, while also saying he's awaiting the task force's recommendations and expects New York City to kick in more to fund the MTA's tens of billions of dollars in needs.
However, as confident as Democrats may be -- Gianaris has said roughly ten seats in the 63-seat Senate could flip their way -- Republicans believe they can hold the chamber, and are arguing that the stakes are incredibly high. In an op-ed written for State of Politics, Senate Majority Leader John Flanagan of Long Island outlined what he believes Democrats would do with complete control of the government, and how it would hurt New Yorkers.
Flanagan said Republican hold of the Senate this year would be the "most important firewall in history between every taxpayers' wallet and government coffers."
He labeled Democratic policy priorities as socialist, listing single-payer healthcare, and put to the fore several items that Democrats are not listing at the top of their list, such as supervised injection sites for heroin users, campaign finance reform — which he referred to as "taxpayer funded campaigns" — abolishing ICE and the potential for New York to be a "sanctuary state," which he wrote would be deportation protections "for illegal immigrants who commit aggravated felonies."
Flanagan also wrote that New York becoming a sanctuary state would make it difficult to fight the international gang MS-13, and that health insurance for all would "double the state's budget while taking away Medicare from our seniors."
"Nobody wants to pay a single cent more in taxes, and only a Republican majority will not allow it," Flanagan wrote.
For his part, Gianaris on Max & Murphy framed Democratic progress as a necessary response to what is happening at the federal level under President Donald Trump and a Republican Congress. "We have an opportunity to lead the nation in standing up for progressive values and pushing back against what's coming out of Washington," Gianaris said, "and we have lost that opportunity, in the bluest of blue states," because of the Republican majority in the state Senate.
Elections Day is November 6.