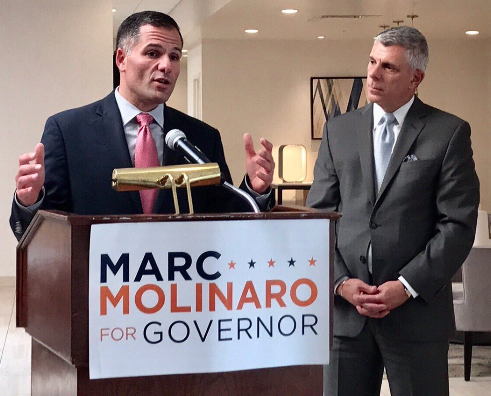 Marc Molinaro (photo: @marcmolinaro)
---
Republican gubernatorial nominee Marc Molinaro intends to declare a "state of emergency" for struggling school districts to address a plethora of issues and provide districts with more control over their destiny.
Speaking to Gotham Gazette after his Tuesday speech at the Association for a Better New York, Molinaro said that the dismal status of some school districts, especially in upstate cities, requires extraordinary action and significant facets of educational policy-making devolved to local districts.
"You have failing schools upstate that are generationally failing," Molinaro said. "Rochester and Syracuse, just generationally failing, and the governor has done nothing to address this. I would declare a state of emergency."
"I'm willing to declare a state of emergency, allow community school districts and the state to establish latitude within the bureaucratic system to get an education, a school functioning again, so we're educating kids to compete," he continued, going on to say he would form a "Council of Mayors" also open to New York City Mayor Bill de Blasio.
The statewide graduation rate for the class of 2017 was 80.2 percent, but the graduation rate in four of the five largest school districts is lower: Yonkers tops the statewide rate, but New York City, Buffalo, Rochester, and Syracuse all have graduation rates lower than the statewide average.
Of the "big five," the crisis is most acute in Rochester, where the 2017 on-time graduation rate was just 51.9 percent, though this was a 4.2 percent increase over 2016. Rochester's schools are highly segregated and nearly 40 percent of students are low-income. Syracuse's graduation rate is slightly higher, at 60.5 percent, but was the only "big five" district to see graduation rates decline between 2016 and 2017. Buffalo's 2017 rate was 62.7 percent, New York City's was 71.1 percent, and Yonkers' was 82.8 percent. Graduation rates tell only part of the story, of course, but often provide significant insight into broader, more complex dynamics.
Issues exist elsewhere outside of the "big five" districts. In Hempstead, where 97 percent of students are black or Hispanic, just 37 percent of students graduated on-time in 2017, one of the lowest figures in the state.
Molinaro did not go into explicit detail on what exactly a "state of emergency" would entail and what types of state regulations he would like to unshackle districts from. But he did say that he would establish a "Council of Mayors" that would meet to develop plans and targets, apparently organized and run by the executive chamber if he is governor.
"We will meet every single quarter to identify our work plan, benchmarks to address educational failure, generational failure, nutritional issues, safety," Molinaro said. "And each quarter we will identify whether or not we've achieved that and use an actual, real time dashboard to evaluate success." Molinaro said that de Blasio, a Democrat who famously does not get along with Governor Andrew Cuomo, would be welcome to join the council, but that its "focus" would be on upstate cities.
Education itself has largely been reduced to the sidelines in this election, with issues such as corruption, taxes, transit, and the Trump administration dominating. Nonetheless, Molinaro has outlined contours of an education agenda (though not a detailed plan) that in many ways departs from arguments traditionally brought forward by Republicans.
Molinaro has largely shied away from the perennial issues of charter schools and school choice, both of which he and Cuomo both support. Molinaro has said several times that he supports lifting the state's charter school cap, though he joined fellow Republicans in voting against doing so in the Assembly in 2010. Nonetheless, he has not discussed the issue much during the campaign -- wealthy charter school backers continue to support Cuomo with campaign donations.
Molinaro criticized the governor and distanced himself from Republican Senate Majority Leader John Flanagan for calling teachers and the teachers union "enemies" or "forces of evil," respectively. "Neither is acceptable," he told Gotham Gazette on Tuesday, pledging to work with and re-empower teachers.
The GOP nominee faces long odds taking on Cuomo and will be joined on the ballot by three other challengers, including Green Party nominee Howie Hawkins, independent Stephanie Miner, the former mayor of Syracuse, and Libertarian Party nominee Larry Sharpe, who has outlined his own, somewhat revolutionary education plan.
While he has put forth detailed plans on taking over the MTA, government reform, tax policy, veterans services, economic opportunity, and services for people with disabilities, Molinaro has not published an education plan, though he said elements of his others include education-focused elements.
The crux of Molinaro's approach to education is to devolve significant amounts of authority over all sorts of matters from state to local control, including decoupling from education policy like the Common Core learning standards and elements of standardized testing, and providing teachers and administrators wider "latitude" over decisions at hyperlocal levels. This includes more local control of teacher evaluations, he said, though he acknowledged the need for some statewide framework that localities would then work within to pursue their own system for teacher evaluation, a hot-button issue that formed a central part of Cuomo's education agenda until he retreated from it in the face of opposition from the teachers unions and their legislative allies.
"What you need to reestablish is really a partnership between family, community, and school," Molinaro said. "And the way you do that is by empowering local districts to start to make more curriculum decisions, and then give even individual buildings and administrators the ability to create work-plans for their students, their teachers, their community. And by doing that, you'll get greater buy-in from family, and you'll be able to evaluate success much more."
Molinaro has spoken extensively, at least relative to other education policy areas, on special education and services for those with disabilities, which he has placed particular importance on since learning his daughter was on the autism spectrum and running into challenges getting her proper services.
In Dutchess County, Molinaro's administration launched in 2015 the "ThinkDifferently" initiative to change perceptions and improve services for and integration of people with disabilities in schools and elsewhere. The project, annually funded by $2 million of federal Community Development Block Grant, supports projects and outreach for businesses to become accessible and for the community to reevaluate its relationship with individuals with disabilities. Molinaro has said ThinkDifferently has been adopted by roughly 100 communities across the state already.
He has put forth a plan to take ThinkDifferently statewide if elected governor, which includes new deputy secretary and ombudsperson positions, and a reevaluation of all services.
"This state has perpetuated a separate but unequal form of education: general ed and special ed," Molinaro said at his October 23 debate with Cuomo. "I believe in integrating that because those who are living with special education needs, those living with developmental disabilities are being left behind and parents are being forced to advocate, full hand on combat, to receive services. So that's a way to reinvigorate and to inspire kids to learn."
Molinaro has criticized the state's universal pre-K program as being exclusionary towards people with disabilities, and that Cuomo in particular has neglected that cohort of students. And on Sunday, Molinaro characterized Sharpe's plan not to accept any federal funds for education as one that would "decimate special education" in New York.
Ben Max contributed to this story.