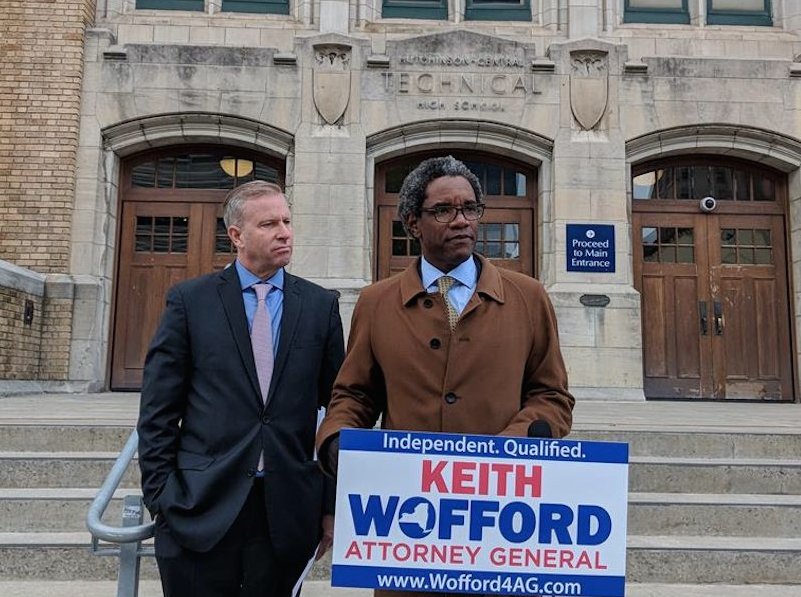 Kieth Wofford (photo via @Wofford4AG)
---
Keith Wofford, the Republican nominee for Attorney General, appears to have a simple campaign message: he'll make it harder for corrupt government officials to waste taxpayer money and make it easier for New York businesses to thrive.
The first-time candidate for political office who has made a highly-lucrative career for himself as a attorney says that if elected the state's top legal officer, he would step back what he calls the over-prosecution of corporations, especially financial institutions that have so often been the focus of the last few New York attorneys general. While in the Democratic primary for attorney general candidates competed over who would be the toughest "Sheriff of Wall Street," as former Attorney General Eliot Spitzer was known, Wofford wants nothing to do with that title. He'd much prefer to be the Sheriff of State Street, in Albany, home to the governor's office and state Legislature.
Wofford is competing with Democratic nominee Letitia James, currently the New York City Public Advocate, and several smaller party candidates. While James is favored and has led in the public polling, she is not particularly well-known outside of the five boroughs and Wofford has raised significant funds to air the types of television commercials needed to build his own name recognition, which started at virtually zero.
James has attacked Wofford for his vision for the role of attorney general, particularly as it relates to aggressiveness with big firms, and for voting for President Donald Trump, who is deeply unpopular in New York, though Trump won many, mostly less-populated pockets of the state in 2016. Wofford has explained his vote as due to the promise of Trump helping economically struggling people in upstate New York, including his native Buffalo, while attacking James for her closeness to Governor Andrew Cuomo and other Democratic establishment figures.
Wofford's campaign message starts around his working class roots in western New York. His father spent 32 years working at a Chevy plant near Buffalo, he explains, and his mother was working retail jobs while taking care of two sons. He says he's running "because the state's been great to me, and it's time to give something back," as he said during a recent appearance on the Max & Murphy show on WBAI radio. He argues the state has veered off course, largely due to corruption among its elected officials, and that as the attorney general, he would focus on making sure that taxpayers are not being ripped off. He also wants to use the position to help create a better business climate in a state that has seen many factories close and residents leave.
"We had an environment where my dad could get study employment and a great job for 32 years. There were good public schools, great public libraries that I spent a lot of time at with my mom, but those underpinnings are going away or in some cases are gone because we have a government that chases jobs away," said Wofford. State government has been "hopelessly corrupt," he said, along with attorneys general chasing jobs away through overzealous and politically-motivated enforcement -- work that the officeholders and their supporters, as well as James and her Democratic competitors this year, have said was done to protect New Yorkers' rights, enforce the law, and hold powerful entities responsible for wrongdoing.
"Let's just look at all of the strong-arming and settlements," Wofford said, when asked how attorneys general have hurt the state economy, and referring to settlements reached with financial institutions in the aftermath of the Great Recession. "We got this crazy law called the Martin Act, and it allows you to accuse companies of fraud, but you don't have to prove that the company intended to fraud anybody."
"The statue does not serve to protect the people or companies from being harmed, nor does it provide the necessary enforcement to hold the wrongdoers accountable," he continued, staking out a stance far different from how Democrats have viewed the Martin Act since Spitzer re-established its use in aggressive fashion. "The law does, however, give the Attorney General intimidation powers which they use to twist the companies' arms behind closed doors and threaten them with criminal liability and make them pay money."
The result is a hostile environment that keeps companies from creating jobs in New York. According to Wofford the "combination of the hostility to business plus the unremitting corruption" has made the business community lose confidence in New York.
Wofford argues that he can use existing powers of the attorney general to go after public corruption in a more aggressive way than others have in the role.
"There are a number of ways already on the books" to do it, he told Max & Murphy. "I think you really just have to have a re-emphasis on looking, and asking the right questions, and making sure that you find the red flags and try to get ahead of some of this before it gets to be a problem."
James has also released an anti-corruption plan, that includes using existing powers while seeking new ones to root out malfeasance in state and local governments. She's also much more focused on Trump and federal policy than Wofford, making such fights perhaps the main focus of her campaign, while Wofford has largely said his focus would be New York. He has argued that the two New York attorneys general during the Trump presidency have been over-eager to attack the president, but has said there are some lawsuits and investigations worth continuing, like the office's fight against a citizenship question on the 2020 Census.
James says she plans to work with lawmakers to "reform outdated laws to give the Attorney General civil and criminal authority to go after corruption," while also pledging to use the existing powers of the attorney general to investigate corruption in state government, and "Trump's corrupt empire." Regarding the former, the powers given to the attorney general under "Executive Law 63(12), the False Claims Act," will allow James to "investigate and prosecute legislators, businesses, and charities involved in self-dealing," as stated in her corruption plan.
Wofford criticized James for "passing the buck to someone else," arguing that she does not intend to investigate corruption until she receives permission from both the governor and the Legislature. James has stated otherwise in her plan, saying that "until the legislature takes action, I will use the full powers of the office creatively to find new ways to take on corruption, from Albany to Washington, D.C." However, even in her Democratic primary, James' opponents pointed out her closeness to both Cuomo and Democratic members of the Legislature.
In Wofford's plan he names a few of the existing powers that he believes give the Attorney General legislative and investigative authority. According to the definition provided by Cornell Law School, under the auspices of "parens patriae," the government, or any authority, are to be regarded "as [the] guardian for those who are unable to care for themselves." The Attorney General's office can then use this doctrine "to investigate, and if necessary, commence litigation for the benefit of state residents." Executive Law 63(12), allows the Attorney General to investigate private entities "who conspire with public officials to take advantage of competing bidders or taxpayers," Wofford notes. Operation Integrity, also listed in James' plan is, "a pact between the Attorney General and the Comptroller which allows the Attorney General to investigate pay-to-play." These serve as "a few examples of existing tools that an independent, energized Attorney General can use to combat corruption."
As Wofford has previously stated, he believes that it takes someone from the outside to come in and clean up Albany. However, according to James, Wofford's work at the law firm Ropes and Gray LLP, where he is a partner earning several million dollars per year, and his failure to disclose his client list should raise flags for voters. James, who repeatedly called for Wofford to release his tax returns, which he briefly showed The New York Law Journal last week, has said the Republican nominee should also delineate which of his firm's clients have had business before the Attorney General's office. While James views Wofford's work with the law firm as a conflict of interest, Wofford regards it as preparation for what he would be dealing with as Attorney General.
During his time at Ropes and Gray, Wofford's focus was on bankruptcy and creditors' rights. In an interview with WAMC, Wofford summed up his job by saying that he was responsible for getting money back to investors after they'd given it companies that would either send it away, waste it, or use it on projects that later failed. Wofford claimed that this is what is happening to the taxpayers of the state who don't get to see where their money really goes or how well it is being used.
"A man who makes $4.5 million from a law firm that represents the makers of OxyContin, vulture funds that pillaged Puerto Rico, and big banks that caused the subprime mortgage crisis can't claim to be independent to tackle corruption," said James spokesperson Jack Sterne, in a statement to Gotham Gazette. "By turning his back on the Martin Act, Mr. Wofford is ignoring the very abuses and criminal conduct that led to the subprime mortgage crisis -- which cost tens of thousands of New York families their homes. If New Yorkers can't trust him to hold corporate giants accountable, how can they trust him to take on corruption?"
As James called for him to release his taxes, Wofford was calling on her to agree to debates. She agreed to one, which occurred earlier this week on Spectrum News NY1 and hit most of the talking points that each candidate has been putting forth on the trail for months. Both candidates talked about pursuing criminal justice reforms if elected, though their lists of reforms differ somewhat, with Wofford mostly focused on ensuring speedy trials actually occur as guaranteed in the constitution, while James has a more expansive list including bail reform and outfitting police officers across the state with body cameras.
Wofford's central policy focus is improving the business climate, and he plans to help small- and medium-sized businesses with the addition of small business liaison or assistance office within the Economic Justice Bureau of the Attorney General's office. Small businesses would be able to make appropriate filings "without having to hire armies of lawyers," he said.
"It's long overdue that there's someone in the state is on their side. So they can focus on growing jobs and growing business, rather than focusing on paying lawyers and which lawyers to hire," said Wofford.
Wofford's platform has also focused on creating a plan to deal with the opioid epidemic; he's stressed that the attorney general's office needs to be more active and plans to use the Organized Crime Task Force to investigate individuals suspected of bringing drugs into the state illegally. The Medical Fraud Control unit would serve to carry out the investigations of companies that fail to disclose the risks associated with opioids, and of physicians who overprescribed the drugs, he says.
"Time and again, parents and family members cannot find open beds for their loved ones in need of treatment," Wofford said his press release, where he spoke about his plans to address the opioid crisis. "By creating a dedicated fund administered through the Attorney General's Office to invest in additional treatment capacity we can help families escape the horrors of opioid addiction and enable patients to receive treatment close to home where they have their families' support."
Wofford is also pledging to better equip law enforcement and first responders, and provide victims with access to better treatment options. A part of the funding would come from settlements reached by his office, such the ongoing lawsuit mentioned in his plan, against opioid manufacturer Purdue Pharma L.P. Wofford "plans to pursue this litigation [Purdue Pharma lawsuit] aggressively and initiate investigations into those who have profited from opioid addiction."
"We have to deal with this opioid crisis, it's a human tragedy, it's also secondarily, and much less an economic tragedy and it's a huge problem for our government," said Wofford. James also has a plan to fight the opioid epidemic.
Wofford's agenda as laid out during the campaign also touches on criminal justice reform in terms of addressing issues with "speedy trial" assurances.
"We have an affirmative proposal on reform of speedy trial, that we think if there is a bipartisan dialogue on it, together with discovery reform in criminal cases, we can both maintain public safety and maintain an outcome that the D.A., and the cops, and the people protecting our safety can support," explained Wofford. With some people held for years without going to trial, Wofford says reforms would "get rid of what is currently an unconstitutional situation."
[Read: In Attorney General Debate, James and Wofford Contrast Careers, Approaches to Cuomo and Trump]
Ben Max contributed to this article.