Lymus Rivera and family (photo: Beatrix Lockwood)
---
This is part of AGENDA 2019, a joint Gotham Gazette-City Limits project
Find the rest of the series here
Advocates say misinformation and lack of education can suppress votes
Lymus Rivera brought his whole family to the polls on Election Day. His wife and daughter were there, and his son even brought his grandson along. They took pictures and stood proudly alongside him as he cast his ballot.
"It was a celebration," Rivera said. "When I think about voting, I think about redemption. I think about being a part of society where I was once part of the problem."
Rivera was one of the roughly 35,000 people re-enfranchised by Governor Andrew Cuomo as part of an April executive order granting voter restoration pardons to people on parole.
The move was celebrated by criminal justice reform advocates as a step toward equal constitutional rights for all citizens. Still, significant barriers stand in the way of the ballot box for formerly incarcerated people. Out of the tens of thousands of people granted voting pardons by Cuomo, only an estimated 1,000 had registered by early October, according to data compiled by the Brennan Center for Justice and presented at a City Council hearing.
That small number points to "miseducation and misinformation," said Isabel Zeitz-Moskin of the National Action Network at an October City Council hearing, "not a lack of interest among justice-involved people."
"People still don't believe that they have the right to vote as a justice-involved individual," Zeitz-Moskin said. "And it is no wonder they have this skepticism with the amount of misinformation that is originating from the state itself."
New York law, which allows people who are on probation to vote, but not people who are on parole. The executive order restored the voting rights to people who are on parole, meaning they have been released from prison before their sentence is finished, on certain conditions. The executive order was not a change to the law, but created a process in which people on parole could apply for "voter restoration pardons" from the governor's office.
Six months after Cuomo signed his executive order, the New York City Campaign Finance Board website and its voter guide failed to include information about the voter restoration pardons. The CFB did not update its materials until late October, just days before New Yorkers headed to the polls.
Advocates like Zeitz-Moskin say mistakes like this are sometimes the result of confusion among BOE employees. On multiple occasions, she and people she knew were told by Board of Elections employees that in order to register, people on parole needed to turn in their pardons along with registration forms, despite the fact that this was not BOE policy. New York law, which allows people who are on probation to vote, but not people who are on parole, also leads to confusion among BOE staff, many of whom are not well-versed in criminal justice terminology and fail to differentiate between the two.
Although the office has granted thousands of pardons, voter enfranchisement for this population has not been codified in state law. Confusion remains among formerly incarcerated people, many of whom fear violating the terms of their parole, or simply do not know they are eligible to vote.
"Some people on parole are distrusting of the system that incarcerated them and do not want to engage with it," said Nick Encalada-Malinowski, the Civil Rights Campaign Director at Vocal New York. "And some people think that if they have a felony conviction they are not eligible."
"There is very little effort by the government to actually ensure that people are re-enfranchised," Encalada-Malinowski said. "This is why people should never lose the right to vote to begin with." He said that his organization had heard from poll workers that some people on parole showed up to vote on Tuesday, not realizing that they had to be registered. "They heard from the news that people on parole could vote, and showed up, only to be denied."
"These are people who never voted in their life," said Vidal Guzman, a Community Organizer at JustLeadership USA. "You just give them a ballot and they don't know what's next."
"There's a lot of people who don't vote because of the fear of being embarrassed and not knowing how to vote," he said. "And they don't believe they can make a difference in their communities."
Howard Harris, who works for the Fortune Society's Alternatives to Incarceration Program, says he doesn't think the information about voter pardons is being disseminated to people just coming out of prison. "I have had a couple of clients who didn't realize that they had the opportunity to vote."
Harris, who himself was re-enfranchised by Cuomo's executive order, said he was "mesmerized" by the experience of voting for the first time in the New York primary.
Harris said that during his first two years home from prison, he was angered by the fact that he had to pay taxes but wasn't able to vote. "It was discouraging to think I've served my time for the crime that I've committed and now I'm not even allowed to do my civic duty."
"There are 36,000 parolees in New York state who have the opportunity to vote now," he said. "That's a little voting bloc. That could change the course of an election and I want to be a part of that."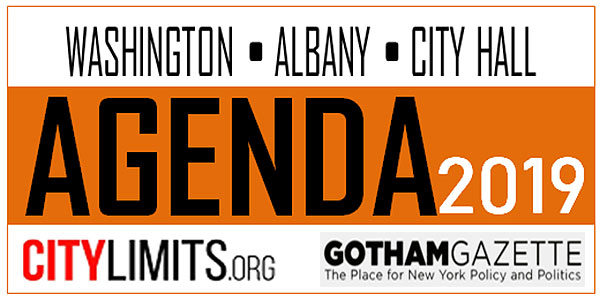 According to the Sentencing Project, two percent of black New Yorkers are disenfranchised by New York State law, a population that could, conceivably, swing a local election.
For that reason, some on the other side of the aisle saw Cuomo's executive order as a cynical move in an election year. Some Republicans even argued that that the move endangered public safety by granting "secretive pardons to cop killers, sex offenders, and violent felons."
Cuomo's Republican opponent Marc Molinaro seized on the governor in a campaign ad featuring the widow of Herman Bell, who was released on parole this year after spending 40 years in prison for the murder of two New York City police officers. "Governor Cuomo and his parole board set this cold-blooded killer free," she says in the ad. "Then Governor Cuomo gave him the right to vote."
But criminal justice advocates say it's especially important for people who have been in the justice system to have the right to vote, to participate in civic life as they work to reintegrate. "Voting is a categorical good, but especially for people who are formerly incarcerated or involved in the criminal justice system," Perry Grossman, Voting Rights Project Attorney at the New York Civil Liberties Union said. "They have unique issues that they are dealing with that provide the electorate with the perspective they can't get elsewhere."
It's also a population that is especially important to hear from in an election, said Perry Grossman, Voting Rights Project Attorney at the New York Civil Liberties Union. "Voting is a categorical good, but especially for people who are formerly incarcerated or involved in the criminal justice system," he said. "They have unique issues that they are dealing with that provide the electorate with the perspective they can't get elsewhere."
"Civic engagement and political participation are important aspects of rehabilitation," he added, which is one reason law enforcement agencies like the American Probation and Parole Association have advocated for re-enfranchisement of all people on parole. "The more connections people on parole have with their community, the less likely they are to engage in behavior that can lead to recidivism."
"You can't hurt anybody with the right to vote," Grossman said. "All you can do is help people become better citizens."
This is part of AGENDA 2019, a joint Gotham Gazette-City Limits project
Find the rest of the series here
***
by Beatrix Lockwood for Gotham Gazette
@BeeLockwood