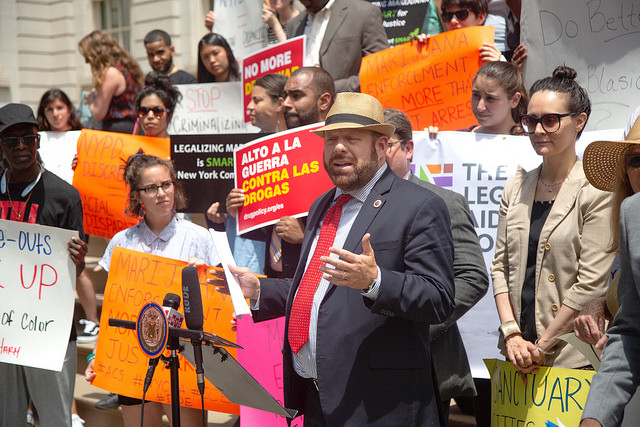 Rory Lancman (photo: John McCarten/City Council)
---
This is part of AGENDA 2019, a joint Gotham Gazette-City Limits project
Find the rest of the series here
Off-year elections in New York City, like the one next year, tend to hold little significance and command minimal attention, with few positions on the ballot and no headlining executive race like mayor or governor. But in Queens, next year will offer a momentous opportunity for voters to make a decision that could dramatically affect the lives of residents of the country's most diverse county and potentially establish a new paradigm for criminal justice there, with reverberations beyond.
In 2019, Queens District Attorney Richard Brown, a Democrat who has held his seat for 28 years, is not expected to run for reelection, and those seeking to replace him have made clear that they would break from his tough-on-crime policies that they say have disparately and adversely affected low-income communities of color and modernize the office. As the top prosecutor in each county, district attorneys hold substantial authority over how the law is enforced, working in conjunction with the police. They have broad investigatory powers and can bring both criminal charges and civil litigation.
The Queens DA's office under Brown is among the last to embrace a shift in the conversation around criminal justice away from a punitive system to one focused more on rehabilitation and restoration. Brown, 85, has done little to break from the conservative practices of what appears to be a bygone era, especially in New York City and other big cities around the country. The race to replace him is likely going to be a contentious competition to see who can promise the most drastic shifts toward progressive prosecutorial conduct.
Unlike the district attorneys in Brooklyn, Manhattan, and the Bronx, Brown has been slower to ease the prosecution of low-level offenses, including for marijuana arrests and fare evasion, largely ignored calls for reducing or ending the use of cash bail, and has rejected funding that would allow his office to set up a dedicated unit to investigate wrongful convictions. Following the lead of other district attorneys and after repeatedly declining to do so, his office did move to clear hundreds of thousands of outstanding warrants for low-level offenses.
In the first half of this year, Queens disproportionately accounted for the number of pre-trial detainees in jail accused of misdemeanors, according to a Gothamist report. Those prosecutions additionally impact undocumented immigrants, who could potentially face deportation stemming from low-level charges. And as the city moves to close the Rikers Island jail complex, Brown's office has indicated that it would prefer it remain open.
Having remained in office for the better part of three decades, and with his well-documented struggle with Parkinson's disease, Brown is widely expected to finish his time in office at the end of next year (he hasn't said if he will resign before his term ends). "My present term does not expire until December 2019 and I will make no decision about the future until sometime next year," Brown said in a statement.
"He's been a tough as nails prosecutor. He doesn't seem to want to implement any progressive reforms to the laws under his jurisdiction and under his authority," said Jon McFarlane, a Queens resident for 40 years and a volunteer at Court Watch NYC, a collaboration among three advocacy groups aimed at monitoring cases that makes their way through the criminal courts. "He's had tremendous power over the last two, two-and-a-half decades and he's only used that power to criminalize black, brown and Latino people."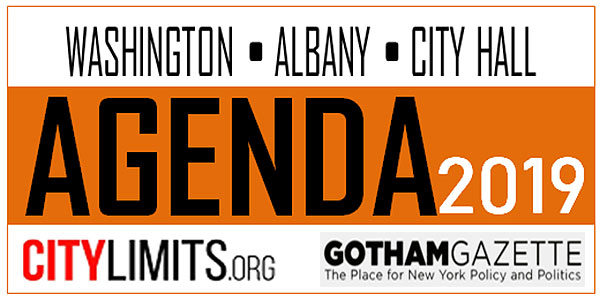 McFarlane said that advocates have "new hope" that progressive reforms will soon pass in the state Legislature and that Brown's replacement will be someone who institutes reform rather than punishment. "We're looking for candidates that will end the prison pipeline out of [our] neighborhoods, we're looking for candidates that will end mass incarceration, we're looking for progressive candidates that will implement bail reform," he said.
Two Democrats have already declared their intentions to seek the office. The first to jump into the race was New York City Council Member Rory Lancman, who is running as a progressive diametrically opposed to the office's current policies. "The criminal justice system is broken," he said in a phone interview. "It's racist. It's discriminatory against poor people. It fails to protect working people and we're gonna reform it from top to bottom."
The other candidate in the race right now is retired Queens Supreme Court Justice Gregory Lasak, a veteran prosecutor who says he alone knows how to reform that office since he worked there for 25 years. "The district attorney is not a job for a politician," Lasak said in a phone interview. "You have to have the experience and the skill because you're making decisions that affect people's lives...and I think there's nobody that has the wealth of experience that I have in doing that and I will continue to do that."
Queens Borough President Melinda Katz has long been rumored to be considering a bid as well but has yet to make any announcements. A nongovernmental spokesperson for Katz declined to comment. And Mina Malik, a Harvard professor and former Queens assistant district attorney, might also jump into the race, according to a Queens Daily Eagle report. Malik declined to comment in an email to Gotham Gazette.
Advocates for criminal justice reform have made clear that no matter the candidates, they believe there must be changes in how the office treats the people of Queens, particularly the communities of color that have suffered the ill effects of a system of mass incarceration. On October 30, advocates from several organizations rallied outside the Queens Criminal Courthouse, demanding those reforms from the district attorney's office now.
Andrea Colon, community engagement organizer at the Rockaway Youth Task Force, said the next district attorney should not be "a factor" in mass incarceration. "I think anyone can see that [DA Brown] is a defender of the status quo," she said in a phone interview. "There's a lot of work to be done."
Colon said the diversity of the borough should be reflected in the DA's office and that the next officeholder should move away from a punitive approach to the job. "It's also about being an advocate, making sure that role is not just simply about prosecuting people who come through your door," she said. "It's about advocating for things like legislation up in Albany or in the city that will impact the people of Queens."
Lancman has spent years doing just that, he said in the interview, previously as a member of the State Assembly and as a Council member for the last five years — in his first term, he chaired the Committee on Courts and Legal Services, which was redesigned by the new Council speaker this year to create a separate Committee on the Justice System which Lancman now heads. He believes he is the most progressive of any candidate in the race, even if those rumored to join the race do so. "As a government official I've expressly taken on the responsibility of trying to reform the criminal justice system and have used the governmental tools at my disposal to reform the criminal justice system."
Though he has spent years in government, Lancman does not have any prosecutorial experience, having worked as an attorney in private practice and teaching at St. John's University in Queens. He holds a law degree from Columbia Law School.
A vocal critic of Mayor Bill de Blasio and the NYPD, Lancman has attempted to pass bills that would make policing more transparent and accountable and has been successful in small ways, in lieu of state action, in making it easier to pay bail. He has tried to make the use of a chokehold by police illegal -- it is currently only banned by department rules — and, after the NYPD refused to release data on arrests for fare-beating as required by a law that Lancman sponsored, he sued the city.
As district attorney, Lancman said he would unilaterally implement many of the reforms that have languished in the state Legislature for years, but which are expected to finally pass with both legislative chambers heading to Democratic control come January -- Republicans who have controlled the Senate blocked many of the bills. Lancman said he wouldn't prosecute a "laundry list" of low-level offenses "that are giving black and brown kids records for the rest of their lives," would not ask for cash bail "under any circumstance," would end the so-called "ready rule" practice that DAs use to deny defendants a speedy trial and implement full open-file discovery. He also expressed support for a bill passed this year by the state legislature and signed into law by Governor Cuomo establishing a first-in-the-nation commission on prosecutorial misconduct.
"There's nothing that's out of the DA's hand," he said, before making a somewhat veiled reference to Lasak. "That's the important thing to understand. The people who built the Queens DA's office are not the ones to reform the Queens DA's office and every criminal justice reform that matters to people can be accomplished by having the right person as Queens DA."
He continued, "It's not merely to confront the racism and discrimination against poor people that permeates the criminal justice system but also to refocus the office's priorities to help working people." He said he would focus on issues such as wage theft and unsafe workplace conditions, predatory housing practices and tenant harassment, and sexual assault. "We waste all this time and energy prosecuting these low level offenses, fighting to keep people in jail just because they don't have money, playing games with the discovery rules that make it impossible for people to defend themselves in court, instead of focusing on things that are really making working people unsafe," he said.
"The DA's office is unique in that it requires serious preparation and a very detailed understanding of the office and a detailed commitment to the issues the office confronts," Lancman said, "and I will put that level of demonstrated commitment, experience and planning up against any candidate in the race."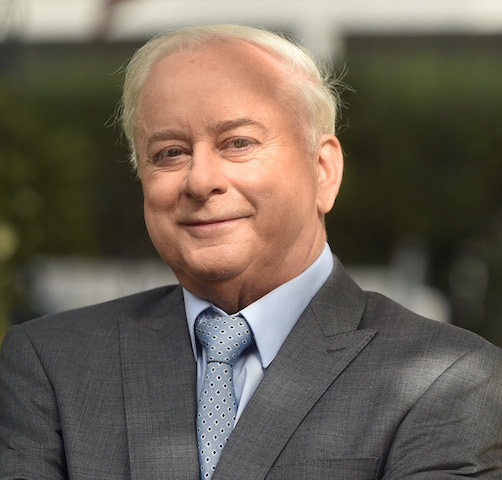 Of course, Lasak (pictured) believes he is the candidate who brings the most experience to the table, not Lancman. "There's no comparison in terms of experience," he said in a phone interview. A hard-nosed prosecutor with more than two decades experience in the Queens DA's office, Lasak became chief of the homicide division when he was 30. When Brown took over, Lasak was the executive assistant DA of the major crimes division and was later in charge of the homicide investigations and homicide trial bureaus and the special victims bureau, and he set up the office's domestic violence bureau. "Most of my career's been dedicated to combating violent crime," he said.
Heading up homicide prosecutions for nearly two decades earned Lasak the moniker "Mr. Murder." He wasn't sure where it originated from — a New York Times profile from 2003, when Lasak was elected State Supreme Court Justice, offered little about the origins of the name — but how does he feel about it? "Doesn't bother me," he said with a chuckle.
Lasak's argument is that he can reform the office because he is intimately familiar with how it works. "To reform the place, you can't sit looking at it from the outside if you don't know how it works on a day-to-day basis," he said.
Though his background smacks of the type of stern policies Brown's office is known for, he is making a softer pitch as a candidate, similar to Lancman's. He wants to reform bail procedures, ensure speedy trials and discovery reform.
"I've been out of that office nearly 15 years. The world has changed, Queens has changed, but the office has to change too," he said. "The assistant district attorneys in the office should reflect the changing demographics of Queens County, the most diverse county in the world, and the office has not changed along those lines. I want it to reflect the diversity of our population here in Queens, including at the highest levels of the office."
He said he'd take a "good hard look" at how the office handles low-level nonviolent offenses and bail. "My rule when I was there was, if you're not gonna ask for jail time at the end of the case, you have no business asking for bail at the beginning of the case, and I will make sure that is a policy of the office," he said, particularly cognizant of how the enforcement of small marijuana possession cases has impacted communities of color. "Once you stick a criminal record on a young man, you scar him for life. I don't want to do that. We're losing too many young men, especially in the minority community...I want to give them another chance," he said.
He also stressed that, as DA, he would ensure any potential wrongful convictions are reviewed by senior prosecutors and detectives, as he said he used to do when he worked there.
There is, however, greater daylight between Lasak and Lancman on the proposed plan for the closure of the Rikers Island jail complex. In September, Lancman publicly debated a Queens assistant district attorney about the closure of the jails on the island -- the Queens DA and Staten Island DA are the only two in the city opposing the plan. Lancman, who supports it, said he will make it a central campaign issue "because where you stand on Rikers and where you have been on Rikers tells us everything we need to know about where you stand on reforming the criminal justice system and what kind of DA you will be."
Lasak said he has not closely studied the Rikers plan, which includes demolishing the current Queens detention facility and building a newer, more modern one so detainees can be housed closer to their homes and to the courthouse. Lasak pointedly refused to take a position on it, despite being repeatedly asked. "Rikers Island is really not an issue for the district attorney," he said. "My concern is that people who are on Rikers Island, make sure they belong on Rikers Island. I don't want anyone sitting on Rikers Island that doesn't belong there."
Advocates intend on holding the candidates, whoever should win, accountable for their words.
"I think it's one thing to say that you're for criminal justice reform," said Colon from Rockaway Youth Task Force, "and it's another to actually act on that."
Nick Malinowski of VOCAL-NY, one of the groups that make up Court Watch NYC, put the Queens DA's race in the context of a national movement and growing awareness around prosecutorial accountability and the discretionary powers that district attorneys have at their disposal. "I think there's a growing understanding across the country about the impact that prosecutors have and that kind of movement and understanding is definitely coming to Queens," he said.
Malinowski pointed to the recent elections of progressive reform-minded district attorneys in other states -- Larry Krasner in Philadelphia, and Rachael Rollins in Suffolk County, Massachusetts -- as an example of where Queens should be headed. Considering the size and diversity of New York City's second-most populous borough, he said that this election could be one of the most consequential in the city, if not the entire nation -- the Bronx and Staten Island DAs are up for reelection next year, but Queens is expected to be the lone 'empty seat' race.
"I think there's a good case for the Queens DA to be the single-most progressive DA in the country," Malinowski said.
This is part of AGENDA 2019, a joint Gotham Gazette-City Limits project
Find the rest of the series here