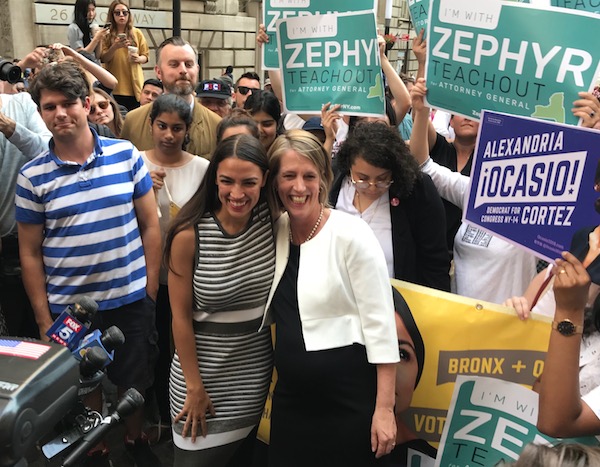 Alexandria Ocasio-Cortez & Zephyr Teachout (photo: Gotham Gazette)
---
This is part of AGENDA 2019, a joint Gotham Gazette-City Limits project
Find the rest of the series here
Queens City Council Member Jimmy Van Bramer has said he will refuse donations from wealthy landlords and the real estate industry as he runs for borough president. Julia Salazar, a democratic socialist in Brooklyn, defeated an eight-term incumbent state senator using her rejection of real estate donors as a rallying cry. Alexandria Ocasio-Cortez did the same when she toppled Democratic Rep. Joe Crowley and became the youngest woman elected to the United States House of Representatives. Zephyr Teachout sought the Democratic nomination for attorney general while eschewing real estate contributions and making it a core plank of her campaign. Nomiki Konst, an investigative reporter, recently launched her campaign for New York City public advocate with the same promise.
New York's real estate industry, most of it concentrated in the dense confines of New York City, has long played a significant role in funding candidates for elected office up and down the ballot across the state and beyond, a role that candidates of both major parties and political insiders have always recognized. But as voters, particularly energized, activist Democrats, focus on the affordable housing crisis and take heed of the state's broken campaign finance laws, including loopholes that donors, especially those in real estate, have exploited to pad the coffers of legislators and executives, some progressive Democrats have begun to reject campaign contributions from the real estate industry.
Affordable housing policy, including the already-begun debate over rent regulations decided in Albany that will be a significant issue in 2019, is at or toward the top of many activists' lists, and housing justice advocates increasingly see campaign finance pledges as a litmus test for candidates. Increasing numbers of Democrats eschewing real estate money, or at least any given through the so-called LLC loophole, has given those activists and advocates cause for optimism that real estate's role in state elections may be on the decline and that their elected representatives will heed the clarion call to protect tenants and listen to small donors over wealthy special interests.
"I think that it's clearly a concern amongst a growing number of voters," Van Bramer told Gotham Gazette. "I think it's increasingly one of those issues that people want a response on from their elected officials and candidates. And I think that they're right to be concerned about the influence of big money, generally speaking."
"Money still plays a huge role in our elections and real estate is a good way to raise money in New York City and New York State," said Celia Weaver, research and policy director at New York Communities for Change, a leading housing and economic justice advocacy group pushing campaign finance reform, strengthened rent regulations, and deeper affordable housing development. "It's like oil in Texas."
Though questions about the influence of real estate money have swirled for decades, Weaver traced the budding trend of declarations against taking any of it to Diana Richardson's election to the state Assembly in 2015, in a district that includes rapidly gentrifying Crown Heights and at a time when state rent regulation laws were up for renewal in the state Legislature. "Her decision to refuse real estate money in that election turned what would ordinarily be a pretty boring special election where the Democratic machine just gets to anoint the person who's going to run and take the line to a widely covered exciting race that was really a referendum on the real estate industry and its role in politics," Weaver said. "That became a huge touchstone for voters in the district."
It's common knowledge that the real estate industry has been a staple in electoral politics for decades and its members' donations have been part of the picture across the political spectrum. Democrats and Republicans have benefited from them, none more so than Governor Andrew Cuomo, a Democrat recently re-elected to a third term. But the recent election cycle, the first since Donald Trump was elected president, saw greater awareness among voters about the power of state government and the special interests that fund campaigns. Actor and education activist Cynthia Nixon also used that backdrop to run a competitive primary challenge against Cuomo. She refused donations from real estate and issued a scathing indictment of the governor's reliance on big donors in the industry, while calling for sweeping housing justice reforms.
Weaver also pointed to the high-profile corruption convictions of former State Assembly Speaker Sheldon Silver, a Democrat, and former Senate Majority Leader Dean Skelos, a Republican, in trials that exposed how a real estate firm, Glenwood Management, attempted to wield influence over legislation. Glenwood, an enormous donor to Cuomo and many legislators, recently made massive contributions to Senate Democratic candidates ahead of the November election where it appeared likely they would become part of a new majority in the chamber.
The primary mechanism for real estate donations has been the gaping loophole in state campaign finance law that allows limited liability companies with opaque ownership -- a common instrument in the real estate business -- to circumvent contribution limits. City Limits reported in September that LLCs had been used to donate more than $188 million to political campaigns since the late 1990s, with about $31 million given to gubernatorial candidates alone, including Cuomo. "Combining his campaign for attorney general in 2006 and his three runs for governor, Cuomo has received roughly one of every eight dollars donated by LLCs," City Limits found. Those donations are largely dominated by the real estate industry.
Mayor Bill de Blasio has also come under scrutiny for accepting significant real estate donations, especially to a political nonprofit he established to push his agenda that became the subject of law enforcement investigations related to whether City Hall did favors for its donors.
A collaborative report in 2016 by ProPublica, The Real Deal and the National Institute on Money in State Politics tracked how real estate developers who benefitted from a prominent tax incentive called the 421-a program gave about $21 million to party committees and candidates since 2000, out of $83 million that the real estate industry donated in the same time.
"I think people are very much aware that rich donors including real estate developers and landlords are distorting our election system," said Michael McKee, treasurer of Tenants PAC, a political action committee dedicated to affordable housing. "I think that's the growing awareness. There's no question about it."
It was in that context that a slew of progressive Democrats ousted their more moderate and real estate-tied partymates from office with the support of smaller donors and by rejecting corporate backers. "The housing crisis in this city is out of control and going into a year when candidates are going to be debating rent regulations in Albany, voters wanted candidates that are gonna act with integrity and widely believed that candidates who work for the real estate industry won't," said Weaver.
Besides Salazar, Zellnor Myrie and Alessandra Biaggi similarly ran for and won Democratic primaries in the state Senate in opposition to wealthy real estate interests. Each of the three represents a district, much like a lot of the city, grappling with a deep affordability crisis and pockets of gentrification displacing low-income residents of color. Their opponents all received significant contributions from real estate.
The decision to reject real estate seems based in both principle and pragmatism. Biaggi made housing justice a prominent campaign issue as she successfully dethroned Senator Jeff Klein, once the powerful leader of the Independent Democratic Conference, a breakaway faction of eight senators that propped up Republican control of the Senate. Democratic voters rejected six of the IDC members, blaming them for preventing the passage of many bills, including stronger rent regulations, and replaced them with progressive Democrats, including Biaggi and Myrie.
"It's not necessarily that taking real estate money makes you a bad legislator or a bad person...but for me, it's very clear that it's a slippery slope," Biaggi said in a phone interview.
Even as she acknowledged how difficult it can be to run for office without wealthy donors, Biaggi said it was important to her to retain her independence and answer to everyday constituents, not just those who can write big checks. "The winning can't take precedence over the fact that, once you've won, the people who have helped get you there are the people who are going to come knocking on the door and that's really a very challenging thing to come to terms with," she said. Biaggi spent about $330,000 on her campaign and won with 53.1 percent of the vote, while Klein disbursed more than $3 million to try to keep his seat and got 44.5 percent.
Salazar said her commitment, and Myrie's and Biaggi's, to refuse real estate donations proved that it's possible to run a viable campaign with small donors, and build grassroots support and trust in communities by doing so.
"I think advocates have long recognized the correlation between the amount of real estate money that many electeds have taken and their failure to advocate vigorously for tenants," she said. "When other candidates see those campaigns being successful and they see this growing and increasingly loud demand from advocates, I think that is what is translating to them paying more attention."
Those in the real estate industry push back against being made the boogeymen of state politics. Real estate is, without a doubt, central to New York City's fortunes and the industry comprises a large part of the city's tax base. The sector is scapegoated more so than other industries and groups, like those in health care, finance, or education, that also employ somewhat similar tactics in state elections. And of course, many candidates regularly pursue real estate donors when running for office.
"There are people who are willing to accept our contributions because our philosophies or the ideas that we are espousing are aligned with their philosophies," said John Banks, president of the Real Estate Board of New York, in an interview. "There are people who don't want to accept real estate money because their philosophies don't align with the work that the real estate industry does and there are people who move back and forth across that continuum."
Banks pushed back against any notion that his industry has used the LLC loophole to improperly sway the political landscape to its benefit. "The real estate industry respects and follows both the letter and the intent of the law and to say that someone who follows the letter of the law is in someway undermining the legitimacy of the political process is a naive statement," he said.
And, he noted, the real estate industry is intrinsically a part of New York's landscape, more than any other, even finance, or technology. "Unlike some of the other industries, mobility is not something that is an option for us," he said.
There are also Democrats, even those who call themselves progressives, for whom real estate donations are far from an insurmountable liability, even if they are unpopular with the party's left wing. Cuomo sailed to reelection, in part by taking millions combined from LLCs and the real estate industry that he then used to overwhelm his less-funded primary and general election opponents over the airwaves. New York City Public Advocate Letitia James, not a close friend to real estate, accepted similar donations and was resoundingly elected the next attorney general of New York State. In the attorney general primary, for instance, James ran on a platform that included criticism of bad landlords and yet received $10,000 from an LLC linked to the Durst Organization, one of the largest real estate developers in the city. That LLC and seven others under the Durst umbrella also gave a combined $150,000 to one of James' opponents, Rep. Sean Patrick Maloney, which became a line of attack from Teachout.
"The real estate industry is pretty broad and diverse," said Jordan Barowitz, spokesperson for the Durst Organization. "I work in it, as do members of 32BJ and the super in your building and the residential broker who leased you your apartment." He said "painting all these people with a pretty broad brush" is problematic. "Unfortunately there's a lot of blaming in politics these days and it's easy to point to one group or person or industry and say they're responsible for everything that's bad in this world and that's pretty simplistic and wrong."
"Honest politicians don't take bribes and reputable donors don't request quid pro quos," he added.
There is a distance between bribes and quid pro quos on one hand, of course, and donations having some influence on policy-making, even if simply by virtue of how donations help candidates get elected.
McKee of Tenants PAC noted, for instance, that REBNY had begun donating larger sums in this election cycle to Democratic candidates once it seemed apparent that the party was going to regain control of the state Senate and, by result, the entire Legislature.
"REBNY saw the handwriting on the wall. They're equal-opportunity opportunists. They don't care who's in the majority. They'll try to buy influence with them by giving them money," McKee said. "I'm not suggesting in any way that the mere fact that REBNY has started giving money to Democratic senators means that those Democratic senators are going to sell tenants out. That's not my point. My point is that this is how they try to win friends and influence people, with big money."
The influence of such donations can come down to seemingly small changes in policy, like the exact threshold at which an apartment leaves rent regulation, not necessarily major new legislation that would raise flags as donor-favors.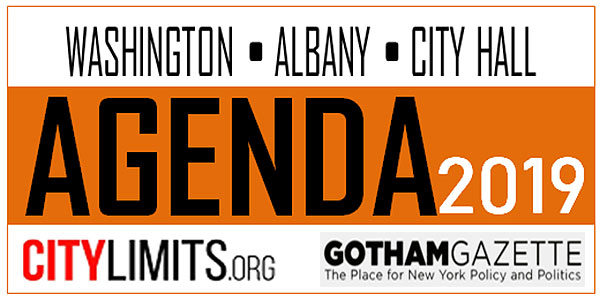 Myrie wanted to avoid even the perception of corruption when he took his pledge, he said. "The number one reason that I did it was because...when we were gonna be facing the fight in Albany on whether or not we're gonna protect tenants, I wanted there to be no confusion about which side I was on," he said.
It would be hard to argue, he said, that real estate hasn't had a corrupting influence on politics. "Albany for the longest time has passed watered down legislation," Myrie added. "We have not protected tenants the way that we've needed to and that, you can draw the direct correlation to the increase in the amount of real estate donations to the Legislature. I think anyone looking at that objectively could say that it has had a corrosive effect on how we pass policy affecting our tenants."
"Once you take that money, of course it influences how you legislate," Biaggi said. "Now I think there are ways to protect against that, and that goes into campaign finance reform."
Biaggi asserted that the path to stronger rent regulations runs directly through reforming the state's campaign finance system, primarily through closing the LLC loophole, but also through lowering individual donation limits, where New York has some of the highest in the country. Closing the LLC loophole alone, advocates say, would take away real estate's biggest weapon of political influence, and they insist it should be accompanied by a public campaign financing program, like the one currently used in New York City, to boost the voices of ordinary New Yorkers who only give $25 or $100 to a candidate.
Democrats in the Assembly have repeatedly attempted to reform campaign finance law but have been roadblocked for years by Republicans in the Senate, who have been major beneficiaries of real estate donations. Many, Cuomo included, have emphasized that ending the LLC loophole is among their priorities in the upcoming legislative session in January.
"If you had these kinds of reforms, candidates wouldn't have to spend so much time cultivating rich people to make big donations," McKee said.
On the other hand, Republicans have long-argued that labor unions often use campaign contributions to support and influence Democrats, and that any LLC reform should also institute limits on how local chapters of unions are classified in campaign finance law.
Weaver, from Communities for Change, said, "Not only are rent laws coming up in 2019 but I think there's gonna be a big referendum on the role of money in politics generally…and the campaign finance stuff is also gonna be a referendum on tenant issues and real estate money in politics specifically."
This is part of AGENDA 2019, a joint Gotham Gazette-City Limits project
Find the rest of the series here