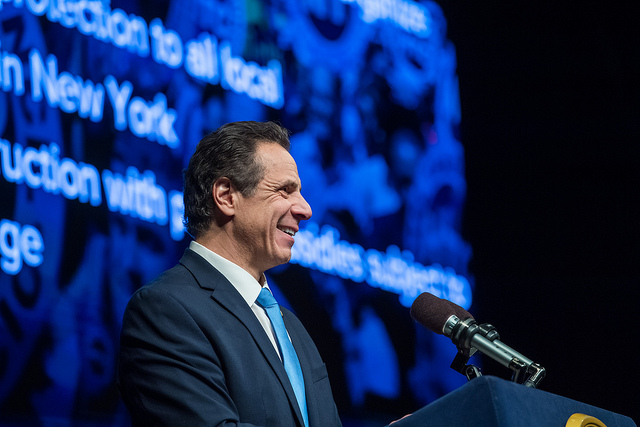 Gov. Cuomo (photo via the Governor's office)
---
In his expansive State of the State speech on Tuesday, Governor Andrew Cuomo articulated wide-ranging priorities for the legislative session and the budget for the 2020 fiscal year that is due April 1. But there was plenty left unsaid in the 80-minute speech, included instead in the detailed policy book and budget documents released along with the governor's address. Some of those proposals could have broad social and economic consequences for the state should they come to pass, with many likely to move forward as Democrats control the entire State Legislature.
But the governor has also been known to include proposals in past policy books and budgets without putting any political capital behind them once negotiations with the Legislature are underway. Below is a list of notable Cuomo proposals that didn't make it into the governor's speech:
Increasing protections against harassment in the workplace
Though the governor has touted passing last year the strongest laws in the nation against sexual harassment in the workplace, he did not mention them at all during his State of the State speech. Nonetheless, his plans do include proposals to expand the protections passed last year, including by lowering what some have called onerous standards for proving harassment under the Human Rights Law, mandating that non-disclosure agreements articulate a victim's right to file a complaint or participate in an investigation, and requiring workplaces to prominently display sexual harassment informational posters.
The governor and legislators have been under pressure from advocates and some lawmakers to hold public hearings on sexual harassment in both the public and private sector -- hearings that were not held before last year's laws were passed -- and to strengthen the new laws. While Cuomo included enhanced laws in his proposals, legislative leaders announced a joint hearing for February 13.
Cuomo is also proposing removal of the statute of limitations for reporting rape.
Pursuing universal access to health care
The governor will establish a commission comprised of the Department of Health, Department of Financial Services, health care and insurance experts to explore how the state can provide universal access to health care in the state. The commission would have to issue a report by December 1.
Cuomo has dismissed calls from legislators and advocates to support creation of a single-payer health care system in New York, but outlined several health care proposals in his speech and included the commission in his written plans.
Criminal penalties for assaulting the press
Taking direct aim at President Donald Trump's repeated attacks on the free press, including calling journalists the "enemy of the people," and accusations of "fake news" against reporters, Cuomo, who has had his own issues with the press, is proposing legislation that would make it a felony to assault a journalist while they are doing their job. Journalists would join several other classes of worker, such as nurses, in this category.
Creating a database of economic development deals
Cuomo's budget proposes several reforms to state contracting processes, which have been at the center of recent corruption scandals that have marred his administration. Among those reforms is an online database of economic development projects that receive state assistance. Good government advocates have repeatedly called for that "database of deals" to provide more accountability for state spending and the Legislature has in the past promised to pass such legislation even if the governor did not support it.
It's unclear if the database the governor has in mind will meet the expectations of those who have demanded such a public accounting, which would ideally show investments and their results in granular detail.
Protecting undocumented immigrants from deportation
The governor backed the "One Day to Save New Yorkers" bill, a small but significant change to sentencing for Class A misdemeanors. The bill would reduce the maximum punishment for such offenses from 365 days -- exactly one year -- to 364, in an effort to protect undocumented immigrants who, if convicted of crimes with a sentence of one year or more, could face deportation proceedings.
A permanent watchdog over police-involved killings
Cuomo signed an executive order in 2015 giving the state Attorney General the authority of a special prosecutor to investigate instances where unarmed civilians are killed by law enforcement officers. His budget proposal includes support for legislation to codify that order by creating a permanent special counsel to probe such incidents, something he has backed in the past.
Additionally, Cuomo's budget would require all law enforcement agencies across the state to implement a use-of-force policy and to collect and report all data on incidents where the use of force leads to death or injury.
Tackling lead exposure among children
The governor has proposed lowering the threshold of blood lead levels in children that would trigger intervention by public health officials. The proposal could be particularly significant for New York City, where the city's public housing authority (NYCHA) has been sued in federal court for failing to deal with lead paint in its apartments (and covering up missed inspections) while Mayor Bill de Blasio has repeatedly downplayed the number of children exposed to lead.
Creating a new agency to help domestic violence survivors
The budget proposes creating a new state agency called the Division of Victim Prevention and Response, by consolidating the Office for the Prevention of Domestic Violence, the Office of Victim Services, and the Office of Campus Safety.
The governor is also proposing legislation to modernize policies for providing relief to domestic violence survivors -- no longer requiring them to pay certain costs for staying in a domestic violence shelter and removing the requirement that they must apply for public assistance. He is also creating a task force to study the state's service delivery system for survivors. Cuomo is also pushing the Domestic Violence Survivors Justice Act, which would expand certain protections for survivors caught up in the criminal justice system.
Protecting breastfeeding mothers from workplace discrimination
The governor intends to propose legislation that would clearly establish lactation as a pregnancy-related condition covered by the state's Human Rights Law. It would ensure that employers provide reasonable accommodations for breastfeeding women (i.e. to pump) or be liable under the law.
Expanding protections against wage theft
In his "first 100 days" agenda, Cuomo spoke about passing new protections for the freelance and gig economy but made no reference to it on Tuesday and his policy book only mentions it sparingly, in its introductory section. What the document does include is a proposal to expand criminal penalties for wage theft, a crime of which freelancers and gig workers often find themselves the victims. The budget proposes changing the state's labor law and establishing an expanded range of violations, from misdemeanors to felonies, for wage theft. It would also give the state Department of Labor the authority to refer cases for criminal prosecution.
Protecting sex trafficking victims
The budget commits to closing loopholes in the state's rape shield laws, which are meant to protect victims of sexual violence by limiting evidence of their sexual history from being introduced in court. Cuomo's budget proposes expanding the law to cover sex trafficking victims and to prevent prostitution convictions from being used against victims.
Establishing compassionate release
Cuomo's budget proposes introducing legislation to establish a compassionate release process for incarcerated individuals above the age of 55 suffering from debilitating health issues. The bill would allow these individuals to be considered for medical parole after serving half their sentence.
Promoting corporate diversity and pay equity
Cuomo's budget creates a Task Force on Representation and Corporate Transparency, to devise ways the state can promote diversity on corporate boards and in their workforce and to ensure pay equity. Cuomo will also order a study -- by the Department of State, Department of Labor and the Division of Human Rights -- of the gender and racial composition and inequity of boards of firms that have state contracts.
Encouraging youth participation and engagement
The policy book proposes creating a Youth Council made up of 62 young people, one from each county in the state, between the ages of 13 and 21. The council is meant to operate for two years, meeting at least three times a year, to inform the state government's policies on education, the environment, civic engagement, and juvenile justice. It would also include subcommittees dedicated to discussing sexual harassment and assault, female empowerment, and cyberbullying.
Extending the millionaire's tax and closing the carried interest loophole
The state's millionaire's tax is slated to expire at the end of 2019 and so far its fate has remained somewhat uncertain, though Cuomo announced his intention to renew it during a December policy speech. The governor's policy book proposals includes a five-year extension of the tax to retain the $4.4 billion that it is estimated to bring to the state coffers each year from roughly 60,000 taxpayers, half of whom are from out of state.
The governor is also proposing to do away with the "carried interest" loophole. Hedge fund managers, private equity investors, and venture capitalists earn a portion of their income in the form of carried interest, which is taxed at a lower rate than regular income, costing the state about $100 million, according to state estimates. Cuomo has proposed a change in how this income is treated, and would impose a 17 percent "fairness fee" to raise about $1.1 billion annually.
[Read: Cuomo's 2019 Agenda of Election, Campaign Finance and Government Ethics Reforms]