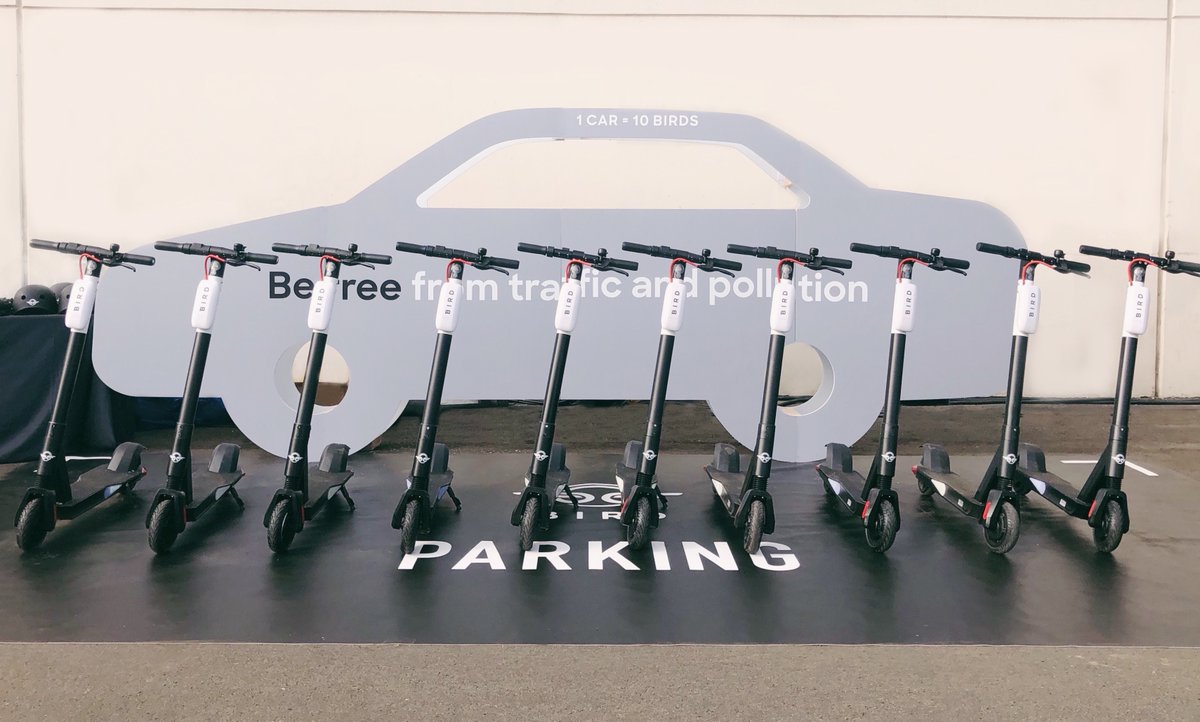 (photo: @BirdRide)
---
With Governor Andrew Cuomo proposing the legalization of electric bikes and scooters in New York and the New York City Council considering several bills to achieve that goal, the two prominent e-scooter firms looking to do business in the state are ramping up efforts to lobby lawmakers and other officials.
Bird and Lime are barnstorming New York with lobbyists as they seek to expand into what could be a massively profitable market. The e-scooter companies have already established a presence in hundreds of cities across the United States and the globe, presenting their products as affordable "micro mobility" alternatives that get people around while reducing carbon emissions and traffic congestion.
It's an appealing argument that has been embraced as part of the broader public transit conversation by many elected officials and transit and street safety advocates, particularly in New York City with its crumbling subway system, slow buses, and crowded streets. And that argument is being spread widely through hundreds of thousands of dollars spent on lobbying.
At the state level, Cuomo has proposed giving municipalities the authority to legalize both e-bikes and e-scooters, which many, including Mayor Bill de Blasio and City Council Speaker Corey Johnson, argue would need to happen first if the city is to act.
"Authorizing these transportation alternatives in a sensible and safety conscious manner will provide cheaper and more environmentally friendly transit options to New Yorkers and visitors who can use these options for work or leisure," said Jason Conwall, a spokesman for Governor Cuomo, in a statement. The proposal includes mandates for the use of helmets, reflective gear, a bell or horn, and a maximum speed limit.
"It will also attract new businesses and generate job opportunities for New Yorkers, and align the state with many other states and cities that have successfully brought this technology to their residents," Conwall added.
De Blasio has seemed open to legalizing e-scooters, though he has emphasized that public safety must be the first priority. "If I can see something that will create safety in this city and allow people to use e-bikes or e-scooters, I'm very open to that," he said at an unrelated news conference in November. But while he is in favor of pedal-assist e-bikes, he has strongly opposed legalizing e-bikes with throttles, citing safety concerns, though without evidence.
At de Blasio's behest, the NYPD has been cracking down and confiscating e-bikes, which are often used by immigrant delivery workers, and fining individuals and businesses (most of the fines are levied against individuals, as reported by Gothamist in January, contrary to de Blasio's professed plan to target businesses). Meanwhile, the city launched a pilot dockless-bike program last year in July -- in partnership with Lime, CitiBike, and Jump -- which allowed pedal-assist bikes, which are similar to throttle bikes but run at slower speeds.
Scott Gastel, a city Department of Transportation spokesperson, said the de Blasio administration is reviewing the governor's proposal. "If the State takes action to provide a local path to legalization, there will be a conversation about what makes sense for New York City," he said in an email.
The City Council is already pushing that conversation, however, through four bills that were debated at a transportation committee hearing last month where Department of Transportation Commissioner Polly Trottenberg raised concerns about the "unregulated, illegal nature" of e-bikes and "particularly their speeds and irresponsible use by some."
The bills in question -- sponsored by Council Members Fernando Cabrera and Rafael Espinal -- would remove restrictions against e-scooter and e-bike use, create a program to help throttle-bike owners to convert them to pedal-assist bikes, and create a pilot scooter-sharing program.
"Legalizing electric scooters and throttle electric bikes may seem like distinct issues, but they share a common theme: transit equity," said Espinal, in a statement, "the principle that all people – particularly marginalized communities – deserve affordable, accessible, and safe transit options that get them where they need to go, whether that be for a job, a social engagement, or anything else."
For certain City Council members, lobbying by e-scooter firms has presented a golden opportunity to attach e-bikes to the conversation, providing what they say is much-needed justice for immigrant delivery workers who have suffered under de Blasio's crackdown.
"There's no doubt that the reason that we're talking about e-bikes today again is because of the money and the power that has been wielded by these tech companies, these e-scooter companies," said Council Member Carlos Menchaca, in a brief interview outside City Hall. Menchaca has been among the most vocal critics of the mayor's enforcement policy on e-bikes, calling the crackdown "discriminatory."
Over the last year, Bird Rides Inc. has hired several firms to represent its interests including Blue Suit Strategies, Connelly McLaughlin & Woloz, the Mirram Group, Dickinson Avella Vidal, and Tusk Strategies, which has close ties to Council Speaker Johnson and is known for its successful effort in helping the ride-hailing service Uber avoid new regulations in New York City in 2015 (those regulations did pass in 2018).
David Estrada, Bird's chief legal officer, is among several Bird employees who have also registered as lobbyists in New York. By the end of 2018, Bird had spent about $142,000 on its lobbying effort, according to city and state lobbying records.
Those efforts are ongoing and Bird signed retainer agreements with several of firms to work throughout this year. Blue Suit, for instance, signed an agreement to be paid $3,000 each month through March 2019 to lobby before city officials. Connelly McLaughlin & Woloz signed on for a $6,500 monthly retainer through the end of the year. The Mirram Group's contract, which extends till August, is expected to cost $10,000 per month. Ostroff Associates is expected to receive $5,000 each month till the end of July. And Tusk Strategies' contract was the costliest, at $25,000 per month for the full year.
Neutron Holdings, Lime's parent company, similarly hired James F. Capalino & Associates, Urban Strategies, and Yoswein New York to lobby local and state officials for both e-scooter legislation and for expanding its dockless bike share service into New York.
"We are working with both state and city officials to improve transportation options for all New Yorkers," said Phil Jones, Lime's senior director of East Coast Government Relations & Strategic Development, in a statement. "Shared dock-free scooters can make transportation reliable and affordable for all New Yorkers—especially underserved communities that do not have easy access to mass transit."
The company had already spent about $146,000 by the end of last year and plans more. Capalino & Associates' contract runs through the end of 2019 with a $10,000 monthly retainer. Urban Strategies was retained to work for the company through the end of May for $5,000 each month.
Menchaca is adamant that e-scooter legalization should only happen along with e-bikes, and the e-scooter firms also seem on board since it advances their interests. "I was very clear from the beginning...that we're not even talking about e-scooters till we figure out what's going on with the e-bikes and fix that problem," he said. "They understood that so they're gonna play...They're savvy. We'll do it together."
And he seemed to partly excuse the de Blasio administration, even as he criticized the "discriminatory focus from the NYPD" on immigrant workers. "We can't move that much because of the state, the state needs to move to unlock our ability to legislate this," he said. "So I wouldn't say that the administration's not listening."
Does the mayor really care? "I think we're gonna make the mayor care," Menchaca said.
Council Member Antonio Reynoso sees the issue as indicative of a larger de Blasio problem. "The way we're thinking about it is we're gonna leverage the lobbying effort made by the e-scooters to make sure that we get justice for the e-bike folks," he said in a brief interview in the Council Chambers at City Hall.
"I think it's less about whether or not the mayor cares about lobbyists and immigrants and more about the mayor just being bad on transportation policy," he added. "Let's put it in perspective. Who it affects, how it affects them is kind of second to the mayor not understanding that he's a proponent of car culture in a significant way. So whether it's e-scooters or e-bikes, I think to him, who's advocating for it is second to just bad policy."
De Blasio finds himself increasingly isolated in his position. E-scooters and e-bikes are one of those rare issues where the interests of transit and street safety advocates on the ground line up with those of large firms with a profit incentive.
"It is indeed disturbing to continue to see Mayor de Blasio...continuing to criminalize the use of an e-bike which is an efficient, sustainable mode of transportation," said Marco Conner, deputy director of Transportation Alternatives, in a phone interview he gave while riding a CitiBike, the bike-sharing program that de Blasio has expanded and which started to offer pedal-assist bikes as part of the city's L-train shutdown mitigation plans. "Meanwhile, he's en route to inviting e-scooter-share companies and has also legalized pedal assist e-bikes."
Conner said the mayor's argument that e-bikes are illegal and so the NYPD must enforce the law doesn't hold water, particularly considering the mayor's rhetoric about making New York the "fairest big city in America" with strong "sanctuary city" protections. The crackdown, he noted, exposes low-wage immigrants to the criminal justice system, opening them up to potential interactions with immigration authorities. "Every New Yorker jaywalks daily. Police officers jaywalk daily," Conner said. "That's illegal under local statute but you don't see that kind of targeted crackdown."
He also suggested that the city should institute a buy-back program for e-bike owners, similar to the NYPD's regular gun buy-backs that take guns off the streets.
Conner did have concerns, however, about the governor's legalization proposal, particularly the helmet and reflective clothing requirements, which he said are "well-intended" but would discourage the use of e-bikes and e-scooters. It would also harm the existing CitiBike program, which doesn't require either, he pointed out.
"Helmet sharing is not a thing and will never be a thing," he said, while the reflective clothing rule is "a recipe for subjective and racially disparate enforcement." The governor's proposal also gives motor vehicles the right of way over e-bike and e-scooter riders, which Conner said should be reversed.