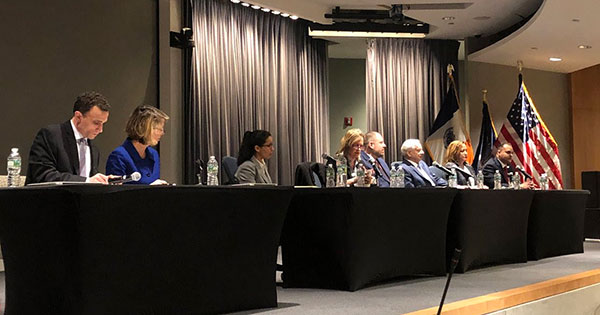 3/12 Queens DA debate (photo: @alyssaguilera)
---
The candidates for Queens District Attorney are becoming increasingly clear about where they stand on key criminal justice issues and how they would run the office if elected later this year. Queens is home to its first competitive district attorney election in decades, with long-time District Attorney Richard Brown set to retire and a crowded Democratic primary set for June 25. The general election will be in November.
There are seven candidates currently running, all in the Democratic primary, and six of them met last week for a fast-paced and detail-oriented debate sponsored by the "Queens for DA Accountability" coalition, made up of many community and advocacy groups, hosted at CUNY Law School in Long Island City, and moderated by Fordham Law Professor Zephyr Teachout and Gotham Gazette executive editor Ben Max.
The candidates for the borough's top prosecutorial and law enforcement position spoke to roughly 200 attendees and others watching a live-stream, explaining their qualifications for the job and stances on a wide variety of policy issues, some of which they would have control over as district attorney, others that they would be able to influence. Queens, home to more than 2.4 million people, is known as the most diverse borough in the most diverse city in the country.
Several questions at the forum were asked by community leaders, on topics ranging from the school-to-prison pipeline to police accountability, such as Valerie Bell, the mother of Sean Bell, who was killed by police in Queens, and Jennifer Orellana, a transgender former sex worker, who have affiliations with groups in the sponsoring coalition.
Six of the seven candidates were in attendance. Mina Malik was sick and unable to participate in the forum, though she released a video on Twitter saying she was sorry to miss it and looked forward to engaging with those participating in the event. The six candidates present at the debate were Tiffany Cabán, Melinda Katz, Rory Lancman, Gregory Lasak, Betty Lugo, and Jose Nieves.
[For background on the candidates and the race, read: 'We're in a New Era': Inside the Crowded Race to Become the Next Queens District Attorney and Reset the Borough's Prosecutorial Agenda]
As they have at other race events, in their campaign materials, and during interviews, the candidates largely agreed that the Queens District Attorney's office is in serious need of change, in a general sense of modernizing its practices and culture, but also on key practices. The candidates also mostly found broad agreement at the debate that change is needed on a wide variety of topics like cash bail, sex work prosecutions, Rikers Island, and what to do about police misconduct, but the candidates often disagreed on the solutions. In an email exchange with Gotham Gazette, Malik provided her answers to debate questions, which are also included below.
[LISTEN: Queens District Attorney Candidate Debate (3/12/19)]
Vision for the Office
At the start of the forum, the candidates were asked how they envision the DA's office and how it would work under them.
Cabán, a public defender, said she would change the "metrics of success" for the office, claiming there is currently "a system based on gamesmanship" favoring convictions over justice. Instead, she would focus on lowering incarceration and recidivism. Katz, the Queens borough president, envisions the district attorney's office as a leadership position and that her primary responsibility would be implementing policies and reforms.
Lancman, a City Council member, called the office "more than just a place that processes cases that police bring" and "responsible for public safety in Queens." He said he would decline to prosecute people with mental illnesses and drug addiction and focus on preventing crime.
Nieves, a prosecutor in the attorney general's office, said the DA's job is to protect residents and know how and when to prosecute cases. Lugo, an attorney and former prosecutor, cited her campaign theme "true justice for all," and said the officeholder needed to understand "complexities of the whole system" and "prioritize prosecutions."
Lasak, who worked in the Queens DA office for many years before becoming a judge -- a position he resigned from to run this year -- called the DA the "chief law enforcement officer for the borough," and a position that works with the police department.
Violent Crime
The candidates were asked how they would handle prosecutions of violent crime if they were to become the Queens District Attorney, and how that approach may or may not fit into larger calls to reduce the jail population. Teachout noted that the number of people incarcerated in New York for non-violent crimes has steadily dropped over the past two decades, while the number of people incarcerated for violent crimes has remained stagnant.
Cabán took the strongest stance in favor of change, saying that her office would "think of criminals as victims of trauma themselves" and that she considers violent crime to be a "public health problem." Lancman similarly said that it is imperative to "confront the issue of violence" to achieve decarceration, and that prosecutorial reform "cannot exclude violent crimes."
Katz noted that disparities in violent crime prosecution have a "disproportionate effect on people of color" and that her office would work for "fair and equitable prosecutions." She also said that she would focus resources on diversion programs and access to mental health care, working with the community.
Nieves said prosecutors often overcharge defendants to secure a plea deal and that he would end that practice, in addition to engaging in "alternatives to incarceration," such as diversion programs. Lugo said that the process should focus on care for the victim and the DA's office should hire social workers for victims of violent crime, but she did not directly answer the question.
Unlike the other five candidates at the debate, Lasak cautioned against changing how the office handles violent crime. He said that the DA's "main job is public safety" and that "we have to be careful when dealing with violent crime." The statement was one piece of a pattern throughout the debate, and the broader race, where Lasak has staked out more moderate positions in the field, though at times he is joined by other candidates and he consistently says he would make some progressive changes.
All candidates present answered affirmatively when asked if they thought current sentences for violent crime were too long in general.
By email, Malik said, "Ensuring that violent criminals are held accountable must be a top priority for any District Attorney, but it must be an accountability that keeps our communities both safe and whole." She highlighted her experience in Queens prosecuting "human traffickers, serial rapists, child molesters and violent, repeat offenders," but said she also has "the reform experience of having implemented restorative justice, diversion programs and alternatives to incarceration, particularly for first-time violent offenders, so that one mistake doesn't take a person further down the wrong path."
Domestic Violence Prosecutions
The six candidates were asked whether they would commit to not prosecuting victims of domestic violence and interpersonal conflict for self-defense or acts of survival. All six candidates present committed, with Katz asking "who wouldn't?"
Malik also made that commitment, and added: As a former Special Victims prosecutor, I worked with countless women who were victims of abuse and assault and I am adamantly committed to ensuring the Queens DA's Office protect victims, not retraumatize them."
[LISTEN: Queens District Attorney Candidate Debate (3/12/19)]
Police/Prosecutorial Misconduct
Representatives from the grassroots organization Vocal NY asked what the candidates would do the deter police and prosecutorial misconduct and what would be the career consequences for Assistant DAs that commit misconduct, such as withholding evidence. Later, Valerie Bell, the mother of Sean Bell, asked what the candidates would do to ensure fair prosecutions of crimes involving police officers -- like the trial involving officers who shot and killed her son -- and that misconduct investigations were swift, thorough, and unbiased.
Cabán said that public defense offices already have lists of "bad officers" and that as DA she would publish these lists and not rely on those officers' testimony in cases. She also said that prosecutors should undergo retraining to prevent misconduct and that "anyone who wears a badge and commits a crime should be held accountable independent of conflicts of interest."
Katz vowed that misconduct "won't be stood for in my office" and that prosecutors would have to follow her reform policies. She also said that the state attorney general's office should investigate police brutality accusations, not just police killings of unarmed individuals as is currently the case based on an executive order from Governor Andrew Cuomo.
Lancman cited the City Council hearings that he has held on police misconduct and the history of misconduct in the Queens DA office. He asserted that "reforms prevent wrongful convictions" and that he would implement a broader code of conduct. He would use personnel in the DA's office to investigate police misconduct, he added.
Nieves said that Assistant DAs that commit misconduct "would be fired" and that he would create a civil rights bureau within the office to investigate police misconduct with personnel from the DA's office. He also said that police officers who commit perjury should be prosecuted. Lugo said that her office would have "no tolerance for discrimination" and "firm but fair prosecutions." On the issue of investigations, she said that Assistant DAs "should know the communities they're prosecuting in" and this would make investigations more equitable.
Lasak brought up his previous experience in the DA's office, saying that "prosecutors under me knew they couldn't [commit misconduct]" and that his leadership would set the example for his office. He also said he would use the DA's investigators in police misconduct cases, not the NYPD.
Malik wrote that she will work to prevent prosecutorial misconduct. "As District Attorney, I will institute agency-wide trainings on Brady, discovery, witness interviews and preparation, suspect interviews, implicit bias, cultural competency and anti-racism." She promised a DA's office that is "for the first time, representative of the community it serves at the leadership level and hire a dedicated ethics officer to assist in ensuring our attorneys are always above reproach when practicing law."
Sex Work Decriminalization
Jennifer Orellana, a transgender former sex worker and member of Make the Road New York, asked the candidates for their views on the decriminalization of sex work. The Queens DA would potentially be able to decline to prosecute sex workers, as well as their customers and others involved in sex work, like landlords. Most of the candidates agreed that the DA's office needs to change how it handles sex work crimes, mostly with a focus on the sex workers themselves, though they spoke about sex work in varied terms.
Cabán committed to declining to prosecute sex work-related offenses, including sex workers and those that participate in the sex work industry. She also said that the trans and sex work communities need to be protected. Katz said that sex work offenses should be "diverted into human trafficking courthouses." She would not prosecute and make resources available to prevent recidivism, she said, while also indicating a belief that all sex workers need to be helped to find a different line of work and path in life.
Lancman would also decline to prosecute and would direct sex workers to diversion programs, in addition to focusing on sex trafficking and human traffickers.
Nieves would similarly decline to prosecute, calling sex work "a non-violent and consensual crime" and that he "won't waste resources" on it. He would also create a human trafficking unit.
Lugo would consider declining to prosecute and instead implement a diversion program. She also brought up the need to focus on sex trafficking. Lasak was the only candidate against fully declining to prosecute, saying that "the impact on the broader community needs to be looked at" and that sex work lowers the quality of life for residents in affected neighborhoods.
Malik wrote her "position to decline to prosecute for sex workers and to vacate prostitution records is informed by a career of defending women suffering sex abuse and working with victims to come forward. We should be investing in resources to help sex workers get treatment and services where needed, while diverting enforcement toward those who profit off of, prey on and traffic sex workers."
[LISTEN: Queens District Attorney Candidate Debate (3/12/19)]
Bail Reform
The topic of bail reform also generated a wide consensus among the candidates. Though there are ongoing negotiations in the state capital around major bail reform that could impact the next Queens District Attorney, the candidates were asked about what their policies would be if no changes are made at the state level.
All the candidates agreed to reduce the use of cash bail for at least minor and non-violent offenses, with some candidates saying that they would end the practice entirely.
Cabán pledged to end cash bail "to the fullest extent" and that her office would "release people as often as possible," including on some violent alleged crimes. Katz agreed to end cash bail for misdemeanors and non-violent felonies automatically, but for violent felonies supervision should be looked at as an alternative. Lancman committed to never asking for cash bail and would expand eligibility for release "to the maximum extent of the law," noting that Kalief Browder was kept on Rikers Island after not being able to post bail upon being arrested for what is essentially a non-violent crime of stealing a backpack, for which he never formally faced charges and was eventually released, later killing himself.
Nieves committed to no cash bail for all offenses and that he would use appearance bonds instead of cash bonds. Appearance bonds usually stipulate that a defendant would pay a fine if they do not appear for their court date. Lugo said she would handle the issue on a case-by-case basis and that non-violent crimes would not have cash bail, except for "major drug cases," like El Chapo.
Lasak agreed to no cash bail for minor offenses, but would keep the policy in place for other charges.
Rikers Island Closure and Proposed New Jail in Queens
The candidates were asked if they support the closure of Rikers Island and also if they support the proposed new community jail in Queens.
Cabán was the only candidate to support the closure of Rikers Island and also oppose the new community jail in Queens. She said that she did not support building new jails because she "doesn't want them filled." Perhaps along with Lancman, she has outlined the most aggressive decarceration plan in the race, though he said that Rikers must be closed and also supports the new community jail.
Katz supports closing Rikers Island and also the construction of a community jail in Queens.
Nieves supports the closure of Rikers and opposed the construction of "mega-jails" in Queens. Lugo said she wants to see the current facilities on Rikers Island closed, but wants new facilities on the island that would separate violent and non-violent offenders. Lasak wants to keep the jails on Rikers Island open.
Malik wrote that she believes "it is critical that the community in Queens has its voice and concerns fully heard" but that "the closing of Rikers should also be taken as an opportunity for us as New Yorkers to totally reject the violent culture of Rikers by designing new detention facilities that treat everyone with dignity and aggressively support their reentry. Community detention centers that treat people with dignity and allow people to have more regular contact with their loved ones and support systems have proven to result in reduced recidivism."
[LISTEN: Queens District Attorney Candidate Debate (3/12/19)]
Police in Schools/School-to-Prison Pipeline
The candidates were asked about their views on police in schools and the school-to-prison pipeline by an activist with the Rockaway Youth Task Force.
Cabán asserted the "need to get police officers out of school" and that "students of color have been criminalized." Her position is that her office would "decline to prosecute children whenever possible," and instead "engage in restorative justice."
Katz said "police officers aren't the only answer to school safety," but may be necessary in some cases. She believes that diversion programs could work better and that there are currently "too many officers" in schools. Lancman committed to not prosecuting "low-level offenses from schools" and that these would be handled in schools and youth court.
Nieves compared over-policed schools to Rikers Island and said his office would give students opportunities instead for low-level offenses and deal with felonies in family court. Lugo said that low-level offenses "should be handled in school," but supports police being present in schools.
Lasak also said that he wants police in schools and that his office would instead focus on "bridging the gap between the community and the courthouse," through education programs involving young people.
[LISTEN: Queens District Attorney Candidate Debate (3/12/19)]
Immigration
On the topic of immigration, candidates were asked if they would consider mitigating immigration consequences in prosecutorial decisions. Immigrants, including legal residents, could face deportation for certain offenses or even based on what prosecutors say in court statements.
Cabán vowed to "keep ICE out of courthouses" and "make sure the DA's office doesn't do anything to further deportation," including taking immigration status into consideration for pleas, charges, and court statements. Katz promised to have "deportation-neutral" charges and pleas. Lancman suggested that the office would hire a "collateral offense officer" to look at mitigating the immigration consequences of prosecutions.
Nieves noted that immigration is an important factor for both victims and suspects, saying that victims and witnesses are often afraid to come forward for fear of being deported. Similar to other candidates, he committed to mitigating the immigration consequences of the office's prosecutions. Lugo vowed to block ICE from courts and to set up an immigration affairs bureau, which would include interpreters. Lasak promised to mitigate immigration consequences only for minor offenses.
Malik wrote that she "will implement an immigrant hardship plea policy. Whenever compatible with public safety, I will direct prosecutors to consider collateral consequences when charging noncitizens. We have to ensure the sentence matches the offense and that we are not tearing families apart or leveling disproportionate sentences."
[LISTEN: Queens District Attorney Candidate Debate (3/12/19)]
Ben Max contributed to this article.
Note: this article has been updated with Mina Malik's responses.