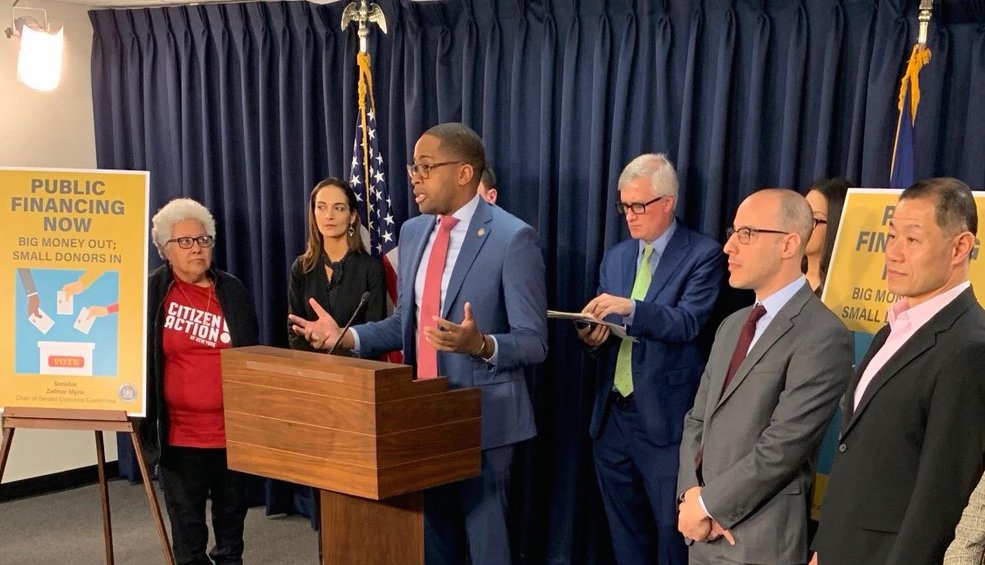 Senate Democrats push campaign finance reform (photo: @zellnor4ny)
---
With less than two weeks until a new state budget is due, Governor Andrew Cuomo and the Legislature have yet to come to an agreement on a public campaign financing model for state elections. But the conversation around the measure, which advocates and experts say is a long-due reform in a state beset with repeated corruption scandals, has taken a turn since Assembly Speaker Carl Heastie raised several doubts about the viability of public campaign financing, some of which Cuomo has echoed.
They've voiced these concerns despite the fact that the Democrat-led Assembly and Cuomo, a third-term Democrat, have annually supported such campaign finance reform and Cuomo included a plan in his 2020 executive budget proposal. This is the first year in Cuomo's tenure that Democrats control both houses of the Legislature, having won a Senate majority in November.
At a Wednesday hearing of the state Senate's Committee on Elections, which was also attended by several Assembly members, experts and advocates sought to rebut those concerns as they pressed legislators to act sooner rather than later.
Earlier this month, Heastie said there weren't enough votes in his chamber for the public financing proposal, which would create a voluntary system with significantly lower individual contribution limits and public matching of the first $175 of all qualifying contributions at a 6-to-1 ratio.
Heastie cited mostly debunked concerns about independent expenditures being able overwhelm candidate campaigns , large budget gaps the state is facing, and criticisms of the public financing model used by New York City, which the state is looking to emulate in principle, particularly the regulatory aspects.
The Assembly did end up including a statement of support for the proposal in its one-house budget resolution last week, but without specific details. In a March 15 interview on New York Now, Heastie denied that he and his members were getting "cold feet." He pointed to the city's public funds program, which caps spending for participants, and said independent expenditures could dominate, while inaccurately saying that IEs are not an issue in New York City elections.
"I think that no one wants to exclude everyday individuals from participating in democracy. We think it's a good thing but people also have to understand you don't want to open the door to having IEs pretty much pick your legislator," he said. He also questioned how the system would work with fusion voting, which allows candidates to run on multiple party lines, though the city's has not encountered this as an issue and the state program would emulate that a candidate receives matching funds only based on their fundraising, no matter how many ballot lines they have.
Cuomo has raised similar concerns about independent expenditures and fusion voting, though he insisted recently that public financing must be included in the state budget.
"How many races are we potentially talking about? How much does it cost? Who's doing the compliance on all these issues? The Board of Elections - which has nowhere near this capacity now? What is the effect of the multiple lines and multiple races? Do you fund all those multiple lines in the primary and then all those multiple lines in the general? So it's necessary, it's right, but it's complicated," Cuomo said at a news conference outlining his budget priorities on March 11. He did, however, mention the possibility that the Legislature could pass a budget that includes general support for and legalization of public campaign financing and then "figure out the details afterwards" in the post-budget session.
The Senate's one-house resolution supports "establishing a publicly financed small donor matching system in order to curtail the corrosive influence of money in politics in addition to other necessary campaign finance reforms." Unlike their Assembly counterparts, senators have not equivocated about implementing the system. Senator Zellnor Myrie, chair of the elections committee, is an ardent supporter of the proposal and, prior to the hearing on Monday, he led a news conference with several colleagues, including many fellow newly elected senators, and government reform advocates to push for it.
"We should be listening to the everyday New Yorker and not big donors," Myrie said at the news conference, where he was joined by Senators Alessandra Biaggi, Rachel May, Brad Hoylman, Brian Kavanaugh, Todd Kaminsky, Julia Salazar, David Carlucci, Jessica Ramos, John Liu, Andrew Gounardes, and Gustavo Rivera, as well as Assembly members. Myrie also brushed aside questions about funding the program. "To me, this is not a cost, this is an investment. It is an investment in the integrity of our democracy and I think not until people have trust in their government will they trust the process.".
For government reform advocates, campaign finance experts, and some legislators, the concerns expressed by Heastie, and to a lesser extent Cuomo, are broadly unfounded.
For one, the governor's proposal does not limit candidate spending like New York City's program, and also does not cap fundraising from private sources, which together would blunt the effect of independent expenditure campaigns while boosting the impact of small donors.
Additionally, as the Brennan Center for Justice's Lawrence Norden noted, concerns about the program becoming exorbitantly expensive because of fusion voting "reflect a fundamental misunderstanding of the way the policy works." Candidates in New York City already run on multiple party lines but public funds are not disbursed for each party but rather for each candidate. "The number of parties on the ballot is irrelevant to all of this. And a candidate doesn't get more money because she's listed on more than one ballot line," Norden wrote.
There are indeed some logistical concerns with instituting public financing statewide, which legislators raised at Wednesday's hearing.
New York City's program is administered by the New York City Campaign Finance Board (NYCCFB), an independent, nonpartisan agency, and the state BOE lacks the resources or expertise to do that kind of work, as Cuomo indicated. City candidates, some of whom are now sitting legislators, have also critiqued what they see as the CFB's overly punitive policies, which they say lead to yearslong audits and burdensome fines for relatively minor violations. Lawmakers also worry that public funds could entice candidates to run frivolous campaigns to raise their own profiles or to otherwise accrue some private benefit.
Those arguments were also repeatedly refuted by individuals testifying before the committee on Wednesday in Albany, though many did acknowledge that New York City's program is far from perfect.
Amy Loprest, executive director of the NYCCFB, and Rick Schaffer, chair of the Board, noted that the city's disclosure laws around independent expenditures are stronger than the federal government's, and that candidates in local races have prevailed despite facing massive independent expenditures campaigns.
Loprest also argued that the system has thresholds that preclude candidates from abusing it for personal gain, though any assessment of the issue is subjective. Candidates must show a level of community support that validates their campaign, she said, and their spending is strictly audited after the election to ensure public funds are not misused. "We are always improving our system and that was built into the law," Loprest said, when Assemblymember Robert Carroll, a Brooklyn Democrat, asked how the city balances monitoring of both independent expenditures and complaints from candidates about "picayune problems."
Schaffer also insisted that the CFB has taken efforts to aid candidates and to prevent them from making mistakes that could end up costing them later. "We're not interested in 'gotcha.' Our job is to help candidates follow the rules which admittedly are complex because it's a complex system," he said. The CFB's audit processes, Loprest noted, are also being consistently improved to ensure candidates do not have to wait years for results.
But Assemblymember Harvey Epstein, a Manhattan Democrat, seemed unconvinced, particularly when considering that audits of every campaign at the state level -- four statewide races and 213 state legislative races -- would be a monumental task. State Board of Elections officials did downplay that worry later in the hearing, noting that the governor's proposal only calls for fully auditing all statewide campaigns but not every legislative one, instead using a random sampling.
The State BOE has not taken a formal position on the program but at least two commissioners, a Democrat and a Republican, support its implementation. Other commissioners have insisted that if the program is passed, it should be accompanied with sufficient funding and that it should first go into effect after the 2022 elections, the next statewide cycle.
A state program, said BOE co-executive director Robert Brehm, would be about 3.67 times larger than New York City's and would cost between $20-$60 million each year in administrative costs if fully scaled. According to a December 2018 report from the Washington D.C.-based Campaign Finance Institute, the program would disburse about $140.5 million in public funds over a four-year election cycle. For context, the governor's state budget proposal for 2020 is about $175.1 billion.
At Wednesday's hearing, Chisun Lee, senior counsel in the Democracy Program at the Brennan Center pointed out the importance of establishing a public financing program. She noted that in last year's election, 100 donors gave more to candidates than 137,000 small donors altogether, and small donations only accounted for 5 percent of all contributions to state campaigns. She cited the example of other jurisdictions with public financing programs, such as Connecticut, and said the state should create a culture of assistance rather than punishment at any entity charged with overseeing its implementation.
And though she admitted that the governor's proposal is not flawless, "In great part...it is a workable, effective small donor matching system," she said.