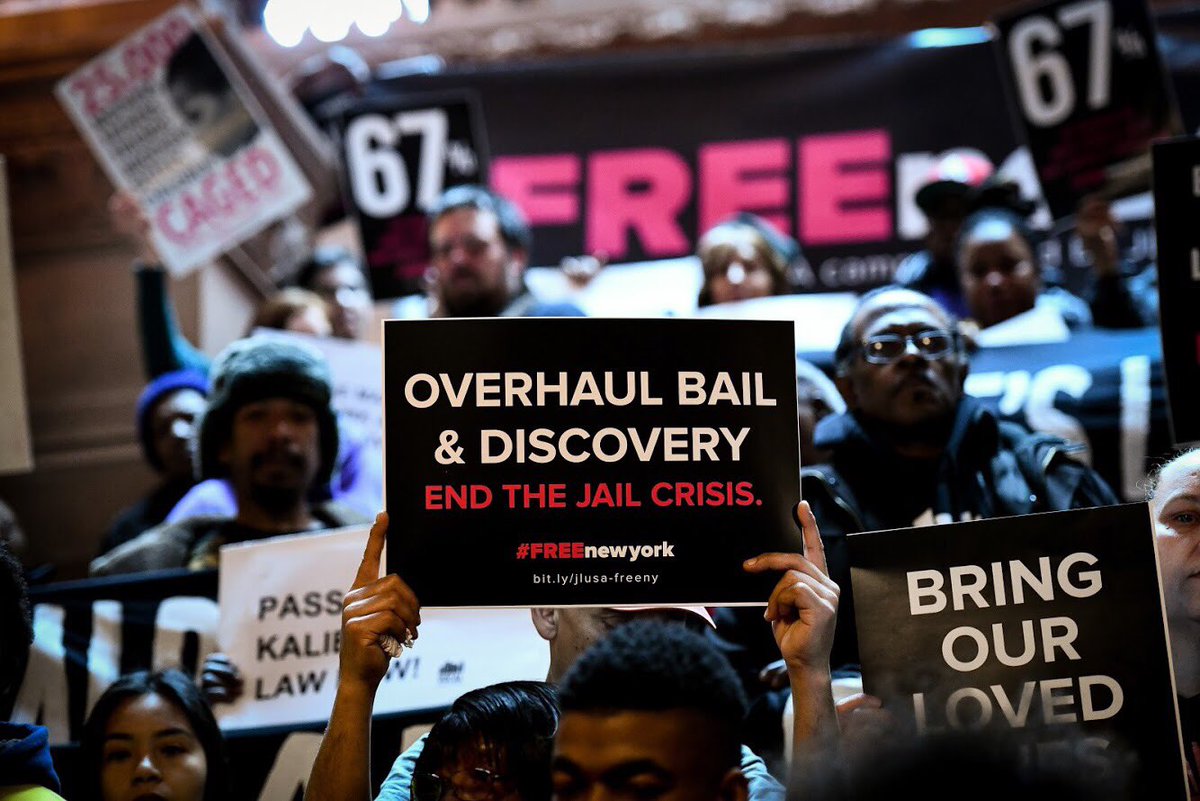 (photo: @zellnor4ny)
---
At a Sunday press conference, following his overnight announcement of a $175.5 billion budget deal, Governor Andrew Cuomo heralded a criminal justice reform agreement with the Legislature, and thanked one member of the Assembly in particular. "I want to applaud Assemblymember Latrice Walker who really was very helpful and very constructive, and understood the tensions," he said of the Brooklyn representative.
Cuomo was referring to the especially contentious issue of bail reform. For weeks he and legislators had debated how far to go in amending a system intended to secure defendants return to court, but which in reality has catalyzed the disproportionate pretrial incarceration of poor black and Hispanic New Yorkers.
Queens Senator and Majority Leader Michael Gianaris managed to collect 25 co-sponsors for his advocate-backed bill to eliminate cash bail entirely, with the option of pretrial detention only for certain violent felonies. Governor Cuomo and Assembly Speaker Carl Heastie also previously pledged to eliminate cash bail this session.
But prosecutors and a faction of Democrats insisted that judges would still need discretion to remand defendants deemed dangerous. What they viewed as crucial for public safety was, to Gianaris and his allies, tantamount to replacing cash bail with a system just as susceptible to racial bias.
The ultimate compromise -- accompanying reforms intended to speed up trials and boost early defendant access to evidence -- resembles a Walker bill that passed the Assembly last session. It eliminates cash bail for most misdemeanors and nonviolent felonies, ensuring pretrial freedom for what amounted to about 90 percent of 2018 arrests statewide. Conditions on that freedom could include mandatory check-ins or electronic monitoring.
"The consensus among people who care about reform," Gianaris told Gotham Gazette, "was, let's take a solution that covers the vast majority of people, rather than risk making it worse for the remainder."
'Challenging' Process
Recent pressure from Cuomo, Long Island Senate Democrats, and the District Attorneys Association of New York (DAASNY) ultimately shifted negotiations towards the Assembly framework, according to legislators and advocates who observed these developments. All three parties -- with Democratic Senator Todd Kaminsky negotiating on behalf of the so-called "Long Island Six" -- called for some amount of judicial discretion to remand people deemed dangerous to a specific person or persons (language that appeared in Cuomo's original budget proposal).
Fearful that this discretion would encourage more pretrial incarceration -- not less -- Gianaris says that he and Senate co-sponsors began discussing alternatives with Assembly Democrats, led by Walker. Her 2017 legislation had appeased Assembly Democrats who saw bail as an important tool to separate defendants from survivors of domestic violence. At least with bail, she's argued, defendants still have an avenue -- if they can afford it -- to pretrial release.
"It was challenging," Walker said in a phone interview, of the negotiations. "Because it has a wonderful ring to be able to say, 'We eliminated cash bail in NYC.' And that's the ultimate goal, but at what price would we have claimed that accomplishment?"
Kaminsky's office did not respond to multiple requests for comment, but the senator and former federal prosecutor told the New York Law Journal in the midst of negotiations last month that he was "trying to make sure we're reforming the system while keeping the public safe."
Cuomo Counsel Alphonso David did not elaborate on the governor's role in negotiations, telling Gotham Gazette that, ultimately, the dangerousness question "did not have to be addressed at this time."
"The perfect would've been the whole elimination of bail, but I don't believe in making the perfect the enemy of the good," Cuomo told WNYC's Brian Lehrer on Monday, calling the final agreement, "the most historic criminal justice reform in modern history in the state."
Mayor Bill de Blasio, who has endorsed dangerousness considerations in the past, told anchor Errol Louis on Monday's "Inside City Hall" that he is "obviously thrilled" about the bail agreement, which he predicts will "supercharge" efforts to decrease New York City's jail population. Numbers have been dropping precipitously for decades -- essential to a city plan to close the Rikers Island jail complex.
Advocates with the FREEnewyork campaign, a coalition of more than 150 grassroots groups that backed the Gianaris bill (carried by Danny O'Donnell in the Assembly), say they are very pleased that this compromise will greatly decrease pre-trial detention. As of September, more than a third of the 8,200 people in New York City jails were held pre-trial on misdemeanors or nonviolent felonies.
The state budget outcome "dodged a lot of bullets," said JustLeadershipUSA organizer Katie Schaffer, because "there is not any sort of generalized consideration of dangerousness or risk to public safety that could exacerbate racial disparities."
But there is lingering frustration. With Democratic control in both houses of the Legislature, advocates had been hopeful criminal justice reform would be handled outside of the harried budget process where horse-trading often happens. "It seems obvious that passing significant policy at 3 a.m. on a Sunday morning is not good process," said VOCAL-NY organizer Nick Encalada-Malinowski.
Lingering Concerns
For defendants charged with sexual assault misdemeanors and most violent felonies, judges will still have the option to set bail, putting poor defendants at a disadvantage. Certain felonies in this category will also be eligible for remand, including witness intimidation and terrorism-related charges.
Last year's Walker bill would have required an evidentiary hearing for anyone eligible for pretrial detention. Judges would have had to review evidence within days of arrest and "explain themselves a bit" before sending defendants to jail pre-trial, Schaffer explained. Advocates saw this as a useful check, considering many convictions stemming from violent felony arrests -- 31% statewide in 2017 -- are misdemeanors. But these hearings were negotiated out of the budget agreement.
"Given the history of criminal justice reform, it is not a surprise that they chose this middle path that greatly benefits some and excludes others," said Nicole Triplett, policy counsel at the New York Civil Liberties Union. This split, she said, fails to "fully realize the constitutional promise that every person be treated as innocent until proven guilty."
The budget bill also requires desk appearance tickets for most misdemeanors and Class E felonies -- including promoting gambling and criminal contempt -- a measure Gianaris says he is proud of (though advocates say they'll be watching how police officers use their discretion to arrest in some cases).
Gianaris' bill did not address the question of electronic monitoring, while the adopted budget states that only certain defendants are eligible -- those charged with a felony, domestic violence or sexual assault misdemeanor, or with a recent violent felony conviction. Anyone ordered to wear an ankle monitor cannot bear the cost of that device.
These guidelines, which extend to charges that are not eligible for pretrial detention, are concerning for JoAnne Page, president of the Fortune Society, a nonprofit that offers reentry services. "The fear is electronic monitoring will be utilized excessively and indiscriminately on people – mostly people of color who come from the same low-income neighborhoods in New York City that are disproportionately impacted by the criminal justice system – who never would have been held on bail in the first place," she warned.
The budget reforms drew sharp criticism from DAASNY President David Soares. "The New York State Legislature, along with Governor Cuomo, has passed the most reckless bail reform statute in the country," Soares told Gotham Gazette, arguing that prosecutors have lost a key mechanism for removing dangerous defendants from the general public. "Our greatest concern first and foremost is for victims of crime."
Cuomo, who ultimately insisted that criminal justice reform be addressed in the budget, told reporters this weekend that he plans to return to the bail question -- and outcomes for people charged with violent felonies, specifically. "That's something we're going to continue to work on," he said Sunday.
Assembly Speaker Carl Heastie also told the New York Law Journal Monday that "we are going to get to the finish line to make it a completely cashless bail system." Gianaris says that he is still committed to this outcome, as well.
"I think advocates will have to keep these issues very present," Schaffer predicted. "Because it is very easy for legislators to feel done with an issue, to move on to other issues."