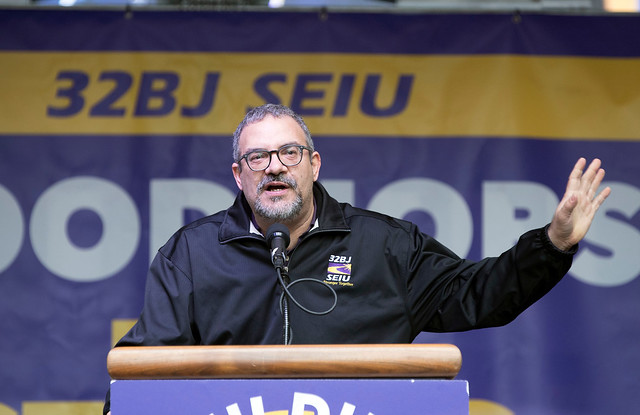 Hector Figueroa (photo: Mike Groll/Office of Governor Andrew M. Cuomo)
---
Among powerful labor union leaders, transparency in political decision-making processes can be rare. But Hector Figueroa, president of the Service Employees International Union, Local 32BJ (SEIU 32BJ), has proved an exception, at least to a significant new degree. And he's using a now time-honored tool for public sharing: Twitter.
32BJ is the largest property services union in the country, and as its head Figueroa is a prominent political player nationally, and especially in New York, where most 32BJ members work and vote.
Through his Twitter handle @figue32BJ, Figueroa often seeks to explain the decisions his union makes and how it makes them, with the expected focus on how political choices, like candidate and policy endorsements, benefit its members -- a practice he recently took to a new degree around several topics: 32BJ's support of the ultimately failed plan to bring a sprawling Amazon campus to Queens, its approach to rent regulations being decided in Albany, its endorsement in the contentious Queens District Attorney race, and its support for the Green New Deal.
Though he's often active on the platform, Figueroa was especially engaged in Twitter conversation recently as he took on critics, praised allies, and outlined key aspects of 32BJ's strategies.
"As a labor leader, I see it as my responsibility to demystify the union movement and be as accessible to members and the larger community as I can," Figueroa said in a statement to Gotham Gazette, when asked about his recent activity and broader approach to public discussion. "Social media offers us a very effective way to communicate with a broader audience and build our collective power."
With regard to rent reform, the union has sent representatives to testify against certain more tenant-friendly bills being debated in Albany, and made public its positions against related measures. A suite of rent regulation reforms, include those opposed by 32BJ, are supported by many grassroots progressive movements and a version of certain updates to the laws appear headed toward passage in the coming days.
Using Twitter, Figueroa clarified the union's complicated position on the broader issue.
"We want to make sure reform is done well. Somewhere between what tenant advocates say & landlords say is where what works is," Figueroa wrote on Twitter, facing criticism from a tenant activist. "We don't know yet what it looks like & will follow this as closely as we can. So far only landlords have talked about workers." Figeuroa noted that 32BJ members have an important interest in a thriving real estate industry and in apartment building owners investing in their buildings, while members are also concerned about affordable housing and strong tenant protections.
Like on rent regulations -- the most contentious issue being debated in Albany ahead of the June 15 expiration of the current rent laws -- and a host of other issues, Figueroa has made clear that his union's positions are based on what is in the best interests of the majority of its members.
"We believe in and need rent control and affordable housing but 40k of us work in apartment buildings and do not want our members to lack the resources to upkeep and fix apartments or lose the ability to bargain increases on wages and benefits. We can do both is what we advocate," Figueroa wrote on Twitter, responding to a critic of the union's position. "Our residential members want solutions between what landlords & advocates want that meet their needs as workers (good jobs) & as tenants (affordable rents)."
32BJ has more than 163,000 national members, including over 80,000 in New York alone, according to the union's website. The union consists of members who work across the field of property services, and include doormen, security officers, maintenance workers and engineers.
"We push for bills or weigh in as needed on issues that impact the work our members do. Sometimes that may be different from what advocates want," Figueroa wrote on Twitter.
Often, those critical of the union forget that the union must support causes that benefit the majority of the union's members, Figueroa wrote.
"I understand frustrations of activists when building trades don't support GND, health care workers don't want transparency on hospital bills, public unions caution about health care for all, building workers question aspects of rent control. Union politics are complicated," Figueroa wrote on Twitter. Figueroa called for a better way of wrestling with complicated issues than "twitter or public call outs. We need a political way for the left & labor to talk," he wrote.
On the Green New Deal, Figueroa has supported the federal push by New York Rep. Alexandria Ocasio-Cortez and others, but 32BJ has not gotten behind any of the climate bills being debated or passed in New York.
Responding to a critic who challenged the union's lack of support for city legislation to institute new regulations on building emissions, Figueroa wrote: "We didn't oppose the bill. If we had it wouldn't have passed. As the bill moved we all were concerned about metrics & implementation, offered alternatives. We are, after all, building workers."
32BJ often backs progressive causes, and was instrumental in the campaign to pass a $15 minimum wage program in New York, among various other recent victories for workers. 32BJ is also a leading member of Fair Elections NY, a coalition for election and campaign finance reform in the state.
But Figeuroa and the union have been clear that they will break from progressive activists.
And 32BJ has also broken with the Democratic establishment, endorsing upstart progressive candidate Alessandra Biaggi in her ultimately winning 2018 campaign against then-Senator Jeff Klein, a powerful and controversial figure who had led the rogue Independent Democratic Conference.
The endorsement followed efforts by Cuomo to reunite the IDC with the rest of the party, where all the elected officials involved pledged not to support primaries against each other. 32BJ's push for Biaggi, who has been critical of Cuomo, may have hurt what has largely been a very close relationship between the union and the governor.
Cuomo and Figueroa were aligned on Amazon's move to open a campus in Queens, but as that deal fell apart and 32BJ continued to push campaign finance reform in Albany, the governor repeatedly targeted the union publicly, in a series of moves that seemed to befuddle 32BJ leadership and many watchers of state politics.
On Amazon, Figeuroa was outspoken in supporting the deal, which promised jobs for 32BJ members. Figueroa again took to Twitter to clarify the union's position and fend off critics.
He challenged "the left" for not considering the interests of unionized construction and service workers, and expressed support for the notion, espoused by Cuomo and Mayor de Blasio, that bringing Amazon to New York could help the push to unionize its factories and warehouses.
"Building HQ2 in NY is better for working families than not building it. In NYC it will create good union construction & service jobs & other family sustaining jobs. Labor has a better shot here than elsewhere at unionizing & improving conditions in Amazon warehouses & tech jobs," Figeuroa wrote. After the deal fell apart, he wrote a scathing op-ed in the Daily News taking on those who had helped push Amazon away.
A break with grassroots liberal activists is also currently evident in the union's support of Queens Borough President Melinda Katz for Queens District Attorney. Katz, seen as the "establishment" candidate, has amassed many endorsements from major unions and elected officials.
"It is wrong to say that unions "taking risk" means supporting insurgent candidates," Figueroa wrote on Twitter. Many activist groups and politicians further to the left are backing public defender Tiffany Caban for Queens DA.
Figuera noted that Katz had the support of the progressive Working Families Party for years, fighting back against the notion that she is a part of the "establishment."
"It may fit some folks narrative to depict her as the establishment in order to draw support for an insurgent candidate but our politically active members & officers know her well. We don't erase history out of convenience or fashion," Figuera wrote on Twitter.
Figueroa clarified that the process of winning the endorsement of the union was not solely up to the union's elected leadership. Offering some transparency into the endorsement process, he said that leaders and activists among Queens-based members of the union screened and ranked candidates for DA, followed by a recommendation of one candidate to the elected executive board and ultimately a vote by the board.
Twenty thousand of the union's members live in Queens, he said, in a wide variety of neighborhoods and representing many demographics.
Figueroa noted that the union can improve on its member screening process, but said Katz's history of working together with the union is what won her the endorsement.
"We think she will be able to do it, to reform the DA office in the progressive way we need and manage its enormous staff," Figueroa wrote on Twitter of the union's support for Katz and shunning a potential endorsement of Caban.
Figueroa seems to feed off the energy off those who critique him, sometimes challenging them or calling out "the left" himself.
"We have made the lives of 175k service workers better & won raises, paid sick days & paid leave for millions more not in unions across 11 states & DC. Those are our interests. Call us out," Figueroa wrote on Twitter, responding to criticism that he supports progressive ideas unless they adversely affect his union.
"We know service workers are often invisible to employers & powerful people but to learn they can be invisible to the left too is something new," Figueroa tweeted.