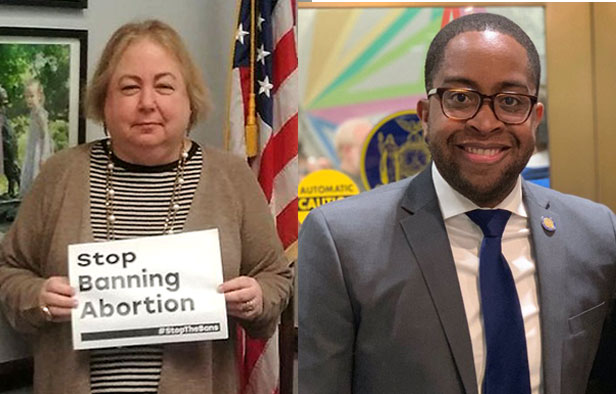 l-r: Liz Krueger (photo: @LizKrueger) & Zellnor Myrie (photo: @zellnor4ny)
---
The New York State Legislature, under full Democratic control for the first time in a decade, had an exceptionally productive 2019 legislative session in Albany. Senate Majority Leader Andrea Stewart-Cousins and Assembly Speaker Carl Heastie ushered through a broad agenda of progressive legislation, long forestalled by Republicans who had controlled the state Senate, most of which has already been signed into law by Governor Andrew Cuomo, a third-term Democrat.
Landmark rent regulations were approved, voting and elections reforms were passed, stronger reproductive health rights were codified, and environmental protections were expanded, among a far longer list of accomplishments.
But several proposals did fall by the wayside amid opposition – or at least a lack of support – from the governor and a dearth of consensus in the state Senate where progressive members mostly from New York City found their priorities at odds with more moderate, suburban members more concerned about their seats in the 2020 elections.
In a recent interview on the Max & Murphy WBAI radio show, Senator Liz Krueger, a Manhattan veteran, and Senator Zellnor Myrie, a Brooklyn freshman, assessed the legislative victories, and failures, and the role that Governor Cuomo and New York City Mayor Bill de Blasio played in this historic Albany year. They also looked ahead to next year's session, which will take place in an election year when every member of the Legislature will be on the ballot and their Senate Democratic majority will look to extend its newfound dominance and partnership with the long-time Assembly Democratic majority.
"I'm actually still kvelling about how much we were able to get done this year, things that I had been telling my district I was trying to accomplish for the entire 17 years," said Krueger, who represents Manhattan's East Side.
Krueger, now the chair of the Senate's finance committee, highlighted the expansion of voter rights and election reforms, the passage of the Reproductive Health Act, the Climate Leadership and Community Protection Act, and legislation related to public transportation and consumer rights.
"[W]hen you're hitting grand slams every week, you forget about the singles and the doubles that loaded the bases," said Myrie, after first echoing that there were a vast number of major Democratic accomplishments that moved in January and thereafter, "and so there are things that we did that didn't get as much play, but really are important for people in our districts."
He cited $20 million in funding restored for home foreclosure prevention, $500 million in proposed Medicaid cuts that were avoided, and a $618 million increase in funding for public schools.
But both legislators pointed to agenda items, some prominent and some less so, that they couldn't get across the finish line.
Most notable among them was the legalization, regulation, and taxation of adult-use marijuana, a thorny issue that Krueger has pursued for years but divided the Senate Democratic conference and tested Cuomo's commitment to a policy he recently came around to express support for but did not appear especially eager to risk political capital on.
"Well, marijuana, even though people talk about as if it's one issue, is actually a whole series of complicated issues," she said, noting the difficulty in getting a majority of votes in the Senate. After failing to push the proposal through in the state budget as Cuomo had sought, some Democrats looked to move it in the post-budget session. Cuomo had insisted it was one of his top priorities but refused to put weight behind it when push came to shove and without his involvement in negotiations, Krueger said, the proposal was doomed to fail.
"We really wanted the governor back at the table with us, because big, complicated issues really do make sense to be three-way, and he was not there...and messaging very strangely as to whether he supported or didn't support it, so we just couldn't bring it over the line at the end," she said. Krueger acknowledged what Cuomo had said publicly -- that she did not have the votes in the Senate, but she said she needed the governor to help get those final votes.
Among the issues, she insisted, was that state agencies essential to implementing the new law needed to explain to skeptical legislators how they would execute portions and in order for that to happen, Cuomo needed to be more present. "You can't simply legislate and believe that all of the agencies are immediately going to change course to do what the law says unless you have an executive behind it," she said.
In the end, the Legislature compromised to decriminalize possession of small quantities of marijuana and expunge records for hundreds of thousands of New Yorkers convicted on low-level marijuana offenses.
Myrie noted additionally that marijuana legalization is far from universally popular, even in New York City districts like his, and though he expressed confidence the Legislature would pass it next year, there's work to be done to get constituents on board.
"Now, I am willing to make the case to my community why this is important for us, not just the decriminalization, but the economic opportunity that it would provide for folks," he said. "I think that we do have a lot of support there, but the assumption that even in the districts where their representatives were fully in support, that the support in the district was monolithic, I think is a presumption that we need to fight back against. And so, I'm ready to double down and do the work on education; I've been talking to the folks in my community about why this is important and good for us."
Controlling both legislative chambers, Democrats were able this year to deal with Cuomo on stronger footing, rather than begrudgingly participate in the triangulation that he employed with Republicans and the Senate Independent Democratic Conference, a breakaway faction of Senate Democrats, in past legislative sessions. And the governor was not shy about making his displeasure known at having lost some degree of power in Albany, while constantly taunting or questioning the new Senate Democratic majority, which he blamed for the demise of the deal he helped broker to bring a massive Amazon campus to Queens and which appeared to make him uncomfortable in dealing with an all-Demcoratic Legislature.
During and after the session, the governor variously described a successful partnership with the legislative leaders while at other times attacking them for failing to achieve promises they had made over the years. Kreuger and Myrie were careful when asked about the tense relationship between Cuomo and the Senate majority. "I decided long ago that I was never going to try to explain Andrew Cuomo or his behavior on any given day," Krueger said of the reasons behind Cuomo's harsh attitude towards the Senate.
"I suppose I could define it as, he was testing us, and he was playing bad cop, and our job was to show, 'Hey, bad cop, we're ready to govern, and we have our act together. We're going to be there, and you're going to come along because you know that we are in the right place, and in a place you want to be,'" she continued. "Now, why he doesn't take the approach of 'Oh, you're a new majority, you're trying to do a number of things that are my agenda issues, let's work together and get to that place together,' I sincerely don't know. I think you'd have to ask him."
Myrie is among the newly-elected crop of young progressives who deposed members of the IDC. "If you have spent the entirety of your governorship in main control, in trying to get some progressive wins in a Republican-controlled Senate, I think you're going to have to adjust to the new dynamic of now, you have a very powerful leader in Andrea Stewart-Cousins, with a conference full of people who ran in sort of an unorthodox way," he said of Cuomo, after also saying he is hesitant to try to explain Cuomo's motives and behavior.
Mayor de Blasio, meanwhile, was not a significant factor in legislative negotiations this year, perhaps to everyone's benefit, Krueger indicated. "He wasn't that present," Krueger said when asked if de Blasio, who is now running for president, had been active, and active enough, in Albany. "Whether he should have been is a separate question because, not as a disrespect to him so please don't misunderstand, but the general sense in Albany is, if the mayor really wanted something, that would cause a problem."
She acknowledged that that owes both to the governor's long-standing dislike for the mayor as well as perhaps some similar sentiments among lawmakers. "So it would be better if people made clear what the hopes of the city were, without the mayor being the banner front-pusher on whatever those issues are," she added. De Blasio did do well with his state agenda this year overall.
The marijuana legalization fight highlighted one of the central conflicts for the state Senate majority – balancing the priorities of Democrats in safely blue districts with those of their colleagues who replaced Republicans in more moderate parts of the state where they may be vulnerable in next year's election.
Myrie commended Stewart-Cousins for doing "a really good job of trying to balance these two bases." And he recognized that some members from suburban districts faced difficult votes "that they're going to have to explain going back to 2020." That includes, for instance, the Senate approving driver's licenses for undocumented immigrants, which is far more popular in Central Brooklyn than in Long Island -- on which Democrats from the Island voted no.
"I think that we are going to have to balance our approach here, because we're going to have such a high turnout in 2020, I think that the bases are going to be motivated," he said. "I think the same folks that allowed for these senators to take these seats, they're going to be coming out, and I think there are going to be more people coming out, excited about challenging the man in the White House right now."
Krueger added of the Democrats who control 40 of 63 Senate seats: "We recognize it's a big state, really different areas, really different issues. We want to make sure we grow our majority in 2020, we don't want to put anyone at risk, and frankly, the more we grow our majority the more diversified our needs will be, but also the more opportunity we'll have to allow people to not take votes that they think aren't the right answers for their constituents while still being able to move the people's business for the entire state forward."
And there's indeed much business left to accomplish. Myrie wants to codify the restoration of voting rights for parolees, which Cuomo did through an executive order; and he wants to pass a "good cause" eviction bill that was excluded from the rent regulations this year.
There are also lingering issues around a prevailing wage bill for construction projects receiving public funds and a push to ban solitary confinement in state prisons, among others that have varying level of support from legislators and Cuomo.
"I think that we have an opportunity to further discuss what didn't get done, take it up at the beginning of the next session," Myrie said, "and by the time that we get to January of 2020, there will be 50 more things that people have come up with that we have not gotten done, that we have not paid enough attention to, and I look forward to taking that on in full."
Krueger wants to push the state on releasing more than half-a-billion dollars in pledged funds for the New York City Housing Authority (NYCHA) and for a thorough reevaluation of the state's economic development strategy to ensure taxpayer funds are spent responsibly. "So those are some of the places I'll be starting again the minute we get back up to Albany, or before," she said.
[LISTEN: Max & Murphy Podcast: Senators Krueger & Myrie on the Year in Albany]
Cyan Hunte contributed to this story.