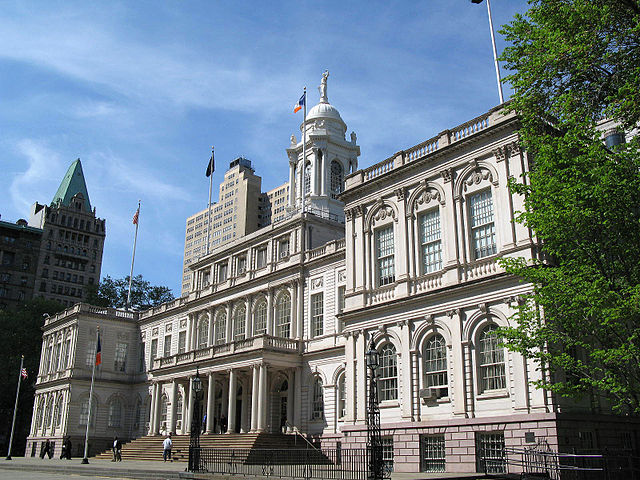 New York City Hall
---
What to watch for this week in New York politics:
This week starts with New Yorkers recovering from an intense heat wave, during which MTA subways faltered on Friday night and there were broader power outages in neighborhoods throughout the city over the course of several days. Mayor Bill de Blasio stayed in the city this weekend due to the heat wave, instead of heading to Iowa as planned for presidential campaigning, and he spent Saturday out and about throughout the city, visiting a public pool, a beach, a senior center, and more -- the types of appearances that have been fairly rare for de Blasio throughout his 5.5 years as mayor.
The week also begins amid increased attention on de Blasio's handling of NYPD Officer Daniel Pantaleo, whose chokehold led to Eric Garner's death on a Staten Island street five years ago this past Wednesday. With federal authorities finally saying this past Tuesday that no civil rights charges would be brought against Pantaleo, a new round of rallies, protests, and criticism set off, much of it aimed at de Blasio for not pursuing Pantaleo's dismissal from the police force soon after Garner's July 2014 death. Both de Blasio and then-NYPD Commissioner Bill Bratton quickly criticized Pantaleo's actions and noted he appeared to use a chokehold banned by the department, but they delayed any city action to await the results of a Staten Island grand jury, which returned no indictment in December 2014, and federal investigation, which stalled for years until this past week. The mayor said this past week that it was a mistake to wait.
An NYPD administrative trial of Pantaleo took place earlier this year after the Department of Justice had given the city the go-ahead, and NYPD Commissioner James O'Neill is waiting for the NYPD judge's recommendations, which will lead to a decision by O'Neill about any punishment for Pantaleo. In recent days de Blasio has guaranteed that a decision will be made in August.
As he's facing intense criticism on the Garner/Pantaleo matter, de Blasio received news this past week that he'll be on stage July 31 for the second Democratic primary debate in the presidential race. This time he's on the second of the two-night event and he'll share the stage with former Vice President Joe Biden, Senators Kamala Harris, Cory Booker, Kirsten Gillibrand, and others.
Speaking of the MTA: amid a proposed reorganization plan recently submitted by consultants as mandated under state law, the Friday night outage, Governor Andrew Cuomo's attention on fare evasion and homelessness in the subways and buses, and more, the MTA Board will have its monthly meeting this week.
It's also a busy week for the City Council, with several interesting committee hearings and a full-body stated meeting, where the Council passes bills that have moved through committee and Council members introduce new legislation. And, the 2019 New York City Charter Revision Commission appears set to this week make its final decisions on what proposals for changes to city elections and governance will go before voters in November and how they will be worded and grouped on the ballot.
There are a variety of events to be aware of this week -- see our day-by-day rundown below.
***Do you have events or topics for us to include in an upcoming Week Ahead in New York Politics?
e-mail Gotham Gazette editor Ben Max: This email address is being protected from spambots. You need JavaScript enabled to view it.***
The run of the week in detail:
Monday
At the City Council on Monday:
-At 11:30 a.m., the Committee on Small Business will meet to discuss five bills. Among them are one bill to define "microbusinesses" as businesses with between one and nine employees; another to require the Department of Small Business to assess the state of small businesses every three years; and a third "to provide small businesses with training and education related to business operations, marketing, and regulatory compliance."
-At 12 p.m., the Committee on General Welfare will meet to discuss a resolution concerning the Administration for Children's Services "finding that a person's mere possession or use of marijuana does not by itself create an imminent risk of harm to a child, warranting the child's removal."
-At 12:30 p.m., the Committee on Transportation will meet to discuss four bills relating to school parking during the summer, illegible street signs, a new pilot program allowing pet harbors outside of commercial establishments, and pedestrian crossing signals for cyclists.
-At 1 p.m., the Committee on Oversight and Investigations and the Committee on Housing and Buildings will hold an oversight hearing on "the third party transfer system in modern day New York." At noon at City Hall, Council Member Robert Cornegy Jr., who chairs the housing and buildings committee, "will lead a rally to address advocates, stakeholders, and the press."
-At 3 p.m., the Committee on Civil Service and Labor will meet to discuss the resolution "Never Forget the Heroes: Permanent Authorization of the September 11th Victim Compensation Fund Act," currently in the United States Congress.
Mayor de Blasio will give a briefing on Brooklyn power outages on Monday morning.
Between 8:30 a.m. and 3:30 p.m. Monday, the Metropolitan Transit Authority (MTA) will hold a series of committee meetings on buses, the Long Island Railroad, and other topics.
At 9:30 a.m. Monday, Public Advocate Jumaane Williams will attend a housing court case with Flatbush Tenant Coalition and displaced tenants from a fire-damaged apartment building. At 1 p.m., Williams will attend the City Council hearing on the Third Party Transfer Program. At 5 p.m., Williams will attend the 'Paro Nacional' Solidarity Rally in Columbus Circle. And at 7:15 p.m., Williams will speak at the Public Power Town Hall being hosted by Council Member Costa Constantinides on the proposed Con Edison rate hikes and the future of renewable energy in NYC.
At 10:30 a.m. Monday, Governor Cuomo will appear on WAMC radio's Roundtable with Alan Chartock.
At 11 a.m. Monday, Lieutenant Governor Kathy Hochul will announce the completion of restoration effort at Darwin Martin House, Frank Lloyd Wright's Martin House Complex, Buffalo.
At 3 p.m. Monday, Congressional Rep. Adriano Espaillat will host a grand opening of his new Washington Heights district office at 720 W. 181st Street.
At 5 p.m. on Monday, City Council Member Stephen Levin will hold a press conference "to fight to preserve 227 Duffield St., also known as Abolitionist Place. Advocates are calling on the Landmarks Preservation Commission to immediately review 227 Duffield Street for landmark status and stay the demolition order."
Mayor de Blasio will appear on NY1's Inside City Hall in the 7 and 11 p.m. hours on Monday.
Tuesday, July 23
At the City Council on Tuesday:
-At 10 a.m., the Committee on Finance will meet to discuss a resolution "approving the new designation and changes in the designation of certain organizations to receive funding in the Expense Budget."
-At 10:30 a.m., the Committee on Parks and Recreation will meet to discuss a bill co-naming 86 thoroughfares and public places.
-At 1:30 p.m. in the Council Chambers, the City Council will hold a stated meeting at which bills that have been voted through committee are passed by the full Council and new bills are introduced. It will be preceded, as usual, by a pre-stated press conference led by Council Speaker Corey Johnson.
At 10 a.m. Tuesday, the New York City Board of Standards and Appeals will hold a public hearing on cases in all five boroughs.
At 10:30 a.m. Tuesday in Albany, the Joint Commission on Public Ethics will hold a commission meeting, discussing the search for an executive director and other business.
At 3:30 p.m. Tuesday at City Hall, Borough President Gale Brewer will host a meeting of the Manhattan Borough Board.
At 6:45 p.m. Tuesday, Riders Alliance will hold a meeting on the Bronx Bus Network Redesign. The meeting will discuss "what is in the plan, what's not in the plan, and how to keep up the momentum to win #betterbuses for the Bronx Bus Riders."
At 7 p.m. Tuesday, the Episcopal Diocese of New York's Task Force Against Human Trafficking will host a conversation about Bill A.8230/S.6419, which is aimed at decriminalizing sex work in New York State. The panel conversation will be followed by "a response panel of state and city legislators."
Wednesday, July 24
At 9 a.m. Wednesday, the Metropolitan Transit Authority (MTA) will hold its monthly board meeting, preceded at 8:30 a.m. by a safety meeting.
At 1 p.m. Wednesday at Riverside Church, 32BJ SEIU will hold a memorial service for late leader Héctor Figueroa, who died unexpectedly on July 11. "All are welcome to mourn and celebrate Héctor's life as we move forward."
From 5-6 p.m. Wednesday on WBAI radio, this week's Max & Murphy show will air; 99.5FM or wbai.org.
At 6 p.m. Wednesday in the City Council Chambers, the 2019 Charter Revision Commission will hold a public meeting to "consider proposals for revisions to the New York City Charter for presentation to the voters." [Read: 2019 Charter Revision Commission Moves 20 Proposals Toward November Ballot]
Also at 6 p.m. Wednesday in Queens Borough Hall, Queens Borough President Melinda Katz will host a Jamaican Independence Day Celebration.
Thursday, July 25
At 12 p.m. Thursday in Albany, the New York State Board of Elections will hold a commissioners meeting.
At 6:30 p.m. Thursday, several politicians representing lower Manhattan will hold a housing forum on rent regulation, tenant stability, and the passing of affordable housing protections at NYU Dental. In attendance will be Manhattan Borough President Gale Brewer; Congressional Rep. Carolyn Maloney; State Senators Brad Hoylman, Brian Kavanagh, and Liz Krueger; City Council Members Ben Kallos, Keith Powers, and Carlina Rivera; and Assembly Members Harvey Epstein, Deborah Glick, Dick Gottfried, Yuh-Line Niou, and Dan Quart.
Also at 6:30 p.m. Thursday at the Gold Bar in Albany, City & State NY will host its 2019 Albany 40 Under 40 Rising Stars honoring "40 of New York's most prominent and accomplished leaders in government, business and media under the age of 40 who continue to make a positive impact on New York through their achievements, leadership abilities, philanthropic efforts and dedication to the betterment of the state." Speakers will include State Senator Julia Salazar and advisor to Governor Cuomo Richard Azzopardi.
Friday, July 26
Mayor de Blasio may make his weekly appearance on WNYC's The Brian Lehrer Show on Friday at 10 a.m.
***
Have events or topics for us to include in an upcoming Week Ahead in New York Politics? E-mail Gotham Gazette executive editor Ben Max any time: This email address is being protected from spambots. You need JavaScript enabled to view it. (please use "For Week Ahead" as email subject).
***
by Joey Fox and Ben Max
@GothamGazette