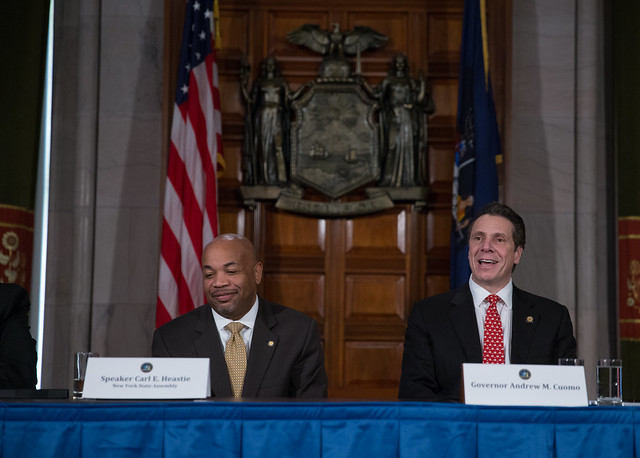 Speaker Heastie & Governor Cuomo (photo: the governor's office)
---
Despite previously lauding the 2019 state legislative session as the "most productive session in modern political history," Governor Andrew Cuomo went on to call the session "not progressive enough," citing a need "to do more on poverty."
At his celebratory, mostly upbeat end-of-session press conference on June 21, Cuomo was asked about what did not get done, and cited three issues he said he would work on next year: legalizing adult-use marijuana and paid gestational surrogacy, and expanding prevailing wage requirements on construction projects that receive state incentives. He did not mention poverty.
But just three days later during a radio appearance, Cuomo questioned whether the legislative session was "progresive enough," and rhetorically asked WAMC's The Roundtable host Alan Chartock, "what happened, doctor, to discussion of poverty and civil rights and the minority community?"
It was an apparently off-hand comment that seemed to catch many people by surprise, especially Assembly Speaker Carl Heastie, a Democrat whose district is in the Bronx, which is home to some of the highest poverty rates in the country.
While Cuomo has made significant strides with anti-poverty policies in the past, most notably the minimum wage hike he ushered through a split Legislature in 2016, the third-term Democratic governor did not push any landmark anti-poverty legislation or initiatives this session, which featured a long list of other progressive accomplishments with Democrats in control of both legislative houses for the first time in many years.
Soon after Cuomo's comment about the session lacking a focus on poverty, Heastie was asked about it.
"If we're talking about things like poverty, that necessitates putting more money in the budget," Heastie said on June 25, appearing on WCNY's The Capitol Pressroom with host Susan Arbetter. "If that's the governor's sentiment, next year we should see a robust poverty agenda in the executive budget," he said.
When asked about the Assembly's anti-poverty efforts, Heastie mentioned boosting community college enrollment and said such schooling can serve as a key stepping stone to the workforce.
"Every place has a different type of industry, and community colleges can put together training linked with local businesses," Heastie said on Capitol Pressroom.
In New York, 2,908,471 people live in poverty, according to the New York State Community Action Association in its 2019 annual poverty report. That's about 15% of the state's 19.8 million residents; a rate just above the U.S. poverty rate of 14.6%. For white New Yorkers, the poverty rate is 11%, while it jumps to 22.5% for black New Yorkers and 24.4% for Hispanic New Yorkers. Of the 1.8 million adult New Yorkers with no high school diploma, 29% live in poverty.
Though they give both Cuomo and Heastie's Assembly majority credit for significant steps toward fighting poverty in New York, advocates and other experts believe both have indeed been lacking in moving a number of anti-poverty measures.
Several proposed anti-poverty bills have stalled in the Assembly, and those that have passed the Assembly have not been signed into law by Cuomo, in part due to a lack of support by the governor, who was friendly with the Republican Senate majority that ruled the upper legislative chamber for all of the governor's first two terms.
As Heastie indicated, some see the need for more state spending on anti-poverty measures, which may only be possible through tax increases, which Cuomo generally opposes. Some say a significant roadblock to many anti-poverty programs is the 2 percent cap on annual state spending increases that Cuomo has insisted on, though he has repeatedly broken that pledge. Still, Cuomo has largely kept state agency operational spending flat year over year and is loathe to add new expensive programs to the budget, especially those that don't fit his carefully crafted agenda.
But while he has not supported key policies that advocates say would help fight poverty in New York, Cuomo has moved several significant anti-poverty measures, from the minimum wage hike to the Empire State Poverty Reduction Initiative (ESPRI), which provides state grants to localities to fund anti-poverty efforts, to the creation of the Child Care Availability Task Force, which is currently studying how to make childcare more affordable in New York.
Heastie said on Capitol Pressroom that the Assembly focuses on high poverty communities and tries to find ways to revitalize them, including through working with Cuomo to add localities to the ESPRI. Most parties point to the state's high levels of local education funding as evidence of efforts to fight poverty through educational investments, but that focus has been criticized, even by Assembly Democrats, who believe the state owes billions in funding to poor schools, and Cuomo, who recently started saying he wants more state funding to go to poorer schools without corresponding increases to wealthier schools.
During Heastie's four years as speaker thus far, the Assembly has pushed anti-poverty efforts, including as a key force behind the minimum wage increase and the paid family leave program that also passed the same year. But there are also some question marks.
In January 2016, Heastie announced an "Anti-Poverty Work Group," with the goal of finding "ways to break the vicious cycle that forces people to focus on getting by and never allows them to focus on getting ahead," he said in the press release. The work group consisted of 13 Assembly members, and was specifically tasked with coming up with ideas to improve nutrition, literacy, supportive housing, shelters, rental assistance, fair labor practices, and job training, and increase access to quality child care and health care.
However, little came of the work group -- there's no other record of its existence in Assembly press release archives or on the Assembly website more broadly.
The work group was organized with the goal of breaking "down the silos we deal with in the Assembly," Queens Assemblymember Andrew Hevesi, who served on the work group and has chaired the chamber's social services committee, said in an interview with Gotham Gazette.
According to Hevesi, when former Assembly Majority Leader Joe Morelle left the Assembly at the end of 2018, the work group "fell off the top of everybody's radar." But even that would have been nearly three years after the group's creation, and Morelle did not serve as its chair. Hevesi said the group had only a "couple of meetings."
Anti-Poverty Initiatives Left on the Table
There are a variety of anti-poverty measures that could be considered by the Legislature and Cuomo. For example, a proposed bill aimed at reducing homelessness would have created a homeless housing task force by each social services district in the state to "develop a ten-year homeless housing plan addressing short-term and long-term housing for homeless persons," according to the bill. The bill has not moved in the Assembly social services committee.
Anti-poverty measures can be bipartisan. Republican Assembly Minority Leader Brian Kolb is the lead sponsor on a bill to raise the state earned income tax credit (EITC) from 30 percent to 45 percent of the federal level. Currently, a family with three or more children can earn a maximum of $8,682 in their EITC, and a filer without children can earn a maximum of $701 in their EITC, including state, city, and federal credits, according to the New York State Department of Taxation and Finance. Another Assembly bill would expand the EITC to include workers who are 18-24 years old, a demographic that is currently not eligible for the EITC. The state EITC was last raised by Republican Governor George Pataki in 2003.
Neither the Assembly nor the Senate took up state EITC expansion this year.
That Assembly Republicans are leading the fight to raise the EITC is "both ironic and shameful," said Ron Deutsch, executive director of the Fiscal Policy Institute, a think tank, in an interview with Gotham Gazette. "For the Assembly minority to be to the left of the governor on an issue like this really speaks to the fact that the governor is far more fiscally conservative than he paints himself," he said.
According to data from the Fiscal Policy Institute, 85,345 young adult workers in the state that would be eligible for the childless EITC are currently excluded because they cannot be claimed as a dependent. These workers earn less than $15,270 as single filers or less than $20,900 as married filers.
Another proposed anti-poverty bill, championed by Hevesi, is known as Home Stability Support (HSS) and would increase rent supplements to families at risk of eviction, homelessness, or loss of housing due to domestic violence or hazardous living conditions. While the Assembly has pushed HSS for several years, it has not made it into the state budget, apparently due to Cuomo's opposition.
HSS is widely seen as a way to prevent homelessness, and has many backers in both city and state government, as well as the advocacy community. According to data from the Assembly Committee on Social Services' annual report, each year about 250,000 New Yorkers experience homelessness, and three of five homeless New Yorkers are school-aged children. In 2018, 23,000 more people became homeless, the report says. The number of homeless school-aged children has grown by 69% since 2011 (Cuomo's first year as governor).
According to data from city Comptroller Scott Stringer's office, over 10 years HSS could reduce the shelter population in New York City by 80 percent among families with children, 60 percent among adult families, and 40 percent among single adults. As Hevesi and others regularly point out, the cost of HSS subsidies are projected to be recouped in savings where governments spend less on shelters and other aspects of the social safety net.
HSS is projected to cost $9,865 per year for an individual in New York City, $7,320 per year for an individual in Westchester County, and $2,784 per year for an individual in Monroe County, according to data from the proposed plan. HSS advocates argue that the legislation would save the state money, as it would keep individuals and families out of shelters, which cost significantly more per individual per year to maintain. Providing an individual with temporary housing, or shelters, costs $25,925 per year in New York City, $36,000 per year in Westchester County, and $10,950 in Monroe County, according to data from the plan.
The legislation has had support in both houses, but not enough to move it through both and to the governor. Neither majority appeared to make it a priority this year as the Legislature moved a long agenda of progressive bills.
"Home Stability Support will be a lifeline for thousands of New Yorkers to avoid falling into the cycle of homelessness, and it will also save millions of dollars for towns, counties and cities throughout the state," State Senator Liz Krueger said in a press release supporting HSS.
Hevesi said that the reason the bill has never been passed is that Cuomo is against it. However, Hevesi said he is confident that the bill will get passed eventually, either legislatively or in the budget.
"It was in the Assembly one-house budget, Senate one-house budget, and the governor unilaterally stopped it," Hevesi told Gotham Gazette.
HSS has been supported by a number of advocacy groups fighting poverty and homelessness in the state. Still, there was no clear, concerted effort by the Assembly and Senate majorities to push HSS over the finish line and into the state budget before it was voted through on April 1.
"Unfortunately over the past several years, in our advocacy to pass HSS, the governor has been one of the primary roadblocks," said Helen Strom, a benefits unit supervisor at Urban Justice Center (UJC), an advocacy organization and think tank focused on bringing people out of poverty.
Hevesi accused Cuomo of profiting off of homeless shelters via Help USA, a nonprofit providing shelter that Cuomo founded many years ago and is now led by the governor's sister.
"I don't think he's fighting homelessness," Hevesi said. "I think he's making money off of homelessness. Every policymaker in the state is for stopping the growth of the crisis except for him," he said.
Via a spokesperson, Cuomo's office pushed back against Hevesi's accusation, calling it an "irresponsible lie" in a statement to Gotham Gazette, and saying the governor makes no money from Help USA.
Another issue some advocates and lawmakers raise around fighting poverty is health care, and while the state has very high rates of health care insurance coverage -- roughly 95% of New Yorkers are enrolled, in part due to robust government programming -- costs are still high for many. The Assembly majority had for several years passed the New York Health Act, which would create a universal, single-payer health care system in New York, but did not push the policy, which is opposed by Cuomo, this year, when it actually had a chance of passage in the newly-Democratic Senate. While most of the senators in the new majority had either co-sponsored the New York Health Act last year or expressed support for it during last year's campaigns, the legislation did not move in either house this year. Cuomo has said he believes single-payer health care is the best goal, but that it should be done nationally, that to do it in New York would be unrealistic given how much it upheaval it would require, including raising taxes on many New Yorkers and roughly doubling the state budget.
While advocacy groups agree in their criticism of Cuomo, "no one," including Cuomo and the Assembly, has made anti-poverty measures "a real priority," Deutsch said. "We can't continue down this path any longer."
Assembly Accomplishments
According to the Assembly majority, in March 2016, it successfully added municipalities to the governor's Empire State Poverty Reduction Initiative (ESPRI), though it does not appear this was a direct result of the anti-poverty work group given it had just been assembled and seems to have done little overall.
ESPRI invests money directly into 16 communities with high poverty rates. Among communities introduced by the Assembly to the initiative are Troy, Hempstead, Buffalo, Oneonta, Albany, Rochester, and Broome County. Upon being added, these communities became eligible to receive ESPRI funding, which began with a $25 million investment in 2015 and received $4.5 million in the 2020 budget.
ESPRI funding supports programs including financial literacy, job training, mental health and substance abuse counseling, and more.
While advocacy groups agreed that no substantial, explicit anti-poverty measures passed this legislative session, some programs that did move are likely to help fight poverty.
"Despite the state's fiscal constraints, the Assembly ensured this year's state budget invested in services for families struggling with the costs of housing, child care and after-school programs while restoring critical cuts to Medicaid and education," Speaker Heastie said in a statement to Gotham Gazette. "The Assembly Majority remains focused on advancing our Families First Agenda, which includes identifying ways to lift New Yorkers out of poverty," he said.
The state approved a program to end cash bail in most instances, allowing most people accused of a non-violent crime to remain out of jail while awaiting a court date. In pushing for major limits on cash bail, one central argument was that the use of it criminalized poverty, essentially making it that poor people who can't afford a few hundred dollars in bail would sit in jail, and risk losing their jobs and other community ties.
In Schenectady County, those arrested spend an average of 40 days in jail before they are charged, with some let go without being charged at all, according to Citizen Action State Organizing and Training Director Jamaica Miles.
"The people most likely to be sitting in jail are those that cannot afford to pay the bail or bond to get out," Miles said in an interview with Gotham Gazette. "You've made their lives more difficult before convicting them of a crime," she said, if they are ever convicted at all.
Additionally, the state's newly approved rent regulations, highly favorable to rent-regulated tenants, are expected to be beneficial to many low-income families.
"The hope is they won't be evicted as easily as they are being evicted now," Deutsch said.
Looking ahead, the Assembly will be re-introducing a package of bills that "overhauls" the public assistance system, Hevesi said.
With the current public assistance system, many low-wage workers can earn enough to work themselves out of the benefit and lose their vouchers, but when they lose public assistance they can no longer afford to live where they're living, Strom said.
To remedy the system, the state can raise the eligibility income levels for public assistance or create a different income level for housing vouchers, so those receiving public assistance can retain their vouchers while they transition to being off of benefits and on an employment income, Strom said.
"As it's currently structured it's a trap. Once people are on public assistance they are trapped in perpetuity. We have an opportunity to break that system up and give people the incentives they need to get off public assistance," Hevesi said.
The Assembly had a hearing on the overhaul set for the end of the previous legislative session, but it didn't come together in time, Hevesi said. The bills have veto proof support in the Assembly, including backing of Minority Leader Brian Kolb, and are over the 32 vote threshold to have a majority in the Senate, but still do not have the support of the governor, Hevesi said.
The Assembly also pushed the governor for the creation of 20,000 units of supportive housing for the chronically homeless, Hevesi said.
"After a several-year battle [Cuomo] agreed, but then stalled again when we had to force him two years ago to release $1 billion to get the first 6,000 units," Hevesi said.
Cuomo's Efforts
Until his June comments on WAMC radio, just after the end of the budget and legislative session in Albany, Cuomo had said very little directly about poverty in 2019.
He did not explicitly discuss "poverty" in any of his three major speeches (a December "First 100 Days" address, his January 1 inaugural remarks, and his State of the State speech later in January) that set the stage for this year in Albany, the first under full and functional Democratic control of both the governor's office and Legislature in several decades.
Cuomo did mention several programs, both already passed and on his 2019 agenda, that relate to poverty, though, including the minimum wage hike, which has seen the wage hit $15 per hour in New York City, with other increases around the state.
In his December 2018 speech outlining his agenda for the "first 100 days" of his third term, Cuomo called the lack of affordable housing "a crisis," and promoted what he says is the state's largest ever investment in affordable housing, which appears to have meant continuation of an ongoing $20 billion program that requires new budget investments each year.
He also called for renewed rent regulations that would improve certain tenants' rights, which ultimately passed in the Legislature and were signed by the governor to much acclaim by activists, advocates, and lawmakers.
In his inaugural address, Cuomo again avoided the issue of poverty directly, but touted the state's accomplishments and agenda related to fighting climate change, ending cash bail, legalizing marijuana (which failed to pass during the legislative session), and investment in affordable housing.
In his State of the State address, Cuomo again did not explicitly discuss poverty, but he put forth budgetary and legislative proposals to alleviate burdens for those in or near poverty. Cuomo's executive budget plan proposed providing more state aid to poorer schools and school districts, while moving ahead with planned funding for affordable housing and to fight homelessness, among other measures that stand to help people living in or near poverty, like cash bail reform and green economics.
In his State of the State policy book, Cuomo did include a short section on "Combating Poverty," with two planks: one, further supporting the Empire State Poverty Reduction Initiative (ESPRI) and establishing ESPRI representation on Regional Economic Development Council workforce development committees; and two, "reduce hunger and food insecurity." Cuomo would "establish a goal to reduce household food insecurity in New York State by 10 percent by 2024," the policy book reads, and will do so by "directing the following actions: create a food and anti-hunger policy coordinator; simplify access to SNAP for older and disabled adults; enhanced resources and referrals in clinical settings; participate in SNAP online purchasing pilot; and expand food access in Central Brooklyn."
Asked about the governor's anti-poverty record in light of his comments and Heastie's response, the governor's office highlighted a number of programs.
"New York State is leading the fight against poverty through a holistic approach, including raising the minimum wage to $15 an hour, and a $20 billion plan to combat homelessness and create or preserve more than 100,000 affordable homes and 6,000 providing supportive services," Cuomo Press Secretary Caitlin Girouard said in a statement to Gotham Gazette.
According to the Governor's office, Cuomo's poverty reduction programs include 2013's anti-hunger task force, 2015's $25 million ESPRI to address regional pockets of poverty across the state, and the $15 per hour minimum wage program that he ushered through in 2016, which is phased in over several years and sets different wages in different regions of the state.
According to data from the "Unheard Third," a regular opinion poll of low-income households conducted by the nonprofit Community Service Society, half of low-income hourly workers in New York City say that the recent increases in the state minimum wage is making them better off.
The percentage of New Yorkers in poverty decreased every year from 2013 to 2017, from 16 percent of New Yorkers living below the poverty line in 2013 to 14.1 percent in 2017, according to data from Talk Poverty, an organization that tracks poverty levels in every state. Since the minimum wage has passed, 247,775 fewer New Yorkers are living below the poverty line, according according to data from Talk Poverty. (The aforementioned New York State Community Action Association in its 2019 annual poverty report estimates 15% of New Yorkers living in poverty, using recent Census data from 2013-2017.)
Moving ahead, Cuomo has said he wants to continue to invest in education, but with aid directed disproportionately toward poorer K-12 schools. When the new state budget passed in April, education funding increased to $27.9 billion, with over 70% of the increased funding going to schools in poorer districts, according to the budget.
The state has increased funding for higher education, too, which has a distinct budget of $7.6 billion, by $1.6 billion, or 27 percent, since 2012 (Cuomo took office in 2011), according to data from the Governor's office. Still, Cuomo has faced criticism related to funding for CUNY and SUNY public higher education institutions, and how his signature Excelsior Scholarship program is working.
In December of last year, Cuomo announced the Child Care Availability Task Force, a group of experts assembled to develop solutions that will improve access to affordable child care. The task force examined "access to affordable child care, the availability of child care for parents with non-traditional work hours, statutory and regulatory changes that could promote or enhance access to child care, business incentives to increase child care access, and the impact on tax credits and deductions relating to child care," according to a press release announcing its creation.
"We want to ensure that working families are provided with the resources for safe, accessible and affordable child care. By promoting and investing in child care, we know it can improve women's participation in the workforce and narrow the gender wage gap," said Lieutenant Governor Kathy Hochul, who is a co-chair of the Child Care Availability Task Force, in the press release. Hochul has said she expects its initial recommendations to help inform the Cuomo administration's 2020 agenda.