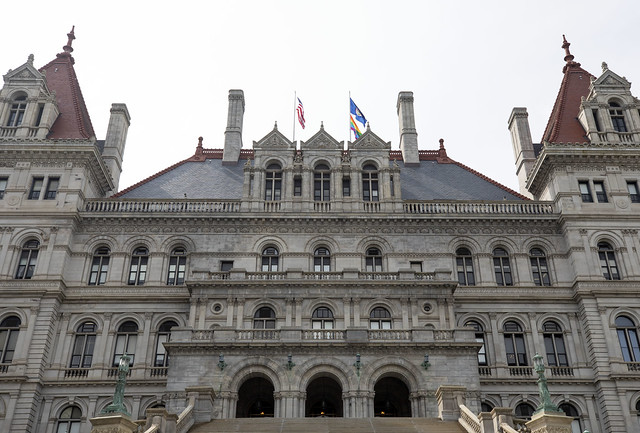 The State Capitol (photo: Mike Groll/Governor's Office)
---
The New York State Public Campaign Financing Commission, tasked with devising a voluntary system of public funding for state elections, held its first meeting Wednesday at the CUNY Graduate Center in Manhattan. The commission has inspired a measure of optimism among government reformers that it will limit the influence of money in state elections and reduce pay-to-play politics that have long defined state government.
The commission, which was named in July, was created in this year's state budget as a compromise between legislative leaders and Governor Andrew Cuomo when they could not come to an agreement on the specifics of a public campaign finance system for state elections. Seven of the commission's nine members were appointed by Cuomo, Senate Majority Leader Andrea Stewart-Cousins and Assembly Speaker Carl Heastie, all Democrats, with each selecting two commissioners and jointly appointing another. Republican minority leaders, Senator John Flanagan and Assembly Member Brian Kolb, each had one appointment.
The goal of the commission is to reduce the sway of large-dollar political donors in elections by incentivizing candidates to seek smaller contributions that can be matched with public funds. It would be modelled after the program administered in New York City's municipal elections by the Campaign Finance Board, which matches small dollar contributions at a 6-to-1 or 8-to-1 ratio depending on what restrictions candidates opt to operate under.
The state commission is charged with developing a plan to distribute up to $100 million in public funding annually to candidates running for legislative and statewide office. In order to participate in the program, candidates will have to adhere to spending limits, lower contribution limits, and stricter disclosure requirements.
The commission's mandate also includes examining the state's fusion voting system, which allows candidates to run on ballot lines for multiple parties at the same time. The system gives third parties such as the Working Families Party and Conservative Party a measure of influence in state elections as candidates seek their endorsement and ballot line. In order to maintain their place on the ballot for four years, the parties must receive at least 50,000 votes in a gubernatorial election, which would be threatened if the state commission moved to end fusion voting.
"I hope and expect...that they deal with public campaign finance where small dollars will be matched at least 6-to-1...and I'm hoping that they do not try to get rid of fusion voting," Senator Robert Jackson, a Manhattan Democrat, told Gotham Gazette at the meeting. "The bottom line is if...smaller parties are out, then you're dealing with two parties -- and that's not democracy," he added.
The purpose of Wednesday's meeting, where many of the commissioners met for the first time, was to establish procedures for the work that lies ahead. "The first thing we have to do...is organize ourselves and lay a framework for what the commission is going to do and how it is going to do it," said Commissioner Jay Jacobs, a Cuomo appointee and the chair of the state Democratic Party.
The commission will hold five sessions to solicit input from members of the public, with the fifth meeting reserved for testimony from invited experts. Its final report is due December 1 and will become binding if legislators do not return from break to modify it within 20 days.
At the outset of the meeting John Nonna, the Westchester County Attorney appointed to the commission by Stewart-Cousins, asked whether the commission had the authority to lower contribution limits for candidates who opt out of a public matching program, "because there's a relationship there that needs to be taken into account."
"That's one of the issues that we'll have to discuss and see where we go on that. I think that's an issue before us," replied Henry Berger, a well-known election lawyer appointed to the commission jointly by Cuomo, Stewart-Cousins, and Heastie.
Another issue raised by commissioners was whether the final plan had to be approved in a single vote of the commission at the end of it's roughly three-month timeline. Jacobs, who submitted a resolution that aspects of the ultimate proposal cannot be separated into multiple votes, explained his reasoning: "The idea being that this is a package and we have to all agree on the components of the package and we can't pick it apart à la carte."
"We're going to vote on it as a single piece of legislation, and that piece of legislation will probably include a severability clause, they usually do," Berger later added.
The two commissioners appointed by Republican leaders -- David Previtte, selected by Senator Flanagan, and Kimberly Galvin, chosen by Assembly Member Kolb -- voted against the resolution, which carried.
"I voted against the resolution because I had never seen the resolution," Galvin told Gotham Gazette after the meeting. "I think it's unfortunate that at an organizational meeting, one of the commissioners would pull out a resolution and expect an immediate vote when we hadn't seen it, reviewed it, discussed it or talked about it."
With the commission also looking at the issue of fusion voting, third parties say they are being targeted by Cuomo. Both the WFP and the Conservative Party, along with a handful of state legislators, have filed lawsuits challenging the commission's authority to change or even eliminate fusion voting, saying the appointed commission cannot change statutes that have been upheld by the courts. Advocates saw Jacobs's resolution to package the final proposal as a way to bind the issue of fusion voting with the prospect of a public campaign finance system.
"It's a transparent effort to tie public financing and ending fusion voting together. This is Cuomo's poison pill to eliminate fusion voting," said WFP executive director Bill Lipton, in a statement addressing the resolution.
The WFP has a sour history with Cuomo. The party backed actor and education activist Cynthia Nixon in her primary challenge against the governor last year and supported progressive state Senate candidates challenging members of the erstwhile Independent Democratic Conference. The now-defunct IDC was a group of eight breakaway Democratic state senators who shared power with Republicans and whose then-leader Senator Jeff Klein was a Cuomo ally, allowing the governor to hold sway in a divided Albany.
During the budget session, Cuomo, who repeatedly said he supported creating a public matching system, raised what fusion voting proponents called unfounded concerns about how a public financing system could be administered, and the effects of independent expenditures and fusion voting on the proposed system. "Cuomo has put fusion in the cross-hairs to attack us. Fortunately, the State Constitution protects this important right," Lipton said
At the meeting, the commissioners also touched on the need to consider the administrative costs of implementing a state public matching system and methods for receiving and considering public testimony, including public hearing procedures and electronic submissions. In a closed executive session, which came at the end of the hour-long meeting, Galvin said the commission considered the issue of staffing, or a lack thereof. "[W]e just all talked about it and tried to figure out some way to [staff the commission], and I don't think that's been resolved yet," Galvin told Gotham Gazette.
For years, advocates have sought a state-level public financing program. Fair Elections for New York, a coalition of labor unions, good government organizations, and community groups, which led the push for public campaign financing during the legislative session and budget negotiations, rallied outside the building prior to the meeting to push for what they hope to see the commission accomplish.
"We are...committed to expanding the democratic process in this state to make sure that big money donors, that corporate dollars, that real estate do not suffocate our democracy," said Jawanza Williams of Vocal-NY, a multi-issue community organizing group and member of the Fair Elections coalition.
The coalition called for the commission to create a 6-to-1 matching program for both primary and general elections. The group says the high matching ratio must be accompanied by lower contribution limits for both participating and nonparticipating candidates in order to incentivize small-dollar fundraising and participation in the program. The group would also like to see the commission set up an independent enforcement unit separate from the State Board of Elections, whose commissioners are selected by party leaders and which has been criticized for lacking independence.
On Tuesday, Reinvent Albany, a good government watchdog and member of Fair Elections, issued a list of 18 recommendations for the commission, which include establishing clear and granular expenditure guidelines, and lower contribution limits for party committees and entities with business interests before the state.
The overriding goal of reformers is to limit opportunities for pay-to-play politics, which has only worsened in the decade since the Citizens United decision, where the U.S. Supreme Court ruled that political contributions are a form of constitutionally protected speech. New York State also had lax campaign finance laws until they were amended earlier this year, and has seen years of unending corruption scandals with lawmakers regularly going to prison.
"We're here today to let the Commission and the leaders who appointed them know that New Yorkers are paying attention and expect them to craft a model for the nation to lessen the influence of big money and give power back to constituents," said Laura Friedenbach, deputy campaign manager for the Fair Elections coalition, in a statement.
The Public Campaign Finance Commission will hold four public hearings throughout the state during September and October. The fifth meeting for invited experts has yet to be scheduled.