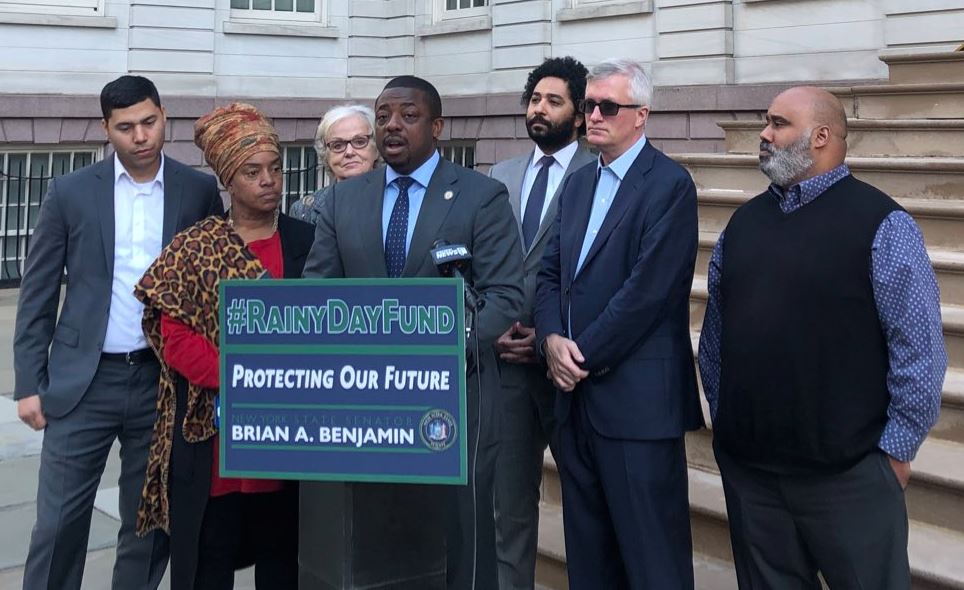 Senator Benjamin at Thursday's press conference (photo: @BrianKavanaghNY)
---
New York State Senator Brian Benjamin, a Manhattan Democrat who is exploring a possible 2021 run for city comptroller, introduced a bill on Thursday that would allow New York City to create a "rainy day fund" to weather fiscal emergencies.
Currently, the city lacks the authority to set aside revenue in such a dedicated pot, one result of the city's fiscal crisis of the 1970s. But a question on this year's general election ballot in the city could change the City Charter to facilitate the creation of such a savings account, though it would also need state action to go into effect. That's where Benjamin's bill would come in.
After years of unprecedented expansion following the 2008-2009 recession, New York City's budget has grown significantly. For the current fiscal year, which runs through June 30, 2020, it is a whopping $92.8 billion – a $20 billion increase since Mayor Bill de Blasio took office – with about $6 billion set aside in reserves to combat potential emergencies or revenue shortfalls. Those reserves include $1.15 billion in the general reserve, $250 million in the capital stabilization reserve, and about $4.6 billion in the Retiree Health Benefits Trust Fund.
But the city is required to balance its budget each year, which means that dedicated savings cannot be carried over from one year to the next in order to save for a potential recession. Each penny in the budget must be spent. That arrangement was a result of the Financial Emergency Act passed by the state 1975 when the city was facing insolvency and the state stepped in to impose new fiscal controls.
"The last recession that we had in 2009, there were about 14,000 municipal workers who were let go, taxes that were raised," Benjamin said at a Thursday news conference at the steps of City Hall. "This is a very important issue so we have got to make sure that we are doing the right thing to protect our future, to protect our citizens in a responsible way."
Benjamin's bill would authorize the city to build a municipal contingency and tax stabilization reserve fund. He raised the widely shared concern that the current economic expansion will eventually come to an end and that the city could face a recession, the signs of which have begun to show. In that situation, the city could be forced to make cuts to programs and social services as well as potentially make significant layoffs in the municipal workforce, which has grown to more than 344,000 full-time employees under de Blasio.
Benjamin approximated that a potential rainy day fund should hold anywhere between $10-15 billion, particularly emphasizing that the city needs to stop using the Retiree Health Benefits Trust fund as a reserve for other possible uses. Benjamin's estimate is close in line with what City Comptroller Scott Stringer suggested in his assessment of the city budget earlier this year.
As it stands, the city already faces projected outyear budget gaps of $3.5 billion in fiscal year 2021, $2.9 billion in fiscal year 2022, and $3.1 billion in fiscal year 2023, though those gaps can quickly be closed if the billions in set-aside savings are not used, typically-conservative revenue estimates are exceeded, and other actions are taken by the city's budget office. A slower economy or a recession would complicate matters, however.
When asked, Benjamin denied that he introduced the proposal because he may run for city comptroller. Instead, he said it was a "proactive move" so that the city can avoid cutting services to its most vulnerable residents and districts like the upper Manhattan one that he represents. He also pointed to this year's election and the several ballot proposals that will be presented to voters once early voting begins on Saturday.
One of the 19 proposals, contained within five overarching questions, would amend the charter to allow the use of a rainy day fund. Benjamin, who did not take a position on the question itself, said he hoped to pass his bill in the early days of the next state legislative session, which starts in January, so it can allow the city to follow through on the ballot proposal if it is approved. That would also be in time for budget season for the city and state governments.
"If the citizens of New York City decide that there would be a rainy day fund, that they authorize it on ballot question number four, the state has to act as well," he said. "So we want to get ahead of that by introducing this now."
Specifically, Benjamin's bill makes amendments to the state's General Municipal Law, removing limits on the amount of money in the budget that could be placed in a rainy day fund and defining the conditions under which the city could dip into it in the case of an economic recession. It also changes the Financial Emergency Act so that a rainy day fund does not count towards balancing the budget. He also said the bill would contain safeguards so the state, which would be far more vulnerable to a recession, cannot dip into the city's reserves in the case of a shortfall.
Though Benjamin said the bill does not have a sponsor in the Assembly yet, he was backed by one colleague, Senator Brian Kavanagh, who represents parts of lower Manhattan and western Brooklyn. "This is an important issue to ensure that the city, if the voters choose, has the opportunity to smooth out their finances so that the city's revenue can be used in good times and in tougher times to provide core services for people," he said at the news conference.
Caitlin Girouard, a spokesperson for Governor Andrew Cuomo, said in an email, "We will review the bill." A spokesperson for Assembly Speaker Carl Heastie did not respond to a request for comment.
Also in support of the bill were Jonas Shaende, chief economist of the Fiscal Policy Institute; Cathy Gray, co-president of the League of Women Voters New York; and Iesha Sekou, CEO of Street Corner Resources, a nonprofit service-provider. Separately, the Citizens Budget Commission has been arguing for passage of question four to move a rainy day fund closer to reality, and several city officials have expressed support for it in correspondence with Gotham Gazette, including Comptroller Stringer, Public Advocate Jumaane Williams, and Manhattan Borough President Gale Brewer. There does not appear to be any organized opposition to ballot question four.
At the press conference, Sekou noted that organizations like hers that depend on city funding to provide services are the first on the chopping block when the city hits hard times. "Our main work is to provide support services to interrupt and de-escalate violence, and we have been successful with that. But in the event of a recession, that work can unwind, get undone, because we won't have the money when the rainy day comes to keep the work going," she said.
[Read: State Senator Brian Benjamin Explores Run for City Comptroller]