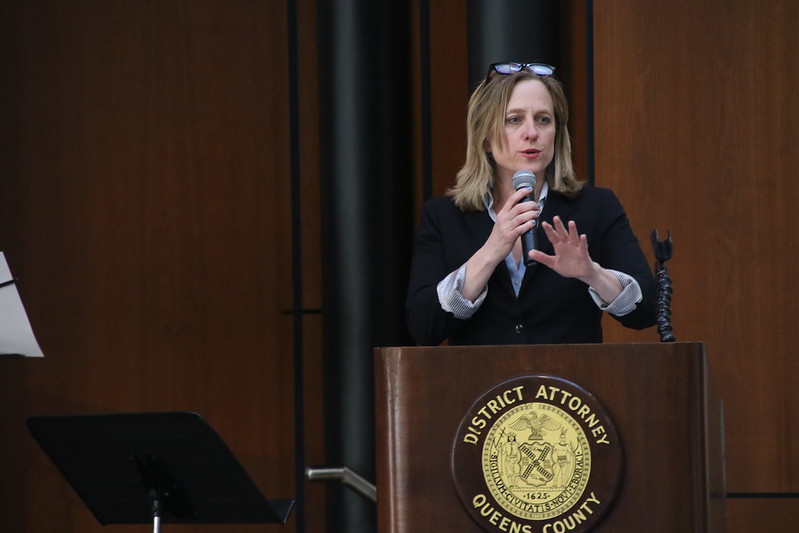 Melinda Katz (photo: Queens Borough President office)
---
Queens Borough President Melinda Katz is well-positioned to be elected the next district attorney for Queens, filling a vacancy created earlier this year by longtime DA Richard Brown, who had not planned to run for another term even before his death in May. Katz emerged victorious in a hard-won Democratic primary that was decided after a recount and court battle by a razor thin margin, and she is now facing Joseph Murray, an attorney, former NYPD officer, and barely known Republican challenger in a borough where Democrats have a 6-to-1 enrollment advantage.
Katz, a Democrat from Forest Hills, is currently in her second term as borough president and is term limited in 2021. A long-serving elected official, she has previously represented Queens in the New York City Council and State Assembly, and has unsuccessfully tried to run for City Comptroller and United States Congress in the past. Whomever wins the general election being decided this week, it will mark the first time a new Queens DA is elected in nearly 30 years.
"As the borough president, I run a multi-million dollar budget, and we have a voice that we give to the vulnerable every single day," Katz said in the only televised debate of the general election, hosted by NY1 on October 23. "To be the district attorney of an office of over 700 people, you need to have that skill set. And you need to have that experience to not only bring our office into the 21st century, but also to keep our borough safe."
In the crowded primary for the race, Katz was a somewhat moderate choice for voters, particularly compared to the insurgent public defender Tiffany Cabán, a newcomer to politics who appeared to grab the nomination on primary night but ultimately lost by only 55 votes in the recount. Cabán, a 31-year-old queer Latina, ran on a platform focused on decarceration and sweeping criminal justice reform, shifting the center of the race and pulling Katz to the left.
Katz modified some of her positions over the course of her campaign, aligning herself more closely with the progressive priorities of criminal justice reform advocates. In the general election, Murray has argued that Katz is far too progressive to responsibly take over as the borough's chief law enforcement official. "I am running because I am against this progressive criminal justice reform that is being rammed down our throats," Murray said in the NY1 debate.
Several questions have been raised about Katz's qualifications to become district attorney – of the six candidates in the Democratic primary, she was the only one without any courtroom experience, and in her long career as an elected official, she has not particularly prioritized issues related to the criminal justice system.
Katz summed up her campaign platform the same way she has done so in previous races. "If it's good for families, it's good for Queens," she said. But the needs of families vary in an immigrant-heavy borough of more than 2.3 million people, where 48% of residents were born outside of the United States. And Katz has made broad promises about how she will enforce the law while protecting the safety of the people of Queens, even as she vows to reverse tough-on-crime policies that defined Brown's decades-long record.
"My biggest pride comes from knowing that every day that I have been in public service, I have stood up to powerful interests but I've also been a voice for people who didn't have one," Katz told Gotham Gazette ahead of the primary election. "And at every level that I've served, I have brought justice to people."
[Read: 'Hard to Define': Melinda Katz's Path to the Precipice of Becoming Queens District Attorney]
District attorneys have broad discretionary authority and, if she chooses to, Katz could very well transform the borough's criminal justice system depending on which crimes she decides to prosecute and how harshly, among other major, far-reaching choices likely ahead of her. Those decisions, which also include how she might interpret and execute criminal justice reforms passed earlier this year in Albany, would have trickle-down effects as well, determining how many people end up incarcerated in city jails and even the types of arrests that police officers will choose to execute.
As Katz stands on the verge of election as Queens District Attorney, here are 19 campaign promises she has made.
1. Reduce prosecutions for low-level, nonviolent offenses
Katz has promised she will "refuse to prosecute low-level marijuana arrests within Queens and will instead urge the legislature to legalize adult recreational cannabis and expunge all convictions for past arrests," according to her campaign website. Though the state Legislature and Governor Andrew Cuomo came close to legalizing adult-use marijuana this year, the measure failed and instead marijuana was decriminalized. Katz's platform notes that full legalization would also require strict enforcement of laws that prohibit driving under the influence.
Katz has also promised to reduce, though not eliminate, prosecutions for low-level, nonviolent offenses such as transit fare evasion, trespassing, petit larceny, unlicensed driving and other minor driving offenses, among others.
"While I would look to significantly reduce prosecution of these types of offenses, other than marijuana I would want to consider each arrest on its merits before declining to prosecute," she said on a candidate questionnaire circulated by Queens for DA Accountability, a coalition of several advocacy groups including 5Boro Defenders, Vocal-NY Action Fund, and New Queens Democrats.
2. Establish a Conviction Integrity Unit
Former DA Brown was the only district attorney in the city to refuse an offer of funding from the New York City Council to create a conviction integrity unit to investigate potential wrongful convictions. Katz has vowed to create such a unit, which would also make recommendations for exonerations.
3. Create a legislative and lobbying committee for reform
Katz has said she will create an internal committee to draft legislation and lobby the state Legislature on criminal justice reform. The committee will include members of the community, advocates and assistant district attorneys.
4. Enforcing hate crime laws
Hate crimes have been steadily on the rise in New York City over the last few years, which many people, including Katz, have attributed to the election of Donald Trump as president. Katz has said she will make hate crime prevention and prosecutions a leading priority.
Previously, as a state legislator, Katz cosponsored a law that made sexual orientation a protected class under the state hate crimes law. She also co-sponsored the Sexual Orientation Non-Discrimination Act, which prohibited discrimination based on sexual orientation in housing, employment, education, access to public accomodation and credit.
5. Boost construction worksite accountability and worker rights
Katz has a lengthy platform focused on construction worker safety, though that did not dissuade the real estate industry from making large contributions to her campaign, as The City reported. She told the media outlet that those donations would not stop her from prosecuting lawbreaking developers or construction contractors.
She's promised to use various tools to go after wrongdoing in the construction industry including strictly enforcing construction safety codes and cracking down on illegal conversions. Her platform notes that these violations are misdemeanors but she would seek higher charges that lead to jail time.
In plea negotiations, she will seek the surrender of licenses from the Department of Business or other agencies, which are not automatic in cases of criminal convictions. She will also use asset forfeiture funds for construction safety training programs, which were made mandatory under a law passed by the City Council in 2017, she has said.
Her platform also states that she will work on a multi-agency Construction Safety Task Force, and assign an investigator to every workplace accident that results in a serious injury. She says she will also "aggressively prosecute" employers for wage theft and overtime violations, establish a multilingual outreach program to inform workers of legal protections, as well as create a system so workers can anonymously report violations of their rights.
"Developers and construction companies will be held accountable if they fail to follow the law and keep their workers safe, as they are now being held accountable in Brooklyn," her platform reads. "This will not only provide justice for victims of workplace safety violations, but will also send a clear message to developers that any effort to cut corners will have severe consequences."
6. Implementing discovery reform
The state Legislature passed a slew of criminal justice reforms this year, including changing the discovery process so that defendants are better informed about the evidence against them. Implementation of the new law will be closely watched in Queens and beyond.
In a March 17 op-ed in QNS, prior to the passage of that legislation, Katz pledged her support for Brooklyn District Attorney Eric Gonzalez's decision to voluntarily implement open-file discovery reform and criticized the District Attorneys Association of the State of New York for opposing it.
"We need not fear fairness in the courtroom," she wrote. "Providing immediate access to evidence means that both sides are on a level playing field, which is fundamental to our system of justice."
7. Closing Rikers Island
Katz supports the city's plan, recently approved by the New York City Council, to close the Rikers Island jail complex by 2026 and replace it with four borough-based facilities, including a new jail in Queens.
But she has been critical of the process in which the plan advanced, what she saw as a lack of community input in the selection of jail sites and of the size of the proposed facilities.
"My objection was, you're closing one horrible mass institution and replacing that with four horrible mass institutions," Katz said in the NY1 general election debate, though not explaining why she believes the new jails will be so bad. "They think they're going to lower the rate of people that are in Rikers to about 3,000. So the math doesn't add up to put a 1,500-bed facility in the borough of Queens," she continued, overstating the number of beds planned for Queens. It was a number that also came down further, to about 885 beds, just before the Council voted the plan through, which occurred several days prior to Katz's debate statement.
"I believe in community jails. It is the common construct of jails all around the country now and I believe that they will do good," Katz added, "but with that, you also need a guarantee of services for the individuals that are in the jails. Nobody comes out of Rikers better than when they went in. But if we're going to do community jails, we have to do it right...But as far as the mayor's plan goes, they're too big. And the community was not involved in the initial placement of those jails. And so that's what I was truly against."
As DA, Katz would likely have to work closely with city officials on many aspects of prosecutions, diversions, and logistics as they close the Rikers jails, build the new Queens jail, and continue overall reforms.
8. Ending cash bail
As DA, Katz will have to enforce recent reforms to the bail system made by the state Legislature, which eliminated bail for most misdemeanors and low-level offenses and will take effect at the start of next year. But during the primary, some of the candidates, including Katz, said they would eliminate cash bail entirely in their requests to judges.
Katz was initially unwilling to commit to that position but later shifted her stance saying she will completely do away with it, though with considerations of whether an individual is dangerous or has repeatedly been arrested. "If someone is a threat to our community's safety, they shouldn't be on the streets; if they're not, they should not have to sit in jail awaiting trial regardless of their financial situation," her platform reads.
At the NY1 general election debate, she explained further, insisting that she would focus on alternatives to incarceration and diversion programs. "Whether you get out of jail before you are convicted should not depend on the amount of money that you have in the bank. That is the unfairness of the bail system,' she said.
9. Night duty for ADAs
At the NY1 debate, Katz indicated that she would make assistant district attorneys more accessible so that a person arrested after the end of the typical DA office work day won't end up spending a night in jail.
"We're going to have ADAs that are on duty in the evenings, and they will be able to be approached any time of night, any time of day," she said, "to look at what the charges should be of those that are brought in. And one of the ways to get diversionary programs intact and make sure that people also don't end up going through the justice system when they shouldn't have to is to make sure that they go into these programs pre-charge."
10. Tackle housing fraud and predatory practices
Katz has promised to create a Bureau of Housing and Loan Fraud at the Queens DA office to prosecute predatory lenders and landlords, and to educate homeowners and renters in the borough about their rights and protections.
"For too long, white collar criminals have gotten off with little more than a slap on the wrist or a fine they can write off as a cost of doing business, while regular homeowners, borrowers, small businesses and renters have their lives destroyed," she wrote in a February op-ed in Amsterdam News. "Theft is theft, whether the robber wears a mask or a three-piece suit; whether it's stealing a car or robbing a family of their financial security through housing fraud. As district attorney, I will make it clear that predatory lending has no home in Queens."
11. Transparency in asset seizure and refocusing resources
District attorneys seize millions of dollars in assets each year in the course of prosecutions, which help bolster their budgets and fund pet projects under their jurisdictions. But the way these funds are collected and used isn't always clear to the public. Katz has promised that she will release an annual report on asset seizure and the programs that are funded by it, and will retool spending towards reducing and preventing crime.
Specifically, she has promised to invest in overdose clinics and services for those suffering from opioid addiction, including by setting up a program similar to Staten Island's Heroin Overdose Prevention and Education (HOPE) program. She also aims to invest in Cure Violence programs that seek to prevent gun violence, and will partner with ride-sharing services to fund free rides during major holidays to prevent driving while intoxicated.
12. Speedy trials and plea bargains
Katz's platform states that her office will immediately review any case that has gone more than six months without a trial date to see if it can be disposed.
She will also end a current practice where the Queens DA's office refuses to consider plea bargains after indictments are made. That practice can coerce defendants to accept plea deals even if they are innocent and before they can see the evidence against them, her platform states.
13. Protect child victims
Katz's platform also takes stock of the recent passage of the Child Victims Act, which extends the statute of limitations for adult survivors of child abuse to seek civil and criminal action against their abusers. "As District Attorney, Melinda will work with victims' organizations to assist all survivors seeking justice even if years have passed since they were harmed," her platform states.
It also promises that Katz will take efforts to prevent children from being victimized by online sexual predators, will create new educational programs for parents, run sting operations and help organizations screen potential employees if they frequently interact with children.
14. Fight elder abuse and fraud
According to Katz's campaign website, she will "ensure that seniors, their families and other caregivers are provided information on identifying signs of elder abuse, as well as information on reporting suspected abuse." She also promised to vehemently prosecute real estate scammers and identity thieves that target seniors.
15. Help those with mental illness
Noting that people with mental illness are far more likely to be victims than perpetrators of crime, Katz pledged to work with law enforcement to create strategies to provide services to those suffering from mental illness rather than criminalize them.
"When a person with mental illness is accused of a crime, it demands specific protocols within the District Attorney's office, working with advocates and mental health professionals to determine the appropriate course of action from a prosecutorial and/or treatment perspective," her platform reads. She also promises to advocate for improved mental health services for incarcerated individuals.
16. Fight for LGBTQ rights
Katz pledged to create an LGBTQ Rights Advisory Board to deal with issues that are specific to the community such as bullying and intimidation, and discrimination in employment or housing opportunities.
17. Fight domestic violence in immigrant communities
Katz intends to create an Immigrant Justice Unit which will, among other duties, target domestic violence in immigrant communities. "Domestic violence is a particular challenge in immigrant communities, where women are often reluctant to report abuse to police because of fears of deportation," her website notes. "Through her Immigrant Justice Unit, Melinda will partner will immigrant advocacy groups to educate women about their rights, protect them from Trump's ICE, assist them in leaving an abusive situation and prosecute abusers as appropriate."
18. Train employees to recognize and fight internal bias
Responding to the questionnaire from the Queens for DA Accountability coalition, Katz committed to implicit bias training for employees of her office and ongoing training in diversity, inclusion, and equity. "[It] is imperative that all staff members have received the latest training to best serve all members of our community," she wrote.
19. Refuse to prosecute sex workers
Katz has said she will not prosecute sex workers but will rather target traffickers and pimps. "We're not going to convict people for sex work," she said at the NY1 debate, "and we're going to actually try and get to the sex traffickers and those that are forcing people into this industry, and at the same time try and make sure that if there's other issues like drug abuse or anything else that comes with the industry, that we can be of service. These are women that are being double victimized. These are people that are being double victimized."
She has, however, been less willing to investigate the NYPD's Vice unit which effectuates arrests of sex workers and has been criticized for alleged corruption and abuse of sex workers. "[I] am reluctant to publicize information on investigation and arrest procedures that may make it easier for sex traffickers and others to commit their crimes," she said on the candidate questionnaire.
[READ: Melinda Katz's Path to the Precipice of Becoming Queens District Attorney]
Stephen Wyer contributed to this story.