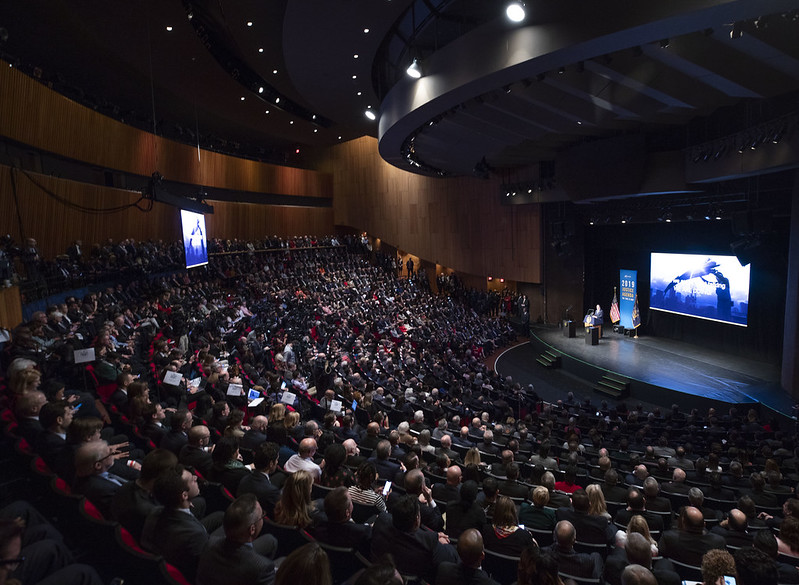 (photo: governor's office)
---
New York State is set to adopt a new electoral campaign finance system, with voluntary participation, lower individual contribution limits, and a new public matching system to amplify small donations. It is based on the recommendations of a state commission, which also raised the threshold for political party ballot access, that will become law unless the state Legislature acts to amend them by Sunday, December 22, which legislative leaders have given no indication they will attempt.
But while many reform-minded elected officials and advocates have long-desired a new public campaign finance system for New York, reactions to the proposals, has been decidedly mixed and included a chorus of criticism related to how high donation limits would remain, how high the bar for a party ballot line would be raised, and what the commission didn't touch at all.
Most government reform groups critiqued the final plan, even as they begrudgingly embraced that some progress would be made, however limited. Other groups rejected the proposed system and, along with several state lawmakers, are insisting that the Legislature must take it upon itself, and should have in the first place, to craft a new campaign finance system for the state, and without the distraction of party qualifications.
All the critiques may be moot, though, if a pair of lawsuits against the commission's mandate succeed, leading the entire system to be scrapped.
The New York State Public Campaign Financing Commission, a nine-member body, was appointed this year by Governor Andrew cuomo and the majority and minority legislative leaders to drastically overhaul the state's campaign finance laws and curb what many see as the corrupting influence of massive campaign contributions. It recommended a new campaign finance program in which candidates running for statewide office or a seat in the state Legislature will be able to receive matching public funds for small dollar campaign contributions of up to $250, to boost the support of everyday New Yorkers and discourage reliance on wealthy donors.
Though contribution limits were reduced, they remain relatively high – statewide candidates can raise $18,000 from an individual donor, down from about $70,000 but still far higher than the $5,600 limit for a presidential candidate. An individual will be able to donate $10,000 to a State Senate candidate, down from $19,300; candidates for State Assembly can bring in $6,000 from individual donors, down from $9,400.
The commission also did not touch on state party committees, which can raise $117,300 from individuals and then send that to the candidate of their choosing without any limits. The commission also did not create restrictions, as advocates had called for, related to contributions from those either engaged in or seeking contracts from the state. These so-called "doing business" restrictions have been a signature reform in New York City, where a successful public matching funds program has been in place for three decades.
The commission steered clear of fusion voting, which allows candidates to appear on the ballot on multiple party lines and gives minor parties a potentially larger degree of influence in state politics. Minor parties worried that the commission would attempt to eliminate the fusion system, and sued to preempt it. But the changes to party ballot access could significantly alter the landscape of minor parties in the state: parties have had to see their gubernatorial candidate hit 50,000 votes on their party line in order to keep a ballot line for the next four years; under the new system, such access is reestablished every two years -- in presidential and gubernatorial elections -- and parties must see the top of their ticket hit 130,000 votes or 2% of the total vote, whichever is higher. In order to first appear on the ballot, a party and its statewide candidate will have to collect 45,000 signatures, up from 15,000.
The party qualifications are set to take effect right away, for the 2020 presidential election, while the new campaign finance system does not go into effect until 2026 legislative elections, two years after the next gubernatorial race. Those timelines are among the ways in which the commission's recommendations appear to track closely with what Governor Andrew Cuomo may have designed in his own laboratory. Much of the commission's work appeared to be directed or at least influenced by Cuomo-appointee Jay Jacobs, the state Democratic Party chair.
The state Legislature could choose to take up all the reforms and even tweak the system proposed by the commission in the upcoming legislative session, which begins January 8, or any thereafter. But there seems to be no appetite to do so from those in charge.
Spokespeople for the governor, Senate Majority Leader Andrea Stewart-Cousins, and Assembly Speaker Carl Heastie, all Democrats, did not respond to inquiries about whether they intend to amend the commission's recommendations or let them stand, or even if they plan to introduce any further campaign finance legislation.
"There were some concerns. Some members are happy there's a system," Heastie said earlier this month, according to a Wall Street Journal report. "Some people are saying we can't always let perfection stand in the way of good. I wasn't alarmed by anything that the members raised."
Cuomo, for his part, defended the commission after its report was released. "I think the commission was charged with a very difficult task, which was to reform the campaign finance system," he told reporters after an unrelated news conference, arguing that the commission "made a number of inarguably great and dramatic reforms."
In an op-ed in the New York Daily News, Assembly Members Harvey Epstein, Ron Kim, Yuh-Line Niou, and Linda Rosenthal, and Senators Gustavo Rivera and Julia Salazar wrote that the commission failed an opportunity to "break the tight grip of special interests and big money in our elections, take a giant step towards ending the era of dysfunction in Albany and empower everyday New Yorkers by making their voices heard through fundamental changes to our campaign finance policies."
"Instead the commission approved a program that will do far too little to reduce big money's dominance, will be in the hands of a dysfunctional agency too easily manipulated for partisan advantage and will only be launched years from now," they added. "The commission also abused its power by using its process to launch an anti-democratic attack on New York's minor parties that will make it unreasonably hard for them to remain on the ballot by raising the threshold of votes they must get."
Though they are all but assured to fail, they vowed to introduce legislation before the December 22 deadline to make several fixes to the proposed system including further reducing contribution limits, putting administrative duties in a body other than the state Board of Elections, launching the program for the 2022 elections, removing the changes to party ballot thresholds and access, and adding a severability clause so if one proposal in the entire package is struck down by a court, the rest survive. "The commission's proposal has fallen short, and the Legislature and governor have an obligation to act," they said.
That group did not include all of the legislators who have spoken out publicly with their disappointment in the commission's results.
Additionally, the Fair Elections for New York coalition, which spearheaded a massive movement for publicly financed elections this year, urged those same remedies in a November 27 letter to the governor and legislative leaders. "It is time to return to Albany to fix the Commission's proposals and finally deliver the model for the nation New Yorkers were promised," the coalition wrote.
The coalition includes several government reform groups – including Reinvent Albany, Citizens Union, the Brennan Center for Justice, New York Public Interest Research Group and Common Cause New York – which showed varying levels of support and condemnation for the proposals.
"With the recommendations approved today, the New York State Public Financing Commission has put together a solid foundation for a strong, state-level public financing system, the single most important reform any state can take in response to the Supreme Court's infamous Citizens United decision," said Lawrence Norden, director of Election Reform at the Brennan Center, in a statement when the commission concluded its work. "The commission's program, if adopted, will bring more New Yorkers into the state's democracy, as donors and as candidates."
Reinvent Albany said in a statement the commission "deserves credit" for creating a small dollar matching funds program. But, they added, "Unfortunately, while better than the abominable status quo, the Commission's proposal does not reduce the dominance of big money enough to earn Reinvent Albany's support."
Perhaps the most scathing critique came on Wednesday from Citizens Union, which rejected the proposals outright. "The proposals put forth by the Commission do not just fail to strengthen our democracy, they are anti-democratic," said Citizens Union executive director Betsy Gotbaum and Board Chair Randy Mastro, in a statement. "They make it harder for candidates to qualify for the ballot, limit the choices of voters, offer incumbents an unfair advantage, and do not meaningfully limit the power of money in New York State politics. This program is designed to fail, and will only preserve the status quo in Albany. While Citizens Union has been long-time supporter of public financing of campaigns, we cannot endorse this package."
Since the commission decided to tie all elements of its plan together as one combined package, the whole thing could be negated based on lawsuits from the Working Families Party and the Conservative Party. Though the suits are separate, they were heard by the same judge on December 12. The attorney for the commission did not appear.
Those legal efforts have been somewhat complicated by the final commission report. The suits sought to protect against interference with fusion voting, with attorneys for minor parties saying it was unconstitutional to give the commission that authority. The final report, however, addressed the adjacent issue of ballot access without directly targeting fusion voting, which has some arguing that the lawsuits no longer have any merit. Even Attorney General Letitia James, appearing on behalf of the state despite her previous affiliation with the WFP, filed a motion to dismiss them, saying that the lawsuits were irrelevant, according to a Politico New York report.
In a statement, WFP state director Bill Lipton said the commission's objectives were transparent to see. "The Public Financing Commission's report makes clear that the Governor's principle motivation was to weaken the Working Families Party: there is no other reason to raise the threshold for third parties a full four years before public financing begins," he said. "With the subtlety of a sledgehammer, the Governor and his allies tried to weaken New York's progressives before he runs for office again — instead, his blatant abuse of executive power has only further energized progressives for 2020 and beyond."
In the wake of the commission's final report, other small parties -- like the Green Party and Libertarian Party, which both typically run their own candidates and don't participate in fusion voting -- have made some noise about a new lawsuit.
If no legislative action is taken and the lawsuits don't amount to anything, the minor parties will need to kick into high gear in 2020 in order to secure the necessary votes in the presidential election.
Eventually, candidates and parties will begin adjusting to the new campaign finance system, which according to the legislation that created the commission will have an initial $100 million annual budget. The new program will be administered by a new Public Campaign Finance Board comprised of seven members – four will be the commissioners of the State Board of Elections and one each will be appointed by the governor and the state Legislature's majority and minority parties.
Note: Gotham Gazette is an independent publication of Citizens Union Foundation, sister organization of Citizens Union.