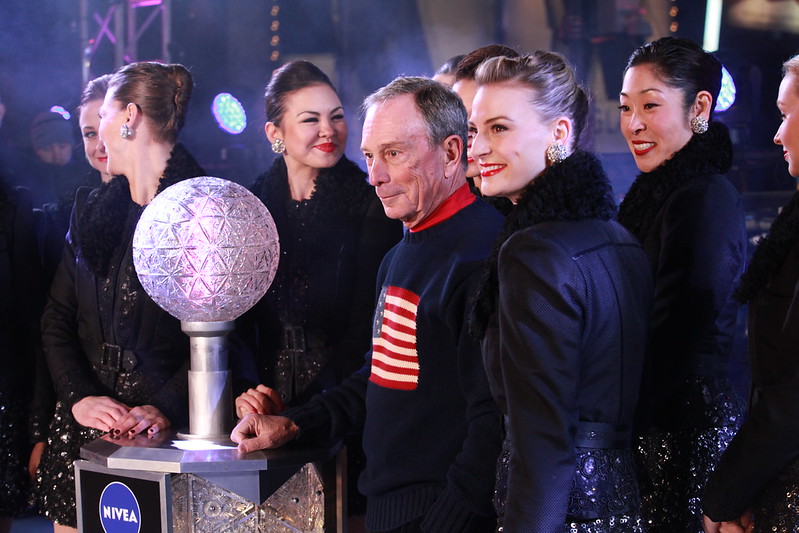 (photo: Kristen Artz/Mayoral Photo Office)
---
As we usually do around this time of year, Gotham Gazette asked New York politicos to look into their crystal balls for predictions for the year ahead. Below you'll find insights from elected officials, advocates, analysts, and others who are tuned in to New York politics.
We know that 2020 will be interesting given that lawmakers in Albany must close a massive budget gap while the entire Legislature is on the ballot, Mayor de Blasio will be in his next-to-last year and trying to burnish his legacy, there's a Queens Borough President special election, congestion pricing is coming, NYCHA must be saved, the presidential election will loom over everything, and more. But what *exactly* will happen? Read below for some ideas.
Before (or after) seeing this year's predictons for 2020, revisit last year's predictions for this year, and see who did well and who didn't.
Have something to add to the conversation? Tweet @GothamGazette with your reactions or predictions for 2020 in New York politics.
Predictions for 2020 in New York Politics
City Council Member Helen Rosenthal (D-Manhattan)
New York City will figure out how to build eight park bathrooms for $3.6 million, not just one.
City Council Member Carlina Rivera (D-Manhattan)
The State Legislature will finally legalize the adult use of marijuana and establish a system for the sale of marijuana products, which will bring billions of new tax revenue to New York. However, what will be the most important part of this legislation is how it addresses communities that have been disproportionately targeted for drug offenses. This must include economic justice components such as increased tax revenue investments in communities impacted by drug enforcement and opportunities for local residents of color to receive business permits and start-up support.
City Council Member Joe Borelli (R-Staten Island)
-Although I don't wish it, a scandal will upend a leading mayoral candidate.
-We will have a new understanding of the Bloomberg administration and its legacy.
City Council Member Carlos Menchaca (D-Brooklyn)
In 2020, New York City will join 70+ cities around the country and honor its indigenous people by also observing Indigenous People's Day on the second Monday in October."
Marc Molinaro, Dutchess County Executive (R)
-Despite the most robust national economy in a generation and obvious need to control spending and reform government, Albany will raise taxes.
-The Mets win the World Series.
-Lawmakers accept JCOPE is a feckless embarrassment and replace it with truly independent ethics enforcement (Unfortunately this is even less likely than #2).
Mike Murphy, State Senate Democratic Conference
More Senate Republicans will abandon their sinking ship.
Kathryn Wylde, Partnership for New York City
The "courtesy" of ceding all zoning and land use decisions to the City Council member who represents the location in question will come to an end as term limited Council members look for their next job and recognize that the larger interests of the city are suffering as a result of this practice.
Christina Greer, Fordham University and FAQ podcast
-The headaches will just get worse for Mayor de Blasio and the real estate folks in his orbit. FOIA requests will continue to expose several questionable relationships and partnerships.
-Hakeem Jeffries' star will continue to rise in DC as the president's desperation rises and the Democratic House serves as the dam preventing American democracy from falling off a cliff.
-Max Rose will be victorious winning a second term.
-Southeast Queens will rally to help Donovan Richards narrowly win the Queens Borough President race.
-Gloves will come off this summer as the 2021 mayor's race heats up.
-Marijuana legalization will continue to stall in Albany and will not be passed in 2020.
-Cuomo will slowly become a one man IDC by the end of the year.
Moses Gates, Regional Plan Association
-For the first time in over a century, Rikers Island will officially house something other than a correctional facility or landfill - likely a park, memorial and/or solar field.
-The lack of affordable housing will become as much of a political issue in Nassau and Westchester counties as it is in New York City.
-Building on the success at Rockefeller Center, the City looks at pedestrianizing everywhere south of 59th street between Thanksgiving and New Year's.
-The city moves the Wall Street Bull back to its original home in front of the New York Stock Exchange which finally takes down the fence and opens to the public with a new museum, catalyzing a new tourism boom in Lower Manhattan.
Nicole Gelinas, Manhattan Institute
-We'll see far more aggressive moves on the environmental front, both at the state and the city levels, from more bans or fees on different types of single-use plastic products to a rethinking of whether we can continue to produce so much household-generated trash, which costs an enormous amount to either landfill or recycle.
-We'll see a real public pushback against disorder in the subway.
Chris Coffey, Tusk Ventures
-Donovan Richards will be Queens BP.
-As soon as the presidential ends, the mayor's race will come into focus. Still expect an unexpected candidate to get in the race.
-Getting big insider money out of politics will play a major role in the 2021 mayor's race, especially real estate money. Voters also will be looking for a contrast with de Blasio, with a candidate who relishes New York and who will be passionate about being mayor.
-The City Council speaker's race will also heat up by the end of the year. Expect the Hotel Trades Council and Democratic Socialists of America to play the two biggest roles. If the DSA can form a bloc (maybe with the Working Families Party), like 2013's progressive bloc, it could be really powerful in a year where the counties' roles are less clear given 35-plus new Council members. Council Members Rivera, Powers, Brannan, Ampry-Samuels, Adams, Salamanca, and Moya are all in the pre-hunt.
JC Polanco, attorney and consultant
-Working Families Party will be an albatross for many suburban candidates, hurting Democratic candidates in those areas.
-As the DSA and WFP declare war on incumbent Democrats, Chairs Meeks and Crespo will beat back several primary challenges in Queens and the Bronx.
-Governor Cuomo will create a centrist/pragmatic caucus made up of centrist and moderate Democrats and Republicans to fight off the WFP crazies.
-The economy continues to excel making it difficult for Sanders and Warren to win the nomination. Biden and Bloomberg will be the last two standing after Super Tuesday.
-One of Deval Patrick, Julian Castro, and Kamala Harris will be the number 2 for either Biden or Bloomberg.
-If a Democrat wins the White House, get ready for NY AG Tish James to be one of the first cabinet officials named as she becomes the next U.S. Attorney General.
Carol Kellermann, formerly Citizens Budget Commission
The Appellate Division will deny the City's appeal in the challenge to the City's real property tax law, TENNY vs NYC et al, and the administration and the Council will be forced to choose between a trial about how tax discriminatory the is and finally coming up with a more equitable property tax system.

Rita Pasarell, Sexual Harassment Working Group
In 2020 we will see worker power continue to grow, and additional gains from MeToo improving workers' rights against discrimination. Legislative staff will become more protected, and the strong unionization efforts from New York City Council staff will overhaul power dynamics and spread to other workplaces. We'll also see better-crafted sexual harassment investigations which honor victims and reduce trauma, instead of causing more harm.
Lauren Bailey and Nick Sifuentes, Tristate Transportation Campaign
-With no response on e-bikes from Albany, New York City will feel the pressure to find a solution and pass a local rule, finally ending the racist double standard for electric assist bike and scooter usage.
-More car-free bus only roadways will be announced, but where? We'd love to see Flushing, Harlem-125th Street, and maybe even sections of Grand Concourse, for starters.
-A vacant MTA board seat sits empty as politicos fight for the spot when we already know who it should go to: an MTA rider with a disability, who knows what the system needs to make it accessible to everyone!
Danny Harris, Transportation Alternatives
-Inspired by the success of the 14th Street busway, the Department of Transportation rolls out plans for new busways in Manhattan and the outer boroughs.
-City Council advances legislation and implementation of the "Bike Mayor" and Office of Active Transportation.
Bill O'Reilly, The November Team
-Governor Cuomo develops Carpal Tunnel Syndrome after signing 27,603 progressive bills into law. He is thereafter known as 'Lefty.' The WFP howls.
-Senate Republicans draw straws over who has to serve as minority leader. Senator Flanagan gets the short one again. ('Cmon', guys, three out of five.')
-Democrats compromise with upstate Republicans and move the state capital to Yonkers.
Andrew Rein, Citizens Budget Commission
-The legislature and Governor will amend state law to allow New York City to have a true Rainy Day Fund to be used when there is a recession or severe emergency. Then, city leaders will coalesce around a prudent set of city law changes requiring reasonable deposits to the fund and use only when truly needed.
-Governor Cuomo will resist imprudent calls for more fiscal gimmickry and counterproductive taxes during the currently expanding economy and lead the state to balance the budget with restrained spending in Medicaid and school aid to wealthy districts, and other targeted cuts.
Laura McQuade, Planned Parenthood of New York City (soon to be Planned Parenthood of Greater New York)
New York will have a supermajority of pro-reproductive leaders in both chambers of the legislature, which will be the first such supermajority in the Senate in New York's history!
Marissa Hoechstetter, Reform the Sex Crimes Unit
The voices of countless survivors of sexual assault from across the city and state will continue to be a force for change. Whether anonymously through filings under the Child Victims Act, in name through testimony in support of the Adult Survivors Act, or in the streets through protests demanding real reform within law enforcement, survivors will be the ones to lead us forward in the fight to end sexual violence.
David Bloomfield, Brooklyn College & CUNY Graduate Center
-Throughout 2020, Mayor de Blasio and Chancellor Carranza continue to review the recommendations of the two-year study by their School Diversity Advisory Group.
-The state repeals the SHSAT requirement for specialized high schools. A year later, the mayor and chancellor appoint an advisory group to replace it while maintaining the test.
-The mayor and chancellor continue what the Department of Investigation called their "accommodating approach" to Yeshivas with no noticeable improvement in secular education among ultra-Orthodox youth.

Heath Brown, John Jay College
-Ranked-choice voting will be the number one topic of conversation in the run up to the mayoral election in 2021. Will everyone's number 2 win in 2021?
-Every campaign will be looking for guidance on best strategy to play by new RCV rules. Look to experts like Jack Santucci for best advice on how RCV will play out in city elections moving forward.
Albert Fox Cahn, Surveillance Technology Oversight Project
-The City Council will pass, and the mayor will sign, the Public Oversight of Surveillance Technology (POST) Act, regulating NYPD surveillance.
-The Assembly and Senate will begin to outlaw controversial uses of facial recognition, beginning with a ban of facial recognition in schools.
-Discovery reforms will begin to reveal an array of new police abuses that never before would have seen the light of day.
Aaron Carr, Housing Rights Initiative
-Andrew Hevesi's Home Stability Support bill -- which would provide housing subsidies for low-income families at risk of homelessness -- will be signed into law.
-Between the bill recently put forth by Public Advocate Jumaane Williams that mandates a racial impact study for future rezonings, and a ruling by a Manhattan Judge which (correctly) strikes down the rezoning in Inwood, Mayor de Blasio finds himself in a precarious position, and will ultimately support the Public Advocate's bill as well as a plan to create affordable housing in wealthy SoHo.
-Surprising none, Mayor de Blasio will miss yet another key deadline to propose a plan to reform New York City's broken property tax system. Assembly Speaker Carl Heastie, whose working-class constituents unjustifiably pay some of the highest effective tax rates in New York City, will take a more active role.
Vishaan Chakrabarti, architect
The successful transformation of 14th Street into a space for people, bikes and mass transit will have a far reaching impact on the future of streets across New York. A 2020 vision for a 21st century Gotham will finally assert the spatial, environmental and commuting rights of the 7 million New Yorkers who don't own cars.
Bob Liff, George Arzt Communications
-Cuomo and de Blasio sue and countersue each other for slander and alienation of affection, agree to settle it in an MMA fight, which draws only 25 people to Madison Square Garden, all of them paid staff.
-Once again, the City Council will have a lower arrest record than the State Senate.
-The Conflicts of Interest Board collapses in disarray after its entire membership is arrested for nepotism and self-dealing.
Jon Reinish, SKDKnickerbocker
-The Democratic presidential primary will ALL come down to New York.
-An unlikely candidate will rise and run for mayor in 2021.
Have something to add to the conversation? Tweet @GothamGazette with your prediction for 2019 in New York Politics. (Review the predictions for 2019 here.)