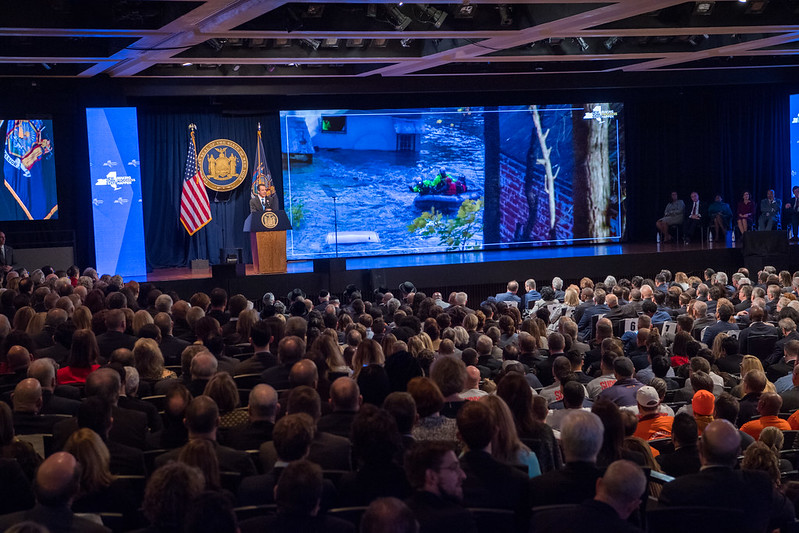 (photo: Darren McGee/Office of Governor Andrew M. Cuomo)
---
On Wednesday, Governor Andrew Cuomo presented his annual State of the State address from Albany. He opened by highlighting the challenges faced by Americans, and New Yorkers, over recent weeks and years, including earthquakes in Puerto Rico, escalating tensions with Iran, and the surge in hate crimes against Jewish New Yorkers.
Cuomo gave highlights of New York successes over the course of his now nine-plus years as governor, then launched into his policy priorities for 2020, positioning New York State as the "progressive capital of the nation."
Cuomo hit on a myriad of policy proposals during his speech, from the importance of combating climate change through a new $3 billion Restore Mother Nature Bond Act and banning styrofoam to continued tax cuts for the middle class and a new tax cut for small businesses.
Among many other proposals, Cuomo called for legalizing adult use of marijuana, ensuring a fair trial for rape victims, banning sex offenders from the MTA, and funding more affordable housing units to reduce homelessness. He took early but vague positions on altering how the state provides local education funding, how Medicaid is paid for, and regulating the gig economy.
After the address, responses came flooding in from stakeholders across the state. The New York Republican Party released a statement from Chair Nick Langworthy condemning Cuomo's remarks and stressing the state's ongoing population loss, blaming it on high taxes and too much business regulation, among other things.
"As our residents and jobs leave, so does our tax revenue. So does our talent. We are yet again facing the loss of one or two congressional seats after the next census, giving us less representation in our federal government," Langworthy says in the video response to Cuomo's speech.
Whereas Republicans tweak Cuomo from the right, the Working Families Party typically critiques him from the left. In response to Cuomo's agenda, the WFP criticized him for putting the interest of wealthy New Yorkers first at the expense of others. WFP State Director Sophie Nnaemeka said in a statement, "it is shameful that Governor Cuomo thinks the best way to fix the deficit is to cut state funding for Medicaid — a move that will cost lives."
It likely won't be clear until Cuomo releases his executive budget for the next fiscal year, a plan due out by January 21, how the third term Democratic governor plans to close the looming $6.1 billion budget gap that Nnaemeka and other critics referenced in their State of the State responses. Cuomo briefly mentioned the budget gap during his State of the State when talking about the need for reforms to Medicaid, which is the leading driver of the deficit.
In a statement released by the The Conservative Party of New York State, Chair Gerard Kassar also emphasized the exodus of people to other states, and disconnect between having a $6 billion deficit and "proposed billions in new spending."
When his remarks turned to forward-looking proposals, Cuomo first talked about combatting climate change, urging his audience to "think globally, act locally." He focused on restoring the state's natural environment through the bond act he said he would seek to put on the ballot this November, investing in renewables by connecting the offshore wind program to upstate, investing in electric vehicles, and banning styrofoam statewide. His proposals for the environment drew a variety of responses.
NY Renews said the funding towards renewables was not clear or specific enough, and expressed frustration that Cuomo didn't outline plans to fund ambitious climate legislation passed last year, though those intended allocations are more likely to be found during the governor's budget presentation.
In its State of the State statement, NY Renews urged the governor to "put money directly into New York State communities, laser-focused on the interrelated goals of a just society and a renewable economy. NY Renews is demanding this funding in the 2020 budget." The statement went on to read: "we have the resources to build a just transition to a renewable economy; what we lack is the political will."
Melissa Iachan, Senior Staff Attorney in the environmental justice program at New York Lawyers for the Public Interest, said in a statement that NYLPI is encouraged by the governor's styrofoam ban proposal and that it will help to protect wildlife and reduce pollution, especially in low-income neighborhoods where significant waste infrastructure is located.
On the other side of that issue, Mike Durant, President & CEO of the Food Industry Alliance of NYS, Inc., emphasized that the styrofoam ban could "prove costly to an industry that is currently reeling from the lack of finality to the single-use plastic bag ban."
During his address, Cuomo touched on the state's homelessness crisis, proposing the "largest amount of funding in the history of the State of New York to help the homeless and build affordable housing," and "demand a higher level of competence and skill and professionalism" form local elected officials across the state to address homelessness.
In response to the governor's comments, The Family Homelessness Coalition released a statement urging further action, specifically asking for the state to "expand rental assistance and transitional housing supports for families experiencing homelessness, and ensure that survivors of domestic violence, the leading cause of family homelessness, have access to critical preventive and permanent housing services."
New York City Mayor Bill de Blasio attended Cuomo's speech and held a media availability afterward. Asked about Cuomo's homelessness comments, de Blasio said that he is glad the governor raised the topic, but would like more information, which he hopes becomes clearer when the executive budget is released. De Blasio said it would be "tremendous" to have more state support and is going to work with the Legislature to pass the Home Stability Support Act (HSS), a housing subsidy program that Cuomo has opposed in recent years.
In her reaction to Cuomo's speech and outline of her priorities for 2020, Senator Liz Krueger, a Manhattan Democrat who chairs the Senate finance committee, also cited HSS, which she sponsors in her chamber, as a top priority.
Cuomo brought back up an issue he had said he would work on in 2019 but did not, and proposed protections for gig economy workers, saying that "corporations are increasing their profits at the expense of the employee and the taxpayer" and that it must stop. He said workers for many businesses are in fact employees and not contractors as the corporations like to say.
In a written response, the New York State AFL-CIO applauded the governor's comments and said its members "look forward to working with the governor and legislature to pass legislation that guarantees these workers will no longer be denied the rights and protections all other working men and women enjoy."
The Food Industry Alliance also highlighted in its statement that the food industry is evolving and a part of the gig economy and that it is a "complicated issue." The statement suggested that any legislation pushed through too quickly and without thorough consultation with stakeholders could be detrimental.
Amid ongoing debate over bail reforms passed last year that went into effect on January 1, the audience may have been expecting more attention paid to criminal justice during Cuomo's speech, including, perhaps, the governor's preferred changes to the law. But while he has said he thinks changes are warranted, Cuomo has not outlined specifics and did not do so during his State of the State. Rather, he mentioned last year's effort to decriminalize marijuana possession, and proposed "creating the first of its kind global cannabis and hemp research center for science and education" while legalizing adult use.
In response, the Drug Policy Alliance released a statement praising the governor's "renewed ambition to get legalization done this year" and urging him to make New York a leader in social justice by "ensur[ing] any bill legalizing and regulating marijuana includes opportunities for New Yorkers who have been directly impacted by decades of prohibition to excel in the new market and must also dedicate significant funds to those communities most impacted by the war on drugs."
The coalition NYC Defenders of the city's public defender organizations put out a statement praising bail reform and emphasizing the need for the state to "progress and prioritize and pass urgent reforms to other aspects of the system, including marijuana legalization, policing, due process, prison and jail conditions, and parole."
The defenders went on to highlight New York Senate and Assembly measures that they support, such as ending the lifetime felony ban on jury duty service, which "prevents people from serving their communities as full-fledged and equal citizens."
One of the more staggering numbers presented during the address is the disparity in funding among New York schools. Cuomo said it is "shameful that we do not distribute funding in the most progressive way." Adding that wealthier schools spend as much as $36,000 per student while poorer schools spend as little as $13,000 per student, he urged legislators to use state funds to reduce the funding disparities.
In response to Cuomo's remarks, the Alliance for Quality Education said that while he rightly pointed out the lack of equity, the governor should "join his colleagues in the Assembly and Senate to support a multi-year commitment to phase-in the $3.8 billion in Foundation Aid owed to public schools." The statement highlighted that in 2019 while the Assembly and Senate committed to the funding, the governor, who has disputed that characterization of "owed" funds, did not.
New York City Public Advocate Jumaane Williams, who challenged Cuomo' lieutenant governor, Kathy Hochul, in the 2018 Democratic primary, was also in attendance on Wednesday. In a statement released after Cuomo's speech, Williams said he is taking a wait-and-see approach, especially as the governor prepares his executive budget.
"Advocates from across the state, and the Public Advocate's office itself, will be watching and working to ensure that Governor Cuomo does not attempt a retreat from the progress we have already fought for and won," Williams said in the statement. "This is even more critical as budgetary constraints loom - it's easy to be progressive when there's an abundance of funding, but essential to define and champion progressive priorities in any environment. Fiscal responsibility is very important, and so too is human responsibility"