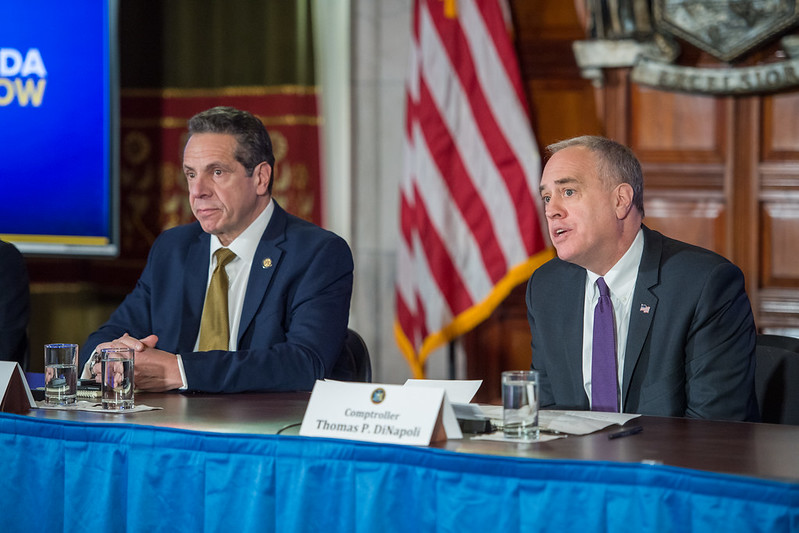 Cuomo & DiNapoli (photo: Governor's Office)
---
A resolution has finally been reached around how to deal with a thorny issue involving Governor Andrew Cuomo, contracting oversight, and the corruption that plagued some of the governor's biggest economic development initiatives.
As of December 31, all relevant parties have agreed to comply with an August agreement between Cuomo and state Comptroller Thomas DiNapoli restoring the comptroller's oversight of some large contracts entered into by SUNY and CUNY and their affiliates, and by the Office of General Services. The agreement is now expected to become operational in February, according to a spokesperson for the comptroller.
The memorandum of understanding was partially signed in August, but as recently as mid-December DiNapoli said SUNY Research Foundation, one of the entities coming under the comptroller's purview, had not given the go-ahead to bring it from a "conceptual agreement," as DiNapoli put it, to an actualized program. As of December 31, however, all parties had approved the new system, the spokesperson told Gotham Gazette.
"We have an agreement with the Executive, and we will start reviewing contracts in February 2020. All parties have acted (OGS/SUNY/CUNY/SUNY Construction/CUNY Construction/SUNY RF/SUNY Fuller Road & Fort Schuyler) and agreed to allow OSC to review their contracts," the spokesperson wrote in a statement.
While representatives for several of the parties signed the memorandum in August, it still required approval by the boards of CUNY and SUNY affiliates, and for their policies to be updated in compliance. CUNY's approval came on October 28, and two other SUNY-affiliated entities agreed on December 18. SUNY Research Foundation approved the agreement on December 31, just before the January deadline. No part of the deal could go into effect until all the parties had all agreed, DiNapoli said on the Capitol Pressroom in mid-December, calling the Research Foundation approval "the biggest sticking point."
"As expected, all parties have signed the MOU and will be ready to enforce it this February," wrote Jason Conwall, a spokesperson for the governor, in an email this week.
The agreement gives the state comptroller the authority to conduct "pre-audit" reviews of contracts procured by SUNY and CUNY and their affiliated construction funds, when they exceed $250,000. It also extends that authority over Office of General Services (OGS) centralized contracts over $85,000.
The memorandum also provides for the comptroller to send all executed contracts of $250,000 or more, with the exception of Common Retirement Fund contracts, to the state inspector general responsible for investigating fraud, corruption, and conflicts of interest in the executive branch and affiliated entities.
The new powers allow the comptroller to review contracts before they are executed to affirm that they are ethically and economically sound. During contract reviews, the comptroller's office typically conducts due diligence to prevent fraud and waste, and promote competition. It looks at whether vendors have been found to engage in previous wrongdoing, prices for comparable goods and services elsewhere, and whether there are contract provisions that could increase an agency's liability.
The comptroller once had those powers for SUNY, CUNY, and OGS centralized contracts, but they were stripped with little public attention during budget negotiations in 2011, Governor Andrew Cuomo's first year, as he sought to expand and expedite economic development.
In the mid-2010s when the Buffalo Billion scandal, in which bribes were exchanged for plum state construction contracts, implicated some of Cuomo's closest allies and donors, good government advocates and DiNapoli himself called for the authority to be restored. Cuomo resisted. Lawmakers threatened legislative action, but nothing moved.
Then, during his 2019 State of the State speech, Cuomo surprised many by announcing that he and DiNapoli had agreed to pursue an agreement.
"Comptroller review may have prevented the $1 billion bid-rigging scandal involving upstate development projects resulting in the convictions of high-ranking state officials and major real estate and construction executives," said John Kaehny, executive director of the good government group Reinvent Albany, in a statement commending the initial agreement in August.
The memorandum of understanding stipulates that SUNY will work with its Research Foundation to give the comptroller pre-audit review of contracts of $1 million or more. The Research Foundation includes SUNY-affiliated nonprofits Fort Schuyler and Fuller Road Management Corporation, which put out the rigged requests for proposals to build SolarCity, the $750 million solar panel plant at the center of the Buffalo Billion controversy and a key element in Cuomo's signature upstate economic development agenda.
On the Capitol Pressroom in December, DiNapoli said, "I think the biggest piece that still has to be resolved is the SUNY Research Foundation has not taken the action to sign on...but I am very hopeful that once we get that SUNY piece closed down that we will actually be able to implement that more robust oversight that many people have called for and I think is overdue for us to have back."
With the Research Foundation agreeing to the memorandum of understanding on December 31, it is now set to go into effect in February. While Ft. Schuyler and Fuller Road have been mired in controversy, the entity recently created to subsume and replace them, NY CREATES, is also covered under the agreement, according to DiNapoli's office.
Unlike other powers that were restored in the deal, the state comptroller has never had pre-audit review authority over SUNY Research Foundation, the spokesperson said.
Cuomo has previously said that part of the reason for not restoring the comptroller's power is the potential for delays in adding new bureaucratic hoops to jump through. The new agreement sets a time limit of 30 days for the comptroller's pre-audit review, after which they become "valid and enforceable." A report released by DiNapoli's office last May, showed that the average contract review took between six and seven days.
In response to the Buffalo Billion scandal, state lawmakers introduced the Procurement Integrity Act to restore most of the comptroller's pre-2011 authority, among other things. Year after year, it failed to gain enough traction to pass, but amid an ongoing drumbeat of criticism, especially after the convictions on corruption charges of two of his top former aides, Cuomo made the 2019 State the State announcement.
The agreement is voluntary and contains language stating it can be terminated within ten days by either the governor or comptroller. Good government advocates still want to see it codified into law.
"We hope momentum from completing this voluntary agreement continues and the Governor and Comptroller work together to pass a law in the 2020 session making the agreement permanent," wrote Kaehny.
Neither codifying the agreement nor passing the Procurement Integrity Act were part of Cuomo's very limited State of the State government ethics agenda, announced last week.