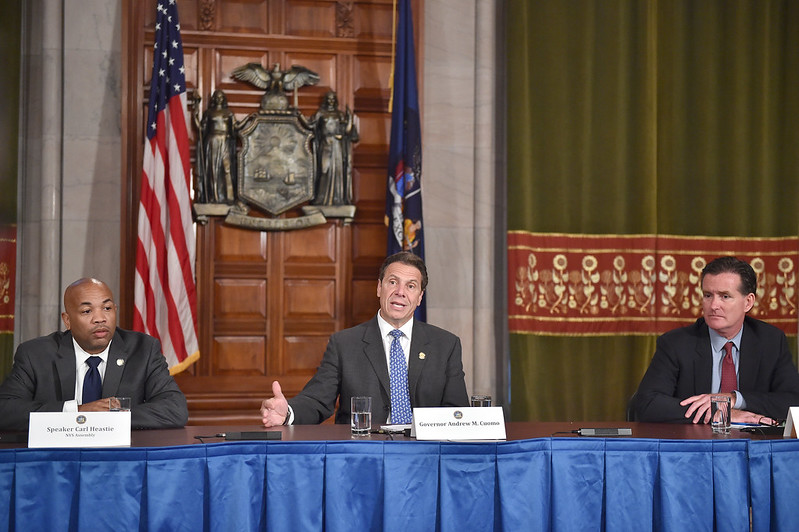 Cuomo, center, with 2018 legislative majority leaders (photo: Kevin P. Coughlin/Governor's Office)
---
After two years of legislative negotiations, commission reports, and lawsuits, parts of a planned salary increase for state officials remain up in the air, and the fate of long-sought restrictions on legislators' outside income sits entirely with state lawmakers themselves.
The raises and corresponding outside income limitations were made by a commission created by the governor and Legislature created to alter the laws dictating compensation for statewide elected officials, state agency commissioners, and members of the State Senate and Assembly. It recommended pay raises for all of those positions to be phased in over three years. For legislators, who are allowed under state law to earn income outside their government salaries, the commission coupled the second and third phases with tight limits on non-governmental income.
A series of lawsuits filed last year challenged a number of parts of the commission's final product, which was binding according to the statue empaneling it, with some alleging restrictions on outside income to be outside the body's purview, and another questioning the legality of giving an unelected body lawmaking authority in the first place. The latest suit, filed in December, claims the state constitution prohibits changing the salary of the governor and lieutenant governor during their terms in office.
The final outcome of the suits, one of which is on appeal, could even have implications for the raises that have already gone into effect (raising, for example, legislators' annual salaries from $79,500 to $110,000), but the courts have already determined that the outside income restrictions set up by the compensation commission are invalid.
With rulings in the second half of 2019 striking down the outside income limits before they could go into effect, and other pending court decisions throwing the pay hikes into uncertainty, good government advocates and others are calling on the Legislature to take up the restrictions through statute in the 2020 legislative session, which began January 8. They have noted that the commission's outside income restrictions are consistent with those for members of Congress and would limit potential conflicts of interests, something Governor Andrew Cuomo has advocated for years and a notion supported by many of his fellow Democratic officials.
"We think when you're a public official, you should have one master, and that master is the public that you're sworn to serve. Not a business, not a profession, just the public," said Blair Horner, executive director of the New York Public Interest Research Group (NYPIRG), in an interview.
Ethics watchdogs have for years sounded the alarm over state legislators' ability to divide their fiduciary interests between the public they are elected to serve and their private sector careers. When former Assembly Speaker Sheldon Silver was arrested in 2015 on corruption charges related to using his power in the Legislature to enrich his private law practice, good government groups called for swift action to limit outside income.
Hope for that action finally came in 2018, when leaders in Albany set up the pay commission, appointing four former or current city or state comptrollers -- Bill Thompson, Scott Stringer, Carl McCall, and Tom DiNapoli -- to carry out its mandate.
The commission's final recommendations, "which have the force of law and supersede existing law," according to its enacting statute, would have raised the governor's salary from $179,000 to $250,000, and the Lieutenant Governor's from $151,500 to 220,000, over the three-year period from 2019 to 2021. The Attorney General and State Comptroller would also see raises from around $150,000 to 220,000 over the same period. Four tiers of state agency commissioners would also get varying raises.
For legislators, the commission went further. Members of the State Legislature, who in 2018 had a $79,500 salary to serve in the "part-time" body, had not gotten a raise in nearly two decades before the commission members voted to raise them to $130,000 by 2021, with the first phase-in to $110,000 to take place at the beginning of 2020. They also acted to eliminate legislative stipends for all but a handful of leaders. In the second and third years of planned salary increases, a limit of 15 percent of their base pay would be placed on the outside income legislators could earn. Modelled on restrictions for members of Congress, the recommendations place a complete prohibition on outside income when the legislator has a "fiduciary relationship" with the employer or client.
Last year, two Albany Supreme Court justices in separate suits struck down the outside income limits. In the case challenging the unelected commission's law-making ability outright, brought by the legal advocacy group Government Justice Center, Justice Christina Ryba upheld the first phase of raises but ruled the outside income limits to be beyond the commission's statutory mandate and, therefore, unlawful, according to a spokesperson for Comptroller DiNapoli, whose office is responsible for cutting checks to state employees. Because the pay raises scheduled for 2020 and 2021 were accompanied by outside income restrictions, they too were struck down.
In October, the Times Union reported the state would not be appealing the courts' decisions. A spokesperson for Attorney General Letitia James has repeatedly declined to comment when Gotham Gazette has inquired about the status of the lawsuits and state appeal.
Just Do It Legislatively?
In the face of the likely failure to implement the limits, good government groups last October sent a letter to Governor Andrew Cuomo, Senate Majority Leader Andrea Stewart-Cousins, and Assembly Speaker Carl Heastie, all Democrats, urging them to codify the commission's outside income recommendations. The groups, which included Citizens Union, Common Cause NY, League of Women Voters of New York State, NYPIRG, and Reinvent Albany, wrote, "It is therefore incumbent on you as the state's leaders to act to curtail outside income by lawmakers to address the corruption problem in Albany and restore the public trust."
Bills to limit outside income have been floated in the past, but it is unclear whether legislators will reintroduce them in 2020.
Assembly Member Charles Lavine, a Democrat representing parts of Nassau County, introduced a bill in 2017 that would raise government compensation and place a cap on non-government income. Asked whether he would pursue similar legislation now that the compensation commission's recommendations have been limited by the courts, Lavine told Gotham Gazette in December, "[the pay increase] is a matter that I will discuss with my colleagues and based on the consensus among the members of the Assembly, I will be in a better position to determine in which direction to go. On the question, however, of outside income, it's always been my position that there has to be some measurable constraint on outside income."
"If members of the Legislature are working and earning hundreds of thousands of dollars per year then it seems to me the obligation to represent the people we represent becomes secondary to the economic concern," he added.
The issue is somewhat of a perennial one for reform-minded legislators like Senator Brad Hoylman, a Manhattan Democrat, who carried the Senate companion to Lavine's bill. But that doesn't mean it will gain traction in the next legislative session, despite momentum from the commission.
Asked whether he planned to reintroduce his bill, Hoylman told Gotham Gazette: "Yes I hope to. Discussions are ongoing. If a bill is to be meaningful it needs to have the support of both houses."
"I think that's where the work remains: convincing our colleagues in both houses of the merit of this approach. I think the public is already there but it is difficult at times to unwind a longstanding tradition in New York," Hoylman added, referring to fact that the job of legislators is technically part-time.
He noted that often the legislators who do earn outside income do so through private law practice, which he thinks is especially conducive to obscuring conflicts of interest. "Essentially as it stands now the attorney-client privilege allows you to keep your dealings masked and if not a conflict, which I think my colleagues don't have, the appearance [to the public] is poor to say the least," he said.
A spokesperson for State Senator Liz Krueger, another Manhattan Democrat who chairs the Senate finance committee and often takes on government ethics issues, said in a statement to Gotham Gazette that Krueger "supports adopting the same rules that Congress has relating to outside income, but the issue has not been discussed by the conference yet." Members of Congress are limited to the 15% of government salary outside income cap that the state commission had imposed. (When the New York City Council approved a pay raise signed by Mayor Bill de Blasio in 2016, it coupled the increase with a near total ban on outside income for Council members.)
"Just as Congress responded to Watergate with passing these types of restrictions limiting outside income, Albany should do the same," Hoylman told Gotham Gazette.
Neither the office of Assembly Speaker Carl Heastie nor the office of Senate Majority Leader Andrea Stewart-Cousins responded to multiple requests for comment for this article. It's unclear if either majority chamber has any appetite for taking on additional legislative pay increases and/or a cap on outside income.
Process Problems
Meanwhile, Government Justice Center is appealing Justice Ryba's decision to leave in place the first phase of pay raises, which went into effect January 1, 2019, on the grounds that a commission whose members were not elected by the public cannot create new law that supersedes existing law. The group is appealing to the Third Department Appellate Division. If it prevails, the group believes the case may have implications for future commissions, as well as the practice of elected representatives delegating their lawmaking power to unelected bodies with little accountability to the public.
"Our hope is to put a stop to the practice," Cameron Macdonald, executive director of Government Justice Center, told Gotham Gazette. A similar commission just created binding campaign finance laws and changes to political party ballot access. Its work is also the subject of litigation.
"Can the Legislature and the governor punt on policy to an unelected body," asked Horner of NYPIRG. "We don't like that process...We think the governor and lawmakers should make these decisions. But if they're going to do it, they should do it right, and independence is key."
That was not the case for the pay commission, Horner said, which was appointed by the governor and legislative leaders. "They're appointed by individuals who would directly benefit from their decisions. So that's not independent...It's a bad process and a real process would be with someone who has no skin in the game picking the members of the commission, and that's not what happened," he said. New York City law requires the mayor to appoint a commission every four years to examine and make recommendations on elected official pay.
Government Justice Center is also bringing the latest suit filed in December, which argues the state constitution prohibits changing the governor's and lieutenant governor's salaries in the middle of a term. In that case, the comptroller has been served and has a January 27 response date, Macdonald said. A spokesperson for DiNapoli said they could not comment on the ongoing case.
Note: this article has been updated to reflect that neither Heastie's nor Stewart-Cousins' office responded to requests for comment.