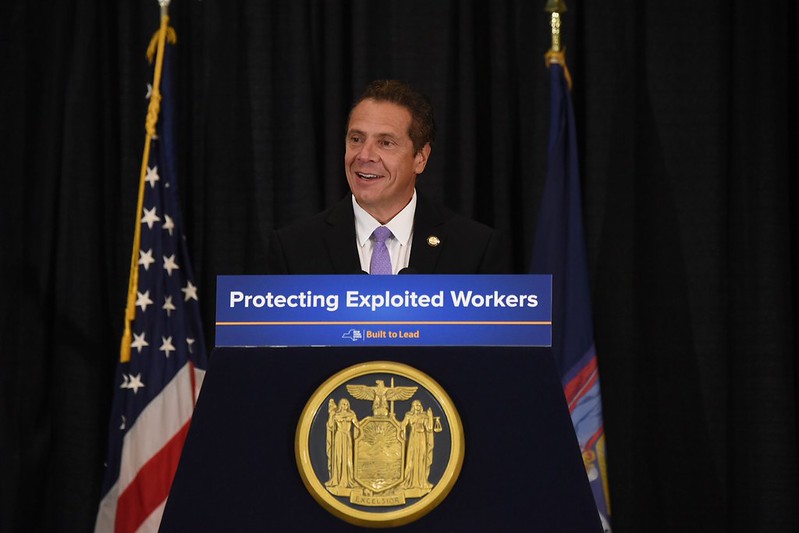 (photo: Don Pollard/Office of the Governor)
---
This year, more than 40% of New Yorkers will be employed in the so-called gig economy, Governor Andrew Cuomo said in his State of the State speech earlier this month. It was an acknowledgement that the nature of work is changing, or rather has changed, and also a concession that labor rules have not evolved to keep up. Gig economy workers lack the same benefits that full-time workers enjoy, which has helped billion-dollar companies make substantial profit on the backs of unprotected and often underpaid workers. And Cuomo said New York would no longer allow that to happen.
"Large corporations have dominated and taken advantage of workers for too long," said the governor, a third-term Democrat. "Today's economy works brilliantly for innovators, shareholders and billionaires, but it too often abuses workers. As FDR, Al Smith and Francis Perkins protected workers after the Triangle Shirtwaist Factory fire, we too must protect workers from today's threat, which is economic exploitation."
He went on, getting at the heart of what he appears to be eyeing for new regulations: "Too many corporations are increasing their profits at the expense of the employee and the taxpayer, and that must end. A driver is not an independent contractor simply because she drives her own car on the job. A newspaper carrier is not an independent contractor because they ride their own bicycle. A domestic worker is not an independent contractor because she brings her own broom and mop to the job. It is exploitive, abusive, it's a scam, it's fraud. It must stop and it has to stop here and now!"
On Tuesday, January 21, Cuomo released his executive budget proposal for the 2021 fiscal year, which included proposed legislation to create the Digital Marketplace Worker Classification Task Force, charged with recommending measures to regulate the gig economy. It would cover everything regarding "wages, classification, employment criteria, safety and health regulations, collective bargaining, and anti-discrimination protections for on-demand workers." The task force would be comprised of nine members, seven appointed by the governor and one each by Senate Majority Leader Andrea Stewart-Cousins and Assembly Speaker Carl Heastie.
The governor's words were encouraging news for state legislators, activists, and labor groups who have long sought to regulate the freelance and gig economy to protect workers. After California passed first-in-the-nation legislation that established a framework for doing that, New York may soon follow suite.
California's Assembly Bill 5, or AB5 measure, uses an ABC Test to establish how a worker is classified, limiting the ability of companies to avoid paying benefits by claiming someone is an independent contractor rather than an employee. While Cuomo has not released the specifics of his proposals, some New York lawmakers intend to enact a similar measure having learned lessons from the successes, and failures, of the California model.
There is of course opposition to these efforts from business groups and the companies that any potential bill would seek to regulate, and they have employed armies of lobbyists to represent their interests before the state.
California isn't the only model for gig economy legislation. New York City has already forged several other measures affecting the gig economy that could serve to inform the state's efforts. The City Council passed the Freelance Isn't Free Act in 2017, to ensure that freelance workers are paid on time and to protect them from wage theft. In late 2018, the Council established the first-ever minimum wage for drivers that work for ride-hailing services like Uber and Lyft. Just last week, a law went into effect that extends protections against workplace harassment and discrimination to freelancers and independent contractors.
Brooklyn City Council Member Brad Lander was the sponsor of all three city laws – he's working on more legislation currently – and he welcomed the governor's words on the need for new regulation. "Obviously, in the past, the governor embraced Uber and the gig economy and he has come to understand that it can be a site of real exploitation, and that new rules are needed," Lander said in a phone interview. In 2017, Cuomo pushed through legislation that authorized ride-hailing services like Uber and Lyft to operate across the state.
The classification of workers, as Cuomo outlined in his State of the State, remains a state question. Lander and others are hoping New York creates its own ABC test for workers, which would have a broad effect across different gig economy segments.
"What I hope will be at the heart of New York state legislation is that there are a set of people for whom the terms and conditions of their employment are set by the platform or by the hiring party, and they really should have been treated as employees all along," he said. "[California's] law helps clarify that requirement and close the loop."
Though Cuomo has not yet introduced any legislative proposals (he mentioned the need for gig economy regulation in his 2019 agenda but did not follow through), he appears more committed this year. And, there have already been attempts by Democratic state legislators.
State Senator Diane Savino, a Democrat from Staten Island, has been working on gig economy regulation for years and has been leading public hearings on the issue in recent months as chair of the Senate Standing Committee on Internet and Technology. Along with Bronx Assemblymember Marcos Crespo, she introduced a bill last year, the Dependent Worker Act, to reclassify certain gig economy workers and provide them with labor protections, including the ability to unionize and collectively bargain for benefits. But the bill was unpopular, both to business and labor groups.
A subsequent bill introduced by Assemblymember Deborah Glick and State Senator Robert Jackson, both Manhattan Democrats, heeds more closely to California's law, and would have established an ABC test for workers in New York. That too was unsuccessful, but Glick says she'll pursue the bill again this year. She was encouraged by the governor's speech.
"I'm glad that he made reference to the fact that there are companies that should live up to their responsibilities to treat the people working for them as employees and provide them with the appropriate benefits that reflect the dignity of their work," Glick said in an interview. "And it certainly should not fall to government to pick up the slack while these companies are generating very large profits."
Glick is aware of the challenges and has conceded that the bill may require exemptions. California's law is currently going before the courts and major companies have promised to spend millions of dollars to defeat it in through a ballot referendum this year. There's also been criticism from those the bill was supposed to benefit. It mandates that companies would need to hire a freelance writer who publishes more than 35 pieces of writing in their publication. Freelancers say that would effectively harm, rather than help them, by requiring them to work for more companies and publish more broadly.
"I think Senator Jackson and I are confident that we will be able to make technical changes that will address concerns from specific industries and at the same time cover most employees who have, up until now, been very disadvantaged by being considered independent contractors," Glick said.
Since last year, Savino has similarly recalculated her effort and is hoping to recraft legislation and avoid the pitfalls of California's law. "We have the benefit of having watched California go first," she said. "What we have to figure out is how do we write a piece of legislation that creates clear rules for everybody, everyone understands it, maintains the flexibility that people seem to like, and doesn't ensnare people unnecessarily the way the California law did. So you don't wind up with 30 exemptions and multiple court cases."
The legislators are speaking with stakeholders on all sides of the issue, including the companies that will be most affected by legislation and have been fighting against it. The Flexible Work for New York coalition, comprised of business groups, trade associations and several app-based services including Uber, Lyft, and Postmates, has pushed back against efforts to regulate the gig economy, arguing that it would reduce workers capacities to supplement their income and would also increase costs for consumers.
"Flexibility has allowed tens of thousands of New Yorkers to earn income around their own lives," said Christina Fisher, spokesperson for Flexible Work for New York (FWNY), in a statement to Gotham Gazette. "These are single parents trying to juggle childcare, retirees trying to supplement their retirement income, and college students who need a way to earn money around their class schedules. As lawmakers explore ways to better protect workers, it's vital they do so in a way that balances those protections with the flexibility that workers overwhelmingly value and need. Already, multiple industries in California – from freelance writers to truck drivers and more – have suffered the negative impacts of overly broad legislation that ignored the voices of workers, and we can't let that happen here in New. York."
An FWNY spokesperson put Gotham Gazette in touch with Mastro Young, 65, who has been driving for Uber in Albany for about two years. Young said he was concerned about how any new laws may affect his ability to earn extra income. The flexibility he has from working with Uber allows him more time with his family, he said, and as a veteran, the time to go to the doctor without having to request time off from an employer. "Financially, Uber helps me a whole lot, paying my bills and having a little extra money," he said in a phone interview. "Without Uber, it can be tiring, you know, trying to make ends meet."
Young isn't opposed entirely to new regulations that could potentially increase benefits for those who don't work the equivalent of full-time hours, but he was adamant that the governor and Legislature shouldn't take away the flexibility that drivers like him enjoy. "If I need money, if I know my bills are coming, I drive more at the end of the month so I can pay my bills," he said. "If I want to take my wife on a vacation, I can up my hours, so I can do these things. So I'm just hoping that is not taken away from us."
Overall, it's not clear how gig economy workers are thinking about possible regulations that would drastically impact their lives.
Legislators seeking new regulations have powerful labor allies on their side. The New York Do It Right Employment Classification Test (DIRECT) coalition has been advocating for an ABC Test in state labor law, taking direct aim at app-based ride-hailing services, which currently help provide work to somewhere around 100,000 drivers, if not more, across the state on a somewhat consistent basis. The coalition's members include the likes of labor heavyweight 32BJSEIU, immigrant advocacy group Make the Road New York, the New York Taxi Workers Alliance, The Legal Aid Society and the New York Nail Salon Workers Association, among others.
"I think It's important to recognize as we're talking about the issue of misclassification that this is not strictly an Uber problem," said Brian Chen, staff attorney at the National Employment Law Project, another coalition member. "It's not strictly a gig economy problem. This is a misclassification problem and misclassification extends to virtually every industry in New York, particularly those industries that are very low wage, often immigrant dominated where there is typically a lot of exploitation."
Chen said his coalition is working with the National Writers Union and other writers groups to craft a carveout that would prevent what happened in California.
"The ABC test is the gold standard that reaffirms the rights and protections of misclassified workers," he added. "It holds employers accountable to their workers. And most importantly, it does not jettison any rights or protections that that people are entitled to under the law."
While classification is a central issue, it's by far not the only one that some advocates and experts want to see addressed this year.
Eli Dvorkin, editorial and policy director at the Center for An Urban Future, a nonprofit thinktank, said the missing piece of the puzzle is a comprehensive system of universal, portable benefits for those workers who truly do count as independent contractors. "I think the opportunity for New York is to tackle an even greater challenge, which is how to provide financial security and other benefits to independent workers," Dvorkin said.
He pointed to the Black Car Fund as an existing model that could be emulated, or mandated, in other industries, emphasizing that any new legislation should "thread that needle" between protecting workers that are closer to employees as well as benefiting those who continue to want to work as truly independent contractors. "That's a two-pronged approach that would be much more powerful in total, and I think we've yet to see what that second prong would look like at the state level," he said.
In the absence of the universal provision of benefits like healthcare, Dvorkin said companies should be setting up benefits funds for independent contractors to give them access to affordable health care, workers compensation insurance and unemployment insurance. "I think there's a huge opportunity to set up a system where companies pay into a set of flexible benefits, portable benefits that's prorated to the amount of work that that any one person has performed for that company or on their platform. and the technology already exists to be able to do that," he said.
Savino admitted that portable benefits are "not a foreign concept" for New York, pointing to other models including ones created by the Freelancers Union and Domestic Workers United for their members. But she said the focus first needs to be on creating a standardized classification system for those denied basic statutory rights such as workers compensation, unemployment insurance, human rights law protections, and the right to organize and collectively bargain.
NELP's Chen echoed the sentiment. "I think our position is, let's start with the benefits that people are due under the labor laws already and that's minimum wage, anti discrimination, workers compensation, unemployment insurance."
Note - this article has been updated with details from Governor Cuomo's executive budget proposal, which includes a task force on gig economy regulations.