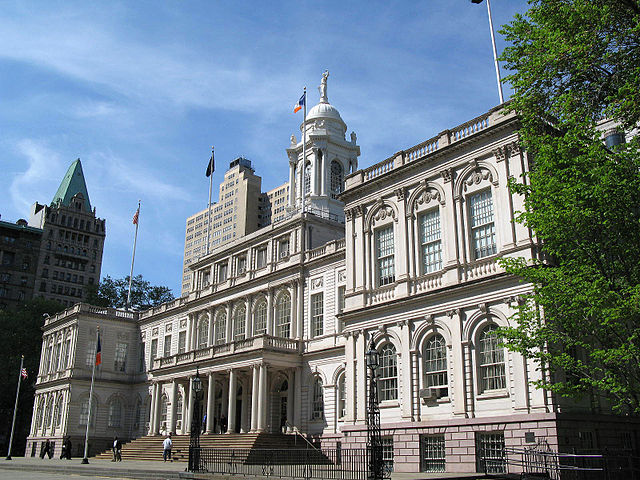 New York City Hall
---
What to watch for this week in New York politics:
This week
The week begins with anticipation of Mayor Bill de Blasio's 2020 State of the City address, likely his next-to-last as mayor, which he'll deliver on Thursday, but much of the week will be dominated by national politics. The Iowa caucuses, the first Democratic contest of the presidential election, are on Monday; President Donald Trump will deliver his State of the Union address on Tuesday; and impeachment proceedings will continue on Monday and Tuesday leading to the scheduled vote in the Senate on Wednesday.
In New York, Governor Andrew Cuomo is likely to continue the rollout of his 2020 agenda. After having presented his State of the State and his executive budget, Cuomo has been re-announcing pieces one-by-one, at times at events. Cuomo made an appearance Saturday night at the Human Rights Campaign Greater New York gala, announcing that the state would be renaming Brooklyn's East River State Park "after Marsha P. Johnson, a pioneer of the LGBTQ rights movement and a transgender woman of color," which will mark the first New York state park named after an LGBTQ person, according to his office.
On Sunday, Cuomo held a press conference at his Manhattan office where he "announced the deployment of 26 bilingual mental health professionals and 25 state building inspectors to Puerto Rico to assist in the recovery efforts as the island continues to recoup from a string of devastating earthquakes. Lieutenant Governor Kathy Hochul will lead a delegation to Puerto Rico today along with the deployments and visit the towns of Peñuelas, Guayanilla and Yauco to tour earthquake affected areas. The deployments follow a series of initial damage assessments conducted by the Governor and his delegation during their trip to Puerto Rico on January 14 and 15."
The two houses of the state Legislature, meanwhile, continue to hold joint hearings on the executive budget on individual areas like transportation and health.
The Legislature is in session on Monday, Tuesday, and Wednesday this week in Albany, with budget hearings also set for all three of those days.
But the week also begins with local and national officials dealing with the new Coronavirus. Mayor de Blasio and city health officials announced on Saturday the first suspected case in the city, with a patient who, according to the city health department, "recently traveled from China and presented with fever and cough or shortness of breath without another common cause, like influenza and other cold viruses, identified on testing. The individual, who is under-40-years-old, has been hospitalized at NYC Health + Hospital/Bellevue and is in stable condition. Testing to determine whether this is a confirmed case of the novel Coronavirus will take a minimum of 36-48 hours and depends on CDC testing capacity."
De Blasio and other city officials spoke with the media on Saturday with an update, as outlined by the health department, which then followed up on Sunday saying "Two additional people in New York City have been identified for testing for the novel coronavirus. Both individuals, who are over 60-years-old, had recently been in mainland China and presented with fever and cough or shortness of breath without another common cause, like influenza and other cold viruses, identified on testing." Both individuals are hospitalized, with tests sent to the CDC for completion within 48 hours.
During his Sunday press conference focused on assistance to Puerto Rico, Cuomo gave the latest state update regarding the new Coronavirus, saying that there were still no confirmed cases in the state, and that as of this afternoon, samples from 12 New Yorkers have been sent to the Centers for Disease Control and Prevention for testing, 11 of which had come back negative. Cuomo said there was one sample from New York City outstanding -- but that number then increased to three by the evening, per the city health department. "Additionally, today the Governor announced New Yorkers can call a hotline at 1-888-364-3065 where Department of Health experts will be available to answer questions regarding the Novel Coronavirus. The Department of Health has created a dedicated website as a resource for New Yorkers."
There's a lot happening this week -- see our day-by-day rundown below.
***Do you have events or topics for us to include in an upcoming Week Ahead in New York Politics?
e-mail Gotham Gazette editor Ben Max: This email address is being protected from spambots. You need JavaScript enabled to view it.***
The run of the week in detail:
Monday, February 3
The State Legislature is in session on Monday in Albany. And at 11 a.m. Monday, there will be a joint legislative budget hearing on mental hygiene.
At 9 a.m. Monday, Manhattan Borough President Gale Brewer will speak at a City College press conference. At 7:15 p.m., Brewer will speak at the Metropolitan Museum's Lunar New Year celebration.
On Monday Lieutenant Governor Kathy Hochul and New York Secretary of State Rossana Rosado are leading a state delegation "to continue New York's efforts and support for Puerto Rico."
At the City Council on Monday:
--at 10 a.m. the Committee on Criminal Justice will hold an oversight hearing on jail violence. [Read: Council to Examine Persistent and Growing Violence Plaguing City Jails]
--at 11 a.m., the Committee on Rules, Privileges, and Elections will consider Mayor de Blasio's nomination of Aloysee Heredia Jarmoszuk as the next chair of the city Taxi and Limousine Commission (TLC). City Council Speaker Corey Johnson will be among those to deliver remarks.
At noon outside City Hall, Council Speaker Johnson will join "Council Members, Advocates and Tenants to Call on Albany to Fund Public Housing, Enact Measures to Fight Eviction and Homelessness."
At 10 a.m. Monday at Brooklyn Borough Hall, "Brooklyn Borough President Eric Adams will host a roundtable with community leaders and medical professionals to discuss the growing public health issue of Alzheimer's dementia and developing comprehensive strategies for responding to the illness and its impact on elderly New Yorkers. There are currently 400,000 people in New York State with Alzheimer's disease. In 2025, a projected 460,000 New Yorkers aged 65 and older will struggle with this disease, a crisis that will not only cause suffering for many people and families, but also place a major strain on public resources. The Borough President and other participants will discuss measures to raise awareness about the influence of community and lifestyle on brain health in collaboration with Drs. Sherzai's Healthy Mind Initiative.org."
On Monday at 11::45 a.m. in Albany, "Senate Deputy Leader Michael Gianaris will hold a news conference to announce new support for his anti-puppy mill legislation (S.4234-A). This will immediately follow a meeting of the Domestic Animal Welfare committee, which will consider the legislation." Gianaris will be joined by Assemblymember Linda Rosenthal and other legislative sponsors, as well as advocates and dogs.
At 12 p.m., in response to Governor Cuomo's New Year's Eve announcement that he would enact One Fair Wage for all tipped workers except restaurant workers, women restaurant workers and their allies will "stage a mass public self-defense training in front of the Governor's office in New York City to raise awareness of the problems resulting from the tipped minimum wage exception on restaurant workers, who face the highest levels of sexual harassment in any industry." Speakers will include Public Advocate Jumaane Williams, playwright Eve Ensler, actresses and #TimesUp activists Alysia Reiner and Carmen LoBue, musician and social justice artist Taina Asili, and more.
At 1 p.m. Monday, the New York City Planning Commission will hold a review session.
On Monday at 5 p.m. in three different locations around the state, there will be public meetings held by the Board of Regents and State Education Department as part of an ongoing process "to gather feedback on what a state diploma should signify to ensure educational excellence and equity for every student in New York State. The meetings are an integral part of Phase I in the Board and Department's review of graduation measures and will offer opportunities for stakeholders and members of the public to share input." Monday's meetings will be in Malone, Ithaca, and Harrison.
Mayor de Blasio will appear in his weekly segment on NY1's Inside City Hall on Monday in the 7 and 11 p.m. hours.
Tuesday, February 4
The State Legislature is in session on Monday in Albany. And at 9:30 a.m. Tuesday there will be a joint legislative budget hearing on higher education.
At 9 a.m. Tuesday in Albany, Comptroller Tom DiNapoli will attend the New York State Public Employees Conference (PEC) 43rd Annual Legislative Breakfast.
At 10 a.m. Tuesday, the New York City Board of Standards and Appeals will hold a public meeting.
At 11 a.m. Tuesday, the Committee on Land Use will meet.
At 6:30 p.m. Tuesday, the Museum of the City of New York will host the "Cultivating Culture in NYC" panel to discuss the challenges facing the city's arts and cultural organizations today. Speakers include MCNY president Whitney A. Donhauser; Weeksville Heritage Center president and director Rob Fields; director and chief curator of the Studio Museum in Harlem Thelma Golden; and president and CEO of the Metropolitan Museum of Art Daniel Weiss. The discussion will be moderated by former Cultural Institutions Group chairman John Calvelli.
Wednesday, February 5
The State Legislature is in session on Monday in Albany. And at 9:30 a.m. Wednesday there will be a joint legislative budget hearing on workforce, and at 1 p.m. on housing.
At 9 a.m. Wednesday, BetaNYC and the Mayor's Office of Operations will convene over breakfast to discuss the newly created Algorithms Management and Policy Officer (AMPO) role within the agency. The AMPO "will regularly engage with the public and will work to ensure that fairness, transparency, human-centered design, and privacy protection are central to the use of algorithmic tools and systems that City agencies may use to support their decision-making."
At the City Council on Wednesday: at 1 p.m. the Committee on Aging will hold an oversight hearing as a follow-up to the Unpaid Caregivers' Comprehensive Plan and Report.
At 5 p.m. Wednesday, this week's Max & Murphy show on WBAI radio, 99.5FM or wbai.org, will feature interviews with 2021 mayoral candidates Dianne Morales and Loree Sutton.
At 6 p.m. Wednesday, the NYC Parks' Ebony Society and Art & Antiquities will host a book talk with author Eric K. Washington on his book Boss of the Grips: The Life of James H. Williams and the Red Caps of Grand Central Terminal. Washington will provide "an illustrated talk about the nearly forgotten life of James H. Williams (1878-1948), the former African-American chief of Grand Central Terminal's iconic Red Caps. The mostly Harlem-based baggage porters once formed the essential labor force of America's most august railroad station."
Thursday, February 6
At the City Council on Thursday: at 10 a.m. the Committee on Small Business will hold an oversight hearing on "'ghost kitchens,' 'virtual restaurants,' and the future of the restaurant industry."
At 1:30 p.m. Thursday, Mayor Bill de Blasio will deliver his 2020 State of the City speech from the American Museum of Natural History in Manhattan.
At 6 p.m. Thursday, the Center for New York City Affairs is hosting a seminar titled "Is School Integration Possible in New York City?" Speaker Clara Hemphill will "explore the historical roots of school segregation and the prospects for change in the country's largest school system."
At 6 p.m. Thursday in Albany, the New York Civil Liberties Union will host a town hall on public school disciplinary measures and the school-to-prison pipeline.
The New York City Economic Development Corporation is hosting a community meeting on the proposed BQX streetcar on Thursday at 6:30 p.m. at Brooklyn Borough Hall.
At 7 p.m. Thursday, Queens Assemblymember Stacey Pheffer Amato will be hosting a Commuters Town Hall with the leadership of the MTA NYC Transit Team.
Friday, February 7 and the weekend
At 8 a.m. Friday in Syracuse, the Business Council of New York State will host the CEOs Speak 2020 Conference. Guests will have the opportunity to "hear how your business colleagues are viewing the national and state-level forces shaping New York's business climate and impacting company's day to day operations."Speakers include Business Council President Heather C. Briccetti, Director of the Siena Research Institute Donald Levy, and others.
Mayor de Blasio may make his weekly appearance on WNYC's The Brian Lehrer Show on Friday at 10 a.m.
***
Have events or topics for us to include in an upcoming Week Ahead in New York Politics? E-mail Gotham Gazette executive editor Ben Max any time: This email address is being protected from spambots. You need JavaScript enabled to view it. (please use "For Week Ahead" as email subject).
***
by Ben Max & Claire Del Sorbo
@GothamGazette