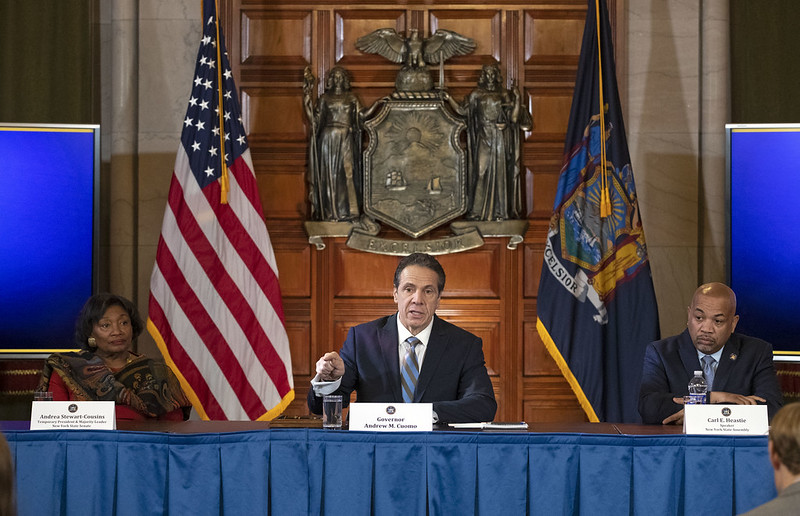 Gov. Cuomo & legislative leaders (photo: Mike Groll/Governor's Office)
---
Amid the unprecedented public health crisis presented by the coronavirus pandemic, Governor Andrew Cuomo and the state Legislature managed to cobble together a $177 billion state budget, though slightly past its deadline, which contains a raft of legislation on criminal justice, environmental protection, public health regulation, campaign finance reform, women's reproductive rights, election administration, gun control, and more.
But the budget session became particularly harried, and focused in large part on the implosion of the state's fiscal condition given an expected $10-15 billion less in tax revenue than expected. There were days of suspension as several lawmakers themselves tested positive for the new coronavirus, COVID-19, and individuals, including state employees, were being encouraged to shelter at home to avoid exposure.
But Cuomo, a third-term Democrat, and the leaders of the Legislature's two Democratic majorities, continued to negotiate and came to agreement on a wide variety of policies and spending plans. Yet, many policy priorities held by Cuomo or by legislators were abandoned, and with the post-budget legislative session in limbo, may not be taken up at all this year.
[Read: 10 Ways the New State Budget Impacts New York City]
Marijuana Legalization
Legalizing recreational adult use of marijuana has been on the Democratic agenda for years but despite the party gaining control of both chambers of the state Legislature last year, it failed to pass. Governor Cuomo, who once called it a "gateway drug," said that it was one of his top priorities this year as both a criminal justice reform and an economic boon that could raise $300 million in state tax revenue annually. But he repeatedly insisted that it must accompany the passage of the state budget, and could not be done otherwise.
Ultimately, the bill failed again, and the governor continues to say that it's unlikely to pass in the remaining days of the legislative session. "We're not going to get there. I don't believe we get there," he said of legalization, in a March 31 interview on WAMC radio with host Alan Chartock. "I don't believe we get there because in truth that is something that had to be talked through and worked through and the Legislature wasn't here. I was doing this COVID virus. That requires time to do it right, Alan, you know, that is not a yes-no. That's a 'How does it work? How about the police? How many licenses? Who gives out the licenses? How do you do minority empowerment? How do we coordinate with Connecticut and New Jersey?' And no one has really had the time to work those things through. So I don't think we get there on that."
Gig Economy Protections
Another top priority for the governor this year, which he mentioned in his State of the State speech in January, was establishing protections for workers in the gig economy. There have been several bills already proposed in the state Legislature, particularly modelled on California's AB5 measure, which uses an ABC test to determine worker classification so companies cannot withhold benefits to individuals by misclassifying them as independent contractors instead of employees.
New York City has already passed legislation, like the groundbreaking Freelance Isn't Free Act in 2017 that tightens payment requirements and a minimum wage for for-hire vehicle drivers, to ensure some level of protections for freelance and gig workers. But the state again failed to take action this year, and the governor has also indicated that the issue may be too complicated to pursue with the time left in the legislative session.
Rent Relief
Amid the coronavirus fallout there was a quickly growing clamor for the state to take action providing rent relief to struggling tenants, but no action was taken in the budget. Entire industries have come to a standstill across the state and in New York City, home to a majority of renters and with a higher cost of living than other parts of the state, residents have been devastated by the economic consequences.
Though the governor placed a moratorium on evictions for 90 days, people in the city who have lost their income have had few alternative means to cover the high cost of rent, utilities, and other miscellaneous costs -- especially given that federal money to individuals and families from the most recent 'stimulus' bill has not arrived yet, and some number of low- and moderate-income individuals don't qualify nonetheless.
The governor has provided few answers about how he intends to solve the issue, which could lead to a crisis of evictions, and even potential homelessness, once the moratorium is lifted. Repeatedly asked about rent relief, he has pointed to his eviction moratorium and said rent could be looked at down the road.
Education Aid Changes and Charter Schools
The state sends billions of dollars in Foundation Aid every year to struggling school districts to meet their obligations under the state constitution. But education advocates have called for billions more, insisting that the governor is refusing to abide by the funding formula set by the Campaign for Fiscal Equity state court decision in 2006, which requires the state to provide funding for a "sound basic education" for all students.
Cuomo instead has said that formula is outdated and had proposed to establish a new "Education Equity" formula which would send more money to poorer districts and schools, but would not have significantly increased overall Foundation Aid. Some budget watchdogs have also supported that effort.
But, with the state's finances in dire straits because of the coronavirus and widespread opposition in the Legislature, Foundation Aid was essentially flat this year and the governor did not impose his new proposal.
Cuomo also wanted to increase the cap on charter schools in New York City, which was hit last year, but his attempt to allow new charter licenses did not come to pass.
Home Stability Support
Over the years, Queens Assemblymember Andrew Hevesi has repeatedly advocated for his Home Stability Support bill, which would increase the value of rental assistance vouchers provided to families and individuals on public assistance who are at risk of getting evicted or becoming homeless. Housing advocates and experts say it would be one of the strongest legislative measures to combat the state's homelessness crisis that has persisted for years, and the proposal has gained co-sponsors in both chambers (it's sponsored by Senator Liz Krueger in the Senate) and was the focus of a sustained advocacy campaign over the last few months.
But the bill failed again and considering that it would require a massive infusion of state funds into rental assistance, it's unlikely it will advance outside the budget or as the state faces a drastic drop in revenue.
Section 50-A
Police reform advocates and good government groups have long cried foul about Section 50-a of the state's civil rights law, which shields the disciplinary records of police and other uniformed officers from public disclosure. Under Mayor Bill de Blasio, the NYPD expanded the scope of how the law is applied and stopped publishing even limited disciplinary summaries regarding officer misconduct. The administration even successfully fought to defend its more stringent interpretation of the law in court.
While some have called for full repeal of the law, which has been opposed by police unions and others, de Blasio and Police Commissioner Dermot Shea (and his predecessor James O'Neill) voiced support for amending it to provide some level of transparency around police discipline. But the mayor's push for such reform has been less than robust, though he's repeatedly included it in his Albany legislative agenda since 2017, and no changes were made in this year's budget either.
Good Cause Eviction
After the Democrat-controlled Legislature passed sweeping tenant protection legislation last year, housing advocates were optimistic that they would follow suit in this year's session on one piece of unfinished business: the "good cause" eviction bill, a top priority of Brooklyn Senator Julia Salazar, among others. The proposal is meant to protect tenants living in non-regulated housing from eviction if they face exorbitant rent increases.
But, like the absence of rent relief measures, the bill also fell by the wayside as the budget was decided.
NYCHA Funding
The New York City Housing Authority (NYCHA), public housing home to nearly half-a-million New Yorkers, continues to struggle to fill a capital need of tens of billions of dollars, stemming from years of apathy at all levels of government. New York City has a plan projected to fund roughly $24 billion of the current $32 billion repair and maintenance backlog for the agency over several years, but those needs could rise to $68 billion by 2028.
The state budget included no new funding for NYCHA, though advocates and the City Council were pushing for at least $2 billion more.
Changes to Taxes
New York State was already facing a $6 billion budget gap earlier this year, which had prompted progressive lawmakers and activists to push for new and increased taxes on ultra-wealthy New Yorkers. Then the coronavirus outbreak devastated the economy, with a projected decline of $10-15 billion in state revenue over the coming year, which made some of the calls for new taxes all that more urgent.
But Cuomo is opposed to increasing taxes and did not heed those calls, while many state legislators, particularly in the Senate, where suburban voices are stronger than in the Assembly, did not back the idea of raising taxes, especially amid an economic downturn and after the Republican-led tax overhaul of 2017 had a particularly negative impact on New York's higher earners.