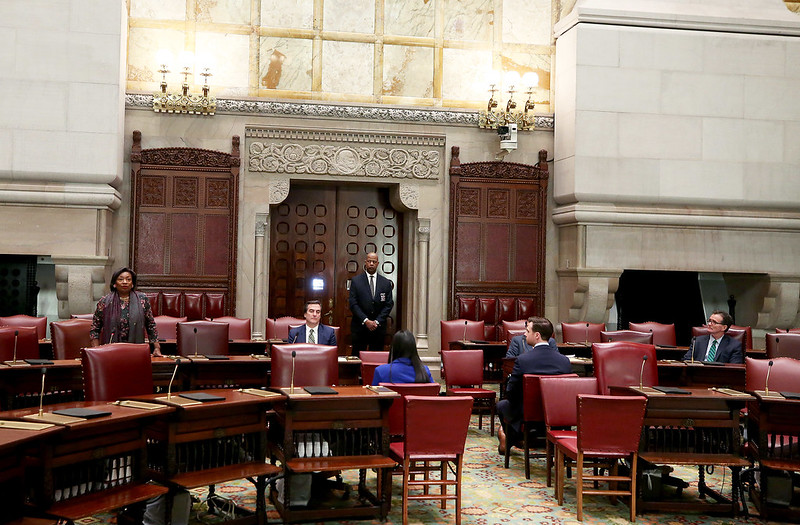 A nearly-empty State Senate Chamber as business is conducted amid coronavirus outbreak (photo: NY Senate)
---
If New Yorkers take Governor Andrew Cuomo's word for it, the new $177 billion budget approved last week will "deliver results" for the people of the state and was a far cry from a "bare minimum" spending plan at a time when the state's finances are racked by the effects of the coronavirus pandemic. But within his own Democratic Party, which controls both houses of the Legislature where the plan was passed, the budget is a highly unpopular document that to many legislators fails to live up to the needs and priorities of New Yorkers.
"This is a moment in history unlike any other, and government needs to function and deliver results for the people of this state now more than ever — and that's exactly what we did with this budget," Cuomo, now in his third term, said in a statement last Thursday, after announcing the highlights of the budget agreement with the Legislature, which included a wide variety of policy and fiscal decisions.
Cuomo cited a number of policies that were passed, including a paid sick leave bill, legalizing gestational surrogacy, creating a new felony for hate crimes considered acts of 'domestic terrorism," banning gender-pricing disparities known as the "pink tax," creating new regulations on vaping and e-cigarettes, establishing a $3 billion bond act for environmental restoration and climate mitigation projects, among others.
Senate Majority Leader Andrea Stewart-Cousins similarly touted some of the same and other accomplishments, such as new controls of prescription drug prices, easing access to public assistance, bolstering unemployment insurance by $1 billion, and preventing huge cuts to education spending, and more -- but she also sounded a bittersweet note.
"This is not the budget we had hoped to pass at the beginning of Session, or even the budget we had envisioned just a month ago," she said in a statement after the budget passed. "Our state's financial situation has been thrust into a true economic crisis due to the coronavirus pandemic. Yet even in this crisis we managed to achieve a balanced budget that includes victories for the people of New York."
Assembly Speaker Carl Heastie boasted about environmental protection legislation, new gun control measures, the expansion of paid sick leave and particularly investments in higher education. "In these challenging and uncertain times, education and upward mobility have never been more important. That is why we fought relentlessly to ensure the preservation of critical funding for the programs New Yorkers count on to climb the economic ladder," he said in a statement.
But the vote totals on the various budget bills and some of the floor speeches by Democratic legislators told a different story than the three people in 'the room.' An usually large number of Democratic lawmakers showed their displeasure with the fact that several progressive priorities were left out or modified, and chafed at some of the spending and tax decisions.
Recreational marijuana was not legalized. Bail reforms implemented just three months ago were rolled back. Renters suffering from the economic devastation of the coronavirus were not given any relief. Hospital funding was cut. A plan to reduce homelessness was again shelved. No new taxes on the wealthy were approved. Funding for public housing was not bolstered. School aid remained flat.
[Read: 10 Major Proposals Not Included in New State Budget]
This is the only the second year in Cuomo's long tenure that Democrats have controlled both chambers of the state Legislature, after a decade of a Republican-led Senate and Democrat-dominated Assembly. Last year saw a raft of progressive bills across a range of issues: criminal justice reform, tenant protections, voting reform, women's reproductive health, gun control, LGBTQ rights, environmental preservation, to name a few. So it wasn't surprising that many Democrats, particularly in the 150-seat Assembly where they hold an overwhelming majority, were frustrated by the budget. What was unusual, though, was the number of "no" votes.
There isn't one singular budget vote, but rather several appropriation bills that lawmakers vote on separately related to state operations, aid to localities, the legislature and judiciary, debt service, and capital projects. Then there are the Article VII Bills, grouped under four categories: Public Protection and General Government (PPGG); Education, Labor and Family Assistance (ELFA); Transportation, Economic Development and Environmental Conservation (TED); and Revenue. They often include major policy decisions.
The votes varied but it was clear that a sizable number of Democrats were displeased. The ELFA bill, which contained the bail reform changes and included Medicaid overhaul provisions, barely squeaked through the Assembly, where it received 76 "yes" votes to 66 "no" votes, meaning it received the bare minimum number of votes to pass the chamber. It passed the 63-seat Senate 35-26. The TED bill was also a somewhat close vote in the Assembly, where it was approved 81-60, while the Senate passed it 39-22. There are 105 Democrats in the Assembly, and 40 members of the Senate Democratic conference.
In past years, Assembly Democrats voted in lock-step and near-unanimity to pass budgets agreed upon by the governor and legislative leaders, who typically conference major aspects of the compromises as they develop to ensure that most if not all members are on board. This year, however, a number of Democrats voted against key portions of the deal reached among Democratic leaders and didn't hold back how they feel about the budget, even as some admitted that they voted for it despite the flaws they saw in it.
Assemblymember Aravella Simotas, a Queens Democrat who voted against the ELFA, TED and revenue bills, criticized the lack of new revenue raisers in the budget, the watering down of bail reform, cuts to healthcare and the underfunding of school aid, among other issues. "Decades of underfunding our most vital human services so the wealthy could get by without paying their fair share brought us to this point," she said in a public statement.
Assemblymember Yuh-line Niou, a Manhattan Democrat, similarly voted against the ELFA and TED bills. "In the recovery that must come after this crisis, what we need is not the cuts proposed by our governor but strong investments in our infrastructure and the public assets that could have mitigated this crisis had we only been willing to fund them previously," she said as she explained her vote on the Assembly floor (the video of her remarks has been circulated widely on social media among progressives). "This budget, this values document, makes a terrible statement that we value big businesses and profits more than we value people, our people, the people of this state, and that is simply not who we are."
Senator Brian Benjamin, also a Democrat from Manhattan, conceded that he was faced with impossible competing priorities. "I had 3 choices: a) vote yes for a negotiated budget where the Legislature has limited power; b) vote no and accept the Governor's extender; or c) vote no on both and shut down the Govt. As a leader of the Senate, I took the hard vote and voted yes so others didn't have to," he tweeted on April 4.
If the government shut down, state employees would have gone unpaid during the outbreak, Benjamin noted. And he refused to cast a symbolic "no" vote to express his anger. "The ultimate lesson here is that the Senate and the Assembly have to work together and address our important nonbudgetary concerns BEFORE the budget process because if we don't then the Governor has outsized power to address the issue and we will end up in this place again," he added.
Senator Roxanne Persaud, a Brooklyn Democrat, professed a similar ambivalence in a statement to her constituents, noting that the final budget shows the "numerous tremendously difficult decisions" the Legislature had to make during the current crisis. "While I am not pleased with a number of final agreements contained in the thousands of pages of legislation, I am confident that my colleagues and I fought our hardest to deliver a balanced budget that mitigates some of the toughest possible outcomes," she said.
In the days leading up to the budget deal, Assemblymember Robert Carroll, also a Brooklyn Democrat, wrote an op-ed asserting that negotiations were focused on the wrong priorities, calling for holding off on most policy decisions and passing a robust coronavirus relief agenda including a rent freeze and funded in part by higher taxes on top earners.
During a Wednesday interview on the Max & Murphy podcast, Queens State Senator Jessica Ramos criticized the bail rollbacks, hospital funding cuts, and other aspects of the budget deal in explaining her votes against pieces of it. She also lamented a lack of new revenue-generating measures, and connected what she sees as long-standing patterns of too-little investment in communities like she represents -- largely low-income and immigrant -- to the depth of the current coronavirus crisis.
"That's why I'm so disappointed in the budget and why I voted 'no' on a few of the bills," Ramos said, "and I'm really hoping that we're canceling rent soon, especially as May begins, and to figure out what the bailout looks like because every single New Yorker deserves the opportunity to be able to thrive after this calamity."
"This is not a budget that anybody should be celebrating," said Senator Andrew Gounardes, another Brooklyn Democrat, in his own public statement, though he did not vote against any bills. He pointed out that the budget was two days late, leading to delayed paychecks for state workers. If there had been any further delay, he said, New Yorkers waiting for unemployment checks from the state government would have continued to suffer.
Gounardes continued, "This is a budget that cut state spending by $5.7 billion, including more than $1 billion in healthcare at a time when our health network is working overtime to keep people alive. This is a budget that ignores the moral imperative to tax the ultrawealthy, raising the revenue we need to stave off cuts to critical services. This is a budget that failed to invest in our public higher education system, when it was needed most."
Gounardes cited the same issue that Benjamin raised, as did Senator Zellnor Myrie, a Brooklyn Democrat, that the state budget process places far too much power in the governor's office.
Myrie, who outlined the good and bad in the budget, said in a public statement to his constituents, "You should know that the budget process is constitutionally flawed. The Executive has enormous control over the agenda and the Legislature is often left with a "take it or leave it" proposition. During a pandemic, this imbalance is magnified. Under these conditions, the Leadership was faced with the prospects of shutting down the government during a public health crisis, or, accepting a flawed budget. They made the excruciatingly difficult decision to accept a flawed budget." He noted that he nonetheless voted "no" on bills that contained provisions he did not agree with, including the cuts to Medicaid spending for hospitals and the bail reform rollback.
In a fiery speech on the Assembly floor, Bronx Assemblymember Michael Blake invoked the history of slavery, emancipation and the civil rights movement as he critiqued the watering down of bail reform, urging his colleagues to join him in voting "no."
"It's in this moment that we must truly ask ourselves what is more important, rushing to vote on a budget when many of us are afraid of being paid for a day or rushing to lock up more black or brown folk who get paid cents in a day?….For students, our seniors, our humans behind bars, this budget bill is not justice, it is the justification of continuing 401 years of injustice," Blake said.
Other "no" votes by Democratic legislators on at least one budget bill included Senators Alessandra Biaggi, Gustavo Rivera, and Julia Salazar, as well as Assemblymembers Harvey Epstein, Jeff Aubry, Charles Barron, Catalina Cruz, Carmen De La Rosa, Mathylde Frontus, Nathalia Fernandez, Ron Kim, Joe Lentol, Walter Mosley, Danny O'Donnell, Felix Ortiz, Dan Quart, Jo Anne Simon, Latrice Walker, and Tremaine Wright.
Republicans, meanwhile, still made up the vast majority of "no" votes in both houses. They were incensed that the budget was not a bare bones spending plan and that Democrats advanced a slew of non-revenue legislation. Most also wanted to see the changes to last year's bail reforms go further in the other direction.
"During unprecedented times that demand a concentrated focus, [the] state Majority rushed out a cluttered state budget that offered nothing of the kind," said Assembly Minority Leader Will Barclay, in a statement on the budget. "Concocted behind closed doors and advanced under the cover of darkness, the state's final spending plan drifted too far from our current crisis and was entirely bogged down by misguided political policies."
He added, "Assembly Majority rejected a Minority proposal to help small businesses and employees, but they extended tax credits to Hollywood studios. As restaurants everywhere are forced to close their doors, Majority politicians added more regulations that stifle growth and cut deeper into the industry's bottom line. The appropriate time to discuss taxpayer-funded campaigns, gestational surrogacy or criminal justice reforms is in the light of day, with an open debate and transparent process."