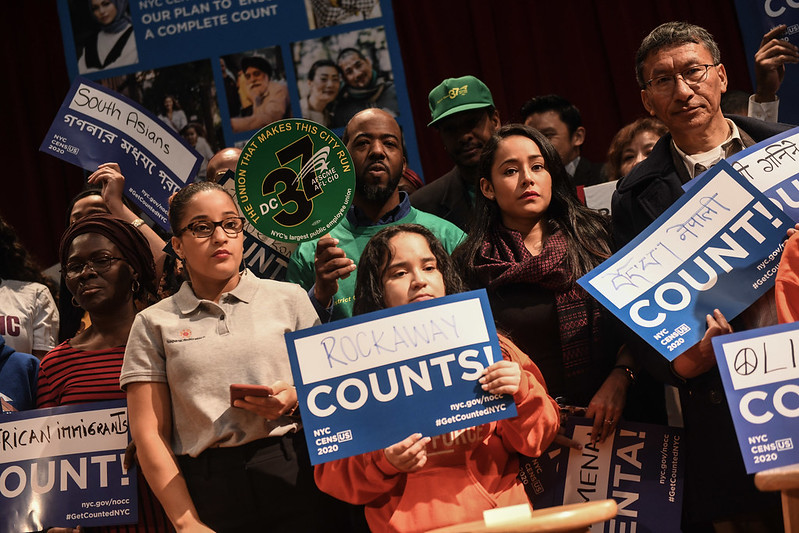 Coronavirus has shifted Census efforts (photo: Michael Appleton/Mayor's Office)
---
The New York Public Library had set up dedicated chromebook computers that only connected to the 2020 Census website. The Brooklyn Public Library prepared "mobile units" of internet-connected tablets that could be dispatched to community centers and groups. Outreach employees from the Northern Manhattan Improvement Corporation (NMIC) and SOMOS Community Care were starting to canvas areas of upper Manhattan to help passersby understand the benefits of participating in the once-a-decade count, and collect pledge cards to follow up with people.
The Boro Park Jewish Community Council had used some of the money it received from the city's Complete Count Fund to buy a "censusmobile" — a van covered with messages in English and Yiddish and outfitted with computers that would drive around the heavily Jewish area of Brooklyn, letting residents learn about and even complete the Census.
Now, the libraries and community centers are closed, the mobile units and the canvassers are staying inside, and the censusmobile is parked and unused as the Jewish Community Council has shuttered its main office.
The arrival of the novel coronavirus, COVID-19, has quickly upended life around the globe, and the multifaceted outreach operations for the crucial decennial count of every person and household in the United States have not been exempted. Every level of government, nonprofits, corporations, and community organizations have all had to significantly shift their strategies in response.
This has meant partly toggling to established digital tools like phone- and text-banking, facilitated by the New York City census office, which has had robust funding and outreach plans that have been shifted amid the outbreak. María Guzmán-Colón, the census manager at NMIC, said that with the nonprofit's outreach staff grounded, most of those operations were being done via text, with "a list that [the city] provides for us as well as a list that we provided of our contacts, and people that we had gotten pledge cards from" before in-person operations stopped.
But many organizations have also been striving to think outside the box. "We've kind of felt that [text-banking] is an inefficient way of reaching people," said Howard Shih, research and policy director at the Asian American Federation. "You can't really figure out if the number you're texting is somebody that is 'hard to count.'"
Instead, the Asian American Federation has been focusing on identifying where hard-to-count communities already are online and reaching them there. "In the Korean community, KaKaoTalk is heavily used. For mainland Chinese, it's WeChat…I live up here in Westchester, and I know that there's a specific WeChat group for Westchester Chinese to trade information and resources," said Shih. "We kind of have to find a person that's already in that network to be our champion."
The strategy of reaching community influencers and enlisting ordinary New Yorkers to contact those they are still able to reach has become a centerpiece of the new census game plans. "You can make a poster at home if you have the materials, drop it off at your local bodega, and encourage them to put it up, because they are still open, and they are still community centers for a lot of people," said Meeta Anand, the New York Immigration Coalition's 2020 Census senior fellow. "I've been saying 'think big but act small.' And by that I mean, if you live in a building, write a note to the residents of your building. If there's a church or a mosque you go to, reach out to the leader and see if they're willing to include census messaging in however they're reaching out to their congregants."
The main idea behind these pushes is that, as New Yorkers stare down what could be months of social distancing, they will not stop seeking community, and will find that community either in very specialized groups online or in hyperlocal spaces. Getting census messaging to influential people who are in these spaces then lets the word keep trickling out. "Instagram Live is becoming a huge space," said Anand. The New York Immigration Coalition has been encouraging people to make videos of themselves filling out the Census, and "create them in their language, send them around. We're asking anyone who might know any influencer at all, at any level, to create such a video," Anand said.
Shih called it a "period of experimentation" for community organizations trying to do outreach. "People still want to connect socially, right? They just have to do it in a socially-distant way. The challenge for us is, people are adjusting their behaviors now, and they really haven't settled into a specific pattern of behavior so that we can actually figure out where people are getting their information, where people are keeping in touch with their loved ones. So we just have to try to pay attention, have discussions, and figure out what's been working," he said.
Many of these organizations are still service providers, after all, and still being sought out for advice and support on matters of housing, employment, immigration, and other community concerns. They are responding to this need with virtual town halls or Q-and-A sessions on Facebook or other digital tools, and can use these opportunities to convey the importance of the Census, which determines many billions of dollars in funding every year, a state's representation in Congress, and much more.
Once people have been convinced to complete the Census, there's the question of where they do it. While there's been much discussion around the U.S. Census Bureau's efforts to shift the count mostly online — a strategy that community groups worried would exclude hard-to-count communities with inconsistent access to broadband internet and the hardware to use it — a separate, little-noticed innovation has actually proven auspicious: the ability to fill the Census form out by phone.
"That was already in place, luckily, so when we reach out to folks at home, if they don't happen to have a smartphone, or if they don't have a laptop, or there's some sort of technical gap, there is the phone option," said Guzmán-Colón.
"The online option does pose a challenge for certain groups," said Anand. "And it's true that our way of overcoming that challenge was going to be 'go to the library,' which doesn't work so much anymore. So, we are encouraging people who want to fill out the census to do it over the phone."
The system is available in 13 widely-used languages, including English, Spanish, Chinese (Mandarin and Cantonese), and Arabic. The organizations that Gotham Gazette connected with all said the system appears to be working well, with the only gripe being slightly longer wait times for languages other than English and Spanish.
Though the pandemic has blown up outreach plans, there are some silver linings. For one, it provides a ready-made opportunity to relate the Census directly to New Yorkers' lived reality, as its data is what ultimately undergirds the government's response. "Every time they say we need 100,000 ventilators, that's based on the fact that there are X number of people in New York City, and their models are predicting how many people are going to be infected based on that information…If you're at home feeling powerless, here's something that you can do right away that'll have an impact on the community," said Shih of the Asian American Federation.
Moisés Pérez-Martínez, vice president of workforce, community and government relations at SOMOS Community Care — a healthcare network with 2,500 providers across Brooklyn, Manhattan, Queens, and the Bronx — said that providers are emphasizing that filling out the Census early is a great way to avoid further mailings and in-person visits. "We tell them, 'the Census will go knock on your door if you don't respond to it, and if you don't want that for whatever reason, fill out the Census and they won't come,'" he said.
"[The count] determines health care funding, it determines funding for first responders, it goes into decisions as to where hospitals are going to be based," said Anand. When the organization has run its text-a-thons, she said that some community members had expressed annoyance, saying there were bigger concerns right now than the Census. She responds by saying she understands it's a tough time for everyone, but it doesn't help to hamstring the country's ability to respond to such crises.
Health-related groups like SOMOS have unexpectedly found themselves in a unique position to continue raising census awareness, as one of the few types of community organizations that not only haven't shut down but are even more present in people's lives. "Every single day, in every single medical practice, there's a different audience," said Pérez-Martínez. The organization actually filmed short information videos about the count, featuring its doctors, which play in waiting rooms alongside other announcements.
The varied strategies have yet to coalesce into a clear unified agenda, though Shih said that community groups around New York are constantly sharing tips, experiences, and best practices. In the meantime, New York City's self-response rates have been low but still relatively encouraging given the city's 2010 rates. As of April 4, only a few weeks into the count, the city's self-response rate was 33.4%, while it was 38.3% for the state, and 43.9% across the country, according to the CUNY Mapping Service's census project. In 2010 New York City's self-response rate finished at just 62%, compared to 76% for the country.
"We're lagging. That's not surprising," said Anand. "We've always had an uphill battle in New York, and being at the epicenter of COVID-19, that makes the uphill even steeper. But I think what we will see is, once we get through an initial phase of people figuring out how they're going to provide services, what does this new world look like, more and more organizations are going to be able to get that census messaging out and we will start seeing a change in the response rates. New Yorkers have pulled together before. And we're pulling together now, we just have to do it six feet apart from each other."
[Read: City Reconfigures 2020 Census Efforts in Response to Coronavirus - and Reports Good Initial News]